Affiliate Disclosure: I publish various content marketing strategies, online business ideas, blogging tutorials, review articles, and discount offers on my blog. My content may contain some affiliate links for products/services I use, love, and recommend. If you take action (i.e., subscribe or make a purchase) after clicking one of my affiliate links, I'll earn an affiliate commission with no additional cost to you. It helps me in creating more helpful content like this.
From the last few years, the internet has evolved in such a way that many people want making their startup or working online as a freelancer and earn money from home.
The idea seems easy to follow and very simple, but is it really?
I think it isn't because, without an execution of proper plan & strategy, it's a difficult task to emerge as a freelancer.
If you want to start from scratch, then the freelancing career becomes more competitive and challenging.
You'll notice that there are many freelancers with same or better skills than yours are waiting for opportunities while very few freelancers are getting thousands of bucks per month for similar freelancing skills.
Now, the choice is yours whether you want to stand in queue like other ordinary freelancers or make a living from your skills.
With the increase in internet usage, the chances of becoming a freelancer are also increasing. In the USA, more than 34% population is working as a freelancing workforce or on a contract basis. It's estimated that this would be 40% by 2020.
As a freelancer, you have a wide variety of jobs online. Right from a freelance writer to the web developer or virtual assistant, etc. many jobs are available to do online.
You can get freelance jobs from freelance marketplaces or job boards or privately by referrals or word-of-mouth.
Here, I will discuss the opportunities to work as a freelancer and the places to get authentic freelance jobs to work from your home.
According to your skills, expertise, and reputation, etc. you will get from a dollar to several thousand dollars per project.
If you are seriously thinking about earning money from home, part-time or full-time as a freelancer, then read the entire article to find your dream job.
Freelance Writing
Freelance Writing is a popular job to do online sitting from home. The students, homemakers, old people or anyone who can spare his/her time writing a piece of highly engaging article can work as a freelance writer.
It's a field where you can get paid in a very short period right after starting to work online. Still, I'll not suggest everyone run after the freelance writing.
If you are really interested in writing the articles, blog posts or any type of material, you should ask following questions to yourself.
Are you able to write 100% unique, plagiarism free and grammatically correct copy?
Have you followed expertise in the particular fields about which you want to write?
Are you aware of market and competitors in your niche?
What are your expectations from your writing job and do you think that you will achieve them?
If you get Yes to every question, then start working as a freelance writer. Still, it will take considerable time to get huge income to complete your needs & expenses. In most of the cases, people may start making profit earlier than that, but it's possible when you already know about freelance writing.
Logo Design
The logo is a symbol or identity mark for a specific brand. Every business wants a unique and creative design for its brand identity or product range. And, it's the place where you can show you graphic design skills to get paid.
Due to mass digitalization, many startups are going live and these all businesses require a customized logo.
If you have creative mind & skillful hands, then the job of designing a logo can pay you nicely. You can make a good income from the logo designing.
Premium services or cross-sell/upsell can bring you more money from the same client. It includes earlier delivery of gig, additional features like 3D modeling, unlimited revisions, etc.
Graphics Designer
A graphics designer is a lucrative field to work as a freelancer.
If you have excellence in graphics design, especially in Photoshop, Illustrator, Coral Draw, etc. graphics suits, then you have many opportunities to work as a freelancer for an individual or business.
One of my friends designs the graphical work for a private client having hourly rate $5-15 (depending on the job) and getting at least 8 hours of work daily (6-days of a week).
With her basic Photoshop skills, she is making at least $1000 per month.
Isn't it impressive?
You have a variety of jobs available in this section. Creative images, retouching & editing, infographics, graphics design for sublimation products, typography, vectors, illustrations, cover & banner design, etc. many opportunities are available if you are ready to work as a freelance graphics designer.
Video Creator/Animator
If you have good video creating skills or knowledge of animation, then you can utilize it to make the custom videos. Sometimes, you have to edit the previously shooted videos and modify them to the better version.
Businesses and even individuals may request you to develop a custom video or animation for the YouTube promotion or other advertising campaigns.
The whiteboard & explainer videos, intros & outros, voice-over, sound mixing, and sound effects are other relevant gigs for a video creator.
Web Developer
The internet usage is increasing rapidly, and same time many websites & blogs are getting live on the internet every day.
It's not necessary that all bloggers have a sound knowledge of web development, design & optimization. A very few people know the system related stuff accurately.
Though there are many tutorials are documented in the form of text articles & videos, etc. most of the people can't DIY due to lack of time for these development related operations or adequate knowledge.
So hiring a web developer is a better option here. Many developers offer a combo package of website development, SEO services, premium & customized design, performance & speed optimization, web security & maintenance jobs, etc.
With the average hourly rate of $20 and onwards are basic charges any reputed freelancer ask for web development. Premium plans & combo package may have different rates that vary with the developers and the market.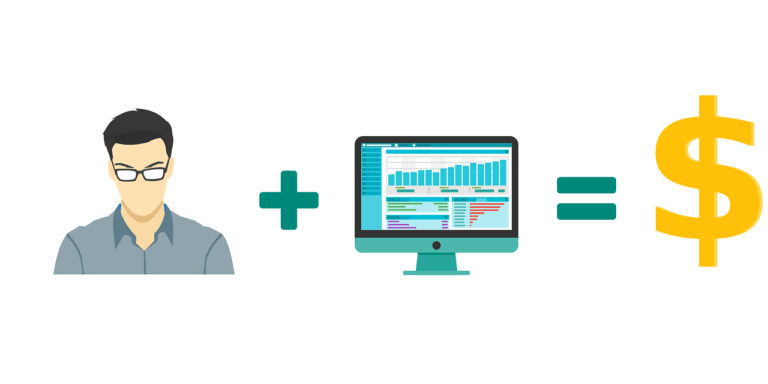 A freelance web developer can not only work on regular WordPress websites/blogs but e-commerce websites by using Drupal, Magneto, Shopify or PrestaShop, etc.
The knowledge and expertise of programming codes & scripts like HTML, JS, CSS, PHP, SQL, jQuery, ASP.net, etc. can boost your career as a developer.
Other jobs include API developers, Programmers with hands in different languages, etc. There are many marketplaces to find freelance jobs as a web developer.
App Developer
We all know, the mobile user base is increasing rapidly so that most of the companies are trying to provide a better user experience for their customers. Mobile apps are the best when it comes to the undiversified web surfing for a particular business. That's the reason behind the app development of all big tech giants.
You may have seen Google, Amazon, Instagram, Facebook. Twitter, Quora, etc. all companies have their apps.
Why they all invested a lot in their app development?
The reason is mentioned above. Not only these companies but the small business also need to execute similar strategies to grab more mobile customers.
So they want to develop their mobile apps, and it's a big opportunity to make a huge income for you. If you have a creative mind and more than the required skills to develop the app as per the client's requirements, then you will earn thousands of bucks.
It's not an easy task to develop an iOS or Android app. You'll need knowledge & experience of coding & developing apps, marketing skills, etc.
Initially, work for low price bids or a try internship for a repeatable firm in app development. Working in a team is also a great option if you have a group of like-minded professionals & developers.
Virtual Assistant
It's another good job you can do from your home. Working for another person as his personal assistant for the allotted tasks is an average paying job for homemakers, especially Moms.
Scheduling meetings, talking to the clients on live chat or call, social media management, etc. many jobs available as a virtual assistant.
Sales & Marketing Expert
Every business is willing to make a profit from its operations concerning lead or customers.
Is there anyone who doesn't want ROI for his hard-work?
Probably No, because when someone puts efforts & invests the money upfront, wants a huge profit from that business.
It's not possible by just manufacturing or developing products & services. These products and services need delivering to the targeted customers.
Here, businesses need a marketing expert who knows how to make a sale and keep it on. The people who have vast knowledge of market trends, business background, advertising campaigns, SEM & SMM, etc. have great opportunities to work for others.
These are a few examples of freelance work you can avail depending on your skills & expertise. The freelance gigs may seem attractive to give exposure to your professional skills. Still, there is a need to focus on some points before starting freelancing.
The basic principles of freelancing are vital to boost your career and get maximum income through it. Right from starting as a fresher to a successful professional, there are many steps you have to look.
Here is a simple list of measures involved in becoming a successful freelancer.
How to Start Freelancing With No Experience
1. Be Realistic & Prepare Yourself
It is the first and most crucial point to keep in mind. When you will think about starting freelance work ask yourself whether you can give justice to the career you have selected.
You must gain the required qualifications in education, skills, experience and deep knowledge in the niche you are going to start.
Suppose,
You travel many countries frequently and want to start working as a freelance writer; then it is an obvious decision to go with. But, if you don't have copywriting skills, you should get these skills. The basics of freelance writing i.e. zero spelling & grammatical mistakes, original copy with zero plagiarism, etc. you should not forget.
If you don't have the skills needed for the freelance work you want to work, then develop those skills, master them and then start working again.
Invest in learning complementary skills and in improving your current ones. And, you know, practice makes man perfect (and woman too)!
Believe in yourself. Never boast yourself nor criticize too much.
Be realistic and not the emotional. No one born perfect so you can get proficiency in any work if you are dedicated and putting efforts in the right direction.
2. Define Your Strengths
Once you could manage your emotions opposite your skills and prepare yourself, the next thing is to identify your strong zones.
It's necessary because you can test your skills based on your expertise, interest, and knowledge. It's better to research the market before starting out.
To define your strong zones start listing the topics with the market demands and your interest. If the topic is from your domain or you have already mastered in it, then that's beneficial for you in many aspects.
It's not useful to be a jack of all trades but master of none. It won't help you in the freelance market.
Don't go for the topics only for money. If you fail to deliver the expected results, the client may leave a nasty review which will harm your reputation.
3. Market Research
It becomes very difficult to decide how to start working & where to start. In the initial phase, when you don't have experience, you will stick here.
Don't worry!
I have an idea. You have studied the market to know trends or what is hot cake, but when it comes to you, you can leverage market to make your gigs better.
You will find many portfolios of experts and experienced freelancers which you can use as a reference for your work. There is only a need for creative thinking; you will get thousands of idea for presentation of your job.
Make a collection of samples of freelance work in your niche that you can use to create your portfolio.
4. Build Your Portfolio
Now, it's time to showcase your skills. Your resume or portfolio is the best way to tell people about yourself and your capabilities.
If you try to find jobs without creating your own sample workpieces or portfolio, no one will trust you. The chances of getting work will be minimum in this case.
Creating a blog and mentioning your service there is the best and easy way to find more clients. You can post your sample work on your blog or write about your niche to showcase your knowledge.
If you have already worked for a few clients, then ask them to leave positive review and recommendations or testimonials to boost your reputations.
5. Find The Opportunities & Start Working
It's the actual step where you get involved in working with a client. You need to find the opportunities relevant to your skills. It's important to focus only on a particular niche to become an authority.
Find the jobs at trusted freelance marketplaces or from network or referral of trusted clients. Job boards are better than personal requesters at the initial phase due to the reliability of payment and maximum chances of work offers.
Start working on a small project and gradually walk towards the bigger one. Start working to give your best to attract maximum bids and make them your repeated customers. Here are the more chances of getting referrals & personal clients.
Here's a list of freelance marketplaces to get the work for you.
While working as a freelancer, follow the guideline below to protect yourself from freelance work scams.
Important Tips for Starting A Freelancing Business
Try to work only with reputed clients and trusted freelance marketplaces. Before submitting your work, check reviews about the same person or company on the web.
Follow the customer's instructions and craft your work in that way. Work to give more than customer satisfaction.
Be punctual & keep professional tone throughout your job. Always complete the work on time. Creating a schedule and following work calendar is a good habit that you should build in yourself.
Don't show your expertise only, find what the client wants to get from that particular gig. Contact the requester to know more about the project. It will not only make your work better but build a relationship with him.
Try to work only on freelance marketplace due to significant chances of scams. If you are working outside, then ask your clients to deposit 30-50% upfront.
Be aware of sample work scams and never work free for anyone, if you have confidence in your abilities. Give the discounts for bulk orders but don't let scammers take advantage of yours. Learn to say 'No' and don't show your client that you are needy.
Be precise and careful on financial terms. Study the market rates and set minimum acceptable standards. Decide your charges whether they are hourly or for the entire project depending on your speed of work, skills competency, project value, your expenses, etc. Learn to negotiate the rates.
6. Promote Your Skills and Portfolio
It's a common term now. Apart from your portfolio and other promotion techniques mentioned above, work hard on marketing your freelance work.
As I said above creating a blog is the best way to sell yourself. Guest posting and being social dominator are also good options to promote your work.
Still, consider advertising your business, search engine marketing, networking, and offline promotion to get a continuous flow of work.
Remember, your words are your weapon, but other's words are your bread & butter. Word-of-mouth is best among all promotion strategies because it's a byproduct of the trust and healthy relationship between you and your clients.
Furthermore, ask your customers for referrals. Simply tell them your calendar has a few empty slots if they have any additional work or reference for you on similar work. Don't afraid of asking it or being shy.
7. Scale Your Business
The last but not the least, scale your business once you start getting enough exposure. Build a team or network to work for you and leverage other's efforts.
Being more professional and getting business address are a few things to consider after you find a breakthrough. Don't forget to raise your rates after 2-3 months. Do what you like and master it.
Sum Up
In this article, I have tried to discuss a few opportunities and the necessary things to become successful as a freelancer. I hope the above step-by-step guide will help you in taking a decision about freelancing career and tell the opportunities available to you.
There are many other freelance jobs, marketplaces and tips to become a successful freelancer but if you like this one, don't forget to share with your friend.
If you have any query or want to add some points to this article, let me know via the comment box below.
You May Also Like