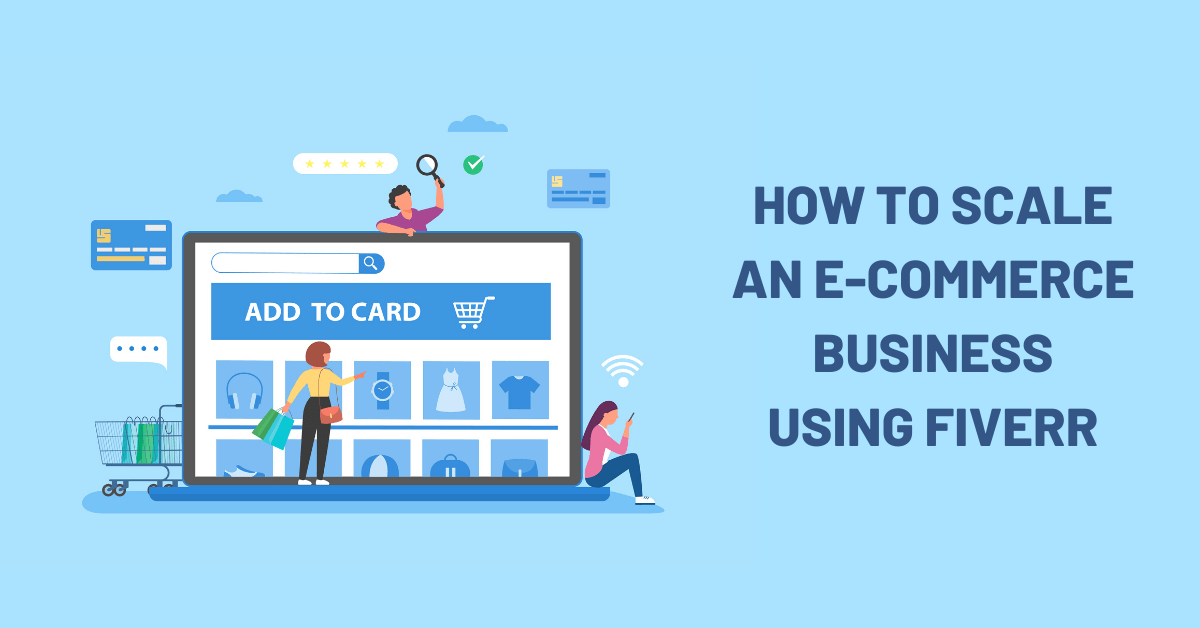 Affiliate Disclosure: I publish various content marketing strategies, online business ideas, blogging tutorials, review articles, and discount offers on my blog. My content may contain some affiliate links for products/services I use, love, and recommend. If you take action (i.e., subscribe or make a purchase) after clicking one of my affiliate links, I'll earn an affiliate commission at no additional cost to you. It helps me in creating more helpful content like this.
The COVID-19 pandemic changed the entire business landscape.
Currently, e-commerce is the preferred choice for new businesses due to low entry barriers. Even many existing businesses shifted their focus from traditional to digital.
If you want to know how to scale an e-commerce business, I have shared an actionable guide below.
It enables you to leverage the latest web technologies, freelance gigs, data-driven marketing to grow your online business and achieve more revenue.
Still not sure?
Statista forecast shows that retail e-commerce sales worldwide will reach a new height by 2023.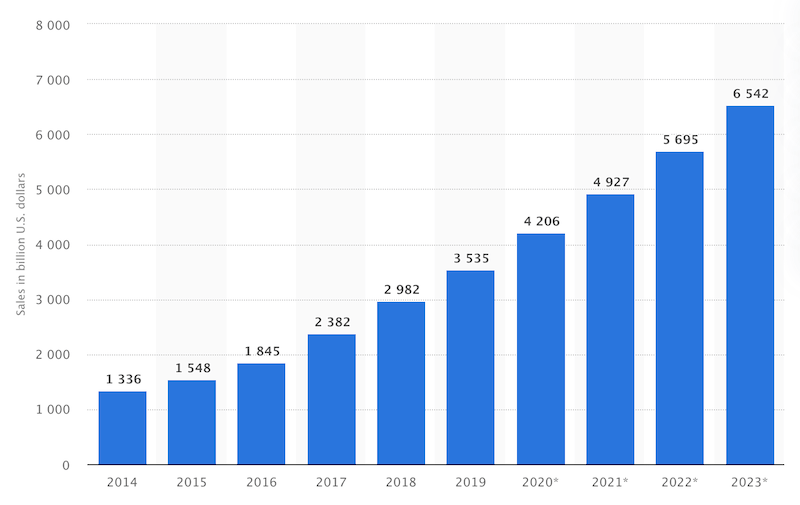 E-commerce businesses should anticipate a massive 85.06% growth rate, from $3.535 trillion in 2019 to $6.542 trillion in 2023.
It makes e-commerce a lucrative business opportunity in the upcoming months.
Starting an e-commerce business is comparatively easy, but scaling it to the next level requires additional resources and a highly-experienced team.
Hiring in-house staff members, training them for your business workflow, getting office space, and managing other overheads is often expensive.
Instead, you can hire experienced freelancers depending on your business needs to save valuable resources.
Nowadays, businesses are hiring more freelancers than full-time staff.
Studies projected that 50.9% of the total US workforce, i.e., 86.5 million people, will be freelancing by 2027.
The above stats and many other market research papers show that the freelance gig economy will significantly influence future e-commerce growth.
If you want to leverage freelancing to scale your online business, here is an actionable guide.
It will walk you through different key areas for achieving steady business growth and positive ROI.
Selecting the Right Freelancing Platform
Hiring the right talent is extremely necessary for the healthy growth of your business.
After working with hundreds of independent freelancers and freelance marketplaces, I found that Upwork, Fiverr, and 99Designs are the most reliable platforms for outsourcing business operations.
You have complete freedom to choose any of the above freelancing platforms. Still, I'd recommend trying Fiverr once.
Unlike other platforms that primarily cater to premium users, Fiverr offers numerous freelance services starting from as low as $5.
It doesn't mean Fiverr compromises on service quality by offering affordable prices.
Lately, Fiverr has launched Fiverr Business and Fiverr Pro for its premium customers looking for handpicked exceptional talent for stellar service quality.
No wonder, Fiverr annual report shows a steady upward growth trend with no signs of decline.
Top 5 Reasons for Using Fiverr to Scale an E-commerce Business
Fiverr is the third-largest freelancing platform after freelancer.com and Upwork.
Whenever people think about scaling an online business, Fiverr is the top choice for them.
Incredible service quality and responsive support made Fiverr a trusted freelancing marketplace.
I have enlisted the top 5 reasons below why Fiverr is the best platform to hire freelance professionals.
1. A Wide Range of E-commerce Related Freelance Services
Fiverr offers an extensive catalog of freelance services divided into eight verticals as follows:
Graphics & Design
Digital Marketing
Writing & Translation
Video & Animation
Music & Audio
Programming & Tech
Business
Lifestyle
You can hire the workforce with the right skill set and a certain professional experience, depending on your business requirements.
2. Pricing Flexibility
E-commerce businesses often need less capital than traditional businesses. However, skilled human resources consume a significant portion of the budget.
You can tackle this problem by hiring e-commerce specialists from Fiverr.
It's the only platform that caters to e-commerce businesses at their budget.
You won't find any freelance marketplace offering such a diverse range of services starting at $5.

Of course, the quality of the $5 and $1000 gig will not be the same. But it removes the entry barrier for a startup with limited investment.
You can revamp the brand look and other business operations when the money starts flowing in.
3. Access the Larger Pool of Niche Experts
Getting help from niche experts instead of riding solo is a better choice if you want to scale an e-commerce business.
Fiverr enables business owners to hire e-commerce specialists and niche-experts who have years of professional experience managing various business operations. E.g., creating a business plan, running PPC campaigns, and managing data entries.
4. Faster & Better Results
E-commerce is a complex business model. However, applying SMART marketing techniques help you achieve better results.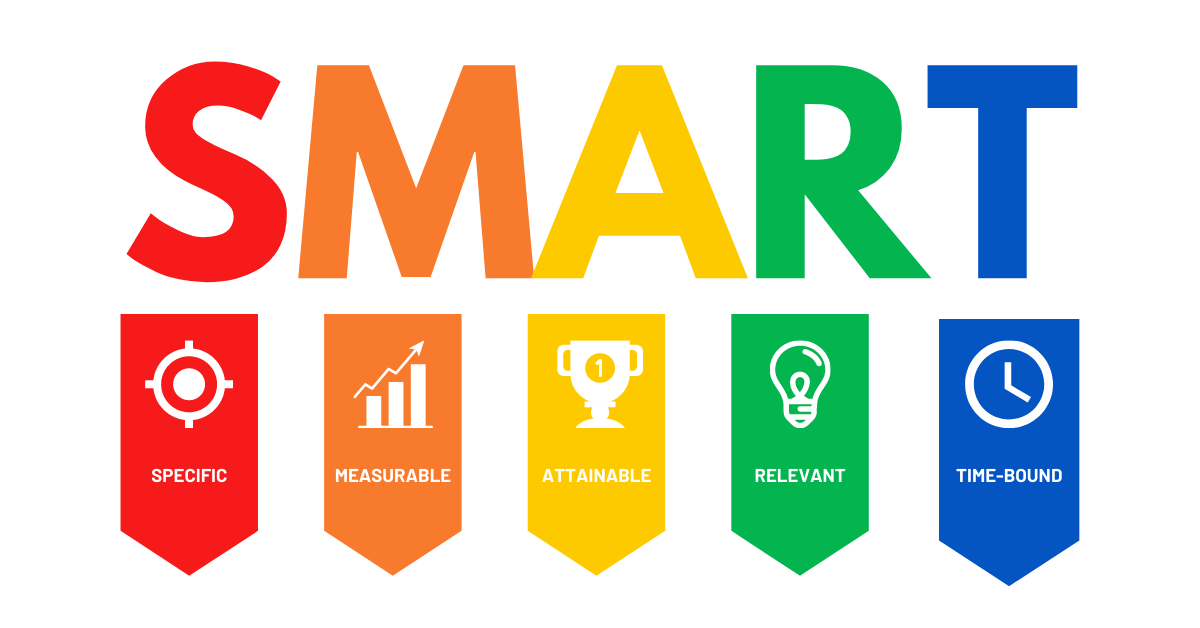 Fiverr closely follows the SMART marketing model.
That means lesser cost, faster workflow, and better ROI for your e-commerce business.
5. You Can Focus on Critical Business Issues.
Hiring freelancers is arguably a better option than managing all business activities single-handedly or staffing an in-house team.
Outsourcing the less important, time-consuming, and repetitive tasks enable you to focus on critical business issues and core competencies such as creative thinking, decision-making, and problem-solving.
Please don't take my words.
Visit Fiverr and see which business operations you can outsource efficiently.
How to Scale an E-commerce Business Using Fiverr
1. Market Research
In-depth market research is key for running a successful e-commerce business.
Knowing your ideal customer's profile lets you run personalized marketing campaigns that often yield better ROI.
Once you identify the target customers and their needs, you can discover or create better products.
Market research helps you figure out your competitors, their marketing strategies, industry trends, and growth potential.
However, you need the best talent to capitalize on market gaps and dominate the sales percentage.
If you don't want to sign an overpriced market research agency or business consultant, Fiverr has many freelance professionals with hands-on experience in market research and competitive analytics.

2. Validate Your Idea
Employing market research specialists from Fiverr will get you access to a catalog of countless business ideas and low-competition products.
Not all of them are suitable, especially when you want to scale your business.
Just because you're getting a few sales at a pilot scale, it doesn't necessarily mean you achieve similar results when you operate at a bigger scale.
Validating your business ideas before hitting the broader market is a sensible decision as an e-commerce business owner.
It allows you to:
Understand the target market, its demographic, geographic, and psychographic distribution, and problems vs. solutions so that you can offer the best products at a reasonable price.
Discover average market price vs. value proposition and decide your pricing strategy.
Analyze competitors' organic and PPC campaign performance to know overall profitability.
Study historic data and upcoming years' forecasts to know the sustainability of the business.
Find the risk associated with the idea, products, and operations.
The best way of doing that is reaching a group of the target audience and interviewing them to find their needs and expectations.
You can use surveys and community polls for that purpose. Building an email list and launching pre-order landing pages are a few other ways of validating a business idea.
Like market research, business idea validation and an e-commerce product selection are complex processes.
Instead of doing that yourself, you can hire a top-rated business consultant from Fiverr to save cost and time.
3. Create a Business Plan
Please note that you need a solid action plan to scale an e-commerce business.
A business plan comprises brand awareness, marketing, customer acquisition, inventory management, customer support, and financial activities.
Customer delight by maintaining a good profit share is the basic formula for a successful business plan.
You might have heard that good planning is half the battle.
Similarly, a well-designed business plan enables faster growth and stable financials with minimum risks & losses.
Please note that the business plan is the foundation for your e-commerce business. So make sure to work with specialists with significant experience in e-commerce.
If you've no clue where to start, search for the top-rated business strategists on Fiverr who can assist you in crafting a robust plan of action to kick-start your business.
A business planner assists you —
Outline the growth opportunities and develop SOPs.
Create a plan for getting external investments, especially VC fundings.
Set SMART (Specific, Measurable, Achievable, Relevant, and Time-bound) goals.
Understand business risks and how to tackle them effectively.
Make predictions about market dynamics and their effect on sales.
Revisit the business plan after a specific interval to check KPIs and revise it if necessary.
Prepare your business for expansion without compromising on the core business principles.
4. Develop Attractive Branding
Your branding is your identity, and it should be unique and memorable. Most small businesses think that branding involves only logo design.
That's not true.
Although the logo is an essential branding asset, you must be aware of supporting visual elements, including color pallet, the context in the application, typography, usage guidelines, social media kit, packaging designs, and anything else you think about.
Developing a strong branding before scaling your e-commerce business may save you tons of cost in the redesign.
For example, UK-based chocolate manufacturer Cadbury spent over £1million on a brand refresh, including logo and all visual assets.
If you need any form of creative help for developing your company's branding, Fiverr has over 4000 gigs ranging from $5 to $10,000.
Fiverr branding experts are capable of developing a kickass brand that will stand out from the crowd.
Here is how Fiverr freelancers can help you in brand design or brand refresh.
Extensive research about your niche, customers, competitors, and trending products over time
Incorporating companies vision and mission
Using the most suitable color scheme, typography, and styling based on psychology, purchase behavior, and design trends.
Understanding how your customer will perceive your brand and create attractive, robust, and timeless branding designs by giving attention to the smallest visual elements.
Offering input on brand usage guidelines
Usually, branding design is an expensive service, but considering your growth, I recommend investing strategically in it to avoid future rebrand cost.
5. Legal Consultation
As a small e-commerce business, you might haven't thought of seeking professional legal advice.
However, when you want to expand your business, especially targeting an international audience, legal counsel is necessary.
Usually, lawyers and business consultants charge heavy fees for legal advice and document filing.
Forget such pricey legal services and hire freelance business consultants or lawyers from Fiverr who take care of various legal tasks, including:

Legal research, e.g., patent research
Business registration, trademarks, and other intellectual property rights
Privacy and data protection
Legal contracts and business documents
Legal disputes
You can also ask for general legal advice and consultation before making any big move.
It'll help you protect your business from legal issues.
6. Developing an E-commerce Site
A conversion-focused website is an integral part of an e-commerce business.
Building an e-commerce site is not difficult. Anyone can design an attractive business website using popular CMS like WordPress, Drupal, Joomla, or hosted platforms such as Shopify.
Please refer to my previous article to know how to start an online store.
However, if you want to build a large e-commerce store with thousands of products, hiring a professional website developer or agency is the best choice.
Fiverr enables you to hire a reputed freelancer or agency at a much lower cost than an over-priced web development company.
An e-commerce website is often a complex project that involves the design and development of:
An attractive homepage with clear navigation, featured products, links to important pages, dynamically loading product feed based on visitor's browning history, social media integration, and conversion elements
Basic pages, including about, contact, privacy, TOS, shipping and return policy
Product pages with proper title, description, and eye-catching product images
Best-sellers, top-picks, and active deals
Custom product landing pages
Payment gateway integration
Abandoned cart recovery automation
FAQs and knowledgebase section
Live chat or AI-powered chatbot
Affiliate dashboard for both admin and partners with a reliable hit tracking mechanism
Lead generation elements
Dynamic product recommendations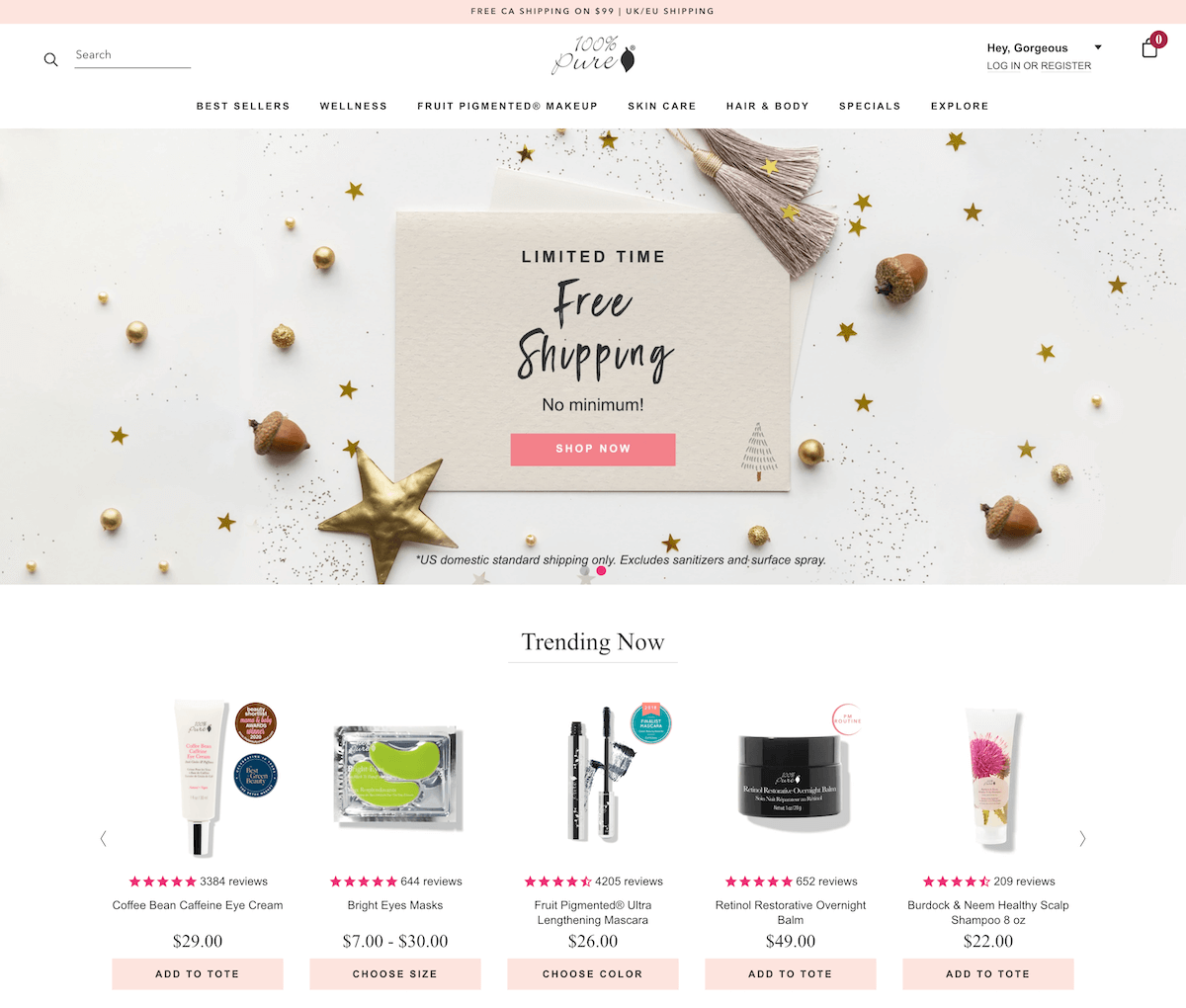 Handling such intricate web development projects is not everyone's cup of tea.
I recommend you visit the Fiverr Pro section to find experienced professionals and agencies depending on your budget.

Currently, Fiverr Pro has 9400+ e-commerce website development gigs.
You can choose any of them to get a secure, robust, extendable e-commerce site with the latest features and advanced functionalities.
7. Preparing Your Site for Search Engines
Search engines are one of the biggest sources of targeted traffic to an e-commerce website.
Optimizing your web property for search engines ensures a constant pool of organic traffic and better growth opportunities.
Creating a robot.txt file, checking website indexing status, adding your website to search consoles, submitting sitemaps, setting Google analytics, and listing your business to GMB are a few basic things to get started.
If you don't possess the required technical expertise, hire someone from Fiverr who can help you prepare your e-commerce site for search engines.
8. Social Media Optimization
The latest reports show that 4.14 billion people, i.e., 53% of the world's total population, use social media.
Like it or not, social media should be an integral part of your marketing strategy.
Look at the top e-commerce brands in any niche.
You'll realize that most of them actively use social media for brand awareness, lead generation, sales automation, and customer support.
On the other hand, social media is an infamous time-waster for e-commerce businesses having no clear-cut strategy and SOPs.
Each social media network uses a unique algorithm that you must be aware of to get most of it.
If you don't have much time, hire a social media manager who can drive constant engagement and conversions by applying creative promotional methods.

Here is an overview of social media optimization tasks you can outsource to Fiverr freelancers:
Defining social media marketing goal and creating an explicit social media strategy
Keyword research and hashtag research
Competitors analysis
Profiles creation and optimization to ensure maximum visibility and engagement
Content creation and curation by understanding your business goals, user demands, and market trends
Optimizing the content publishing schedule
Campaign performance analysis and improvements
Top Fiverr freelancers often have access to the latest automation tools, growth hacking communities, and massive data required for effective social media optimization.
Hiring such people helps you to cut down the social media marketing expenses of your e-commerce business.
9. SEO
Organic search is the second-largest traffic source for e-commerce sites, which drives 37.5% of total monthly traffic.
A survey conducted by SEJ shows that SEO drives the highest ROI for 48.7% of e-commerce websites.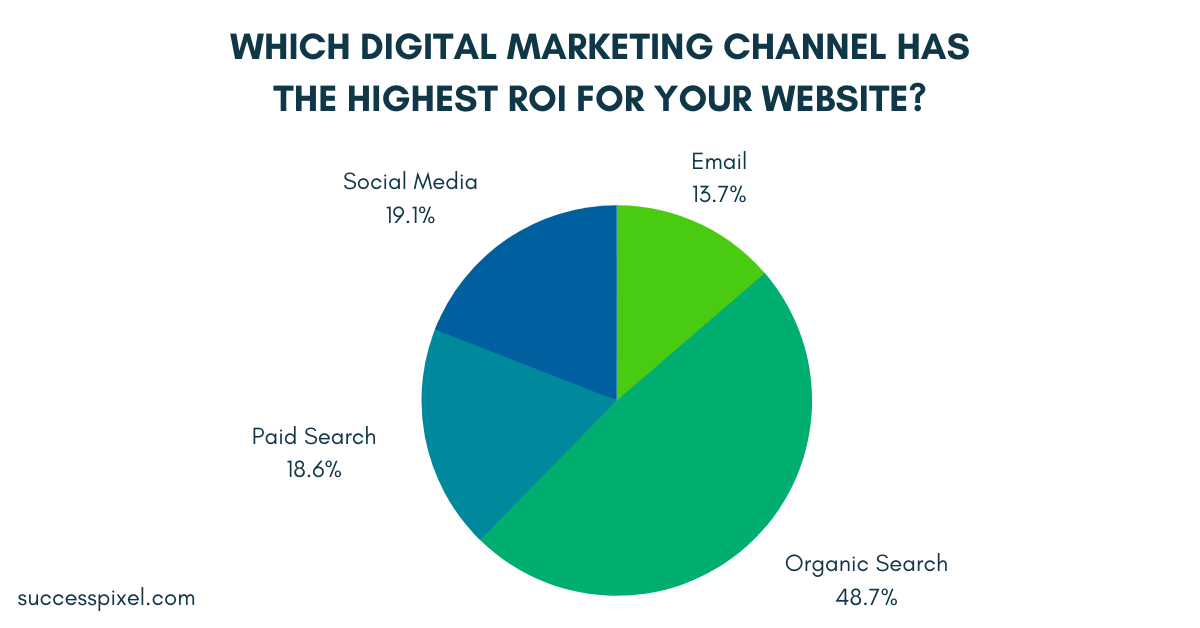 Still, most e-commerce starters heavily rely on social media and PPC ads for quick ROI and often put less effort into SEO campaigns.
E-commerce SEO is indeed a tough job, unlike blogs and single-page websites.
It requires a huge upfront cost — once your keywords start ranking on the top of the search, your store makes sales on autopilot with minimal recurring expenses.
Don't have time to learn e-commerce SEO?
You'll probably want to seek help from reputed SEO individuals and agencies that are capable of delivering results.
Fiverr is a great place to purchase e-commerce SEO gigs that don't cost arm and leg.
Depending on the package you choose, the freelance SEO specialist will offer you the following services:
Site audit to find and fix site health-related issues, e.g., crawlability, HTTPS, markup, page speed, and redirect errors
Keyword research with the right mix of informational and product keywords
On-page optimization, e.g., title & meta description optimization, strategic keyword placement, and image optimization
Fixing content-related issues, e.g., keyword cannibalization, duplicate content, and thin content
Proper internal linking
Link building and other off-page SEO activities
Conversion optimization
Content marketing to drive additional organic traffic
SEO performance analysis, e.g., sales funnel tracking
International SEO if you want to scale an e-commerce business globally
Recently, Fiverr announced an all-in-one SEO service where you can design customized SEO packages for your e-commerce website.
Please note that SEO is a long-term game.
You can expect good results in 6 months-1 year time frame.
So I recommend purchasing a retainer package that gives peace of mind and saves time on HR recruitment.
10. Local SEO and Business Directory Listings
Local SEO plays an important role in e-commerce business marketing because 28% of local searches result in a purchase.
Please note that local SEO isn't limited to GMB listing and "near me + location" keyword stuffing.
Local SEO is an ongoing process that includes keyword research, citation creation by maintaining NAP+W consistency, NAP+W review and fixes, image sharing with proper geotags, authority link building, PR, and map entity stacking.
If you're familiar with local SEO, you can use a DIY approach and automate the remaining tasks using the SEMrush Local SEO toolkit.
SEMrush enables you to distribute correct business information (NAP+W details) across authoritative directories, suppress malicious/duplicate listings, organize GMB and Facebook listings, local keyword research, track local rankings, manage reviews and user suggestions, and overview locations in one place.
Upgrading to the premium level allows you to access local heatmaps and respond to user reviews from the SEMrush interface itself.
That's cool.
However, you may need professional help for link outreach, PR, and critical local listing management activities.
Fiverr features 2000+ local SEO gigs by verified sellers who understand your business requirements and provide the top quality service at an affordable price.

11. Running Google Ad Campaigns
Google Ads network is an effective marketing channel for getting your products in front of targeted customers.
The beauty of Google ads is you only pay when someone clicks your ads and visits your web page.
Unlike TV or Print ads that charge specific fees irrespective of results, PPC ads are a more viable option for e-commerce businesses operating with low capital.
Google offers several advertising options, including search ads, display ads, mobile ads, and PLA/shopping ads.
Moreover, you can leverage YouTube ads to reach over 2 billion users worldwide.
Considering ads influence 90% of consumers to make purchases, hiring a Google ads expert would be an excellent growth hack.
Fiverr has thousands of freelancers specialized in running profitable ad campaigns.
They manage your ad account and carry out relevant activities such as:
Keyword research and optimization
Creating engaging ad copy and graphics
Conversion action and tag setup to track leads or sales
Adding relevant ad extensions to improve ad copies
Adding negative keywords to exclude unwanted traffic and save cost
Proper audience targeting to increase conversion rate
Bid optimization to achieve a low cost per click
Landing page consultation to improve UX, and ultimately conversions
Hiring incompetent people may burn your entire month's budget within a while with no significant results.
Instead, you can work with Fiverr Pro freelancers with a proven track record.
As your business grows, you may need more team members for professional ad creative design, video ad production, landing page optimization, and A/B testing.
Fiverr has several gigs catered to individual business needs. You can pick one of them based on your requirements.
12. Running Social Media Ads
Social media organic reach is very limited.
For example, the largest social media network – Facebook, shows the non-promoted content to only 5.20% of users who liked your page.
In case you want to reach more people, you should invest in Facebook ads.
The same rule applies to other social media networks.
Running social media ads requires serious knowledge of the platform, ever-changing algorithms, and audience demographics.
Moreover, the process includes target audience research, ad content creation, pixel + event tracking set up, campaign optimization, precise retargeting, and ad performance analysis.
Some people love to explore the ad platform features by spending thousands of dollars on testing budgets.
Instead of doing that, you can hire an ad expert from Fiverr to develop a winning social media marketing strategy to scale an e-commerce business.
Facebook ads network is the easiest way to start with social media advertising.
Later, you can explore Twitter ads, LinkedIn ads, and Pinterest ads for additional exposure and sales.
Please note that vanity metrics such as clicks, views, and likes don't carry much value for ad campaigns with negative ROAS.
So whenever you hire a social media executive from Fiverr, don't forget to check the KPIs of his previous work.
13. Influencer Marketing
You always don't need a huge marketing budget to scale an e-commerce business.
Today, there are many alternatives to traditional marketing, and influencer marketing is one of them.
Social media influencers promote your products to their followers to create a buzz for your e-commerce brand.
Fiverr has many influencers with a diverse range of social followers.
Collaborating with the right influencers who share the same audience as yours may help you get additional traffic, followers, and even conversions.

If you're unsure about whom to hire, Fiverr has some people who will help you develop a robust influencer marketing strategy and contact the right influencers on your behalf.
Here is a case study of how Fiverr helped Matthew Gates to catapult his SaaS product into the limelight with influencer marketing services.
Matthew Gates tried a few social media services on Fiverr to promote his product.
Later, he reached a young lady famous for her stint with MTV but was still hustling on Fiverr.
With just four gigs he purchased for a total amount of $23, his website traffic increased by many folds (from 100-200 visitors a day to almost 7,000 visitors a day).
He received over a hundred new registrations and 3–4 new paying customers too.
14. Customer Support
Customer support is a necessary element of the e-commerce business.
Timely support ensures customer satisfaction and generates repeat customers.
Incorporating an FAQ section, knowledgebase, AI-powered live chat, and a blog on your e-commerce site significantly reduces the support queries.
Still, you need to set up a reliable infrastructure and professional support team to resolve customer issues unaddressed through the above channels.
Employing an in-house customer support team adds up the cost, especially in peak times. E.g., annual holidays, festive season, or discount sale events.
Instead, you can hire freelance support executives who will take care of pre-sale queries, customer onboarding, and after-sales support.
Besides that, each e-commerce business has to perform many back-end operations, including:
Inventory management
Continuous communication with suppliers and shipping partners
Daily work management and documentation
Bookkeeping
Financial statements (balance sheet, profit & loss, cash flow statement)
Financial audits and tax calculations
As a small e-commerce business owner, you're forced to look after the above tasks single-handedly.
However, it would be best to have a team when you plan to scale an e-commerce business.
You can hire virtual assistants from Fiverr.
They have experience of working in a stressed environment and excellent knowledge of relevant system tools.
In such a way, outsourcing customer support and other time-consuming tasks will help you save lots of operating costs.
15. Funnel Building
Every visit to your e-commerce store doesn't convert into a sale.
In fact, the latest studies show that the average conversion rate (CR) of e-commerce websites is just 2.86%.
You can definitely achieve a greater CR by building a proper sales funnel.
In the funnel's early stage, you can use a mix of organic and paid marketing channels to increase awareness about your brand and products.
Webinar marketing is also a brilliant way to grab potential customer's attention.
As visitor reaches to the consideration stage, try pushing relevant content through influencers marketing campaigns.
Reviews, behind the scene videos, user-generated content, and PR campaigns enable you to win the user's trust and drive him towards the next step in the sales funnel, i.e., conversion.

If a user shows interest in your products, assist him in the onboarding process.
Keep a close eye on the cart abandonment too.
Finally, serve your customer with personalized communication, regular product updates, reward points, and a feedback channel to ensure customer happiness.
Happy customers often become repeat customers and unpaid brand advocates, allowing free word-of-mouth marketing for your brand.
David Mawhinney, the founder of children furniture brand – Franklin + Emily, knows the importance of building a proper sales funnel with abandoned cart recovery emails.
That's why he purchased a few Fiverr gigs to prepare his online business for the holiday season.
Watch the following video to know the exact strategy David used.
How to Choose the Best Fiverr Seller
If you expect steady growth of your e-commerce business, you should be careful when hiring human resources.
Selecting the right people from thousands of Fiverr sellers is a tough job.
Don't worry!
You can assess the sellers' profiles on different criteria before hiring them for your e-commerce project, as discussed below.
1. Be Specific About Your Requirements
Be specific about your requirements when recruiting new team members.
Never pick a person who boasts of being an expert in multiple fields. Such people are often Jack of all trades, master of none.
Instead, narrow down your current business requirements and search for the best people or agencies on Fiverr.
It offers relevant suggestions to your search query to explore more specific gigs.
Fiverr Pro is a great option if you can stretch your budget.
You can find hand-vetted professionals with exceptional knowledge in their respective areas.
In case you want to collaborate with your team and outsource multiple business operations to freelance e-commerce specialists, you should try Fiverr Business and Fiverr Studio services.
2. Review Seller Profile and Gigs Carefully
Reviewing the seller's profile will help you understand his skills, experience, and area of expertise.
You can check his portfolio, reviews, Fiverr status, and gig details to know whether he is capable of delivering quality results or not.
Check his work samples carefully or perform a reverse image search to filter out low-quality sellers who display other people's projects on their profiles.
If you're unsure about the gig quality, Fiverr allows you to contact a seller before ordering a gig.
You can ask a few questions to judge his expertise level and make the right hiring decisions.
3. Specify the Expected Outcomes
When you purchase a Fiverr gig, be clear about the expected outcomes, including the final product specifications, communication, TAT, and growth scope.
Many sellers display their pricing, gig description, extras, and FAQs to help clients make quick decisions.
You can contact the seller and share your expectations and estimated budget.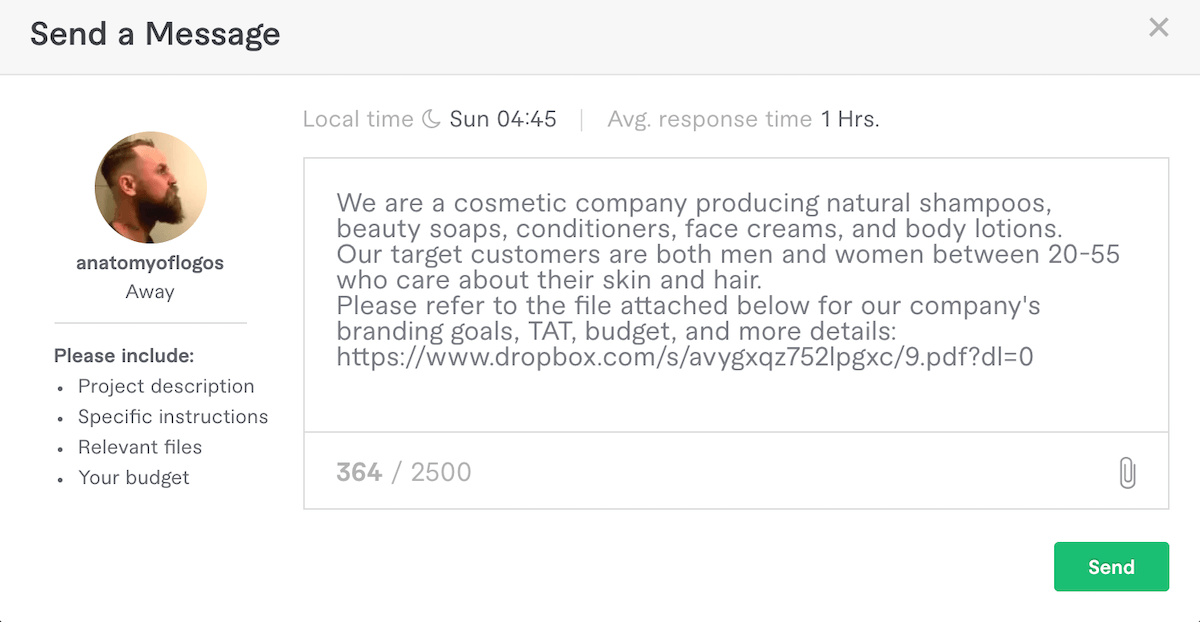 In most cases, Fiverr sellers deliver incredible results if you have clear objectives for a particular order.
Important: Never deal with any seller outside the Fiverr platform to avoid potential frauds.
4. Develop Good Relationships/Repeat Orders
E-commerce business is a long-term game.
If you want to scale it to a wider market, you need an army of dedicated people who understand your business.
Developing good relationships with highly-skilled Fiverr sellers and repeating the orders will allow them to connect with your brand at a deeper level.
It doesn't mean you should not give a chance to new people.
Try services from other sellers, do A/B testing, and choose the best one for your e-commerce business.
5. Top-rated or Fiverr Pro Sellers
Fiverr top-rated sellers are individuals who have completed 100+ orders on time with a minimum of 4.7/5 ratings.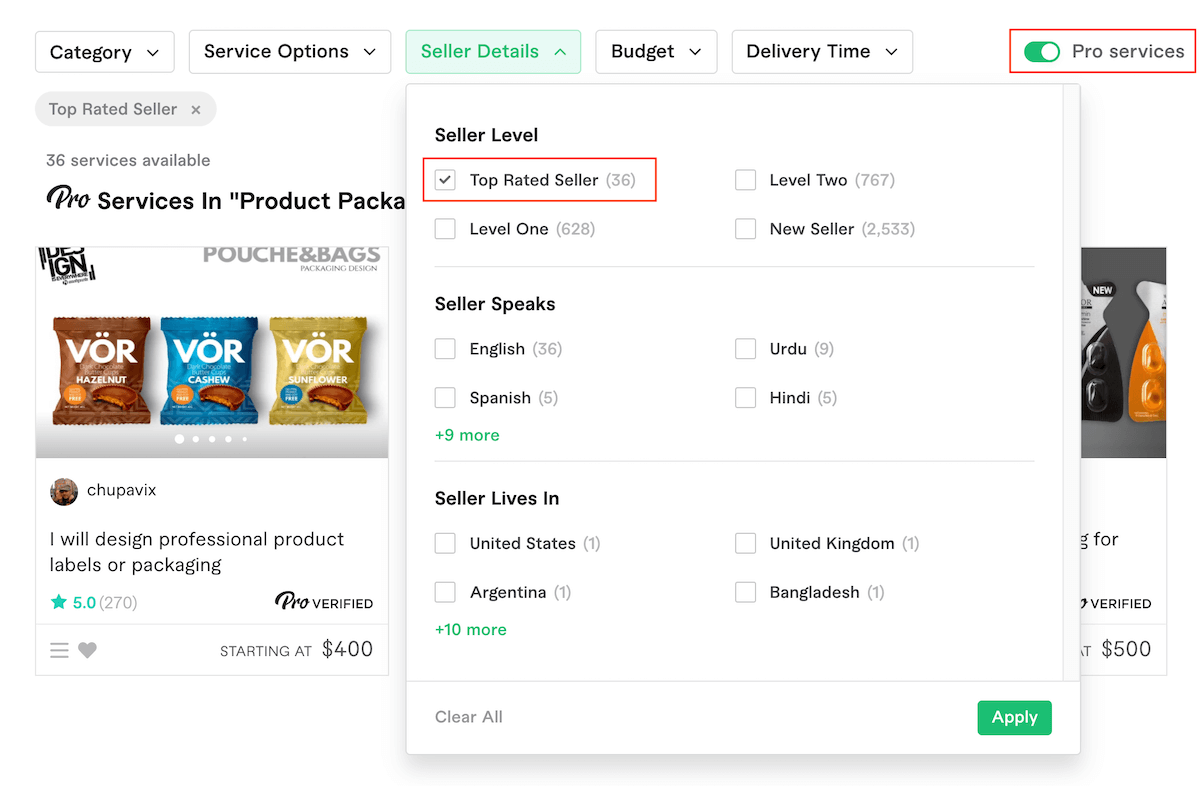 Top sellers are often niche experts with years of professional experience.
Hiring such people is a no-brainer if you want to scale your online business.
In case you want to work with top professionals hand vetted by the Fiverr team, you should visit the Fiverr Pro section.
Summing Up
Fiverr allows you to capitalize on a diverse range of freelancing expertise to scale an e-commerce business at a significantly lesser cost.
It also helps you improve productivity and profitability.
Many things can be delegated to independent providers worldwide, from market research to web development and marketing to accounting.
Moreover, Fiverr offers an opportunity to learn from experts that would be otherwise too expensive or not possible for ordinary businesses.
If you truly believe in your e-commerce business concept, you'll find the best workforce on Fiverr ready to work with you.
Give them a chance, and watch your business prosper over time.
You May Also Like:
Fiverr – Freelance Services Marketplace for E-commerce Businesses
Name: Fiverr
Description: Fiverr is a top-rated freelance service platform with thousands of gigs. If you want to scale your e-commerce business, Fiverr is the best choice to work with talented freelancers who charge reasonable fees. You can outsource most of your business operations, including inventory management, marketing, and customer service. Please give it a try once, and you'll be amazed by the results.
Offer price: 5
Currency: USD
Operating System: Linux
Application Category: E-commerce
Author: Ankit Main
Ease of Use

Service Categories

Pricing

Support
Comments Rating
( reviews)