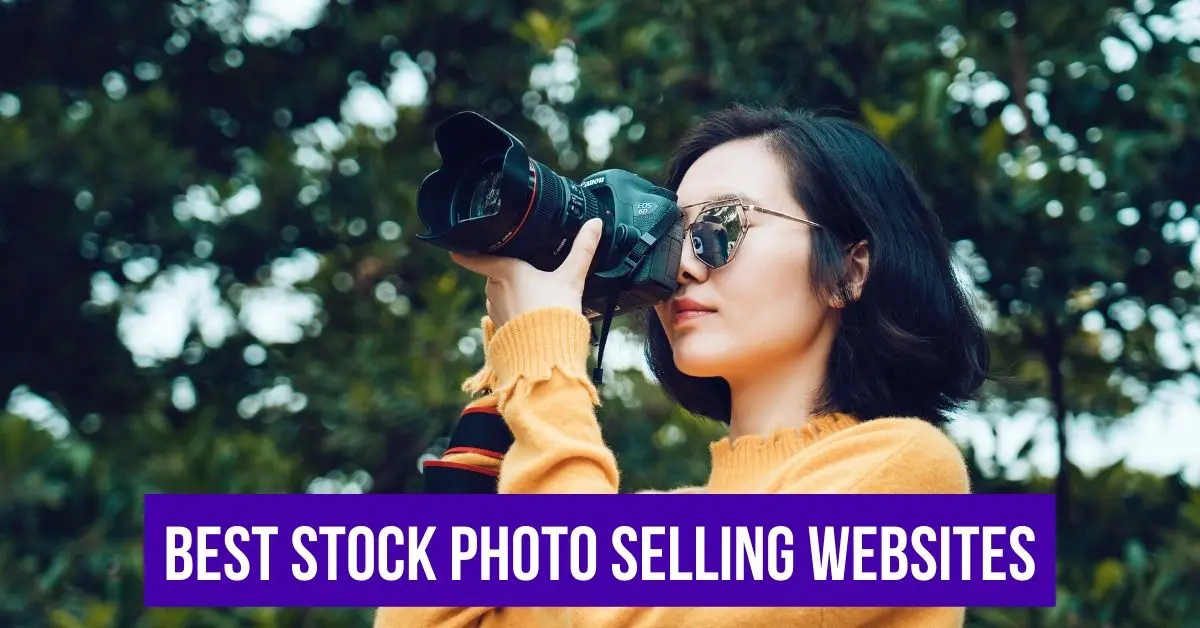 Affiliate Disclosure: I publish various content marketing strategies, online business ideas, blogging tutorials, review articles, and discount offers on my blog. My content may contain some affiliate links for products/services I use, love, and recommend. If you take action (i.e., subscribe or make a purchase) after clicking one of my affiliate links, I'll earn an affiliate commission at no additional cost to you. It helps me in creating more helpful content like this.
20 Best Stock Photo Selling Websites
Recently, I published an article about 45 awesome websites to download royalty-free images and stock photos that you can use on your website or other projects.
Here I've listed the top 20 stock photo-selling websites to make money online.
If you are a photographer (not need to be professional but at least know how to shoot classic snaps) or a graphics designer, then you can sell your photography skills online; I mean your photos and other creative work.
I hope this will help you to stand out in the online community where you can pursue your passion & simultaneously earn money too.
See the following list & I'm sure you'll love it.
The first place on my list of websites selling photos online is Shutterstock. It's a global marketplace for photographers, artists & passionate creators to sell their photos, footage (both HD & 4K), vectors, and illustrations.
Just shoot photos and videos of beautiful landscapes, people, or creations or create vectors & other artificial designs or illustrations, Shutterstock will provide you a platform to sell all this stuff.
You'll get 20-30% royalty for photos and video footage. It also offers a referral program that can boost your income.
Bigstock is another platform provided by Shutterstock and you can easily sign up there.
If you upload high-quality images, you can earn up to 30% per sale. Here, you can see their contributor royalty structure.
The best thing about BigStock, it offers weekly payments on each Monday with a minimum payout of just $30.
Once your payment gets processed, the income will be reset to zero. The payment modes consist of Checks, PayPal, and MoneyBookers/Skrill, etc.
Anyone above 18 can become a contributor to Adobe Stock.
You can reach millions of buyers with Adobe Stock.
If you are the sole owner of your media files which does not hurt any copyright or trademark, you can sell them on Adobe Stock.
Here, you can earn 33% commission for photos & vectors and 35% commission for the videos based on the price.
And, you can request your payments easily with PayPal or Skrill when you'll reach $50.
Etsy is an e-commerce marketplace, but you can sell your media files there.
Selling on Etsy is easy because it's a global e-commerce marketplace also.
On Etsy, you have nominal fees for listing + transactions and standard PayPal fees.
It also features an affiliate program that means you can earn much more by selling your photos, and artwork and via affiliate income too.
Getty Images is one of the big names in selling photos. It's connected to iStock, Thinkstock, and Photos.com.
It's been a good online platform for selling high-quality photos since 1998.
You should submit original files to get the chance to become a contributor to the Getty Images community.
Though probably it would be variable for all sites under Getty Images ranging from 15-45%, iStock offers you a royalty on the 25th of the following month once you reached the minimum limit of $100. Available payment modes are PayPal, Payoneer, and Bank transfer.
123RF is a good photo-selling platform where you can earn up to 60% commission (variable) for your uploads.
Sign up for 123RF and start selling your photos. The more your photos get sold, your commission percentage would increase simultaneously.
You have to upload your high-quality photos, vectors, illustrations, or video footage over 123RF.com.
You can earn through referral programs too. You'll be awarded 25% of a big commission for each new customer (maximum $300 per customer on their first order only).
Alamy is another good site to sell your photos.
It offers 50% off the non-exclusive license which is better than most other photo-selling platforms (Source: Alamy).
But your photos need to pass strict technical tests. The technical criteria include the following terms.
Photos should have taken from good DSLR (or equivalent) cameras only and a minimum of 6 megapixels.
Photos should be in JPEG format only.
The uncompressed file size of your photos should exceed 17 MB and it should be 100% free from pixel errors.
It also offers an iPhone app Stockimo which can help you to earn money by selling your photos captured on the iPhone. You'll be paid through different payment modes like bank transfer, PayPal, or Skrill once your account balance has reached $50.
It's a good photo-selling platform offering a 25-50% commission for your photos.
An exclusive contributor can earn 10% more, enjoy a revenue share of up to 60%, and earn $0.20 for each approved submission. It's for the first 100 submissions which can be variable then depending on downloads/price.
It also requires good quality noise-free photos only in JPG format, RGB, and sRGB with resolutions ranging between 3 to 70 megapixels.
You can request payment from Dreamstime once it gets $100 or more in your account. The payment modes include PayPal, Payoneer, or Skrill.
Registering on Depositphotos as a contributor is free and simple. You must be 18+ and the original author of your photos.
There are different configurations for submitting the media files and you can easily meet their requirements.
You can upload photos, vectors, illustrations, and even video footage for up to 1 minute.
The payment structure is also very simple. You can earn 34-42% according to your level.
If you're capable of producing very high-quality photographs, illustrations, music & sound effects, stock videos, and 3D models, then Pond5 is the perfect choice for you.
It offers non-exclusive submission of your media & gives you a 50% commission on every sale. You only have to provide professional-grade work and there will be no limit on your income.
And the best thing about Pond5 is you can decide the price for your media files thus it's extremely flexible to work.
There are thousands of customers connected to Pond5 available to buy your creations. It's pretty cool, isn't it?
10. Sellfy
Sellfy is a platform to sell digital products online. You can sell photos, videos, ebooks, fonts, themes, and more.
However, it's free for up to 5 products, and you have to pay monthly charges for listing and selling more products. It's optimized for mobile devices also, and one more thing worth noting is the Sellfy dashboard.
It offers different currencies and languages for easier operation. You can receive the payment by PayPal or Stripe. It's a kind of hosted e-commerce store with a lot of features.
MostPhotos is a photo marketplace and is open to everyone.
The photographer who can shoot eye-catchy photographs can earn a 50% commission with the MostPhotos. It'll not cost you anything out of your pocket.
You can request your 50% commission made with every sale via PayPal or Skrill.
You have no commitments and are free to delete your photos or even account anytime, and there is no restriction.
The best part about MostPhotos is that you hold the rights to your media files and you can use them as per your choice.
Go with media outlets, big brands, or anywhere worldwide, the license is only for you.
Snapped4U is an easier way to sell your event photos.
Upload your photos on its platform and set your price.
Pretty impressive!
It offers a platform for selling your event photos and accepts photos in JPEG format.
The payment mode is PayPal, and you need to sign up with the email address which you've used for your PayPal account.
It's best if you are expecting more money from selling your photos. And, if you're a good photographer, you can earn up to 85% commission. It's huge, what do you think?
Stockfresh gives you an opportunity to reach millions of people worldwide with your photography skills.
You'll earn a minimum of 50% royalty always which can go up to 62.5%.
Your photos would get live immediately after passing the review process which requires up to 3 days depending on the number of projects in the queue.
The payment process is also simple through PayPal or Skrill when you would have reached $50. It has a weekly payout on Monday except for the holidays.
Apart from this income, you can make an additional 10% with the affiliate program of Stockfresh.
Now, you can decide which platform suits best for you and start selling your creative work.
Envato is one of the largest digital marketplaces selling themes, codes, graphics, and audio. GraphicRiver is a part of the Envato marketplace mainly focused on photos and graphics.
If you think you are the best and your products can pass Envato's strict review process, go ahead and signup for GraphicRiver.
Put extremely high-quality products and present them in a beautiful way. An important part of your success on Envato is providing expert support to your customers when they ask.
Not sure whether your work will meet their quality guidelines, buy some stuff from GraphicRiver and check the quality. If you are compliant, just start selling on Envato.
15. Own Photography Website
If you don't want to work with the sites listed above and establish your brand then creating your self-hosted WordPress website/blog would be an obvious choice for you.
Set up your blog and start promoting. You need initial investment for the domain, hosting, and theme but in the long run, it's worth doing.
You can use plugins like Easy Digital Download, WooCommerce, or Sell Media on your site for easier operations.
If you are processing payments, then make sure that you have SSL and PCI DSS security standards integrated into your site. For faster loading of your media files, you can consider using the CDN (Content Delivery Network) too.
Here, one more thing to note down is you can sell affiliate products on your blog which can increase your revenue. It's a cool idea, isn't it?
So consider creating your website.
List of other websites selling photos online
I have listed a few best stock photo sites for photographers.
Summary
Did you find this post about websites selling photos and graphics useful?
Do you know any other cool site which is not listed here?
Please share them in the comments.
Meanwhile, if you love our articles, you can subscribe to our newsletter, so that you can get updates in your mailbox!