Affiliate Disclosure: I publish various content marketing strategies, online business ideas, blogging tutorials, review articles, and discount offers on my blog. My content may contain some affiliate links for products/services I use, love, and recommend. If you take action (i.e., subscribe or make a purchase) after clicking one of my affiliate links, I'll earn an affiliate commission at no additional cost to you. It helps me in creating more helpful content like this.
You should not miss the Tailwind Black Friday deals if you're searching for the best Pinterest scheduling app or Instagram automation tool.
Please take advantage of an exclusive 50% off Tailwind Black Friday deal on its already discounted annual plans, yielding an effective discount of 75%.
Every website or blog needs targeted traffic to grow its online business.
Pinterest is the best free platform to promote your visual content, including images, infographics, and video clips.
Similarly, Instagram is also a top social media network focusing on visual content.
By combining your efforts and the power of Tailwind automation, you can drive tons of referral traffic, engagement, and followers.
If you have set up your sales funnel correctly, you can generate leads and sales on demand.
What is Tailwind Black Friday Deal for 2023?
Tailwind provides an additional 50% off on its already discounted annual subscriptions.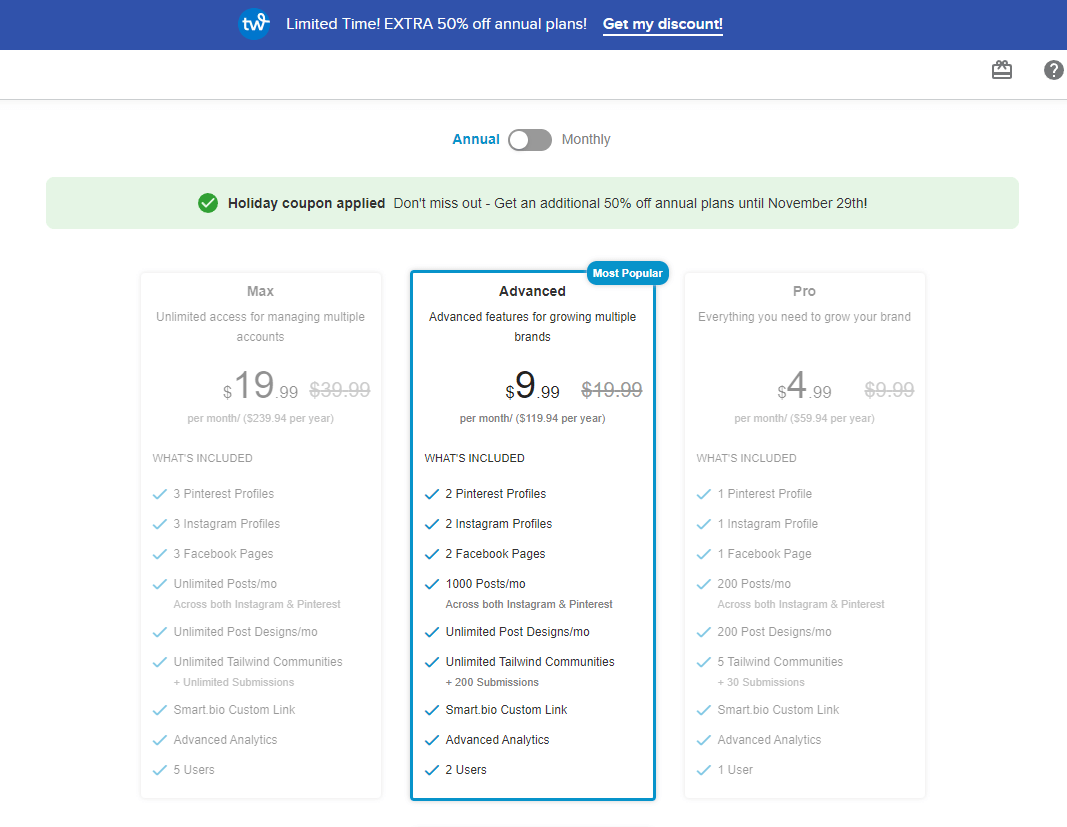 Additionally, the company offers 50% off for non-profits, including educational institutions and charities (US 501(c) organizations/UK organizations recognized by HM Revenue and Customs).
Tailwind premium pricing starts at $19.99 per month and allows you to schedule up to 100 posts per month.
However, by purchasing Tailwind's yearly membership, you'll save 50% on all Tailwind plans, reducing your software costs by almost half.
People who understand the power of Pinterest and Instagram automation should invest in Tailwind's annual subscription.
Yes, we have been using Tailwind for the last three years. The tool has helped us increase traffic and generate leads.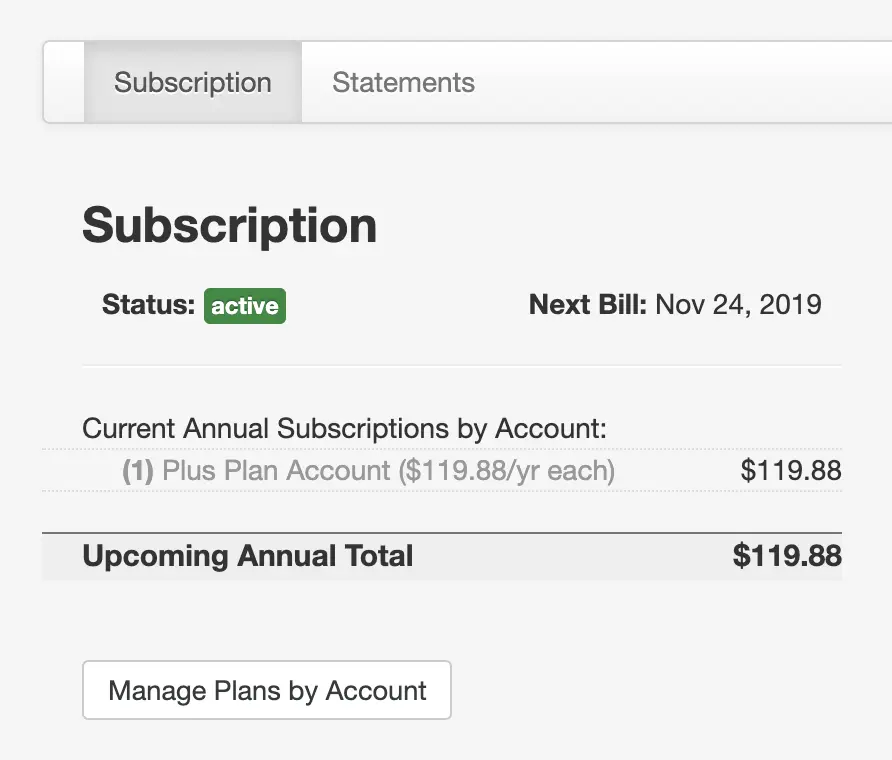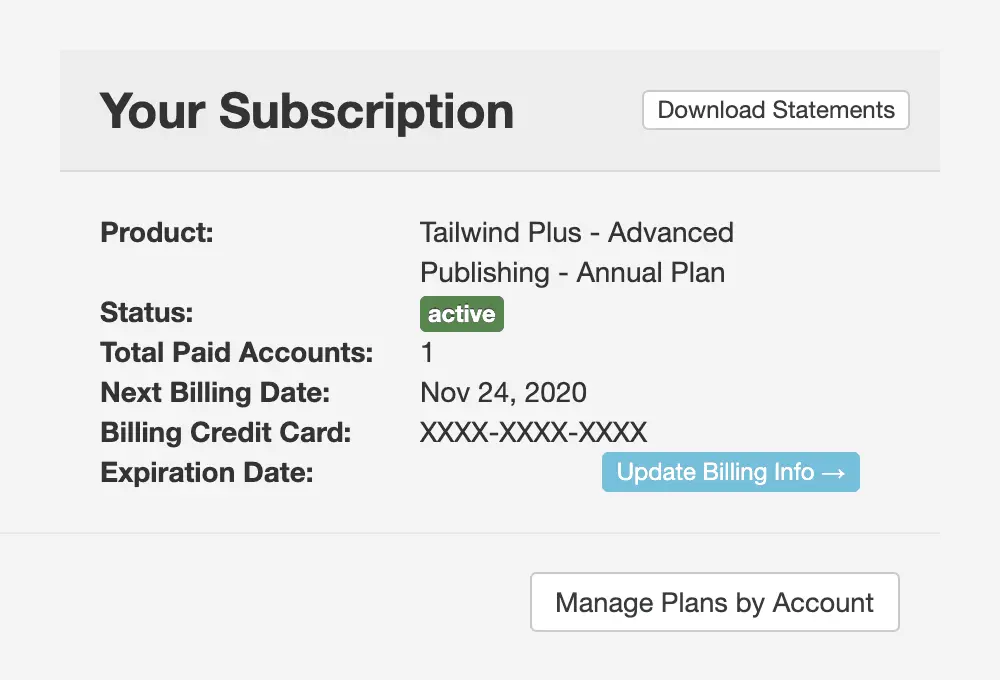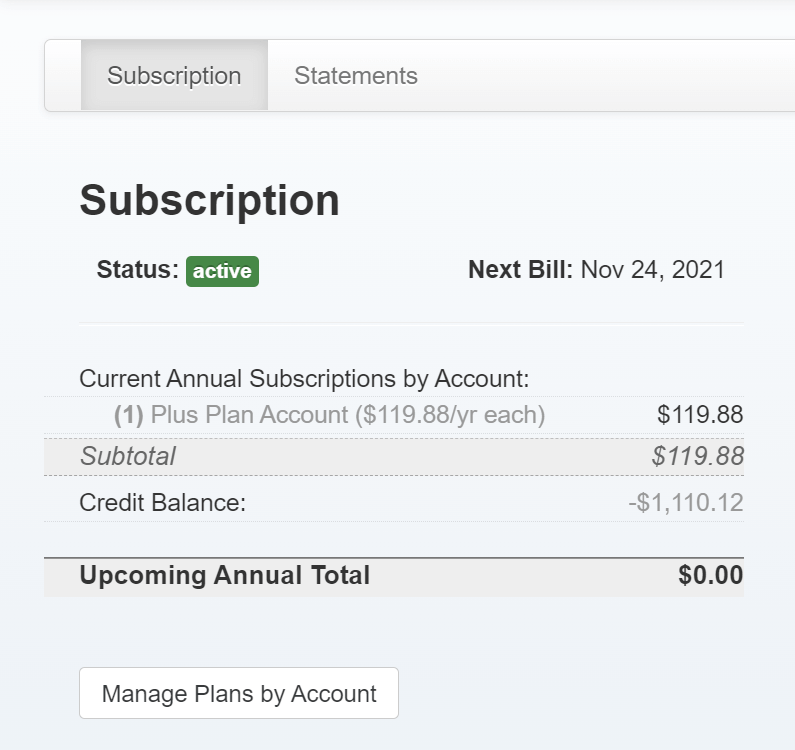 How to Activate Tailwind Black Friday Deals?
If you have decided to purchase a Tailwind subscription, follow the step-by-step process mentioned here to get your discount.
Step 1: Visit the Tailwind Black Friday and Cyber Monday deals page.
Step 2: Choose either Sign up with Pinterest or Sign up with Instagram options provided on the landing page.
Step 3: Tailwind will redirect you to Pinterest or Instagram's official sites to complete the authorization process.
Step 4: Upon successful authorization, Tailwind will create your account.
Step 5: Continue with the account setup process by entering your first name, email address, and password.
Step 6: Describe yourself and how you plan to use your Tailwind account.
Step 7: You'll receive a free Tailwind account that lets you schedule up to 20 posts per month.
However, if you wish to schedule more than 20 posts each month to your Pinterest or Instagram accounts, I recommend upgrading to Tailwind's paid plans.
Step 8: Select a Tailwind plan that suits your marketing requirements. The Tailwind Advanced or Max plan is recommended for businesses that rely heavily on social media for traffic generation. Bloggers and individual creators can opt for the Pro plan.
Here is a special trick: Upgrade to Tailwind Pro within your first seven days of account creation, and you'll receive a 2x scheduled posts quota.
Step 9: Review the order summary (total due today).
Step 10: Add your credit card details and click Activate Plan to finish the order.
You can now log in to your Tailwind dashboard and schedule your best pins.
Alternatively, you can design beautiful social media posts using Tailwind Create and upload them to Tailwind Scheduler.
The company also provides Tailwind Publisher Google Chrome extension to help you schedule and publish content to Pinterest and Instagram.
As a Tailwind customer, you'll also get access to Tailwind Communities, Smart.bio links, and advanced analytics.
Keep on working hard with Tailwind, and you'll see incredible results.
Top 5 Reasons to Buy Tailwind Black Friday Deals
Tailwind is an official Pinterest partner for content marketing and an official Facebook partner for community management.
Compared with other scheduling applications, Tailwind leaves you fewer chances to get banned from Pinterest, Facebook, and Instagram, unless you are spamming or violating their TOS.
Here are a few more benefits of using the Tailwind app for Pinterest and Instagram scheduling.
1. Simple User Interface
Using Tailwind doesn't require hours of training to learn how to use it.
The tool has an intuitive user interface, so even a novice can get started in minutes.
The dashboard provides easy access to all menus, scheduled pins, communities, SmartLoop, smart.bio links, and many other options.
In my experience, Tailwind has the best user interface out of all the social media automation tools I've ever used.
2. Recommends the Best Time to Post Content
With Tailwind, you can find the best time to share your content based on when your posts get the most engagement.
This simple tool ensures that your Instagram posts and Pins reach as many people as possible.
3. Multiple Ways to Schedule Content
You can schedule content by uploading pins to the Tailwind Scheduler, using the Tailwind Publisher chrome extension, or by using Tailwind's suggested feeds and communities.
Your board or account will never be short of content.
We encourage you to post on Instagram or Pinterest as often as possible. But sharing other people's content will help you gain more followers and grow faster on social media.
4. SmartLoop
Tailwind allows you to share individual posts or schedule repeated content. Using a SmartLoop feature you can reshare your older pins.
Some content may not reach all of the targeted customers for the first time. The SmartLoop ensures that your every pin will get seen by a maximum number of people by sharing it separately on your account.
Additionally, you can set intervals between two consecutive posts to avoid a spammy look. It helps a lot especially when you share a single pin across multiple boards.
5. Easy-to-Use Analytics
Tailwind Analytics provides valuable insights into your account, the number of followers, pins, repins, comments, and engagement rate.
If the results aren't satisfactory, you can modify your social media marketing strategy.
Tailwind has been helping me promote my blog on Pinterest and Instagram for the past three years. I'm satisfied with how this tool works and will continue to use it.
If you have multiple tasks to manage on a daily basis, you should consider buying Tailwind Black Friday deals.
Tailwind Black Friday Sale Pricing Plans
Tailwind pricing plans start at $19.99 per month and go up to $79.99 per month.
Below you will find more information about the Tailwinds Black Friday Cyber Monday Pricing plans.
| | | | | |
| --- | --- | --- | --- | --- |
| Tailwind Plans | Free Forever | Pro | Advanced | Max |
| Pinterest Profiles | 1 | 1 | 2 | 3 |
| Instagram Profiles | 1 | 1 | 2 | 3 |
| Scheduled Posts | 20 Posts/Month | 100 Posts/Month | 1,000 Posts/Month | Unlimited |
| Social Post Designs | 20 Post Designs/Month | 200 Designs/Month | Unlimited | Unlimited |
| Tailwind Communities | 5 | 5 | Unlimited | Unlimited |
| Users | 1 | 1 | 2 | 5 |
| Monthly Prices | $0/Month (No credit card required) | $19.99/Month | $39.99/Month | $79.99/Month |
| Annual Prices | $0/Month (No credit card required) | $9.99/Month (when billed annually) | $19.99/Month (when billed annually) | $39.99/Month (when billed annually) |
| Discounted Prices | $0/Month | $4.99/Month | $9.99/Month | $19.99/Month |
| Link | Get Started Free | Buy Pro | Buy Advanced | Buy Max |
Tailwind premium plans give you access to some exciting features, such as 1-click hashtag suggestions, Smart.bio custom links, SmartSchedule, comment monitoring, and advanced analytics.
Still not convinced?
Sign up for a free Tailwind account to see if it works for you. You don't need a credit card to get started.
With a free trial, you can create and schedule up to 20 posts per month.
In the future, you can upgrade your account to a paid plan to access the premium features.
Consider purchasing the annual Tailwind subscription to save 50%.
Tailwind Black Friday Sale 2023: FAQs
1. What is Tailwind?
Tailwind is an intuitive social media automation tool that mainly focuses on Pinterest and Instagram. It supercharges your social media marketing by finding the best time to schedule your posts and drive maximum engagement.
2. How much is Tailwind monthly?
Tailwind pricing starts at $19.99 per month per account. However, you can get a 50% discount by subscribing to its annual plan.
3. How do you use Tailwind on mobile?
I mostly prefer using the Tailwind chrome extension and web app, but Tailwind has mobile apps for Android and iOS users. You can use the Tailwind App to schedule your posts for Pinterest and Instagram, edit drafts, and view analytics.
4. Is Tailwind worth the money?
I'm using Tailwind for the last three years, and this tool has helped me improve engagement rate, leads, and affiliate sales coming from my Pinterest account. If you're a smart blogger or social media marketer, Tailwind is worth every penny you spend purchasing this tool.
5. What is the Tailwind Black Friday deal?
Tailwind's annual plans typically cost 50% less than their monthly prices. As part of the Tailwind Black Friday deal, the company offers an additional 50% off on already discounted annual plans, resulting in an overall 75% discount.
6. When is Tailwind's Black Friday deal?
The Tailwind Black Friday sale is now live and runs through 28 November 2023. You'll get an exclusive 75% discount during the promotional period.
Tailwind Black Friday and Cyber Monday Deals 2023: Summary
Take advantage of the Tailwind Black Friday discount offers and implement the best marketing tool to grow your business.
Tailwind's exclusive features help you effortlessly reach a global audience.
Don't miss the deals if you seriously want to upscale your Pinterest or Instagram marketing game.
Please click the links below to get this year's hottest Tailwind deals and enjoy a 50% discount.
Tailwind Black Friday Deals

Name: Tailwind
Description: Tailwind Black Friday sale is the best time to grab an exclusive 50% discount on your favorite Pinterest and Instagram scheduler app. Get Started for free.
Offer price: 4.99
Currency: USD
Operating System: Linux
Application Category: Social Media Automation
Author: Ankit Main
Performance

Reliability

Pricing

Support
Comments Rating
( reviews)