Affiliate Disclosure: I publish various content marketing strategies, online business ideas, blogging tutorials, review articles, and discount offers on my blog. My content may contain some affiliate links for products/services I use, love, and recommend. If you take action (i.e., subscribe or make a purchase) after clicking one of my affiliate links, I'll earn an affiliate commission at no additional cost to you. It helps me in creating more helpful content like this.
Elementor has officially released Elementor Cloud Website, a modern cloud-based platform for building professional websites.
It provides everything you need to design and build stunning websites in one place.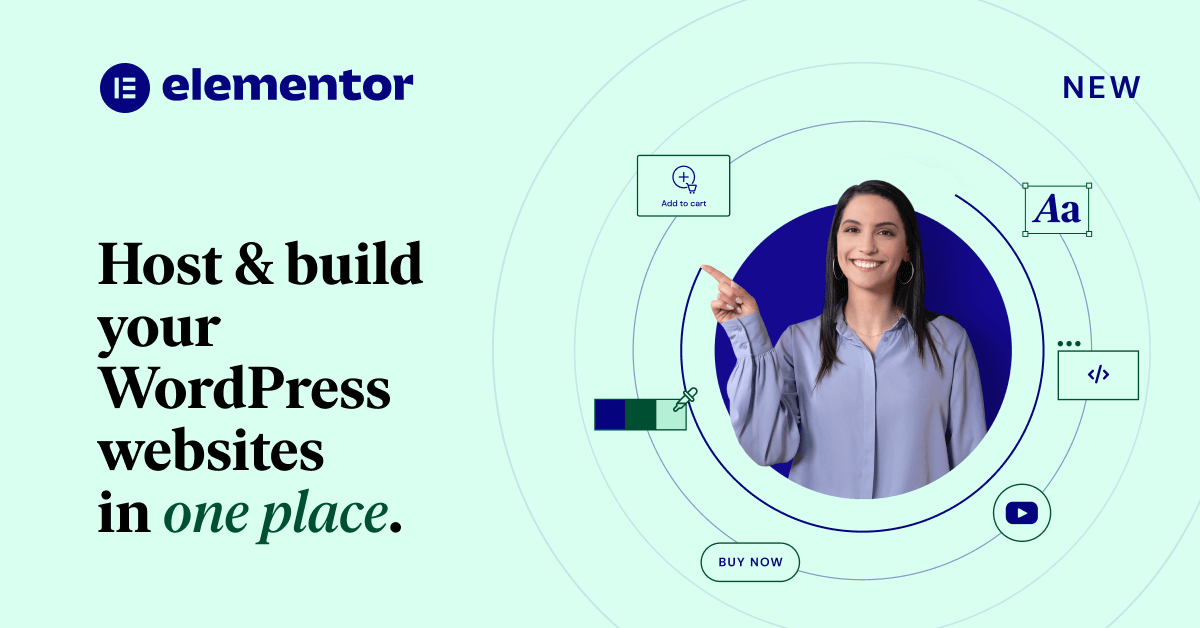 But how does it stack up against the competition?
Get the inside scoop on this by reading our Elementor Cloud Website review.
The company has provided all the necessary information about the new platform on its website.
However, I encourage you to look through our Elementor Cloud review to get detailed insights into the Elementor Cloud Website's distinct features, pricing, pros, and cons.
Let's get started.
What is Elementor Cloud Website?
Elementor unveiled one of the much-awaited products, the Elementor Cloud Website, on 22nd February 2022 at the live launch event.
The Elementor Cloud Website is an end-to-end solution for web designers who want to build beautiful websites effortlessly, regardless of their technical expertise.
In simple terms, Elementor Cloud Website offers a complete package of website building tools, including –
a secure GCP-powered cloud hosting for your WordPress website,
the Elementor Pro plugin to design a stunning website,
an easy-to-use dashboard to manage everything all in one place.
Besides that, Elementor also offers 24/7 live support via chat messaging and email.
Why Choose Elementor Cloud Website Platform?
Maybe you're wondering how the Elementor Cloud Website makes more sense than other products currently available.
Let's find it.
Elementor is the most popular visual page builder with plenty of design features. But the most common issue with Elementor and many other page builders is that they slow down website loading due to heavy JS and CSS usage.
It often negatively impacts the site's organic search engine rankings and UX.
Hence, instead of facing the wrath of Google, many WordPress users switched to Gutenberg Block Editor for its speed, ease of use, and design flexibility. In addition, a release of Google's Page Experience update expedited the transition.
So instead of only catering to the aesthetics of a website, webmasters started paying attention to Core Web Vitals and fixing all possible errors presented in the GSC to avoid getting a Google penalty.
Still, many people loved Elementor for its robust design workflow, feature-rich theme builder, and visually appealing templates.
So, after extensive research and hundreds of development hours, Elementor has launched a new product named Elementor Cloud Website, exclusively optimized for the Elementor environment.
The new platform combines the aesthetic features of Elementor Pro with one of the world's fastest cloud hosting, i.e., GCP and Cloudflare's Global CDN, to ensure the best site speed and customer experience.
Another reason is that finding the best and most affordable Elementor hosting provider among tons of options isn't easy.
Poor hosting infrastructure, upsells and hidden charges (e.g., heavy renewal upcharges), and lack of reliable customer support could ultimately bring your website down.
So why waste your hard-earned money and valuable time searching for the best Elementor hosting service?
Get the complete package of website building resources for one low price by signing up for the Elementor Cloud website today.
Top Elementor Cloud Website Features
The Elementor Cloud Website provides superior performance at an affordable price.
Besides that, the Elementor Cloud Website offers a wide range of useful features, as listed below.
1. Access to Adequate Hosting Resources
Elementor Cloud Websites provide you with ample hosting resources to ensure your website runs smoothly.
Each Elementor Cloud offers 20 GB storage, 100 GB bandwidth, and can handle up to 100K visits per month.
Having such reasonable limits gives any small or medium website sufficient room for growth before they need to find another solution.
The best thing is that the company does not promote the Elementor Cloud website with "unlimited disk space and bandwidth nonsense."
2. The Best Hosting Infrastructure
The Elementor Cloud Website runs on the Google Cloud Platform. Additionally, by using the same platform and security services as Google uses, you can better protect your data, applications, and infrastructure, as well as achieve the fastest loading times for your site.
3. Strong Security
The company provides free SSL certificates with each Elementor Cloud Website.
SSL certificates are used for secure online transactions and keep customer information private and protected with 256-bit SSL encryption.
Elementor also provides daily automatic backups to prevent any potential data losses.
You may also perform manual backup and restore from your My Elementor dashboard.
4. Free Cloudflare CDN
Elementor Cloud Website users benefit from Cloudflare's high-performance Content Delivery Network.
With servers and data centers located worldwide and close to end-users, your websites will load quickly and deliver high uptime reliability.
5. Custom Domain Connection
The Elementor Cloud Website plan includes a free elementor.cloud subdomain by default.
However, you can use a custom domain to ensure better branding and authenticity.
6. Pre-installed WordPress and Elementor Pro
The Elementor Cloud Website plan comes with WordPress and the Elementor Pro plugin pre-installed to allow you to get started quickly.
With Elementor Pro, you'll have access to all the premium features, including Colors & Effects, Typography, Layout, Motion & Interactions, Kit Library, and Custom CSS.
Additionally, the WordPress environment is specifically optimized to deliver maximum performance.
7. Reliable Customer Support
If you face any issue with your Elementor Cloud Website, get answers fast and accurately from specialized experts.
With live chat, Elementor lets you connect with a support person in real-time with text-based messaging, any time of day.
Elementor Cloud Website Review: Pricing and Discounts
The company offers a simple pricing structure for its cloud website solution.

In contrast to other popular Google Cloud-powered managed hosting companies like Kinsta and Flywheel, which charge over $100/month for a web hosting account with up to 100K visitors, Elementor charges just $99 for the entire year and bundles its Elementor Pro WordPress plugins with no additional charge.
Here is a complete breakdown of what you get for $99.
Built-in hosting powered by Google Cloud Platform with 20 GB storage space, 100 GB bandwidth, and up to 100K monthly visits
Secure Cloudflare CDN
Free SSL certificates
Free subdomain on elementor.cloud
Free custom domain connection
Automatic backups once every 24 hours
Manual backups from the Elementor control panel
24/7 premium support
So instead of spending thousands of dollars on your website hosting, design, and management, you can purchase Elementor Cloud Website for only $99/year and enjoy complete peace of mind.
If you're searching for Elementor Cloud Website coupon codes, deals, and discounts, you might be disappointed to learn that no such active discounts are currently available.
Elementor offers no discounts except for the Cyber Week and Birthday sale.
So if you can't afford Elementor Cloud right now, pick a low-cost web hosting service and use the free Elementor WordPress plugin to design your site. You can opt to upgrade to an Elementor Cloud Website or another premium solution later on.
The best thing, the company offers a 30-day money-back guarantee on your Elementor Cloud Website purchase. So in case you aren't satisfied with the product, you can get a full refund within 30 days, no questions asked.
How to Purchase Elementor Cloud Website
If you're thinking of switching to Elementor Cloud after reading the Elementor Cloud Website review, here is a quick guide for getting started.
Step 1: Click this link to visit the Elementor Cloud Website landing page.
Step 2: Select the Website Builder + Hosting option and click the Buy Now button in the following section. Learn more about the Elementor Cloud Website by scrolling the entire landing page.
Step 3: Create a new Elementor account by entering your email address and password. Existing users can continue using their accounts.
Step 4: Enter your billing information, including your name, address, pin code, and Tax ID (optional).
Step 5: Choose your preferred payment method from PayPal or a credit card.
Step 6: Enter the Elementor Cloud coupon code if you have one, and review the cart summary. If everything looks good, click Pay Now to complete the payment.
Elementor Cloud Website Review: Pros and Cons
Please go through the pros and cons section of Elementor Cloud Review if you don't have the time to read the full review. The pros and cons will help you quickly determine whether it's the right fit for your business.
Elementor Cloud Website Pros
Utilizes a powerful Google Cloud Platform to deliver maximum performance
Cloudflare CDN to ensure low latency for global visitors
Robust security features, including free SSL certificates and automatic/manual backups and restores
Pre-installed WordPress, Hello Theme, and Elementor Pro to get started quickly
Free elementor.cloud subdomain linkable to your custom domain
Easy to use My Elementor dashboard with butter-smooth UI
Transparent and affordable pricing
24/7 premium customer support via live chat messaging and email
Elementor Cloud Website Cons
Lack of a clear statement about what the site should do if it exceeds the resource limits or crosses the 100K monthly visits mark
Restricts the use of certain popular WordPress plugins, including third-party caching and optimization plugins, backup plugins, migration plugins, and competing page builders *(See the complete list of plugins incompatible with Elementor Cloud Website here).
No multi-site plan or staging environment
Phone support is not available
No email hosting at the moment (possibly coming soon)
Missing the option to purge the CDN cache or the server cache
Elementor Cloud Website Review: FAQs
The Elementor Cloud Website is quite a new product, and you may have questions about it.
Let's explore some frequently asked questions about the Elementor Cloud Website.
1. What is an Elementor cloud website?
The Elementor Cloud Website is a complete website building solution equipped with Google Cloud Platform-powered hosting, pre-installed WordPress, and full access to Elementor Pro. It simplifies site management and speeds up web design workflow.
2. Who are the Elementor Cloud Websites intended for?
Elementor Cloud Website is the best solution for web creators, freelancers, and marketers who want a hassle-free way to build a professional website. The end-to-end solution offers everything they need in one place, providing excellent value for money. It can also be a perfect solution for anyone who builds client websites since it facilitates a simple handoff and easy maintenance.
3. What is included in the subscription?
Elementor Cloud Website subscription includes built-in hosting from Google Cloud Platform, free Cloudflare CDN and SSL certificates, free elementor.cloud subdomain, and automatic/manual backups. Additionally, you get access to Elementor Pro and 24/7 premium support from specialized experts.
4. How do I connect my custom domain to the Elementor Cloud Website?
Connecting a custom domain with your Elementor Cloud Website is much easier than you think. Copy the A records and CNAME records from the My Elementor dashboard and paste them under your domain registrar's DNS settings. 
5. Can I move my Elementor Cloud Websites to another host?
Yes, Elementor allows you to transfer your website to any WordPress hosting provider if the Elementor Cloud Website does not meet your business needs. However, if you want all of the features of Elementor Pro to work on your new hosting, you would have to purchase one of the Elementor Pro plans.
6. Can I create more than one Elementor Cloud Website?
Yes, you can build more than one Elementor Cloud Website! You can start building a new Elementor Cloud Website by purchasing a new subscription from the pricing page or clicking the "Create website" button in your account dashboard.
7. Are there any hidden fees?
Unlike many other companies, there are no hidden fees. The Elementor Cloud Website subscription has a fixed cost of $99/year and includes all the features described on the sales page.
8. Is Elementor Cloud good for building websites?
Elementor Cloud is a powerful and cost-effective tool for building websites. With pre-installed WordPress, Elementor Pro, and a built-in, lightning-fast hosting, it gives you the tools to set up a professional website in no time.
Elementor Cloud Website Alternatives
While Elementor Cloud Website provides a unique value proposition to users, similar services already exist.
Here is a list of top Elementor Cloud alternatives.
1. Bluehost
Bluehost is one of the most affordable Elementor Cloud Alternatives, with prices starting from just $2.95/month.
The hosting service offers several benefits to beginners, including unlimited websites, a Bluehost website builder, a free domain for one year, free email marketing, and more.
You can also install the Elementor Pro plugin on Bluehost hosting to unleash the full potential of WordPress design.
Performance issues and high renewal fees are Bluehost's major shortcomings.
In light of this, Elementor Cloud Website's superior performance, affordable pricing+renewals, and streamlined workflow management make it a better choice than Bluehost.
2. HostPapa
HostPapa is officially recommended as one of the best hosting services for Elementor.
A free domain, plenty of storage, unmetered bandwidth, free SSL+ CDN, and auto-installed WordPress are key features of HostPapa web hosting.
HostPapa offers a secure and reliable hosting service and is highly compatible with Elementor.
Moreover, the HostPapa pricing starts at just $2.77/month, making it a perfect Elementor Cloud Website alternative.
If you opt to host your Elements-powered website with a third-party provider, you may check out Flywheel, Kinsta, and WP Engine. However, these are more expensive options.
While WordPress-independent platforms such as Wix, Squarespace, and Weebly are good options for specific users, hardly any of them can beat the WordPress ecosystem's design flexibility and community support.
You know every user has distinct requirements, and the Elementor Cloud website may not be suitable for all.
However, if you're a die-hard fan of Elementor and WordPress, the Elementor Cloud Website is the fastest and most affordable platform to launch your website.
Go ahead and give it a try.
Elementor Cloud Website Review: Conclusion
Elementor launched an all-in-one cloud website solution at an attractive price of $99/year, which includes managed hosting on Google Cloud Platform and a WordPress environment exclusively optimized for Elementor Pro.
The Elementor Cloud Website not only simplifies and speeds ups the process of designing a website but also significantly improves its performance.
Elementor Cloud Website is an excellent solution for designers, freelancers, marketers, or business owners who want to build professional websites, landing pages, lead generation forms, or sales funnels effortlessly.
Over 10 million websites use Elementor, so don't hold back.
Subscribe to the Elementor Cloud Website today and launch your first website within minutes.
You may also like:
Elementor Cloud Website Review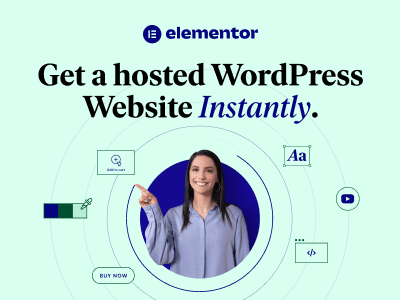 Name: Elementor Cloud Website
Description: The Elementor Cloud Website is an end-to-end solution for web designers who want to build professional websites hassle-free for themselves and their clients. This Elementor Cloud review will provide complete insight into its top features, pricing, pros, and cons.
Offer price: 99
Currency: USD
Operating System: Linux
Application Category: Cloud Website Builder
Author: Ankit Main
Performance

Security

Pricing

Support
Comments Rating
( reviews)