Affiliate Disclosure: I publish various content marketing strategies, online business ideas, blogging tutorials, review articles, and discount offers on my blog. My content may contain some affiliate links for products/services I use, love, and recommend. If you take action (i.e., subscribe or make a purchase) after clicking one of my affiliate links, I'll earn an affiliate commission at no additional cost to you. It helps me in creating more helpful content like this.
As a marketing professional, you simultaneously work on multiple fronts, such as researching profitable keywords, analyzing competitors' websites, developing a robust content marketing plan, and keeping track of work progress.
You can use various marketing tools to accomplish these tasks quickly and efficiently.
However, choosing the right one that meets your business requirements is a challenging task.
In this blog post, I will compare Semrush vs. Similarweb, two of the world's most powerful marketing research tools, so that you can decide which tool is worth your investment.
In most cases, consumers say Semrush offers more features and better pricing.
Still, it's best to evaluate both tools thoroughly before making a final decision.
So, let's get started!
Semrush vs. Similarweb: Introduction
Semrush
Semrush is a powerful marketing platform with 50+ modules to assist you in SEO, competitor research, content marketing, PPC, and social media marketing.
It allows you to automate several marketing tasks and analyze larger datasets in a shorter time.
Founded back in 2008, Semrush has reached 7 million marketing professionals. The interesting thing is that over 45% of Fortune 500 companies use Semrush as a primary competitive intelligence tool.
Here is a quick overview of what Semrush can do.
1. SEO
Increase organic traffic with simple yet effective SEO tools & workflow
Discover thousands of national & local keywords
Review any domain's link profile
Identify and contact link prospects
Perform technical SEO audits
Track your keywords' SERP positions daily
2. Competitive Intelligence
Get an inside look at the competitors' marketing strategy
Analyze the traffic to any webpage
Uncover competitors' marketing strategies
Learn how to increase your market share
Perform keyword & backlink gap analysis
3. Content Marketing
Create SEO-friendly content
Choose topics that reflect your audience's interests
Learn how to write SEO-friendly content
Assess and optimize your content based on real-time metrics
Monitor brand mentions and content reach
4. Advertising
Reach more prospects with less advertising expenditure
Pick the right keywords for your PPC campaigns
Review your competitors' ad copies and landing pages
Ad spend optimization
Analyze your competitors' Google Shopping campaigns (PLA Research)
5. Social Media Marketing
Develop an effective social media marketing strategy
Create a social media posting calendar
Monitor your social media posts performance
Analyze your competitors' accounts and monitor their progress
Create and manage social ads
Similarweb
Similarweb is a comprehensive website analytics and competitive intelligence platform that helps you compare website traffic and performance, analyze competitors' strategies and make smarter business decisions to grow your market dominance!
Founded in 2007 by Or Offer in Tel Aviv, Israel, the platform serves thousands of companies and marketing agencies in over 90 countries.
Similarweb has established a solid reputation over the past 14 years that the world's top brands like Adobe, DHL, Adidas, Walmart, Pepsico, and Microsoft rely on its digital intelligence solutions.
Take a look at some of Similarweb's impressive features below.
1. Digital Research
Develop smarter marketing strategies by utilizing Similarweb's digital research intelligence
Benchmark your online presence and see how you stack up against your competitors
Discover market trends in near-real time
Analyze any company's digital performance for competitive advantage
Study your audience's online behavior and engage with them to expand your reach
Master conversion analysis to boost sales
2. Digital Marketing Intelligence
Spy your competitors' marketing strategies to boost your traffic across multiple channels
Explore growth opportunities based on the competitive analysis
Discover your competitors' top keywords based on search volume, actual click rates, competition, and other metrics
Find new and trending keywords.
Monitor your traffic from different sources
Identify the best performing search ads, PLAs, display ads, and video ads of your competitors
3. Shopper Intelligence
Optimize your Amazon search strategy by understanding the customer journey
Explore user browsing behavior, such as cross-shopping, and evaluate brand loyalty, retention, and 'subscription & save' rates
Determine consumer demand at the brand, category, and product level by analyzing daily and monthly sales data
Refine your Amazon search strategy using the latest shopper intelligence data
4. Investor Intelligence
Utilize the most insightful digital alternative data to gain an investing edge
Forecast consumer behavior and company performance trends in real-time
Get a complete view of any company's digital presence
Enhance your predictive models with a systemic digital data coverage of millions of companies worldwide
5. Sales Intelligence
Supercharge your sales performance by leveraging Similarweb's digital insights
Find and select relevant sales prospects across 100M companies in different verticals
Streamline your prospect qualification process and focus on high-value prospects using digital revenue and performance metrics
Leverage your prospects' digital performance insights to craft the perfect sales pitch and win more deals
Hopefully, the above section gave you a basic idea of how Semrush and Similarweb work.
The next step is to break down various features of both tools and see how they stack up against each other.
To simplify this comparison, I divided it into 15 rounds.
I'll pick a winner for each round and give my honest opinion about it.
At the end of this article, I will analyze and compare the results from each round and reveal which marketing intelligence tool is better between Semrush and Similarweb.
Now, let the battle begin.
1. Semrush vs. Similarweb: Keyword Research
The purpose of keyword research is to discover new topics to write about or refine your content to be more relevant to future readers.
Both Similarweb and Semrush offer powerful keyword research tools, but they differ slightly in terms of keyword database size, accuracy, and filtering capabilities.
So, let's find out which tool offers the best keyword research features.
Semrush For Keyword Research
Semrush is a favorite keyword research tool for most SEO professionals and content marketers.
It offers four methods for conducting keyword research:
Keyword Overview
Keyword Magic Tool
Organic Research
Keyword Gap Analysis
Here's how to find profitable search terms using Semrush's keyword tools.
1. Keyword Overview
The Semrush keyword overview tool allows you to generate thousands of keyword ideas based on your seed keyword.
Sign in to your Semrush account and navigate to the SEO menu to access the Keyword Overview tool.
Enter your seed keywords (up to 100) in the search box, select the preferred country, and click on the Analyze button.
Semrush will display useful information, including keyword metrics, trends over the last 12 months, keyword variations, SERP analysis, and advertising data.
New websites often struggle to receive good rankings for keywords with high KD%.
In such a case, you can browse through the Semrush Keyword Variations, Questions, and Related Keywords sections to identify low-hanging fruits, i.e., additional keyword ideas with comparatively low KD% and decent search volume.
SERP Analysis widget is an excellent way to find which sites currently rank for a particular keyword and uncover their SEO metrics.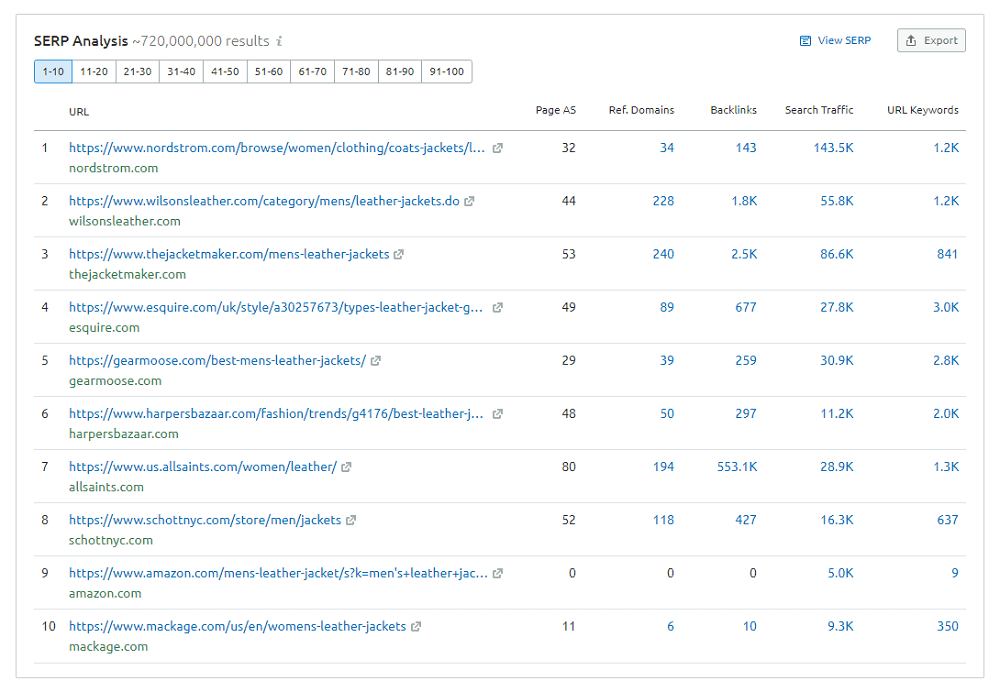 Lastly, you can view advertising data such as PLA copies, regular ad copies, and keyword ad history if that data is available.
2. Keyword Magic Tool
Semrush Keyword Magic Tool is an extended version of the Keyword Overview module that enables you to perform detailed keyword research.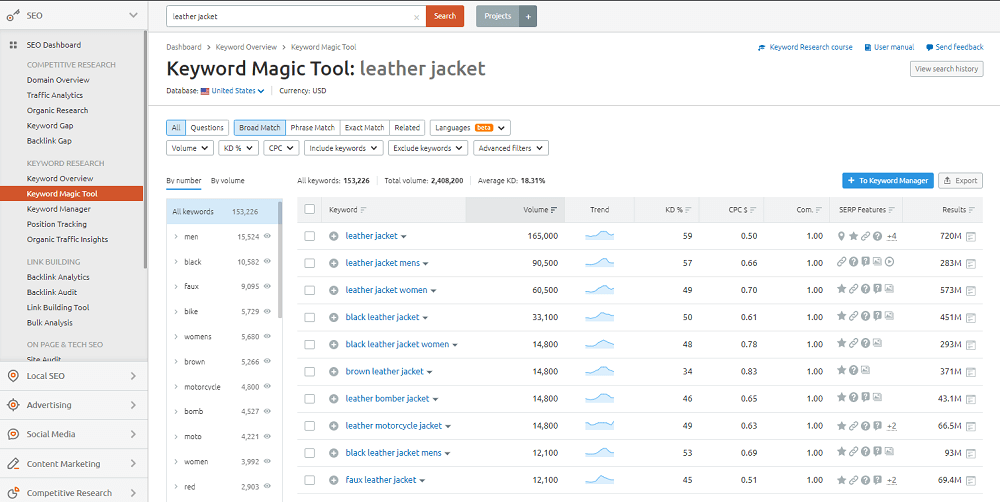 The tool offers thousands of keyword suggestions for the seed keyword and relevant SEO metrics.
It also allows organizing keyword data reports by:
Search Volume
SEO Keyword Difficulty (KD)
PPC Competition
CPC
SERP Features
The Number of Organic Search Results.
Later, you can narrow down your keyword list by applying some filters and exporting it to your computer or adding it directly to the Keyword Manager.
3. Organic Research
My favorite keyword research strategy is to steal my competitors' top traffic-generating keywords.
How could you do the same?
Analyze any domain using the Semrush Organic Research tool, and it'll return all organic keywords ranking in the top 100 Google search results.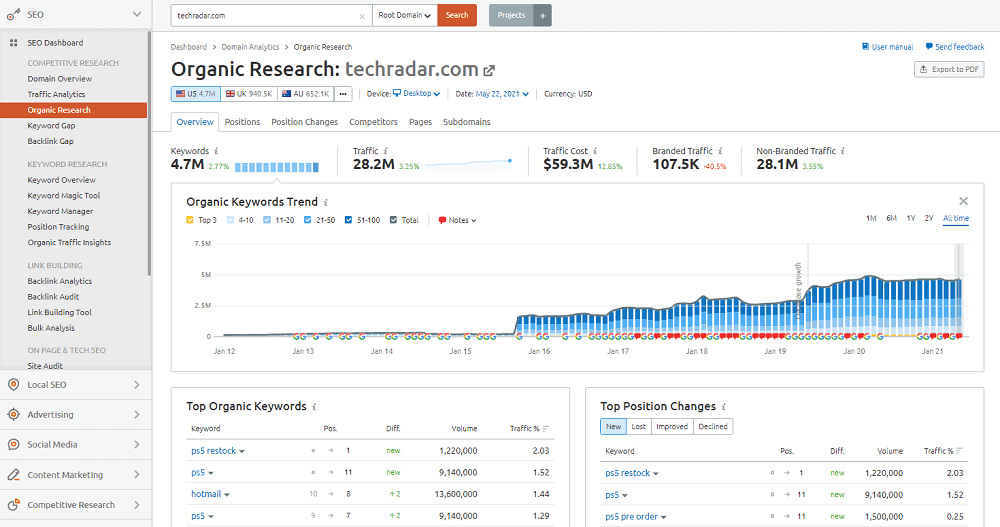 Filter these keywords by search volume, traffic share, organic positions, and changes in organic position to get a list of profitable keywords.
Below are three more ideas on how to leverage Semrush Organic Research to improve your content marketing effort.
Discover the most popular pages on competing domains and further analyze them to refine your keyword data.
Identify keywords ranking in SERP features and target them at the right places in your content for additional traffic.
Expand your keyword research with Semrush's competitive intelligence datasets, including Main Organic Competitors and Competitive Positioning Map.
4. Keyword Gap Analysis
Keyword Gap Analysis is an excellent tool to discover missing or weak keywords your competitors are ranking for.
Semrush allows you to compare keyword data for up to 5 domains or URLs.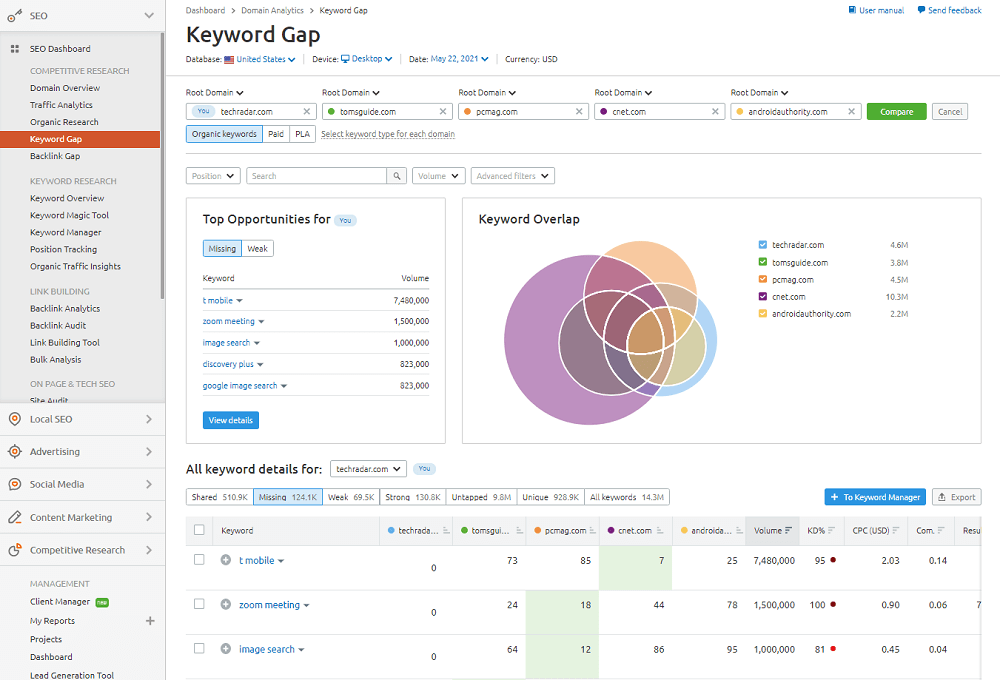 As a result of your analysis, you will get a list of top keyword opportunities.
Semrush classifies keywords into six categories: shared, missing, weak, strong, untapped, and unique.
In that way, you can uncover high-volume, easy-to-rank missing or untapped keywords and target them in your content to boost your website's organic ranking and traffic.
If you find it boring to process keyword data row by row, you can use a Keyword Overlap widget to visualize Keyword Gap Analysis.
5. Keyword Manager
Keyword Manager collects your favorite keywords across various Semrush keyword research tools or from manual uploads.
It saves your keywords into a custom list and pulls fresh metrics for them.
Finally, you can export your keyword data as an XLSX or CSV file or send it directly to Position Tracking or PPC keyword tools.
Similarweb For Keyword Research
Like Semrush, Similarweb offers a robust keyword research toolkit.
It includes several modules to generate keyword ideas and analyze them in detail.
Let's see how each module works.
1. Keyword Generator
Similarweb keyword generator allows you to discover keyword ideas based on seed keywords or keyword lists.
This tool works equally great on finding relevant keywords based on Google search or Amazon's on-site search.
When you enter a seed keyword in Similarweb's Keyword Generator and choose the Google Search option, it returns relevant keywords into four categories: Phrase Match, Related Keywords, Trending Keywords, and Questions Queries.
Furthermore, the keywords are organized intuitively with some additional information such as average search volume, yearly trends, clicked vs. non-clicked percentages, CPC, organic vs. paid traffic share, and leaders (websites receiving most traffic).
Similarweb offers separate keyword databases by individual countries and desktop vs. mobile searches.
The tool lets you group selected keywords and create a keyword list or download them into an Excel file.
Last but not least, Similarweb offers historical keyword data up to the past 37 months so that you can determine which keywords performed very well over time and incorporate them into your content strategy.
Alternatively, Similarweb's Amazon Keyword Generator is designed specifically to discover profitable keywords based on Amazon's on-site search.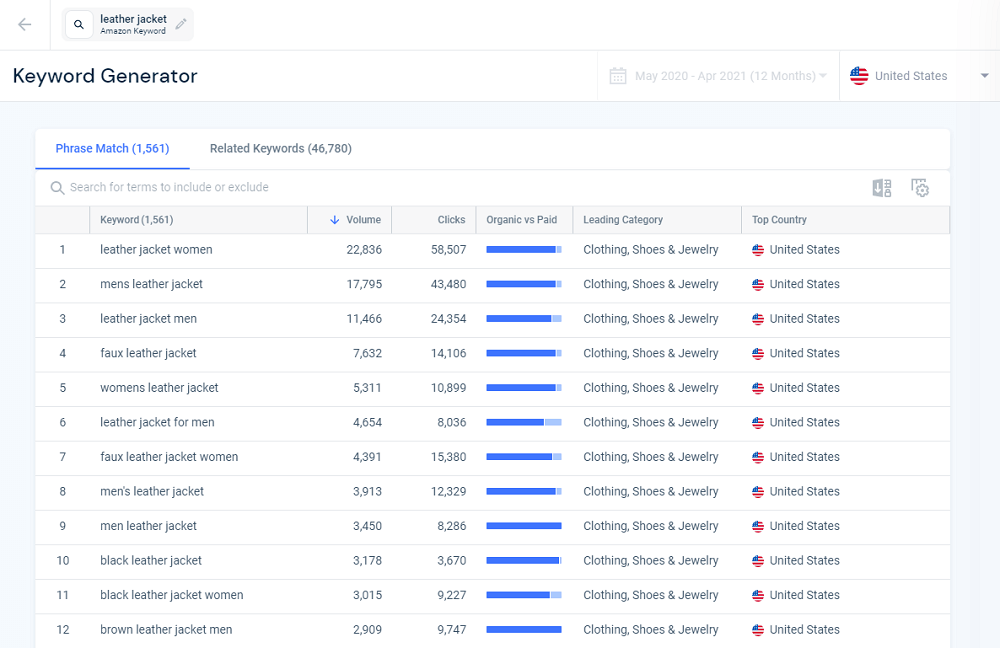 The tool offers a list of Phrase Match and Related Keywords and additional information such as average monthly searches, clicks, organic vs. paid distribution, leading category, and top country.
In my opinion, Similarweb Keyword Generator is an indispensable tool for anyone trying to succeed with Amazon affiliate or FBA models.
2. Keyword Gap Analysis
You can discover your competitors' traffic-generating keywords by using Similarweb Keyword Gap Analysis.
The tool allows you to compare up to five domains simultaneously and provides keyword data classified into five categories:
All Keywords: Any keyword sending traffic to any website
Core Keywords: Keywords common to all competitors
Wins: Where your domain wins the most traffic
Opportunities: Keywords driving traffic to competitors' websites, not yours
Losses: Where your domain receives less traffic than your competitors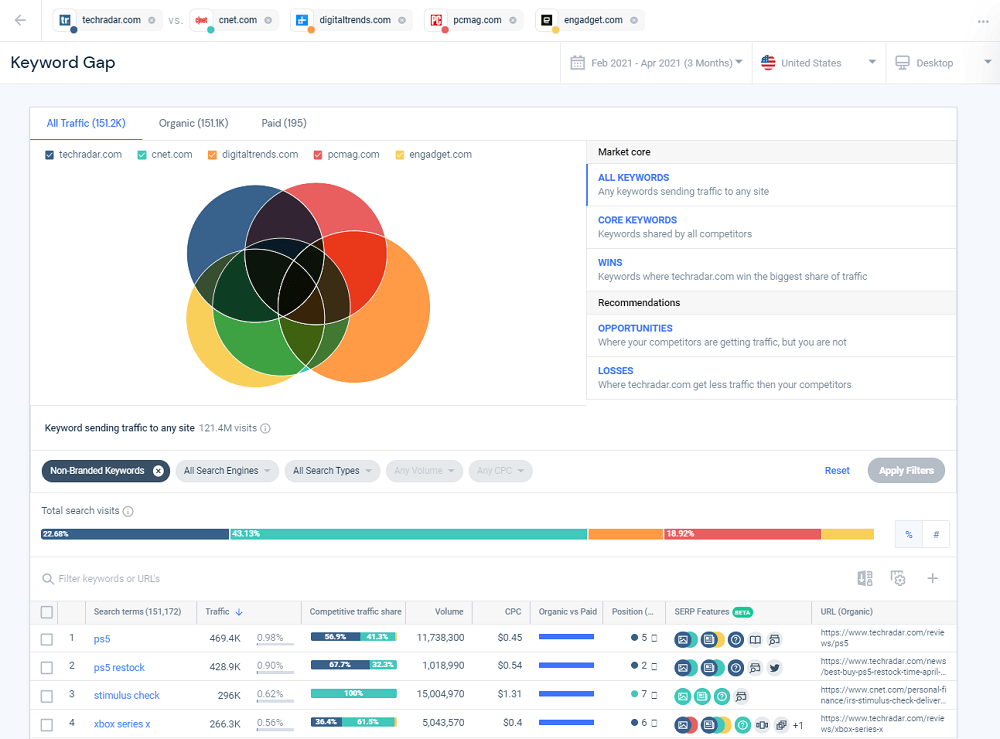 Additionally, you can filter these keywords by branded vs. non-branded, search engine, search type, volume, and CPC.
In response, Similarweb will provide a list of keywords and additional information, including estimated keyword traffic & its % out of all organic search traffic, competitive traffic share, search volume, CPC, organic vs. paid distribution, available SERP features, topmost organic position in the last 30 days and corresponding URL.
Performing separate Keyword Gap Analyses for every country and desktop vs. mobile keywords is necessary to ensure maximum accuracy.
3. Keyword Seasonality
The tool assists you in understanding the seasonality of any industry.
If you choose one of 210 default industries in Similarweb's database or add a custom industry, Similarweb will provide a list of keywords based on their peak search volumes.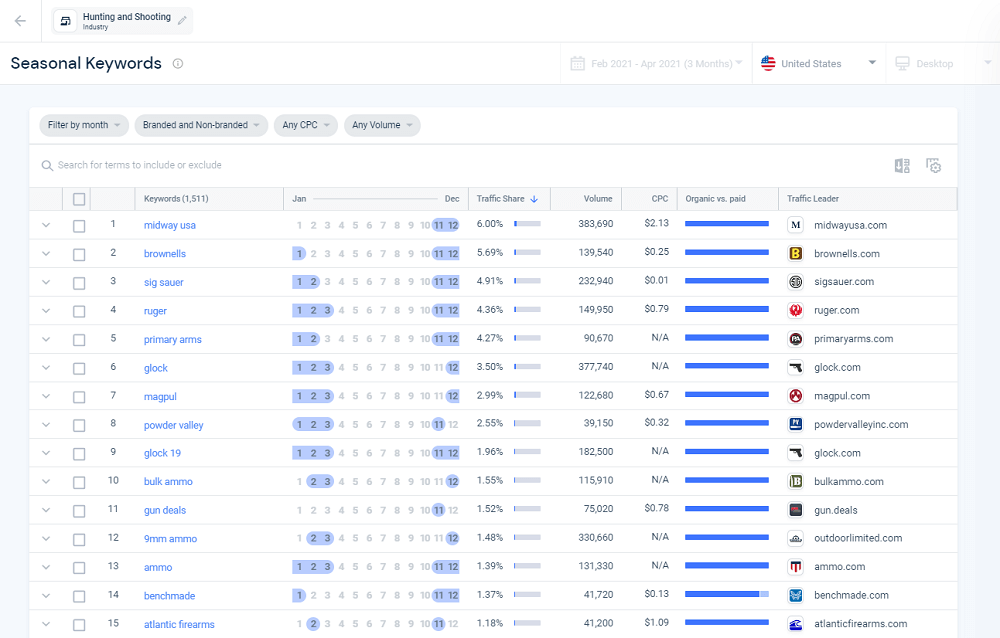 Filter this information further to find profitable keywords in your niche.
Similarweb processes 10 trillion weekly searches.
The data allows you to explore the categories around breakouts and top queries and gain valuable insights into your industry and customers.
4. Keywords by Industry
The module identifies search terms driving traffic to websites within a targeted industry.
Similarweb displays various widgets, such as Organic vs. Paid traffic, Search traffic by channel, and Search traffic by source.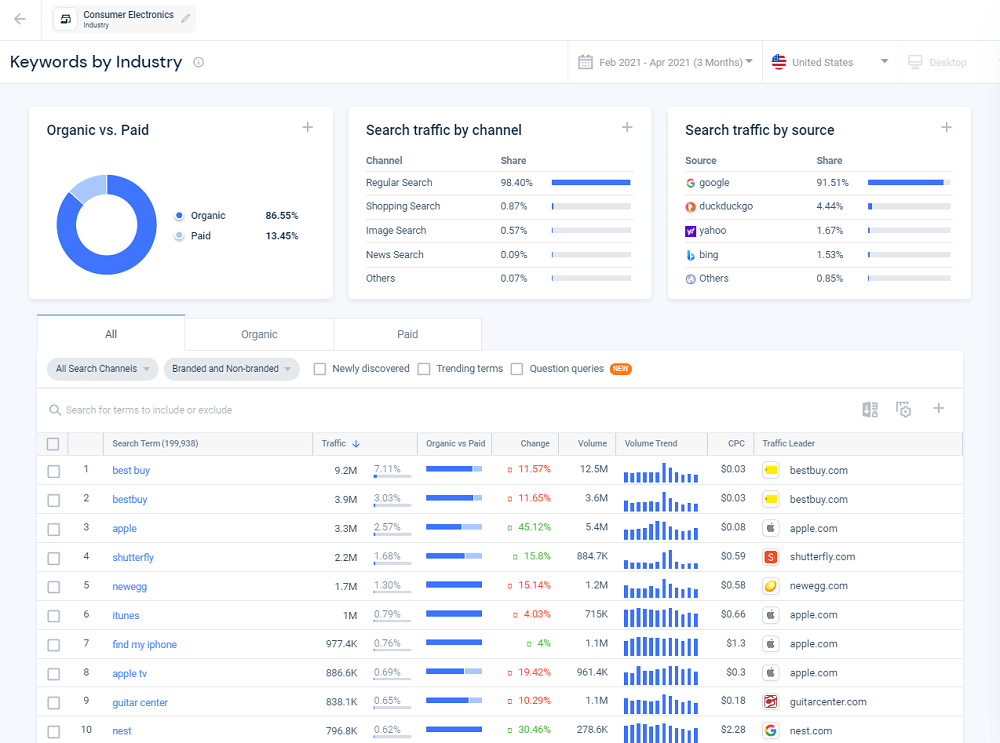 Having this information is crucial to prioritizing your effort in the right places.
Lastly, you receive a list of the most searched keywords.
Refine this data by applying some filters to get industry-relevant, profitable keywords.
5. Keyword Overview
In addition to providing detailed insights into a particular search term, Similarweb Keyword Overview also helps users discover related keywords under the Keyword Ideas section.
You can expand the Phrase Match and Related Keywords widgets to get thousands of suggestions for the input search query via the Keyword Generator tool.
Verdict
While both tools offer excellent keyword research capabilities, Semrush has the edge over Similarweb, with its bigger keyword database size, keyword difficulty metrics, and handy keyword manager tool.
Among the all keyword research tools, Semrush is undoubtedly my favorite.
2. Semrush vs. Similarweb: Link Building
In the organic Google search, backlinks remain a key ranking factor, especially for competitive keywords.
Semrush and Similarweb let you refine your backlinks building process and enhance your SEO.
While Semrush has more robust link-building tools, you can still use Similarweb for backlink analysis.
Please don't take my words.
Test both tools and determine which one has the best link-building functionality between Semrush and Similarweb.
Semrush For Link Building
Semrush Backlinking Tools helps you scan link profiles of any domain, identify toxic links, and find high-quality backlink opportunities all in one place!
Semrush provides four link building tools:
Backlink Analytics
Backlink Audit
Link Building Tool
Bulk Analysis
Let's discuss how each tool works.
1. Backlink Analytics
Backlink Analytics tool provides you with a comprehensive overview of the link profile for any domain.
For quick access, Semrush organizes backlink analytics data into seven tabs.
Tab 1: Overview: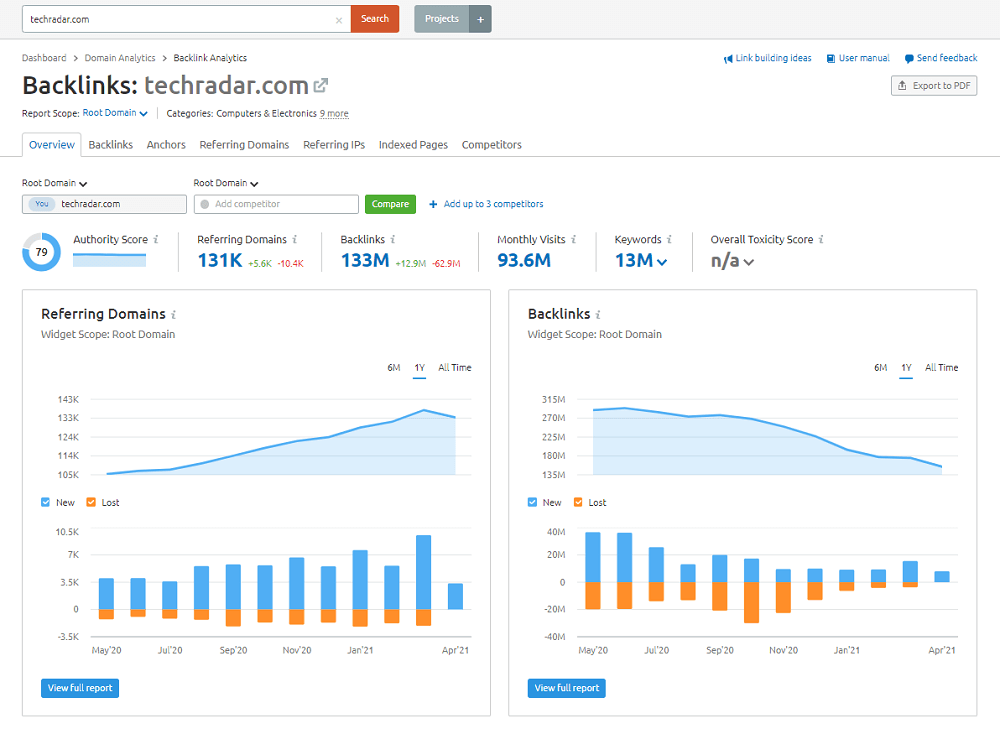 It displays a quick overview of the requested domain or URL, including the domain authority score (AS), the number of referring domains and backlinks, organic keywords, and domain toxicity score.
The tab shares many widgets showing detailed information related to referring domains, backlinks, categories of referring domains, top anchors, referring domains by their authority scores, backlink types, link attributes, TLD distribution, and much more.
You can improve your Overview report by adding a custom widget.
Best of all, Semrush offers a free course on backlink management.
Tab 2: Backlinks
This tab provides a detailed view of backlinks, including their types and attributes.
You can see a complete list of backlinks with additional information, including the page authority score, source page titles & URLs, external and internal links, the anchor text and the target URL, and the first and last seen dates.
Analyzing the new vs. lost links data under this tab, you quickly identify link spam and recover high-quality lost backlinks.
Tab 3: Anchors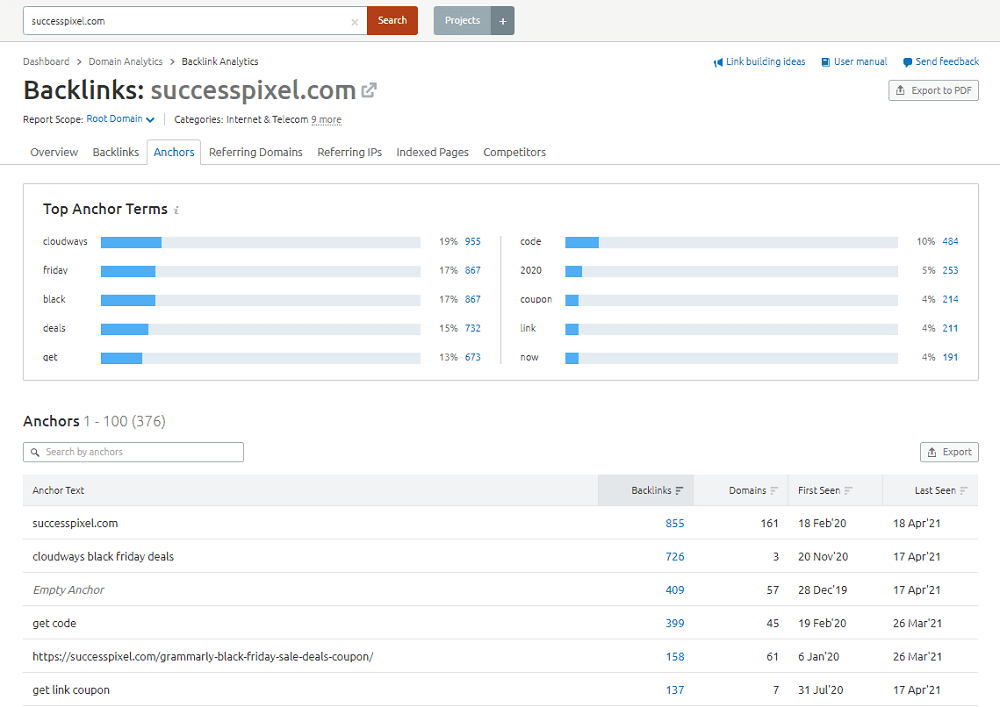 You can view information about your website's anchor profile and find top anchors based on backlinks and referring domains on this tab.
Tab 4: Referring Domains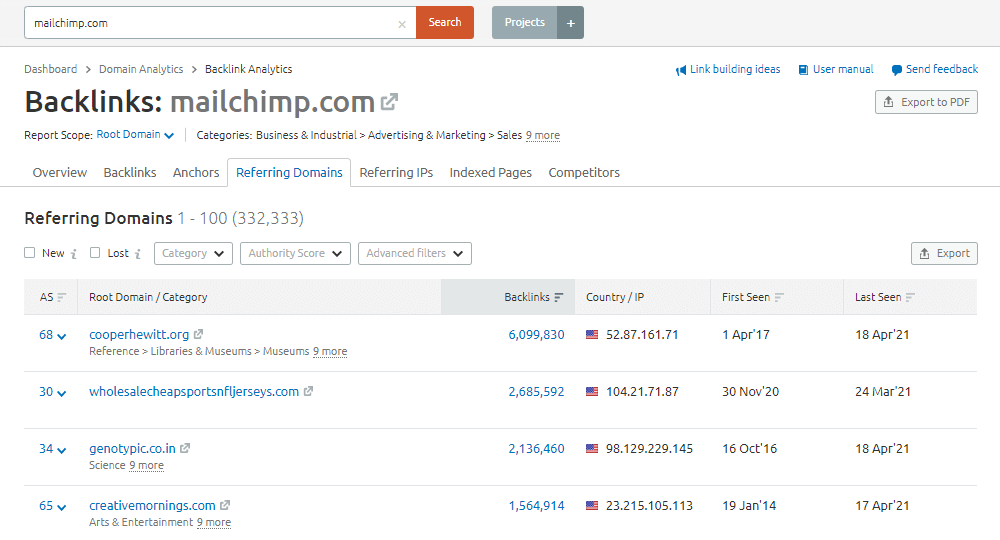 The report displays a detailed view of referring domains, their categories, the number of backlinks, corresponding referring IPs, and first vs. last seen dates.
Tab 5: Referring IPs
The tab displays all referring IPs/countries to the queried domain or URL.
Tab 6: Indexed Pages
You can view indexed pages, titles, URLs, backlinks, external links, and internal links through this tab.
It would be better if Semrush adds a traffic information column under this tab.
Tab 7: Competitors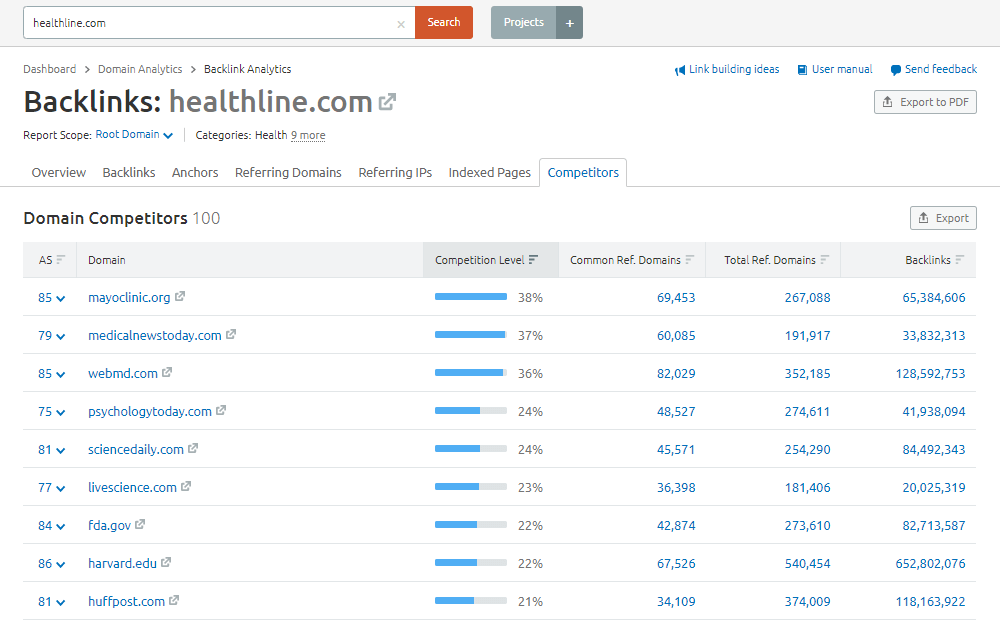 The tab lists top competitors and displays a competition level based on the number of common backlinks between your domain and the competing domains.
Recently, Semrush released one of the fastest and most efficient backlink checker tools for dynamic backlink management.
2. Backlink Audit
The Semrush Backlink Audit tool embraces the power of link detoxification and strengthens your website rankings by removing potentially harmful inbound links.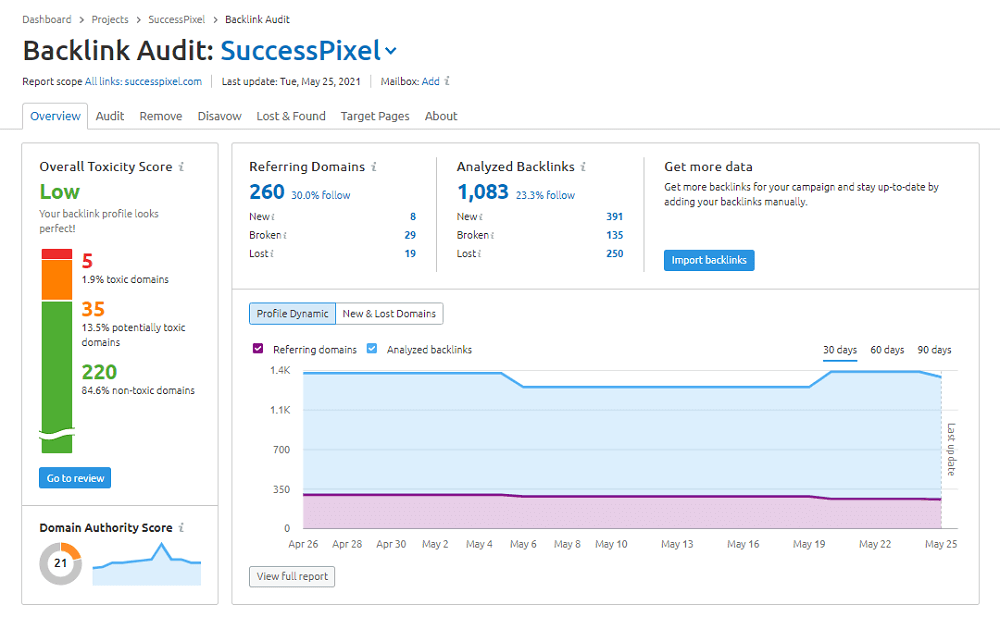 By connecting the tool to Google Search Console, it automatically displays a list of toxic backlinks so you can quickly get rid of them.
Semrush developed a toxicity score metric that measures the potential risk associated with a particular backlink.
Usually, high toxicity scores result from excessive link velocity, spam anchor profile, low domain authority, and irrelevant category.
When Semrush reports any toxic elements in your backlink audit, you should disavow or remove those links as soon as possible.
You can monitor these links under the Remove and Disavow tabs.
The best thing is that Semrush allows you to contact the respective site owners and request removing spam links directly from the dashboard.
In case this method does not work, export all toxic links into a text file and submit it to the Google Disavow tool.
Semrush Backlink Audit has another awesome feature that lets you analyze target pages by backlinks/referring domains and referral traffic.
If certain pages on your website receive very little traffic despite having many backlinks, you may want to rethink your content and backlink quality.
3. Link Building Tool
The Semrush Link Building tool helps you identify and acquire a wide variety of high-quality, niche-relevant backlinks.
It searches for link opportunities based on your target keywords and competitors.
As soon as the initial setup is complete, Semrush provides a list of all the link prospects. You can apply some filters like keyword, keyword placement, URL type, and TLD to the link prospect data to narrow down your search.
Finally, check the actual source domains, their authority score, and Semrush ratings to decide whether you want to acquire that link or reject it.
If you find some good domains via the Semrush Link Building tool, you can move them to your outreach campaign by clicking on the To In Progress option.
The tabbed interface of the tool makes using it more convenient.
Below is information on each of the four tabs in the Link Building module.
Tab 1: Overview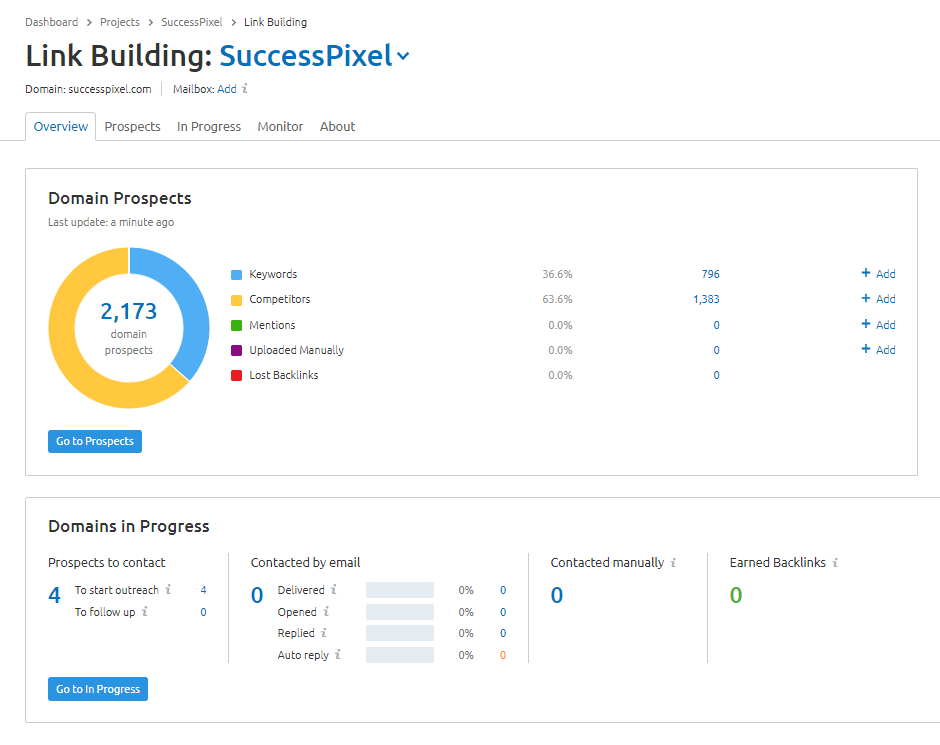 Get a glance at domain prospects, domains in progress, and monitored domains under this tab.
You can also find new prospects by keywords, competitors' domains, and brand search.
Tab 2: Prospects
The tab displays all link prospects with additional information, including source domain, URL and snippet, URL type, domain authority score, and backlink rating.
You can add more link prospects by keywords, competitors, mentions, or manually upload new prospects.
Once you have analyzed the best link opportunities, include them in your outreach campaign.
Tab 3: In Progress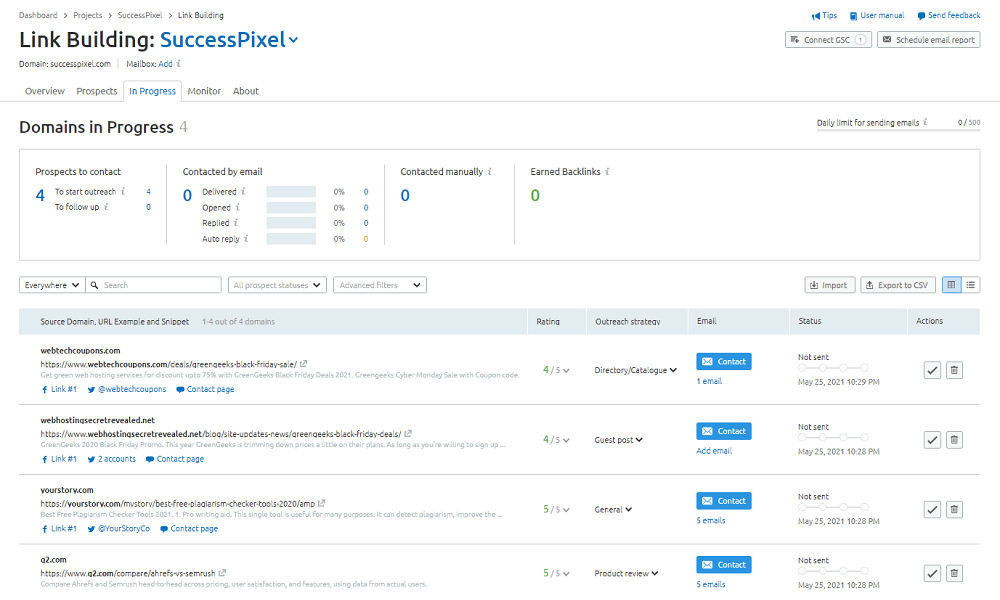 This tab contains information regarding the domains added to the outreach campaign.
Semrush provides links to Facebook and Twitter handles and contact pages to connect with the right people quickly.
Alternatively, you can contact the website owner by email or check link-building progress on the Semrush dashboard itself.
Tab 4: Monitor
Check the progress of your domain prospects with the earned backlinks by moving them from the 'In Progress' to the 'Monitor' tab.
The moment you find lost or broken backlinks, move them back into your 'In Progress' list and notify your link partners immediately to ensure quick link recovery.
4. Bulk Analysis
Backlink Analysis tool facilitates competition analysis, finds link-building opportunities, and exports results for further use.
It allows you to compare up to 200 URLs (listed one per line) to get a comprehensive view of the backlink data.
The Semrush Bulk Analysis tool has the following advantages.
Analyze your competitors' backlink profiles and compare them with your own to evaluate your link-building effort.
Get detailed information on backlink types, attributes, and TLD distribution of multiple domains or URLs at once.
Discover valuable link opportunities by calculating the authority score (AS), the number of referring domains & backlinks, and monthly visits for the queried domains.
Easily export data to XLSX or CSV so that you can work anywhere and at your convenience.
Spend less time on data processing so you can use it for other SEO activities.
Similarweb For Link Building
In comparison to Semrush, Similarweb does not offer dedicated link-building tools.
However, you will be able to gain insight into referring domains identified as sources of referral traffic to the analyzed domains during the selected time frame under the Incoming Traffic page of the Similarweb Competitive Analysis module.
Besides providing a list of referring domains ranked by traffic share, the tool also shows industry, global ranks, and engagement score data.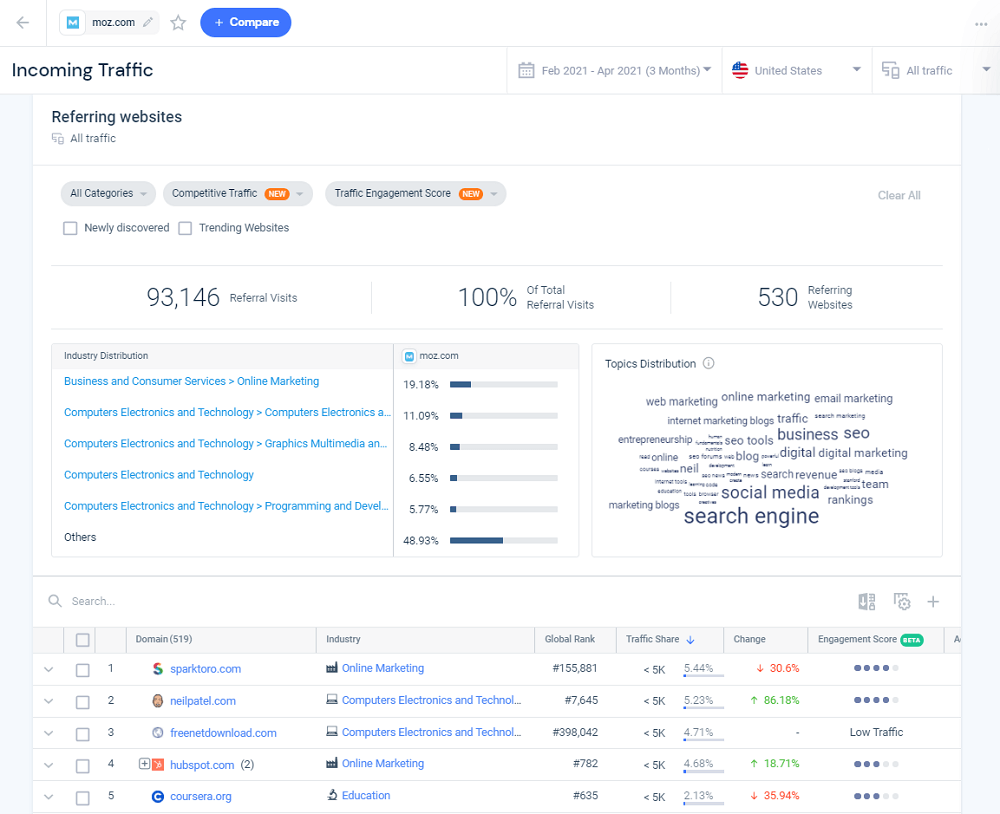 Based on this information, you can identify some good link opportunities and add them to your outreach program.
As these domains drive referral traffic, having a link from them is more valuable than just getting links from sites with no traffic.
Verdict
Semrush offers an extensive suite of link-building features.
It helps you analyze competitors for link opportunities, outreach link prospects, monitor earned links, and clean up your link profile if necessary.
In contrast, Similarweb lacks such robust backlink building tools.
Therefore, if you need a tool specifically for SEO link building, Semrush would be your best choice.
3. Semrush vs. Similarweb: Traffic Analysis and Competitive Intelligence
A marketing campaign's success greatly depends on competitive intelligence.
Luckily, both Semrush and Similarweb offer access to a wide range of competitive research modules.
Let's find out which company performs better in the competitive intelligence round.
Semrush
As a Semrush user, you have access to an abundance of competitors' data, including their organic and paid performance, traffic statistics, audience insights, and market positioning.
By subscribing to Semrush Business + .Trends, you can easily conduct a thorough competitive analysis of any domain and discover its marketing strategies.
1. Traffic Analytics
Semrush Traffic Analytics module lets you uncover where competitors spend most of their marketing effort, explore their audiences and traffic stats, track their lead sources, and analyze their regional presence.
Up to four years of historic traffic data for 190 regions, including desktop and mobile data, is available on Semrush.
The following is a detailed breakdown of Semrush Traffic Analytics.
Tab 1: Overview
The tab displays traffic stats, market metrics, traffic trends by devices, top pages, traffic share by devices and sources, traffic journey, and traffic distribution.
Additionally, you can benchmark your traffic data with up to 3 competitors.
Tab 2: Audience Insights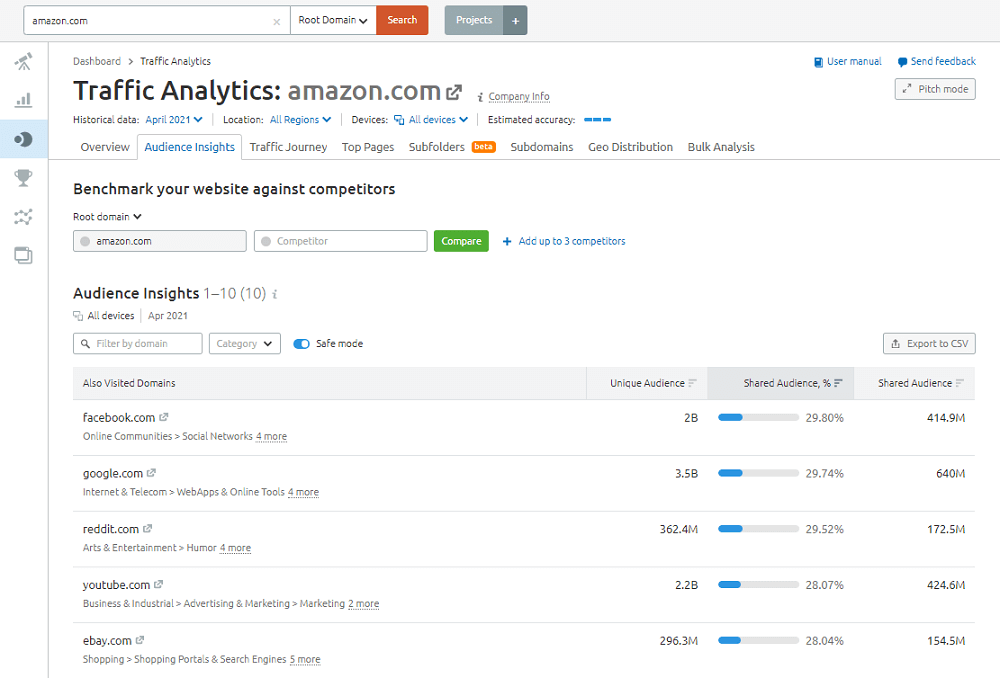 The report allows you to understand your target audiences' interests and behavior.
You can use this data to identify key competitors, find partnership opportunities, search for new ad placements, and analyze the target market.
Tab 3: Traffic Journey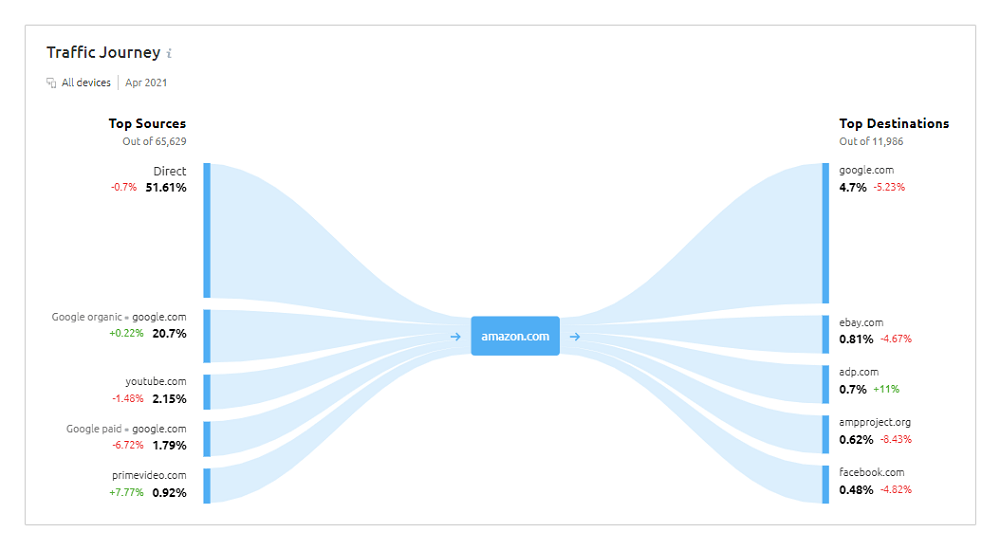 The detailed information on traffic sources and destinations for the queried domains is available on this page.
Tab 4: Top Pages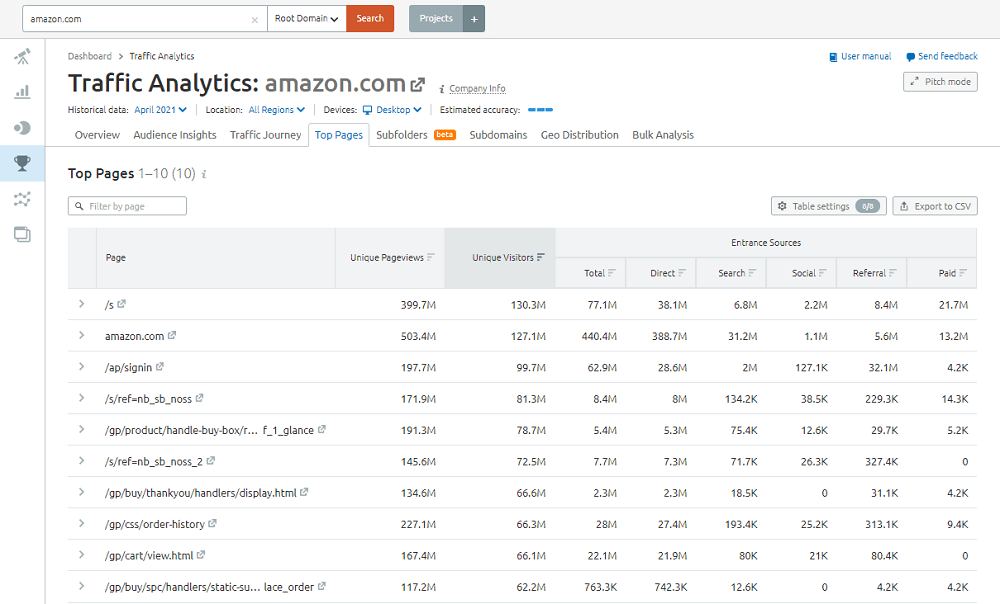 This report reveals the top web pages according to their traffic share and traffic distribution by sources.
Tab 5: Subfolders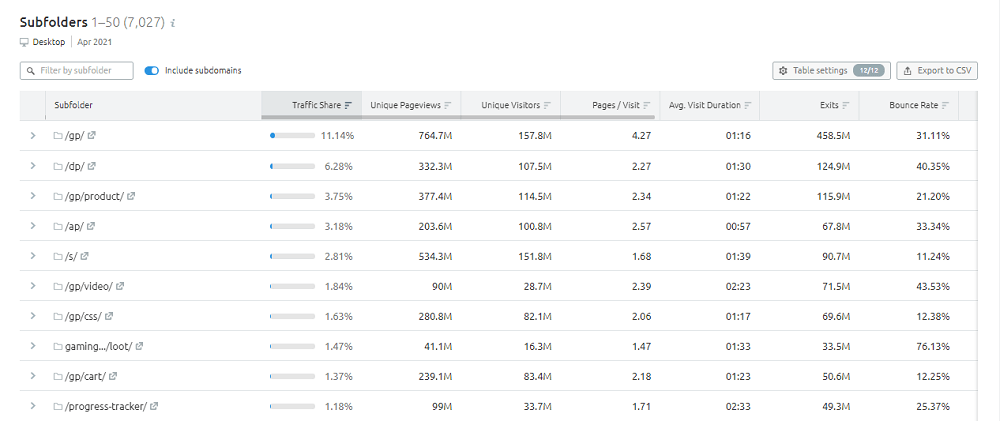 In the tab, you can see the traffic share of each subfolder with respective traffic metrics and the traffic distribution by sources.
Presently, the Subfolders report only contains desktop traffic data.
Tab 6: Subdomains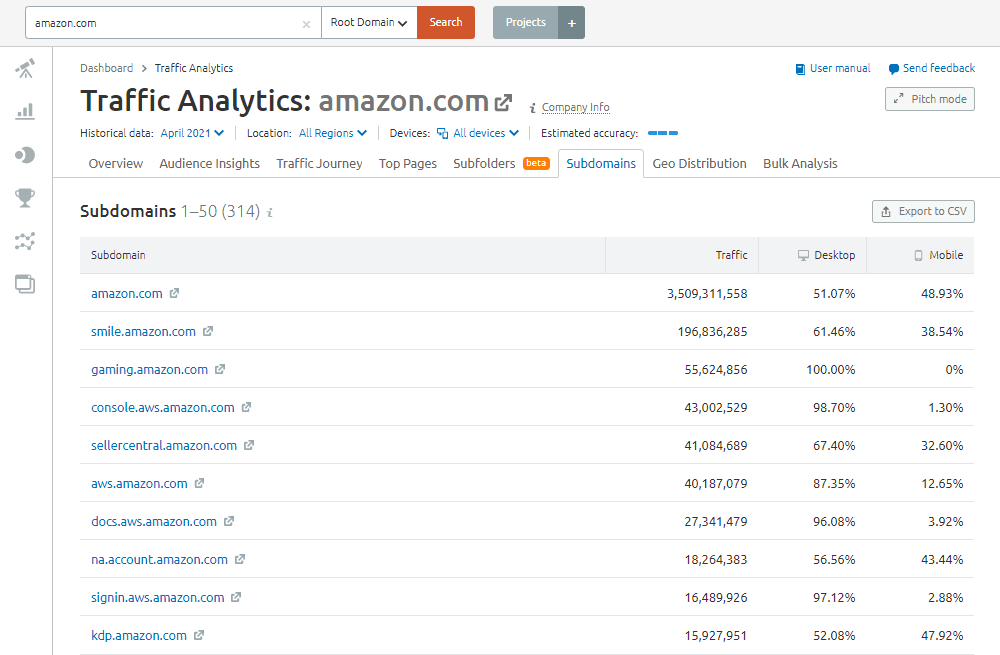 The report shares the traffic figures and the breakdown of traffic by devices for all available subdomains.
Tab 7: Geo Distribution
The tab provides information on the distribution of traffic by countries & devices as well as some other metrics like pages/visit, average visit duration, and bounce rate.
You can also see the country-level distribution of domain traffic on the integrated map view.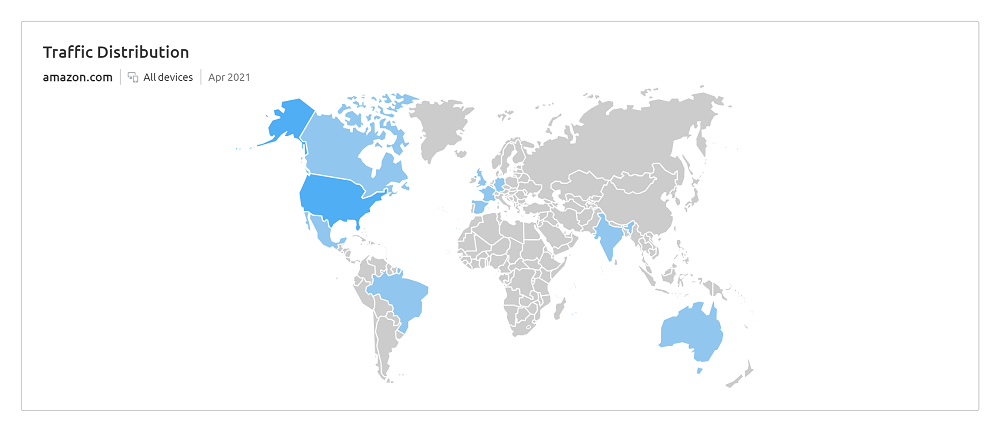 Tab 8: Bulk Analysis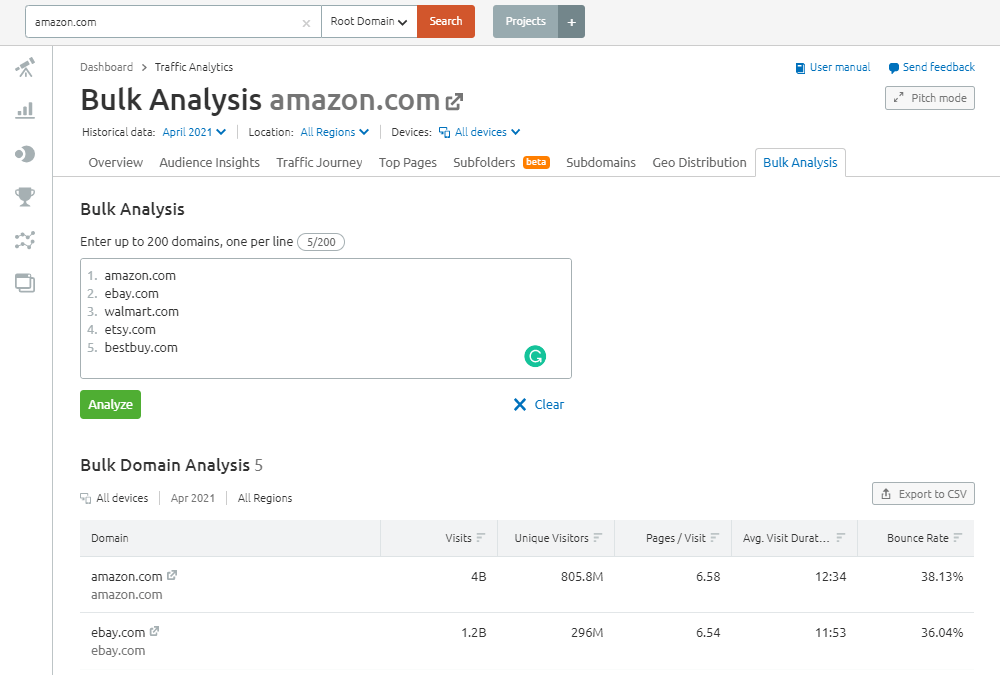 This tool allows you to analyze up to 200 domains at once and see their traffic stats, including visits, unique visitors, pages/visit, average visit duration, and bounce rate.
2. Market Explorer
Semrush Market Explorer module reveals the industry competitors for a selected region and benchmarks your company's growth dynamics and digital marketing performance with theirs.
Additionally, the tool provides a competitive landscape visualization called Growth Quadrant.
Several other features are available in the tool, including market demographics, domain vs. market dynamics, and a list of competitors with traffic information.
Let's explore each in more detail.
Tab 1: Overview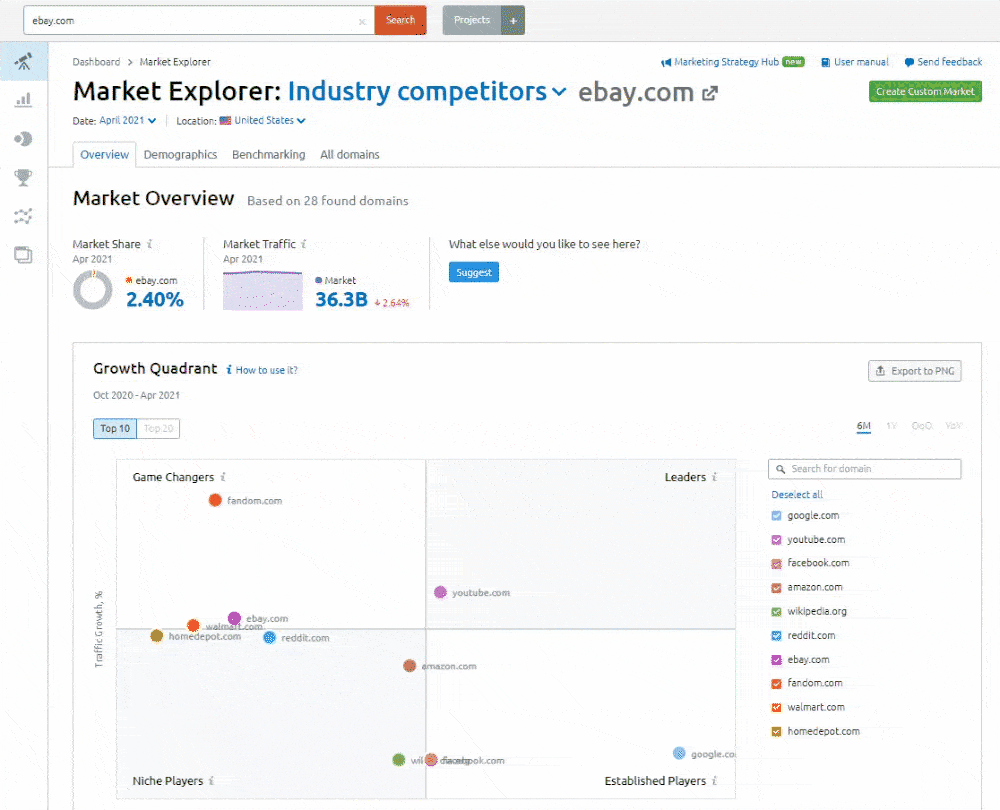 The page shows a detailed breakdown of any competitive market, the total market traffic, and the market share of the domain that's being analyzed.
Growth Quadrant is an impressive tool to depict the market dynamics.
Semrush added Growth Paths as part of its Growth Quadrant, which allows you to track your competitors' progress in dynamics.
Analyzing their growth over six months, QoQ, and YoY, you can get an idea of how the market is trending.
Possibly, you can better estimate the stability of your competitors' positions and prepare yourself for future success by comparing historical data with the industry's current state.
Another important feature of the Market Explorer is domain vs. market dynamics.
Semrush compares the domain's traffic data against the market and displays performance under this section.
The other two sections give information on market geo-distribution and traffic distribution.
Tab 2: Demographics
The report displays the market demographics, including age/gender and social media preference of the market audience.
Tab 3: Benchmarking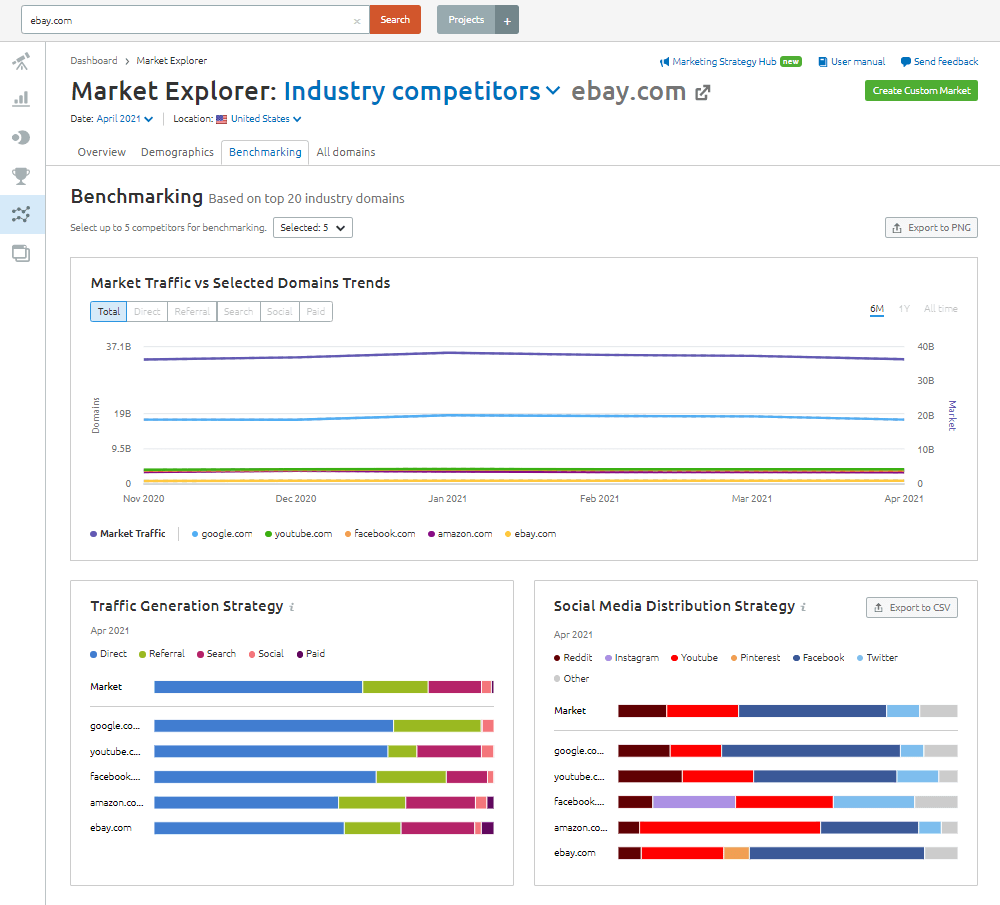 Benchmarking data is available for the analyzed domain and up to 5 competitors based on the top 20 industry domains.
The report includes the following information.
Trends analysis of the market traffic vs. selected domains
Traffic generation strategy
Social media distribution strategy
Audience analysis of the market vs. selected domains
Market share of each analyzed domain by channel
Tab 4: All Domains
The report reveals all industry domains along with their traffic stats.
You can export a list of these domains to a CSV file or order a custom report if you need more data.
Similarweb
Similarweb platform provides the most comprehensive and insightful view of digital traffic.
The company offers a wide array of competitive intelligence solutions, such as market research, company research, audience research, conversion analysis, and benchmarking.
Let's explore each tool in detail.
1. Traffic Analysis
The Similarweb Website Performance module lets you analyze traffic data on a particular website.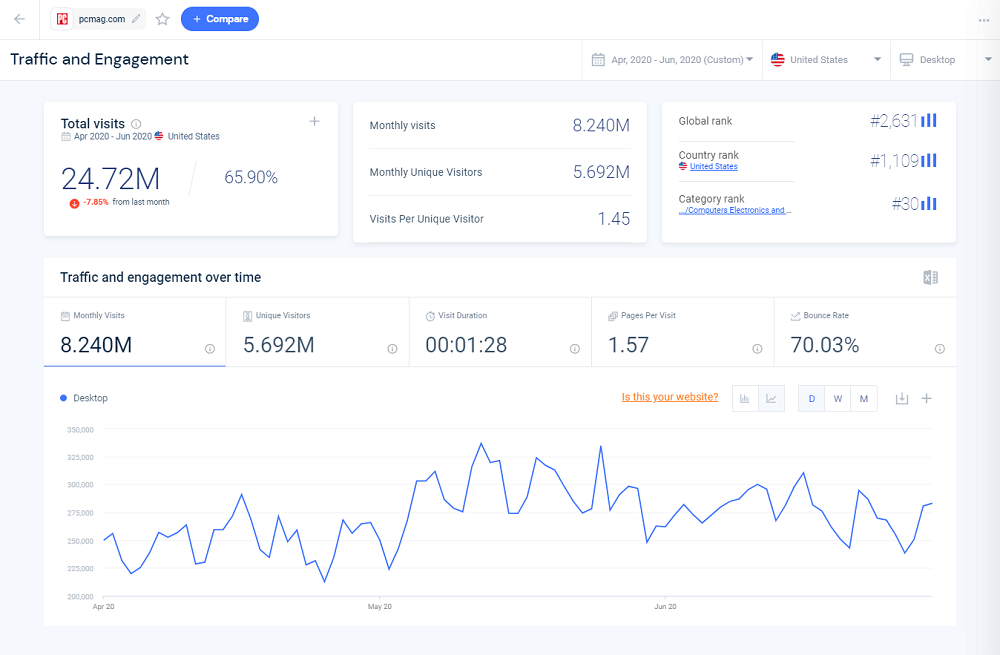 This tool offers the following data:
Total visits for the selected period and region
Changes in total visits (in %)
Traffic distribution by devices
Website's global rank, country rank, and category rank
Engagement metrics such as monthly visits, monthly unique visitors, pages per visit, visit duration, and bounce rate
The later sections provide you with data on visits over time (traffic trends), top traffic-generating countries, marketing channels, top referring sites, social traffic distribution, and referral traffic.
Expand each section to gain more insights into it.
2. Market Research & Industry Analysis
Utilize Similarweb's marketing intelligence to analyze consumer trends, gain industry insights and grow your digital market share.
The Similarweb Market Research & Industry Analysis solutions can help you achieve the following objectives.
Identify macro changes that impact your industry
Track historical trends for up to the past 36 months and view MoM, QoQ, and YoY changes
Analyze market size & entry, and validate product launch strategies
Create a custom market view to evaluate strategic partners, key competitors, and industry players.
Discover top-performing marketing channels in your industry and traffic trends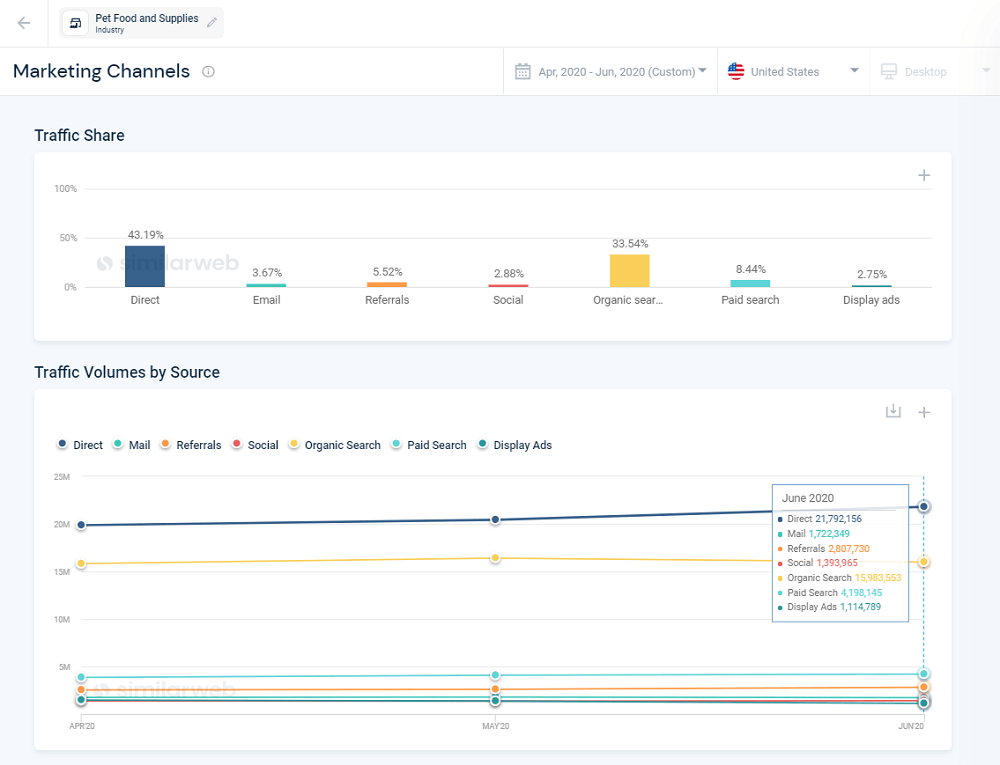 The Similarweb Research Intelligence Suite includes a number of modules for industry and company research.
Let's take a closer look at a few of them.
1. Industry Overview
This section displays a quick snapshot of the particular industry and provides useful insights based on the top 100 websites.
The information includes:
Top websites within the industry by monthly visits
Traffic distribution by desktop vs. mobile
Total visits for the selected time-frame
You can also see the average monthly visits, average visit duration, pages per visit, bounce rate, and a graphical representation of desktop vs. mobile traffic over the selected period.
At the bottom of the page, Similarweb displays two widgets, one showing the top 5 countries driving the most traffic to the category and the other showing the top 5 related industries.
2. Industry Leaders
The section lists the best-performing websites in each category, ranked by traffic share.
You can quickly sort these websites into transactional websites, content publishing websites, and other websites or arrange them by various traffic metrics.
Under the Industry Leaders section, you'll find an interesting feature called Market Quadrant Analysis.
This widget allows you to benchmark sites against competitors by looking at the intersection between any two metrics of your choice. E.g., Monthly Visits, Unique Visitors, Visits Duration, Traffic Share, Change, Bounce Rate, Pages per Visit
Important: Hover your mouse pointer over a particular website in the graph to learn more about it.
Verdict
It's difficult to conclude which one is best between Semrush and Similarweb in providing competitive research intel.
Go with Semrush if you need detailed audience insights and benchmarking data.
But instead, if you want full market breakdown and industry conversion analysis data, Similarweb is your best bet.
Both platforms have their strengths and weaknesses, so it really depends on what you want from your toolkit.
On the competitive intelligence front, Semrush and Similarweb are in close competition.
4. Semrush vs. Similarweb: Social Media Marketing
Social media is an integral component of an integrated marketing strategy in the modern era.
It allows you to reach and communicate with your target audience, educate them, and gather feedback for your products.
You can choose from a wide range of tools available on the market to automate SMM activities and monitor your campaigns' performance.
In this regard, both Semrush and Similarweb provide some social media marketing tools.
Let's take a closer look at them.
Semrush Social Media Marketing Toolkit
Imagine if the best social media marketing features are included in your primary marketing tool, eliminating the need to buy another expensive automation tool.
Yes, such tools are available. A good example is Semrush.
It offers an easy-to-use social media assistant to help you manage and monitor all your social media profiles.
Semrush connects with top social media networks, including Facebook, Twitter, Instagram, LinkedIn, Pinterest, and GMB.
With Semrush's social media marketing toolkit, you'll be able to accomplish the following.
1. Publish or Schedule Posts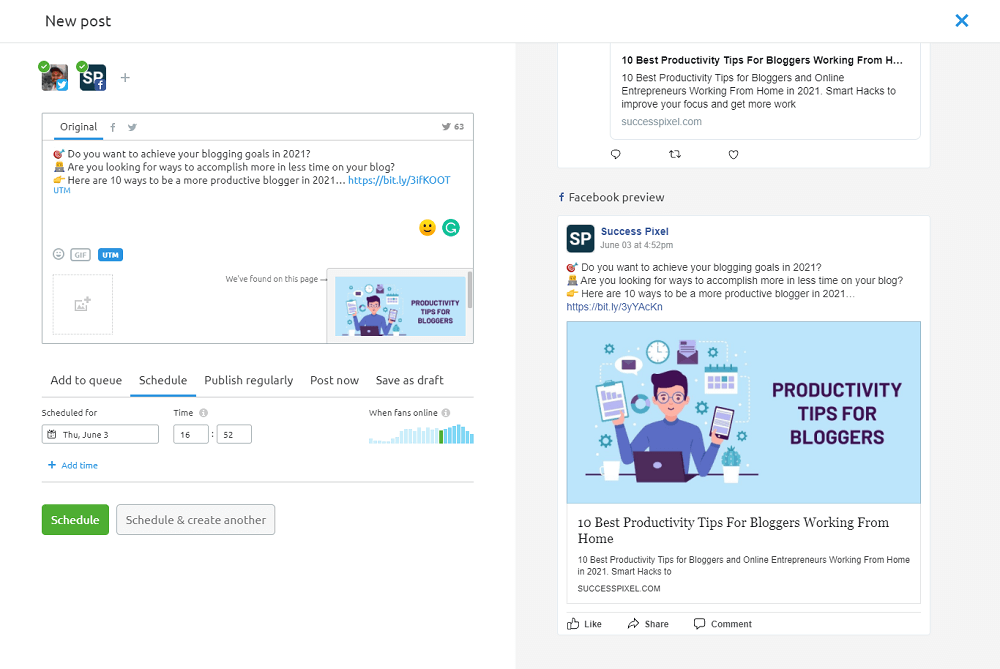 Publish or schedule posts on your social media profiles.
Optimize your posting schedule for maximum impact
Create a social media calendar
Share posts while browsing the web
Add your favorite blog feed or import posts from CSV files for bulk scheduling
Edit images on the fly
Add UTM parameters for more accurate tracking
Post on multiple platforms at once
2. Get Insights into Your SMM Campaign Performance
Identify the content that your audience prefers
Monitor your audience's growth
Learn more about your audience's demographics
3. Analyze Competitors
Gain insight look at your competitors' social media performance
Discover what content your competitors are posting and their publishing trends
Check your SMM campaign against your competitors
Create PDF reports and receive weekly updates by email
4. Boost Your Posts
Increase your brand's visibility on Facebook and Instagram
Get detailed statistics on your boosting campaigns
5. Create Social Media Ads
Manage and create ad campaigns
Identify your low-performing ads and optimize them for better results
Save time with auto-naming, streamlined creation, and more
Similarweb Social Media Features
Unlike Semrush social media marketing toolkit, Similarweb doesn't have a dedicated section for managing SMM campaigns.
However, you can use Similarweb to know social traffic stats for a specific site.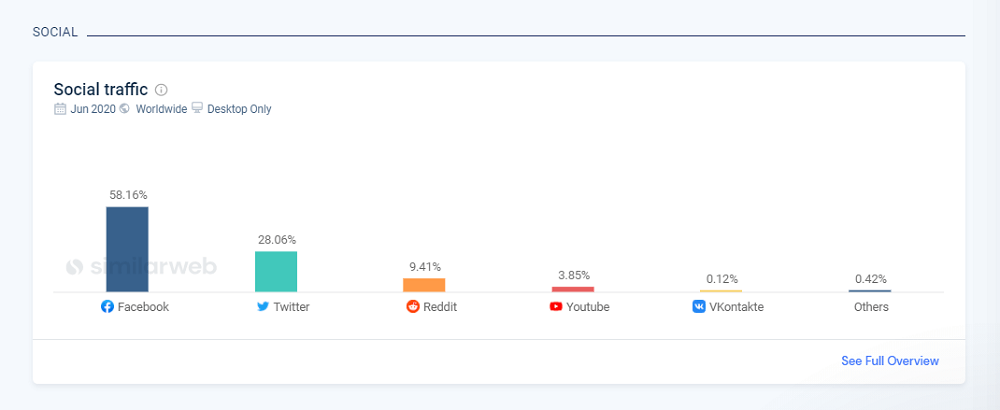 Using the reports intelligently, you can uncover the number of social visits, the referring social pages, the traffic shares of each source, and a change in traffic share.
Verdict
The above analysis shows that Semrush leads Similarweb by a substantial margin in the social media marketing category.
The SMM capabilities of Similarweb are limited, and the company needs further development before it can compete with Semrush.
5. Semrush vs. Similarweb: Local SEO
Regardless of how many locations you operate in, you need a strong local search presence to attract more leads and conversions for your business.
Therefore, local SEO is a crucial element of your overall marketing strategy.
Don't worry!
Several tools are available to manage, track, and optimize your local SEO campaigns.
Let's find out whether Semrush or Similarweb offers any such features.
Semrush
Semrush Local SEO toolkit can help you increase the visibility of your online business.
It comes with many helpful features, as mentioned below.
1. Business Information (NAP) Distribution
Semrush enables you to distribute correct business information consistently across numerous authoritative directories and online voice search platforms. E.g., Amazon Alexa, Apple, GMB, TripAdvisor
Currently, the tool distributes your business information to:
89 directories in the United States
44 directories in Australia
60 directories in the United Kingdom
42 directories in France
63 directories in Germany
2. Suppress Duplicate Listings
Keeping your business listings free of malicious duplicates is necessary for maximum local search visibility.
Some rivals may use such spam tactics to damage your local search presence on Google.
Semrush suppresses duplicates in one click and ensures only authentic business information appears across all major directories.
3. Track Local Rankings
Semrush Position Tracking module enables you to monitor your local SEO performance at any location.
It provides information on ranking distribution, cannibalization, devices & locations, competitors, and SERP features.
Additionally, Semrush has a Local Heatmap feature that tracks the position of your business on Google Maps when searching from any location.
4. Organize GMB and Facebook Listings
One of Semrush's coolest features is creating the most comprehensive business profiles in top directories, with detailed information such as workdays, business hours, and payment methods.
It also provides detailed reports on how your listings perform: how often they are searched for and displayed.
5. Review Management
Local Consumer Review Survey results indicate that 79% of respondents trust online reviews, same as personal recommendations.
However, responding to customer reviews on multiple platforms and maintaining a positive brand appeal is time-consuming.
Purchasing Semrush Premium Listing Management add-on feature lets you respond to customer reviews directly from the dashboard.
Similarweb
Unlike Semrush, Similarweb does not offer any local SEO features.
Verdict
Semrush provides extensive local SEO features. Combining it with other Semrush tools such as the keyword magic tool, link building tool, site audit, and social media marketing toolkit gets you a competitive edge in the local search rankings.
Unfortunately, that's not possible with Similarweb.
6. Semrush vs. Similarweb: Rank Tracking
Rank tracking is the process of regularly monitoring your website's position on the SERP (search engine result page).
Several rank trackers let you monitor your keyword positions across multiple countries, devices, and search engines.
The tools keep track of changes in keyword positions and analyze the effects of site health or link issues on rankings.
Thus, Rank tracking is a great way to determine the effectiveness of your marketing effort.
By comparing your website's current rankings with historical data, you can easily predict the direction your campaign will take.
Semrush
Semrush offers multiple tools to evaluate your website's performance.
1. Position Tracking
The tool can track up to 5000 keywords across all your projects and provide a daily ranking report on how the keyword positions have changed on desktop and mobile devices.
Additionally, the tool presents detailed information on website visibility, estimated traffic, average position, ranking distribution, cannibalization health, top competitors, SERP features, and a domain's top-performing pages for the target keywords.
Popular keyword rank tracking tools such as AccuRanker and SE Ranking charge over $349 per month to track 5K keywords; this same feature is included in your Semrush Business Subscription.
Pro Tip:
Track the YouTube rankings of your top keywords using Semrush's Video Rank Tracker.
The app lets you:
Manage unlimited YouTube channels from a single dashboard
Monitor up to 200 keywords on YouTube to identify YouTube SEO wins and losses
View weekly YouTube rank changes so that you can capitalize on growth opportunities and take timely actions if the rankings drop significantly.
2. Sensor
Semrush tracks Google SERP volatility by analyzing the daily changes in the keyword rankings.
A very high Semrush Sensor score indicates that a major Google algorithm update is underway as Google search results are constantly shifting and undergoing massive changes.
If this is the case, I recommend checking the SEO status of your website and organic keyword positions.
3. Semrush Rank
It's a list of the popular websites ranked by organic traffic from Google's top 100 organic search results.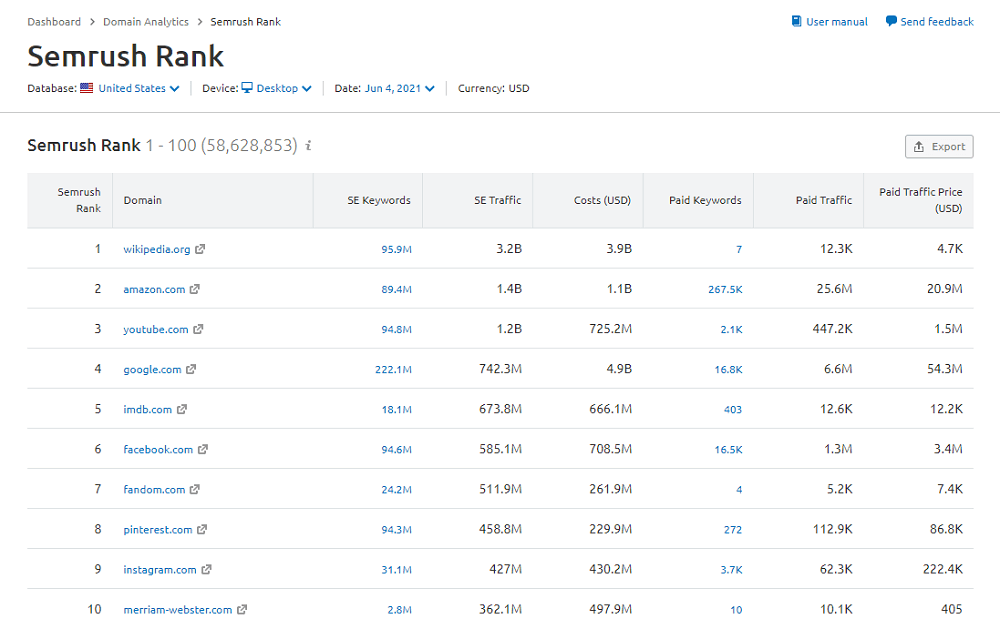 Semrush Rank module also provides detailed information on organic traffic, organic keywords, costs, paid traffic, paid keywords, and paid traffic costs for each website.
While historic Semrush Rank data is readily accessible, it would be helpful if Semrush displayed changes in "Rank" and other metrics right on the list page.
Similarweb
Similarweb tracks your website's rankings and compares them to your competitors'. However, it lacks the keyword position tracking feature.
The Rankings module displays the top websites, android and iOS apps, Digital 100 (fastest growing online brands), and their global rank, country rank, and category rank.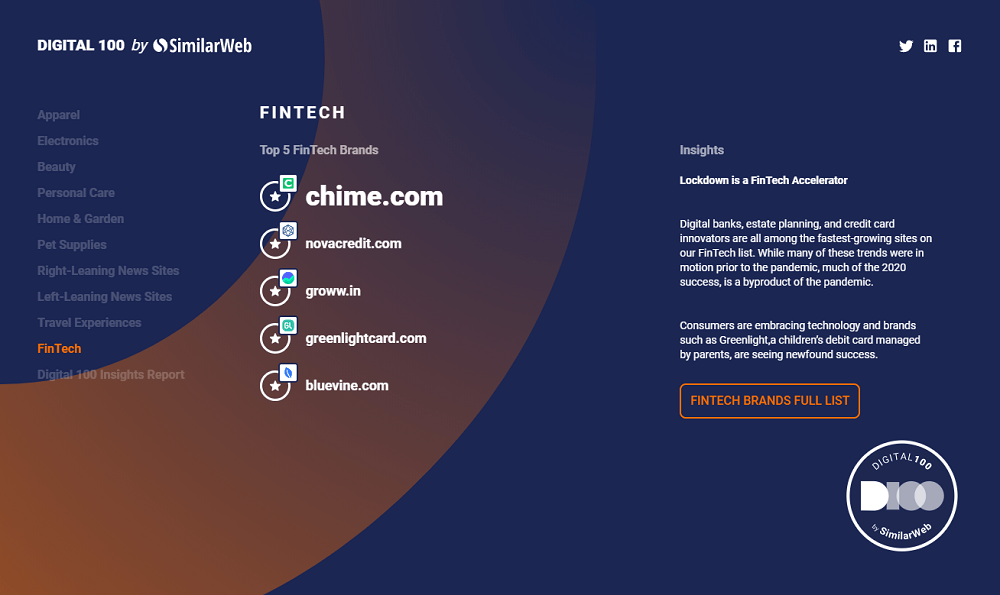 You can also track website ranking by marketing channels, i.e., the most visited websites (Leaders) based on search, social, display, referral, direct, and email traffic share.
Verdict
Semrush lets you track keyword rankings, including mobile rankings, across 190 countries.
A sudden spike in the Semrush Sensor score also signals that Google algorithm changes are underway.
Semrush Rank and Authority Score (AS) are two more ways to see your website's rank among all competitors.
On the other hand, Similarweb doesn't provide any tools for keyword position tracking.
It is only possible to get data for the top-ranking websites and apps.
Considering all these factors, Semrush is a clear winner here.
7. Semrush vs. Similarweb: On-Page and Technical SEO
Optimizing your website's content for both users and search engines and maintaining good website health is the key to achieving higher rankings on the search engine results pages.
To achieve long-term SEO success, you should focus on both on-page and technical optimization while employing the right off-page SEO techniques.
However, sometimes it's challenging to pinpoint exact areas that need improvement on existing websites.
Several tools are available to identify and fix technical and on-page problems on your website.
I was wondering if Semrush and Similarweb have similar functionality.
Let's check it out.
Semrush
Semrush team understands that SEO professionals and small business owners require a powerful SEO tool that covers both on-page and technical SEO aspects.
That's the reason you see multiple tools in the Semrush arsenal for the on-page and technical SEO.
1. Site Audit
The module enables you to conduct a comprehensive technical SEO audit, identify errors, and get actionable solutions to fix them.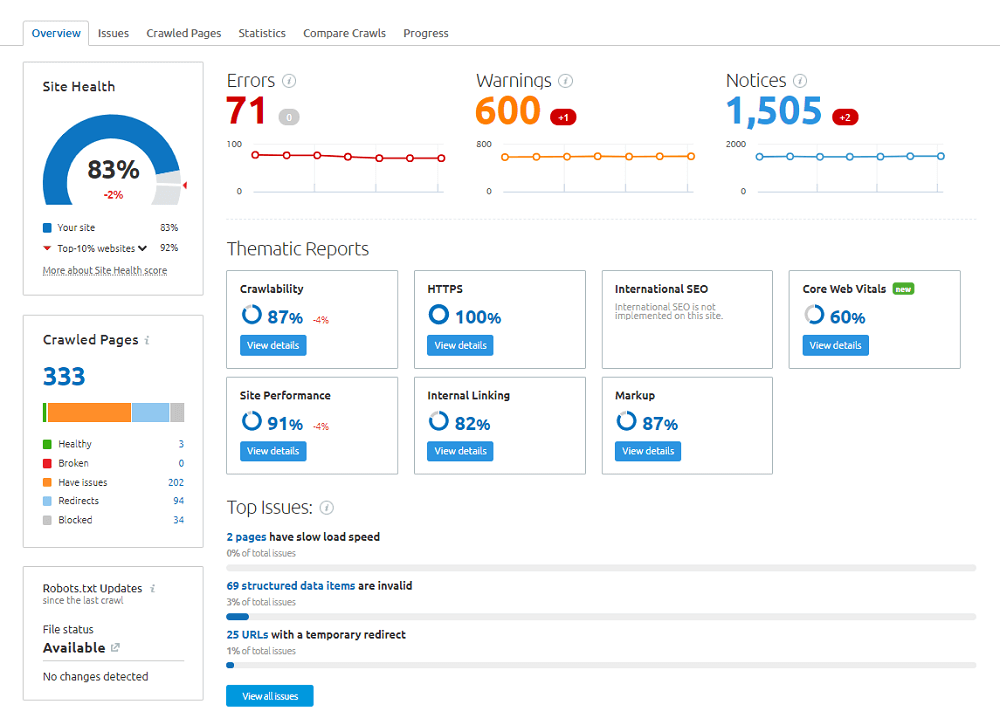 It scans your website for over 130 technical and SEO errors and organizes them into three categories based on the severity level:
Errors: Issues with the highest severity and need to fix asap
Warnings: Issues with the medium severity
Notices: Issues with low severity, but fixing them will improve your site health
Semrush also displays a total number of crawled pages, robots.txt file, and overall site health score.
Best of all, Semrush provides thematic reports on the website's Crawlability, HTTPS Implementation, Site Performance, Internal Linking, Markup, and International SEO.
Semrush recently added a Core Web Vitals (CWV) report to Site Audit, which will help you understand how many pages on your site achieve good LCP, TBT, and CLS scores.
Pro Tip:
Look for the Top Issues on the Overview tab of the Semrush Site Audit tool and resolve them as soon as possible.
This will improve your website's health, and eventually, the search engine rankings too.
Did you fix most of your technical problems?
Track the number of issues over time by comparing crawls before and after.
With the Site Audit feature enabled, Semrush regularly tracks the health score of your website and lets you know of upcoming issues before they become a serious problem.
Don't have time till the site crawl finishes?
Turn on the notifications.
Semrush will automatically crawl your website and notify you once the process is complete.
You can also schedule a weekly technical SEO audit and get reports by email.
2. SEO Content Template
Semrush analyzes your top-10 competitors on Google and gives you recommendations to write SEO-friendly content.
This information includes semantically related words, backlink prospects, suggested readability score, text length, and some basic SEO recommendations.
You can paste your content on the next tab and perform real-time checks for SEO, readability, tone of voice, and originality.
3. On-Page SEO Checker
Semrush's On-Page SEO Checker can help you identify areas of improvement on your site.
The tool gathers data from multiple sources and compares your site with the top 10 real-time organic rivals for target keywords to provide the necessary insights into improving your rankings.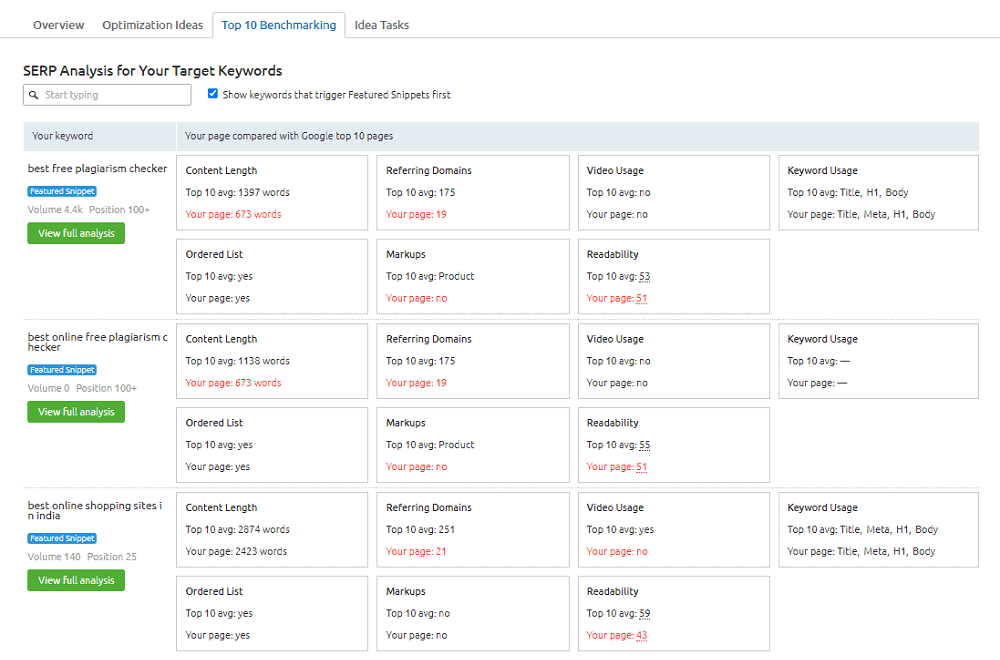 In simple words, Semrush benchmarks your site against your competitors for content length, referring domains, video usage, keyword usage, ordered list, markup, and readability to provide instant on-page SEO recommendations.
When you add a landing page and target keywords to the Semrush On-Page SEO Checker, it displays total search volume and optimization ideas to gain most of the traffic share.
Optimization ideas include:
Strategy Ideas
SERP Features Ideas
Backlinks Ideas
Semantic Ideas
Technical SEO Ideas
Content Ideas
User Experience Ideas (Requires Google Analytics Integration)
Semrush lists and prioritizes the top pages that need to be optimized first based on the organic traffic potential.
Optimizing these pages can result in a more than 1000% increase in organic traffic.
4. Log File Analyzer
Log file analysis enables you to understand how search engine bots interact with your website.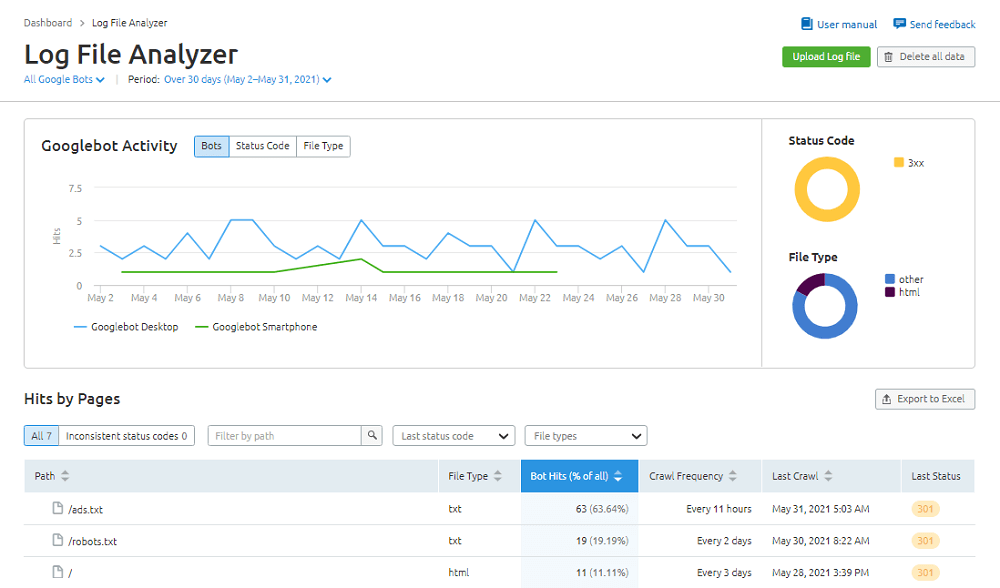 This method provides 100% accurate data about search engine crawling activities, allowing you to gain valuable insights such as crawl errors, non-crawled pages, and most crawled pages.
Moreover, you can figure out whether your crawl budget is being spent efficiently and if you can manage Googlebot's crawling.
Semrush simplifies the process of analyzing log files.
The only thing you need to do is to download a log file from your site and upload it to Semrush Log File Analyzer.
The tool will analyze the data and generate a detailed report within minutes.
Similarweb
Similarweb does not offer tools for site audits or on-page SEO.
For finding and fixing technical errors on your website, you may need to use third-party software.
Verdict
Your website's structure and coding have a significant impact on its visibility.
Semrush offers an extensive range of on-page and technical SEO tools.
It monitors your website regularly for on-page and technical problems, recommends quick fixes, compares crawl reports, and verifies whether your optimization effort correlates with your rankings.
Sadly, these features are not available in Similarweb.
Hence, if you wish to perform on-page and technical optimization yourself, Semrush is an excellent choice.
8. Semrush vs. Similarweb: Content Marketing
Content marketing is an effective way to reach prospects, build relationships with existing customers, and increase ROI.
However, creating valuable & consistent content, distributing it, and measuring its success are time-consuming and resource-intensive processes.
An integrated content marketing platform is an excellent choice for managing your marketing effort.
Let's see what features Semrush and Similarweb provide to help with your content marketing campaign.
Semrush
Semrush allows content marketers to streamline their entire content marketing workflow with its feature-rich platform.
It provides a plethora of tools to manage content ideation, creation, optimization, and analytics.
Check out how the Semrush Content Marketing Platform can help you deliver a unique customer experience.
1. Topic Research
Semrush scans your rivals' content and generates hundreds of ideas to produce compelling content tailored to your audience.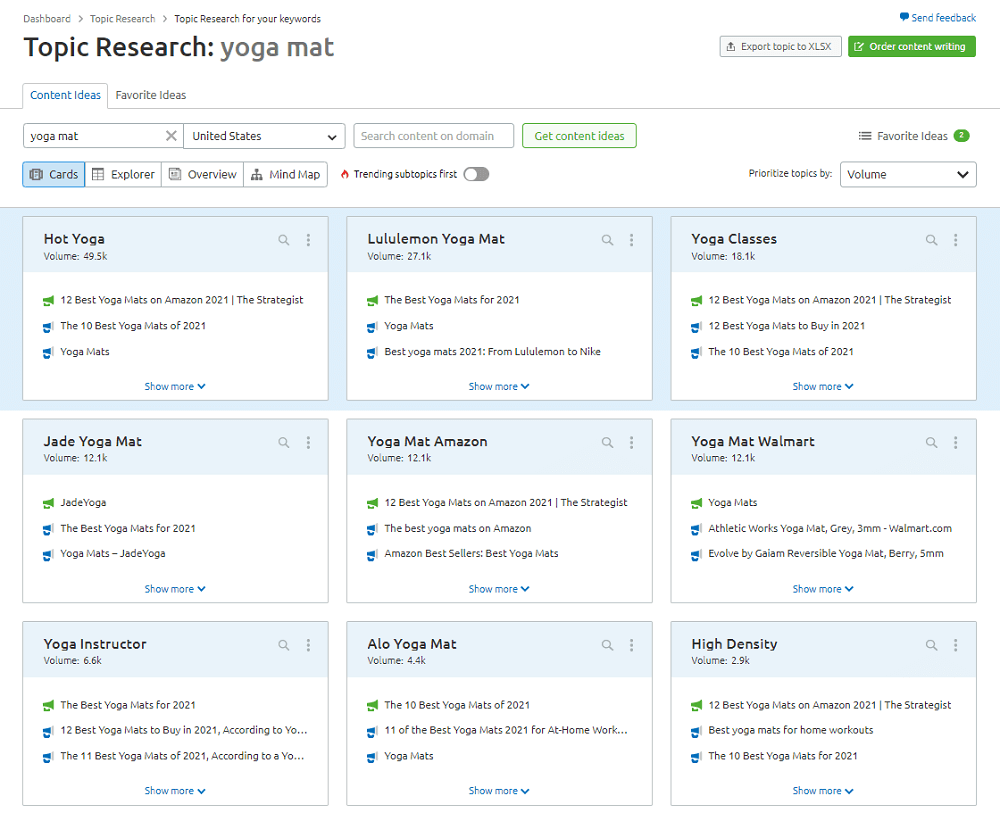 With this tool, you can discover popular topics, questions, and top headlines for your seed keywords and prioritize them based on volume, difficulty, and topic efficiency.
If you think a topic idea is worth exploring, you can add it to your favorites or export it to an XLSX file.
2. Marketing Calendar
The tool lets you plan editorial calendars, manage content strategies, and collaborate with your teammates efficiently.
You can create a new campaign and add all marketing activities to it, including:
Defining your campaign's goals, budget, target audience, and other vital information
Adding all the necessary marketing assets will help you run a successful campaign
Tracking your campaign's progress in real-time and discussing it with your team
3. SEO Content Template
The tool provides a customized outline for creating SEO-friendly content to drive more organic traffic.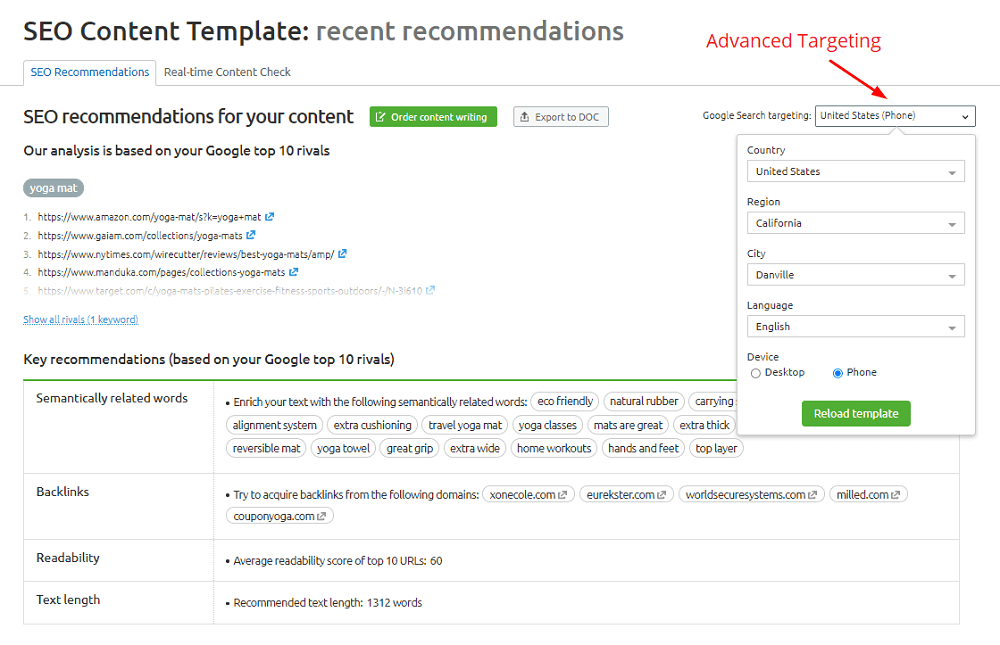 You'll receive actionable recommendations on content length, readability, semantically related words, and backlink prospects based on Semrush's analysis of the top 10 rivals in Google for your target keyword.
4. SEO Writing Assistant
Optimize your content for improved readability and search visibility, refine the tone of voice, and ensure it's 100% unique using the Semrush SEO Writing Assistant.
It analyzes your copy and assigns a score from 0 to 10 depending on its compliance with basic content writing requirements.
Most content writers craft their content in Google Docs or WordPress editor. Therefore, Semrush developed plugins for WordPress and Google Docs that don't require logging into the Semrush dashboard every time.
5. Brand Monitoring
This module allows you to find the most effective marketing channels for content distribution, evaluate potential traffic & estimated reach, and analyze your or competitors' brand mentions online, on social media, and on forums.
Suppose one of your competitors uses influencer marketing successfully to drive traffic to his site; you can research and replicate his strategies to achieve similar results.
Moreover, you can locate unlinked brand mentions and reach out to the respective site owner to request a link to your site.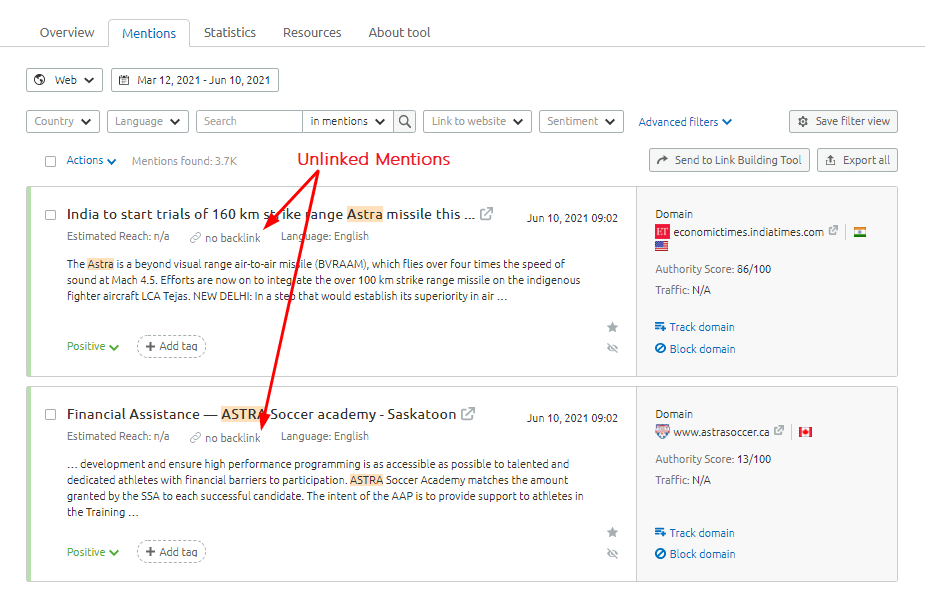 A quick win.
6. Post Tracking
The module enables you to measure the performance of your external publications or your competitors' articles.
It tracks referral traffic, social shares, estimated reach, and backlink count to the target URL.
The tool will also monitor your keyword rankings daily across seven databases.
Semrush Post Tracking is a great way to measure your competitors' marketing success since you don't have direct access to their analytics accounts.
7. Content Audit
A Semrush Content Audit can help you identify the best-performing articles and those which require an update.
By analyzing real-time metrics from Semrush, Google Analytics, and Search Console, you will better understand your content's performance.
Although Semrush highlights articles that receive little or no organic traffic and social engagement, you can apply advanced filters to customize your content audit.
Semrush's content suite is incredibly versatile. It allows effective management of most content marketing tasks from a single interface that otherwise would not be possible.
Please visit my Semrush Content Marketing Toolkit review + tutorial to learn more about it and discover some little-known content strategies.
Similarweb
Similarweb's greatest strength lies in its easy-to-use competitive marketing intelligence.
However, as your needs grow more complex, you may find that some features aren't unavailable in Similarweb.
Especially, the software lacks content marketing tools, which are crucial for many online marketing campaigns.
Verdict
Semrush Content Marketing Platform enables marketers and businesses to plan, create, and optimize content to drive more organic traffic.
You can streamline the entire content marketing workflow with its powerful tools and integrations.
If you ever get stuck with a content marketing campaign, don't forget to give it a shot.
In contrast, Similarweb offers no content marketing tools, which is its downside.
So, if you rely mostly on SEO and content marketing to drive traffic to your site, I would recommend Semrush to you.
9. Semrush vs. Similarweb: Client Management and Reporting
What a wonderful thing it would be if your marketing software included lead generation, client management, and advanced reporting features.
Surprisingly, the features mentioned above are available in both Semrush and Similarweb.
Semrush
Effective client management involves:
Generating qualified leads.
Communicating with your team and clients.
Creating reports with striking visuals and structured data.
Semrush's client management platform does this job perfectly.
1. Lead Generation
The Lead Generation module allows you to place a custom widget on your website to capture your visitors' email addresses in exchange for a sample site audit.
It enables you to passively generate business leads for your marketing agency or freelance service.
The tool is extremely easy to use.
The first step is to create a site audit widget with custom branding and CTA (no coding skills required).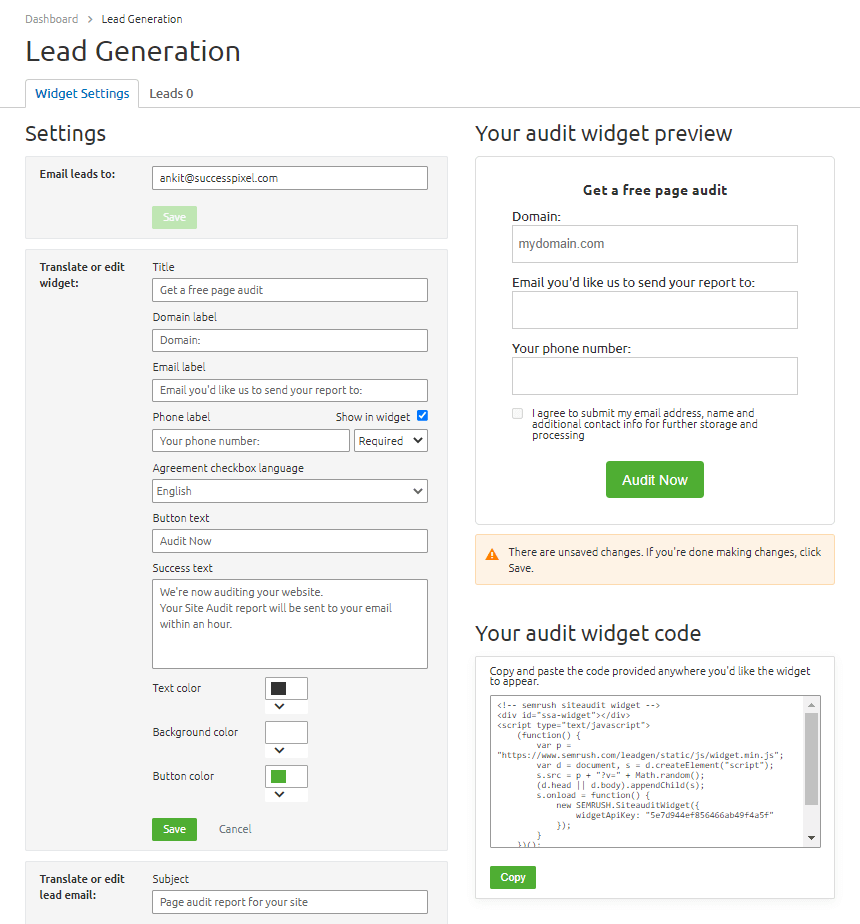 Configure some basic settings and place widget code on your website.
A site audit request from website visitors will generate leads for you.
Another way to generate marketing leads is to analyze random websites and contact the owners whose sites lack some of the necessary features.
Afterward, offer them your products and services!
You probably get a new client who pays you recurring fees.
2. Client Manager
The tool allows you to easily handle all customer management tasks from a single dashboard, including:
Add a new client and assign him a status.
Maintain a client profile, such as company details, contact info, budget, and much more.
Set up a project and track various SEO, SMM, and other metrics
Create a systematic workflow, add new tasks, and prioritize your effort and resources more effectively.
Organize and share files (up to 200 MB) with your clients. You can purchase Agency Growth Kit to unlock 50 GB of additional storage.
Quickly collect project data and create professional PDF reports.
3. Advanced Reporting
Semrush My Reports tool lets you create, manage, and share professional SEO reports in just a few clicks.
You can quickly access necessary Semrush data and compile it into a single PDF via drag and drop widgets.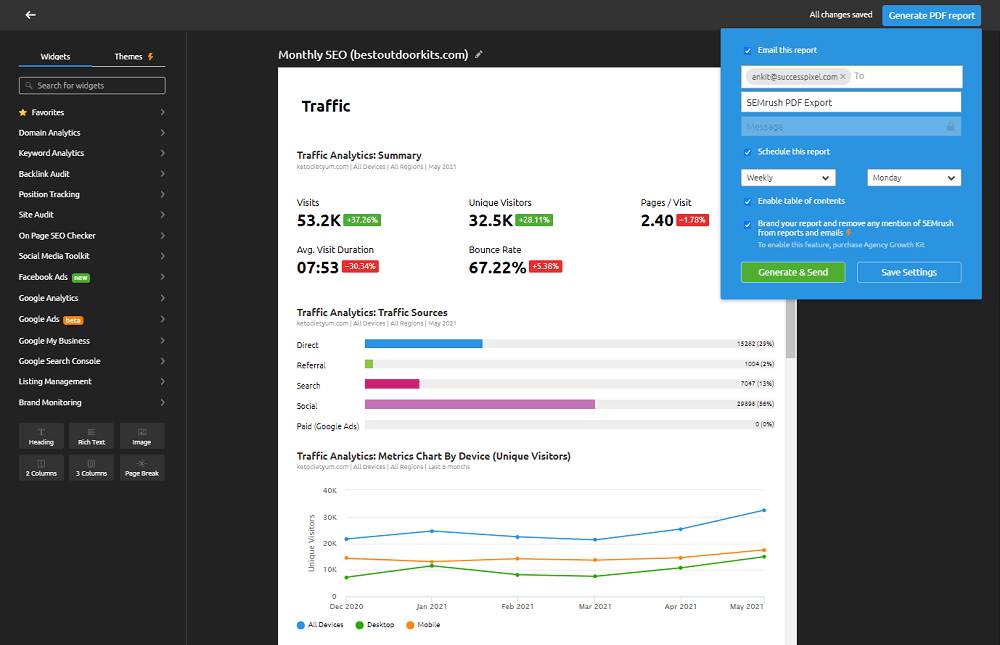 Utilize pre-existing templates or design a custom report from scratch.
Freelancers and agency owners can generate branded or white-label reports depending on their subscription plan.
Here is a quick hack for lazy marketers.
Automate your regular reporting to your team and clients with the Semrush My Report tool. Besides scheduling reports, you can also share them directly via email or a link. The shared report is saved as a template so that the user can reuse it later.
Similarweb
Quality leads are the key to successful sales.
As a marketing professional, your objective is to find the right leads that match your target persona and audience, which makes them ideal customers.
Similarweb provides powerful tools for finding B2B leads and e-commerce sales leads.
1. Lead Generation
Similarweb doesn't offer any lead generation widget. Still, you can quickly search through their database of over 30M e-commerce companies, 40M advertisers, and 50M digital publishers across 200 countries to find thousands of prospects in seconds.
Similarweb's lead recommendation engine will continuously update your pipeline of new prospects based on a list of your best customers.
Create a list of prospects based on over 50 digital criteria. You can use metrics such as website visits, engagement, and technologies to target customers based on potential revenue and buyer readiness.
2. Reporting
Similarweb offers powerful reporting features that enable you to create PDF reports and share market research data with your colleagues or clients.
The advanced reporting options include creating a dashboard that provides a detailed overview of all the changes across your client's website, competitors, industry, and keywords.
Dashboards enable you to prepare PDF reports and visuals for use in client meetings and sales presentations.
You can also share these key market intelligence insights with your colleagues.
Similarweb does not allow customized reports, which may disappoint most marketing agencies and freelancers.
Verdict
Marketing agencies and freelancers who serve clients need reliable tools for lead generation, client management, and reporting.
Both Semrush and Similarweb offer these features, but Semrush is more flexible.
In addition, Semrush users have access to powerful features, such as client management and white-label reporting, which aren't available at Similarweb.
10. Semrush vs. Similarweb: Data Coverage
Businesses need reliable data to make informed decisions.
A thorough understanding of your target market, audience, and competitors can significantly enhance your competitive position.
For your marketing campaigns to be successful, you need accurate and adequate data.
In case you're planning to purchase a marketing intelligence tool between Semrush and Similarweb, the following comparison will get you an idea of which tool offers more reliable data.
Semrush Data
The Semrush platform helps businesses of all sizes achieve measurable results from their online marketing campaigns.
Semrush collects and processes a large amount of raw data from multiple sources to provide marketers with actionable marketing intelligence.
Here is more information on Semrush data.
1. Keyword Database
Semrush Keyword Magic tool has more than 21.1 billion keywords and 808 million domain profiles across 142 geo databases as of July 01, 2023.
Interestingly, the largest Semrush keyword database (US) alone contains over 2.6 billion keywords.
2. Traffic Analytics
Semrush provides insights into traffic stats and on-site user behavior of any website in its Trends report, i.e., Semrush Traffic Analytics and Semrush Market Explorer modules.
These tools use data collected from the Semrush Traffic Analytics panel, which has over 200 million real internet users across 190 countries and regions.
The panel analyzes over 1 billion clickstream events every day with a neural network algorithm and applies statistical sampling and error testing to produce realistic traffic estimates.
Processing 500TB of raw data isn't a joke!
A big thanks to Semrush's scientists and infrastructure for making this possible.
3. Domain Analytics
Semrush Domain Analytics reports provide comprehensive competitive intel for analyzed websites.
Currently, the database has 543M desktop keywords mapped to 774M desktop domain profiles and 80.1M mobile keywords mapped to 32.1M mobile domain profiles.
4. Backlinks Database
Semrush maintains one of the largest backlink databases, with over 43.8 trillion backlinks from 1.6 billion referring domains.
Semrush backlinks crawler scans 25 billion web pages a day to gather new links and adds them to its database.
Semrush's backlink database is updated within 15 minutes of finding any changes, making it the fastest backlink analytics tool available.
5. Display Advertising
Semrush combines PPC and Google Shopping Ads (PLA) data with display ads data collected from trusted partners and provides a comprehensive overview of the digital advertising landscape.
The company has data on 310M ads, 5.2M advertisers, and 3.5M publishers from 46 countries.
Similarweb Data
For over ten years, Similarweb developed a multi-dimensional approach to measuring and interpreting online traffic.
The platform measures and maps the digital world in real-time by combining 10 billion digital signals collected daily from various sources.
Below are the primary sources for Similarweb data:
1. Website and App Owners
The first-party analytics data (e.g., Google Analytics) from millions of sites and apps
2. Contributors Network
An anonymous traffic data collected from various Similarweb products installed on millions of devices worldwide
For example, by activating the Similarweb extension, you become a member of its user panel.
It utilizes the information gathered from your browsing activities to enhance its competitive analysis databases.
3. Public Data
A collection of publicly available data (e.g., Wikipedia, census statistics), captured and indexed from billions of web pages and apps
4. Partnerships
Extensive pre-analyzed rich data collected from global partners, including DPSs, ISPs, IT measurement firms, and corporate intelligence companies
Similarweb aims to offer a 360-degree view of the ever-changing digital landscape by putting deep market insight at your fingertips.
Please take a look at the Similarweb stats below to see how it compares with Semrush.
100M Websites
4.7M Apps
90 Countries
210 Categories
235M Product SKUs
1B Search Terms
10B Content Pages
250M Display Ads
Verdict
Both tools gather and process a massive amount of data to give you a holistic view of the digital world.
While Similarweb data helps gain insights about an industry or a brand, Semrush's extensive databases enable a deeper understanding of those same industries and brands.
Considering the data collection and volume of data served, Semrush has a significant edge over Similarweb.
11. Similarweb vs. Semrush: Data Accuracy
Data reliability plays a significant role in the credibility of marketing analysis tools.
Marketers tend to prefer tools that provide precise data because these tools are used to make key marketing decisions.
Tool aggregating raw data from hundreds of diverse sources on such a massive scale will inevitably result in discrepancies.
Still, you should choose the one that provides more accurate information.
Technological advances such as AI and ML have helped both tools to improve data accuracy significantly over the last few years.
Check out the traffic analysis experiment results from two independent sources to determine Semrush and Similarweb data accuracy.
Mobidea Academy
The Mobidea team created an anonymous community poll asking website owners to share their monthly traffic figures and compared them with the Similarweb and Semrush Traffic Analytics reports.
The number in the following table shows the deviation in stats received from the website owners and the traffic reports from Semrush and Similarweb.
| | | |
| --- | --- | --- |
| Website Popularity | SEMrush Error (%) | SimilarWeb Error (%) |
| 0-10K visits | 74 | n/a |
| 10K-50K visits | 57 | 80 |
| 50K-150K visits | 41 | 40 |
| 150K-500K visits | 33 | 35 |
| Over 500K visits | 36 | 37 |
Semrush vs. Similarweb Traffic Data Accuracy (Source: Mobidea)
The results demonstrate that Semrush Traffic Analytics is much more accurate than Similarweb at analyzing smaller domains.
On large sites with high traffic, the tools are virtually neck-to-neck.
OWOX
OWOX compared anonymized Google Analytics data from 787 websites with over 100K visitors per month with traffic data from Similarweb and Semrush Traffic Analytics to calculate the accuracy of both tools.
OWOX then segmented websites based on a monthly session count.
Segment 1: 100K to 500K monthly sessions
Segment 2: 500K to 1M monthly sessions
Segment 3: More than 1M monthly sessions
The following results show the accuracy of both tools.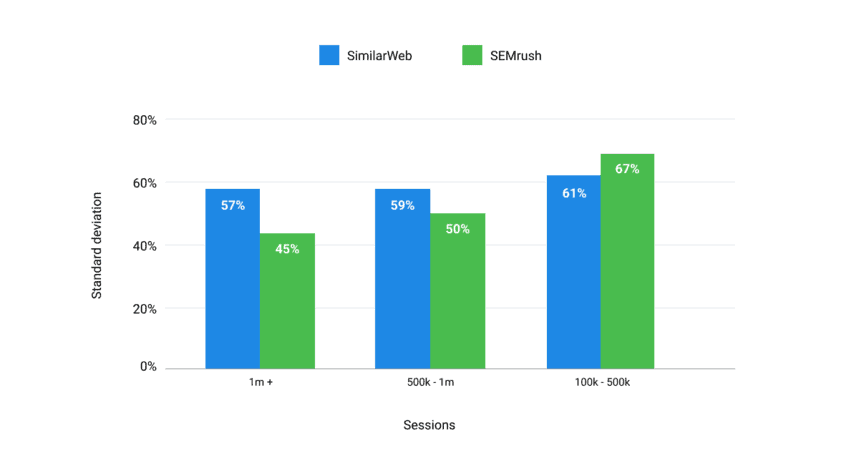 Please note that the higher standard deviation indicates lower data accuracy for any given tool when measured against Google Analytics benchmarks.
Semrush data was more accurate for websites with more than 1 million sessions, and it showed a smaller deviation (45%) from Google Analytics data.
Even for the websites with 500K to 1M sessions, Semrush provided 9% more accurate results than Similarweb.
Neither tool showed reasonable accuracy for sites receiving less than 500K traffic. Still, Similarweb performed slightly better than Semrush.
Verdict
Full transparency disclosure – no tool in the market delivers 100% accurate traffic statistics.
Based on the above data and my own tests, Semrush performs slightly better than Similarweb at estimating traffic data.
Even though Semrush data deviates from actual figures for less popular sites, it clearly mentions their estimated accuracy on the Traffic Analytics report.
Best of all, Semrush data scientists are proactively updating their data.
For example, a recent redesign of the SEO Keyword Difficulty (KD%) metric has made it more realistic.
Unfortunately, there is no such news on Similarweb data updates.
In light of all these factors, Semrush is the best option for you.
12. Semrush vs. Similarweb: APIs and Integrations
Semrush and Similarweb offer API access and integrate with third-party platforms.
Moreover, both tools offer browser extensions to get a quick glimpse of a specific website's performance.
Semrush
The company provides API access, integrations, browser extensions, and other add-ons to make Semrush data accessible at different locations.
1. API Data
You must be a Semrush Business plan user to access API data.
After you receive your API key, you can begin integrating with the Semrush API.
With API requests, you can get the following reports.
Keyword Research
Organic/Paid Results
Top domains
Competitors
Backlinks
Traffic
Position Tracking
Technical Health
2. Integrations
Semrush seamlessly integrates with various third-party platforms and tools.
With it, you can extract real-world data from Google products, including Google Search Console, and Google Analytics, and manage your GMB (Google My Business) listing and other local SEO tasks.
Semrush connects with Facebook, Twitter, LinkedIn, Pinterest, YouTube, and Instagram to automate social media posting and track the performance of your SMM campaigns.
Bloggers and content writers will love the Semrush SEO Writing Assistant, which works in both WordPress Editor and Google Docs.
Last but not least, Semrush is compatible with many project management tools, including Trello, Zapier, and Majestic, and can help streamline your workflow.
3. Browser Extensions
Semrush provides two popular browser extensions:
It's a free browser extension that gives you access to key SEO metrics and many other tools such as SEO audit, traffic analytics, and many more.
An automation tool that manages your content on all the major social media networks from one place.
It enables you to plan, schedule, and publish posts while browsing your favorite sites and analyze your social media performance.
4. Apps and Add-ons
Semrush offers a wide selection of free and premium add-ons to expand your marketing effort.
Here's a list of the Semrush apps.
Semrush .Trends
E-commerce Keywords Analytics
Mobile App Insights
Semrush Local
Agency Growth Kit
Instant Banner Generator
Video Rank Tracker
Sellzone
Similarweb
APIs, third-party integrations, browser extensions, and other add-ons allow you to access Similarweb data on multiple platforms.
1. API Data
An API allows developers to integrate Similarweb data into their applications and other custom solutions.
Top companies like Booking.com, Omnicom Group, Statista, and Hubspot use Similarweb API to automate and scale their analysis.
If you need API implementation assistance, the company has partnered with Codersclan.
CodersClan offers a special 15% discount with the SIMWEB coupon code to get experienced coders to implement API for you.
The Similarweb API lets you request the following information.
Traffic
Demographics
Organic/Paid Results
Top domains
Competitors
2. Integrations
Not many third-party integrations are available for Similarweb.
The major platforms it integrates with are Google Analytics, Salesforce, and SimilarTech.
3. Browser Extension
The extension allows you instant access to the full range of similarweb.com features from your browser toolbar.
With just a single click, you will receive detailed information on key metrics, including engagement rates, keyword rankings, traffic rankings, and traffic sources for any site.
Verdict
Semrush wins this round with more external integrations and add-ons, as well as more API-accessible databases.
13. Semrush vs. Similarweb: Customer Ratings
Ratings and reviews from real users offer a more unbiased assessment of a marketing tool than company press releases and affiliate articles.
Semrush and Similarweb have been serving marketing intelligence for over a decade, so let's see which company actively listens to its customers.
A positive or negative customer experience will probably reflect in user reviews.
1. Trustpilot
Semrush has excellent ratings on Trustpilot.

It scored 4.5 out of 5 based on 258 user reviews.
Many people love Semrush for obvious reasons, but a few may have legitimate issues with it.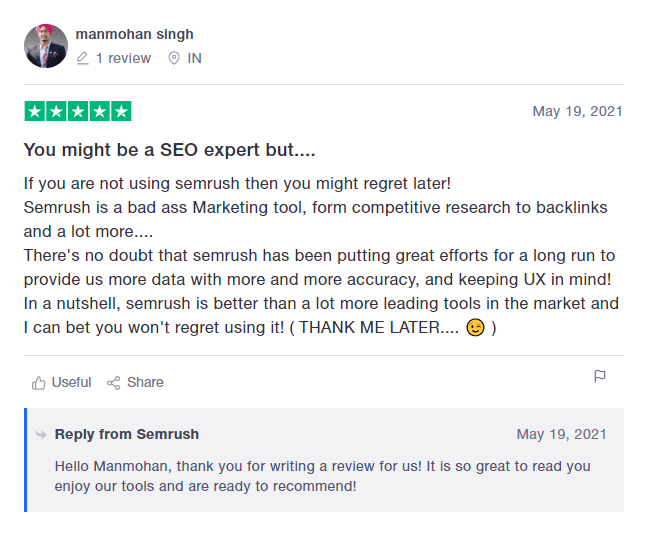 The Semrush ORM team responds to most reviews and tries to understand the users' concerns.
In contrast, Similarweb has a slightly lower rating.

It has a Trust Score of 2.3 out of 5 based on 61 reviews, which is below average.
2. G2.com
Semrush scores 4.5 out of 5 based on 1173 user reviews on G2.com. Only a handful of people faced difficulties in using Semrush tools.
On the other hand, Similarweb also maintains a good profile on G2 with a score of 4.4 out of 5 after 91 reviews.
Despite having fewer reviews than Semrush, Similarweb maintains good ratings there.
3. Capterra
Semrush is one of the top-rated competitive analysis tools on Capterra, with an aggregate rating of 4.7 out of 5 based on 1349 reviews.
Similarweb also performs pretty well. The software scores 4.5 out of 5 after 65 user reviews.
Verdict
Semrush's 50+ advanced marketing tools, robust databases, numerous integrations, and frequent product updates make it a preferred choice for marketers and businesses.
Customer reviews indicate that users are satisfied with the Semrush.
In contrast, Similarweb does not appear to be proactive with its user reviews.
While a low review count isn't a measure of bad products, the Semrush vs. Similarweb ratings are vastly different.
According to my observations, Semrush engages customer reviews and uses their feedback to enhance its products.
14. Semrush vs. Similarweb: Pricing
The price-to-performance ratio is the most critical factor when selecting a marketing tool. As a marketer or business owner, you aim for meaningful returns on your marketing investment.
If you're considering buying either Semrush or Similarweb, you might want to compare the pricing details of both tools to determine which one offers the best value.
Semrush Pricing
Semrush offers three standard pricing plans with a predefined set of features and data request limits.
Semrush Pro Plan Pricing
Semrush Pro subscription costs $119.95 per month. It offers more than 40 tools to manage your SEO, PPC, and SMM projects.
These tools let you analyze your competitors' top-ranking keywords, traffic sources, social media performance, and more.
The plan allows up to five projects per account, ideal for freelancers, startups, bloggers, and in-house marketers with a limited marketing budget.
The Semrush Pro plan offers read-only sharing access and misses certain key features such as access to historical data, the content marketing platform, and PLA.
Semrush Guru Plan Pricing
Semrush Guru plan costs $229.95 per month.
It includes everything in Semrush Pro, access to the content marketing platform, historic data, Google Data integration, and extended data limits.
With up to 15 projects supported simultaneously, the plan is a perfect choice for SEO/PPC analysts, SMBs, and growing marketing agencies.
Semrush Business Plan Pricing
Semrush Business plan is priced at $449.95 per month. With the Semrush Business plan, you can enjoy all the Guru features, plus API access, extended limits and sharing options, Share of Voice metrics, PLA data, and SAML SSO (on request).
The plan accommodates up to 40 projects and is well-suited for large marketing agencies, e-commerce projects, and companies with an extensive online presence.
Premium Add-ons and Charges:
Semrush's standard pricing is listed above, but you can purchase some add-ons to enhance your marketing research capabilities.
1. Additional Users
All Semrush plans include a single user per account by default.
Additional user seats are available for $45 for the Pro plan, $80 for the Guru plan, and $100 for the Business plan.
2. Trends (Previously CI add-ons)
The Trends offers a wide range of competitive intelligence tools, such as Market Explorer, Traffic Analytics, Competitor Benchmarking, Bulk Traffic Analysis, and Top Pages Analysis.
You can upgrade your Semrush subscription to access Semrush trends data by paying $200 per month on top of your subscription.
Here are the pricing details after purchasing the Semrush .Trends add-on.
3. Agency Growth Kit
Marketing professionals and agencies serving business clients can benefit from the Semrush Agency Growth Kit.
This product allows you to customize report branding, create white-label reports, and use Unlimited Client Manager to streamline client management.
The best thing is that you will receive Semrush Agency Partner certification and listing on the Semrush Agency Partner platform, which enables you to connect with thousands of top-tiered businesses around the world (priceless).
Regardless of the plan you choose, Agency Growth Kit costs $100 over your active Semrush subscription.
4. Listing Management (Local SEO)
The Semrush listing management add-on is a must if you want to automate some local SEO tasks.
The Basic Location package provides several features, including Distribute business information, Suppress duplicate listings, Track local rankings, Manage GMB (Google My Business) and Facebook listings, Monitor reviews, and User Suggestions, at the cost of $20 per month.
Listing management with Premium Location unlocks more advanced features, such as local heat maps and response to reviews, for an additional $40 per month.
Please note that Semrush offers a 16% discount on the annual billing cycle, effectively reducing standard prices to $99.95, $191.95, and $374.95 for the Pro, Guru, and Business plans, respectively.
For more information and a comparison between Semrush Pro, Guru, and Business plans, visit the Semrush pricing page.
Similarweb Pricing
Unlike Semrush, Similarweb doesn't explicitly mention pricing.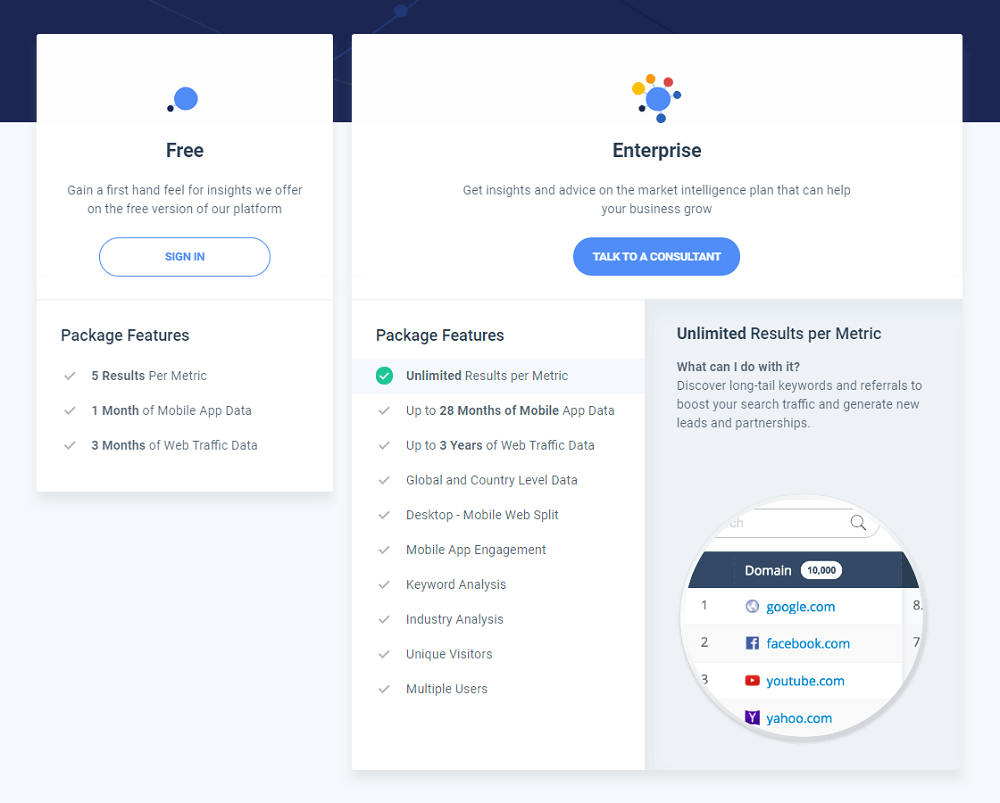 An excellent way to learn about Similarweb pricing would be to speak with their sales manager.
In addition, many of the features available in Semrush – mobile data, historical data, competitors' top pages, geodatabases, and more – will likely require a separate purchase.
With that in mind, Similarweb is more expensive than Semrush and could quickly drain your marketing budget.
Verdict
Semrush has all-inclusive and transparent pricing plans and lets you know precisely the cost for each premium add-on.
However, Similarweb does not publish pricing information, so you will need to contact a sales specialist every time.
When comparing the price-to-performance ratio of the two tools, Semrush offers a better value for money.
15. Similarweb vs. Semrush: Customer Support
Customer support plays a key role in the selection of a marketing analysis tool.
Many companies have robust knowledge bases and user manuals, so you rarely need to reach their customer support.
This section compares which company offers the best support for any issues you encounter or if you want to make a feature request.
Semrush Customer Support
The Semrush customer support team is available by phone, chat, and email.
On top of that, you can get in touch with company representatives via social media.
With over 4000 marketing minds, Semrush has an active Facebook community called Semrush All-Stars.
Here is a recent incident to give you an idea of the support quality provided by the Semrush social media team.
Schieler Mew, a popular name in the affiliate marketing industry, had some issues with his Semrush account billing.
He did not receive an immediate resolution to his problem via traditional support channels.
So, he expressed his concerns in the Semrush All-Star Facebook group.
Semrush's social media team quickly responded and resolved his issue within just a week, resulting in a positive customer support experience for Schieler Mew.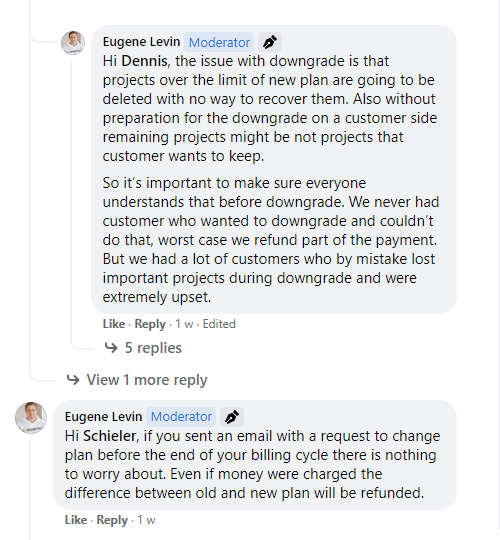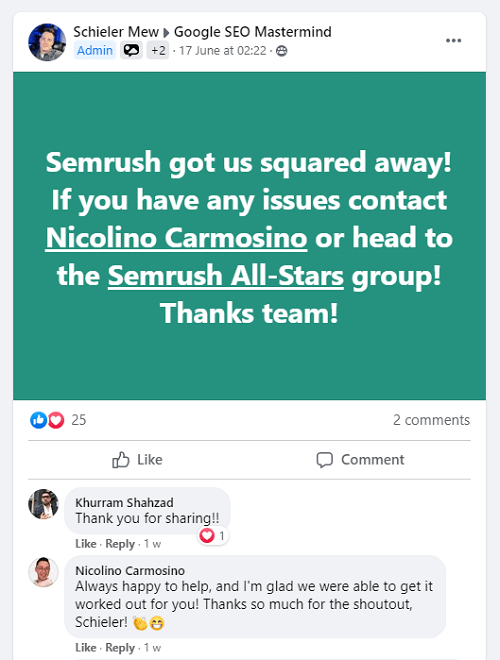 If you are also a Semrush customer, become a part of this awesome Facebook community.
The group provides an excellent forum for discussion about SEO, PPC, marketing, new product features, and so on.
I love Semrush so much because it puts a lot of effort into educating its customers and other people interested in SEO and online marketing.
Semrush's blog, YouTube channel, and Semrush Academy provide a wealth of valuable content contributed by industry veterans.
Last but not least, Semrush customer support responds quickly.
Similarweb Customer Support
Similarweb is head-to-head in terms of customer support.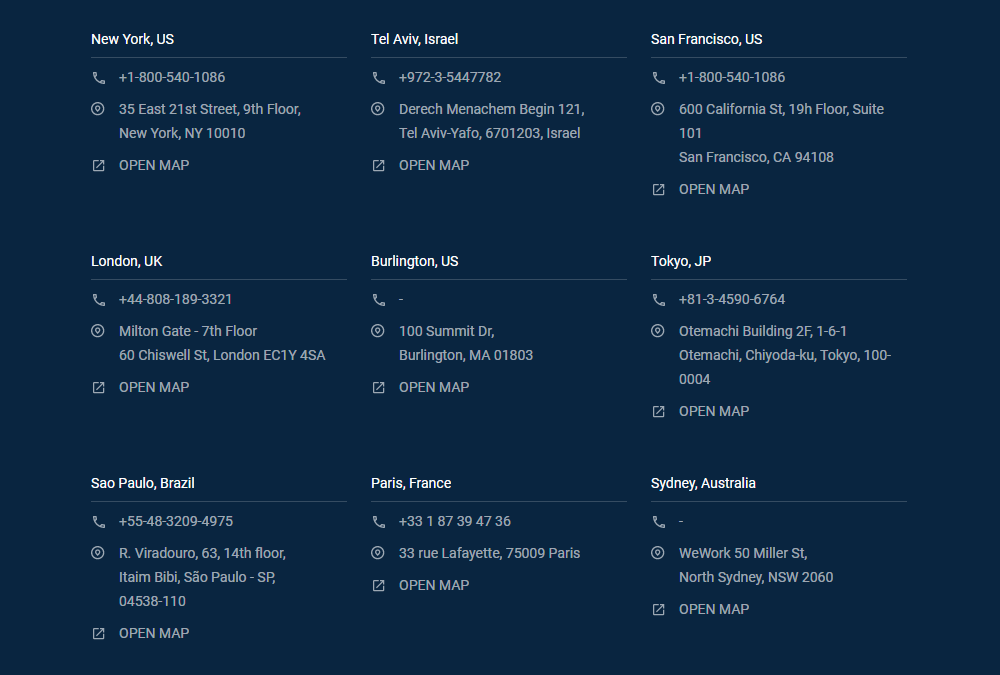 Besides telephone and email support, Similarweb offers live chat powered by Intercom.
Sadly, it lacks a dedicated support group, despite being accessible on social media.
Similarweb responds quickly to user queries, typically within a few minutes.
I rarely encountered any delays when contacting a Similarweb representative.
Verdict
Both companies provide excellent customer support and extensive knowledge bases filled with articles and tutorial videos.
Semrush customers also have access to its active Facebook community and academy courses.
As a whole, Semrush and Similarweb support experiences have been positive, and with their commitment to customer satisfaction, you will likely continue to receive high-quality support in the future as well.
Semrush vs. Similarweb: FAQs
The article compares Semrush and Similarweb based on their features, pricing, usability, and pros and cons.
It's still possible that you miss something or have a few questions.
The following section answers some frequently asked questions about Similarweb vs. Semrush.
Hopefully, this section gives you more clarity on which tool to choose between Semrush and Similarweb.
1. Which is better between Semrush and Similarweb?
Both tools provide the comprehensive intelligence necessary to plan and execute successful marketing campaigns. However, considering the overall scope of features, volume and accuracy of data, and price-to-performance ratio, Semrush is a superior choice for marketers and SMBs.
2. Is Semrush good for an SEO agency?
Semrush offers many advanced SEO modules, including keyword research, list building, competitors' analysis, listing management (local SEO), content marketing platform, lead generation, team collaboration, the marketing calendar, customized reports, Google Data Studio integration, and much more to manage and grow an SEO agency business. In my opinion, it's a must-have tool for SEO agencies.
3. Why Should I invest in Semrush or Similarweb when I have Google Analytics and other free tools?
Data accuracy plays a critical role in the success of marketing campaigns. Most free tools do not provide enough intelligence to justify risking a large marketing budget. Google Analytics is indeed a great tool for understanding your own website, but it has limited uses for competitive research.
4. Are these tools suitable for SEO beginners?
While both tools have a learning curve before you grasp their full potential, SEO beginners can master these tools after a few days of practice.
5. Which is more accurate between Semrush and Similarweb?
According to research conducted by independent publishers and my own experiments, Semrush is slightly more accurate than Similarweb in estimating traffic data.
6. Does any company offer a free trial?
Yes, Similarweb provides a 7-day free trial with limited access and no credit card required. On the other hand, Semrush provides an exclusive 14-day free trial for SuccessPixel readers with full access.
Final Verdict
After comparing Semrush and Similarweb features, data accuracy, pricing, and support experience, Semrush seems to be a better choice.
Unlike Similarweb, which mainly targets large enterprises, Semrush caters to a wide range of businesses, including SMBs, e-commerce companies, tech giants, and even marketing individuals.
Below are a few more reasons I prefer Semrush over Similarweb.
A single login grants access to over 50 marketing tools
Massive databases for keywords, backlinks, domains, and ads
Saves time and money with its built-in toolkits for local SEO, social media, and content marketing
Accurate predictions of website traffic data
Bulk analysis capabilities
Frequent product updates based on user inputs
Transparent pricing
While Semrush wins the battle by a wide margin, Similarweb is a good alternative to it in various aspects.
What do you think about it?
Please let me know in the comment section below.