Affiliate Disclosure: I publish various content marketing strategies, online business ideas, blogging tutorials, review articles, and discount offers on my blog. My content may contain some affiliate links for products/services I use, love, and recommend. If you take action (i.e., subscribe or make a purchase) after clicking one of my affiliate links, I'll earn an affiliate commission at no additional cost to you. It helps me in creating more helpful content like this.
Are you looking for the best Semrush Black Friday deal to save a few extra dollars in 2023?
Well, I have brought you an exclusive Semrush Black Friday discount offer.
On regular days, you receive two months free with an annual subscription to Semrush. I.e., 17% off.
However, the Semrush Black Friday 2023 sale presents an exclusive deal that helps you save a massive $695 on a 6-month Semrush Guru plan subscription and get 500 additional keywords to track.
Only people without a paid Semrush subscription and who have never activated a Semrush trial are eligible for this deal.
Click the button below to claim your Semrush Black Friday deal.
How to Activate Semrush Black Friday Deals?
Step 1: Visit the Semrush Black Friday sale 2023 landing page by clicking this special link.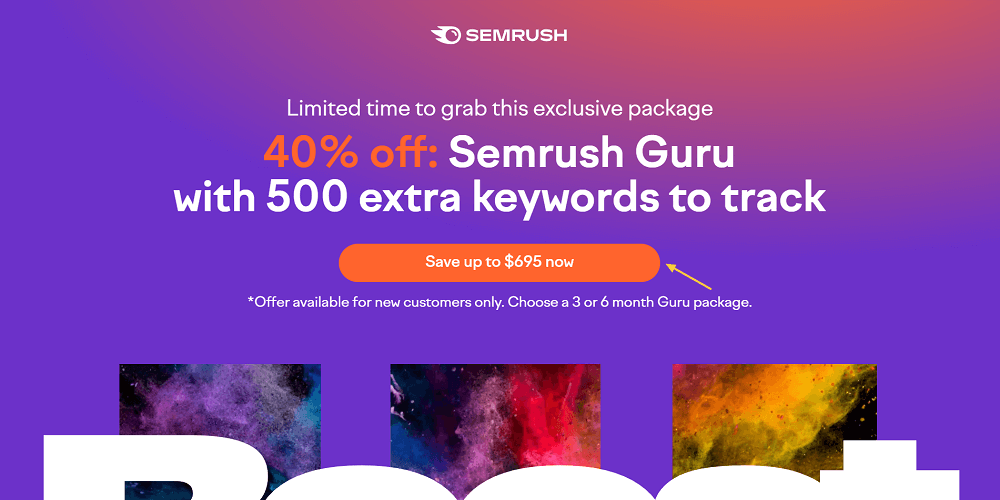 Step 2: Find out what Semrush is offering for Black Friday this year. Once you read everything, click the Save up to $695 now button to activate the discount offer.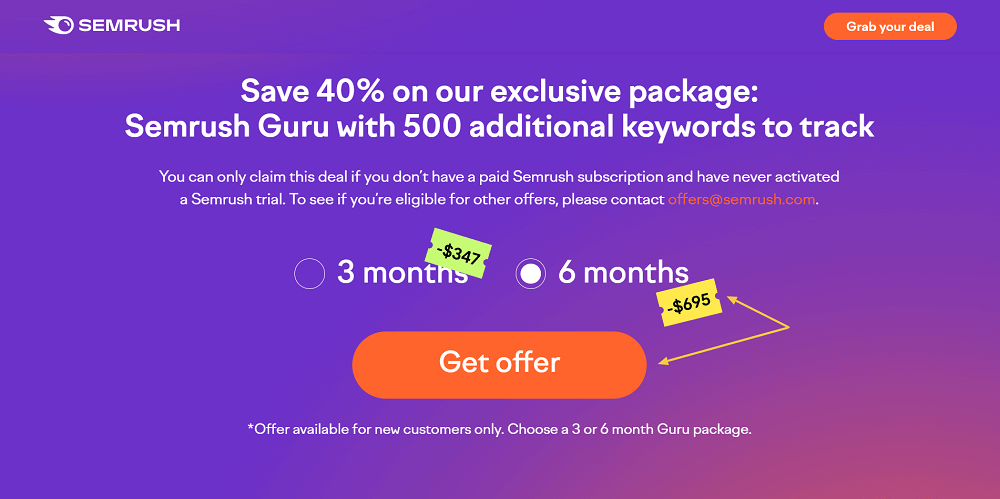 Semrush will ask you to choose between a 3-month or a 6-month subscription with Semrush. I recommend you pick the six-month plan for the maximum discount. However, if you want a lower-cost subscription option, you can purchase a 3-month Semrush Guru subscription.
Step 3: Create a new Semrush account or log into your existing Semrush account.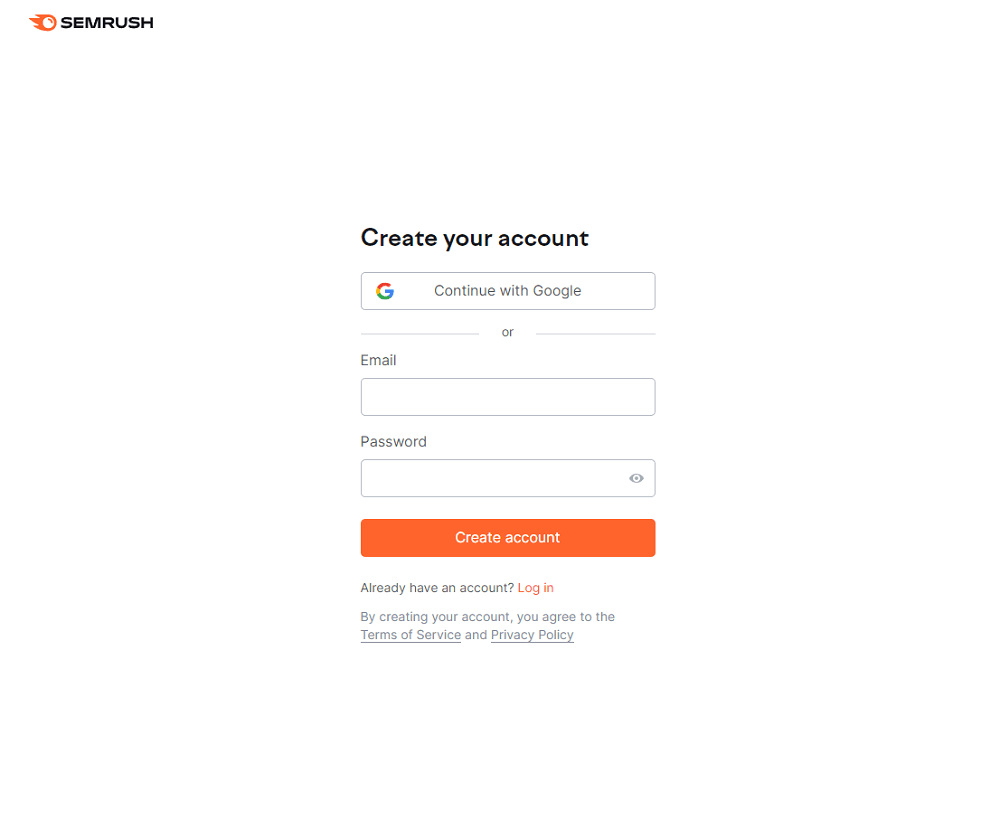 Step 4: Enter your credit card details and billing address. Optionally, you can put in a GSTIN number to claim an input tax credit later.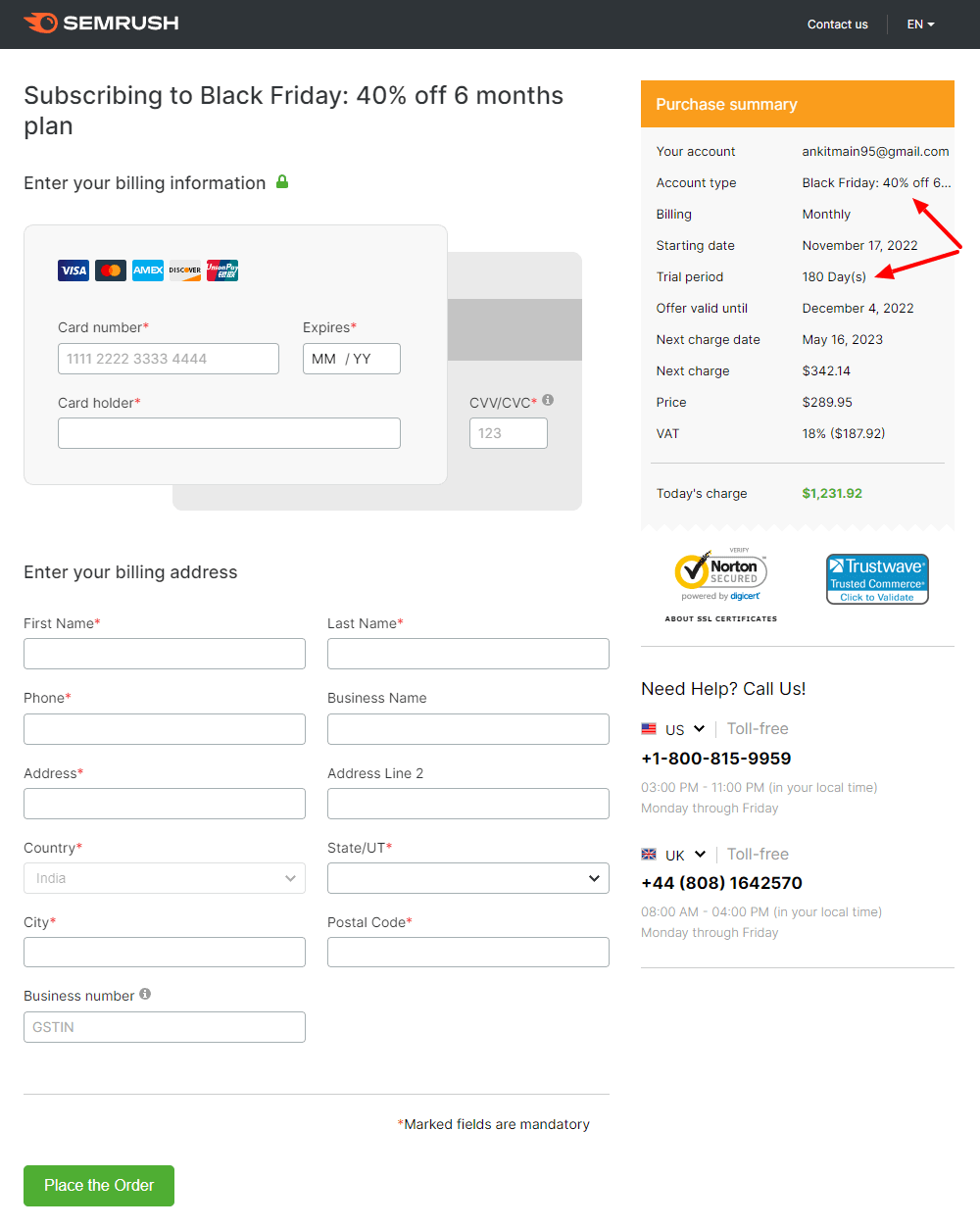 Step 5: Review your order and complete the transaction.
Congratulations! You have successfully redeemed the Semrush Black Friday deal.
If you want to test Semrush software before you invest in this software, get an exclusive 14-day Semrush free trial.
Visit this link to sign up for a free Semrush account, which includes a 14-day trial and a 17% instant discount on all annual Semrush subscriptions when you upgrade.
Is Semrush Black Friday Deal Worth Buying?
Since Semrush pricing starts from $119.95 per month, many people might have a question: Is Semrush Black Friday deal worth buying?
Semrush is definitely not the cheapest SEO tool. You may find several SEO tools for under $50.
However, considering what Semrush has to offer, it's a value-for-money package for any growth-oriented online business.
Semrush Features
Let's discuss the top reasons why you should purchase Semrush Black Friday deals.
1. A Massive Database
Semrush has one of the largest databases of keywords and backlinks for more than 190 regions.
Currently, Semrush products have over 10 million happy users worldwide.
Managing over 22.3 billion keywords and 808 million domains across 142 geo databases isn't everyone's cup of tea.
2. Keyword Research
Finding profitable keywords is crucial for running an online business.
Whether you want to run an SEO campaign or develop a successful PPC strategy, the right keywords make a significant difference in the final output.
Semrush lets you find keywords to target in your SEO or advertising campaign,
You can either use the keyword magic tool or Semrush competitors analysis module to discover hidden gems.
3. Backlink Analysis
Even in 2023, links are one of the top-ranking factors for SEO. Apart from that, links from authority websites may drive targeted traffic and leads to your business site.
You can use the Semrush backlink audit tool to find the link opportunities to outrank competitors with minimum effort.
I have already written an in-depth guide on building backlinks using the Semrush SEO toolkit. You may find it helpful.
4. Semrush Site Audit
Many bloggers ignore website errors that may severely affect the site's search visibility.
Semrush crawls your web pages and creates a detailed report mentioning all critical errors that need to be fixed asap, as well as some warnings.
Site speed, AMP issues, and redirect errors are a few things analyzed in the Semrush site audit. So you can improve these things to perform better in organic search as well as achieve a higher conversion rate.
5. On-Page SEO Checker
Semrush analyzes top Google ranking factors affecting your website performance and offers actionable insights based on collected data.
It also explains why following those recommendations would be beneficial for your site.
Pairing it with the Semrush Writing Assistant may take your content marketing efforts to the next level.
6. Social Media Marketing Tool
Social media marketing is a big part of the digital marketing industry.
You need to consistently push valuable content in front of targeted customers, get engagement, analyze campaign results, and track brand mentions if any.
Semrush social media toolkit will help you build a winning SMM strategy and reach more people.
Publishing content on social media is a tedious task. However, the Semrush social media poster will help you automate the process and improve overall productivity.
The Semrush brand monitoring feature is helpful in tracking web mentions and managing ORM campaigns effectively.
No need to purchase additional third-party tools!
Semrush Pricing Plans: How Much Does Semrush Cost?
The company offers three pricing options: Pro, Guru, and Business.
The Semrush Guru plan provides access to most features and has decent limits before you need an upgrade.
However, you can choose any subscription depending on your business requirements.
Moreover, Semrush annual subscriptions offer 17% savings. So you might want to consider upgrading.
Below is the detailed breakdown of Semrush pricing plans.
1. Semrush Pro Plan
Key Features
5 projects
500 keywords to track
10,000 results per report
Regular Pricing: $119.95/month
Discounted Pricing: $99.95/month (when paid annually)
The plan is suitable for newbies, bloggers, content marketing individuals, and small teams. It includes all essential SEO, social, and PPC tools, such as keyword research, competitive analysis, website audit, SEO Ideas, various advertising and social media tools, and more.
2. Semrush Guru Plan
Key Features
15 projects
1,500 keywords to track
30,000 results per report
Regular Pricing: $229.95/month
Discounted Pricing: $191.62/month (when paid annually)
The plan is suitable for agencies, SEO freelancers, and mid-size businesses. It includes all Semrush Pro plan features, plus Content Marketing Toolkit, historical data, multi-location, device tracking, Google Data Studio (GDS) integration, and more.
3. Semrush Business Plan
Key Features
40 projects
5,000 keywords to track
50,000 results per report
Regular Pricing: $449.95/month
Discounted Pricing: $374.95/month (when paid annually)
The plan is suitable for large agencies and enterprises. It includes all Semrush Guru plan features, Share of Voice, PLA analytics, extended limits, API access, free migration from third-party tools, and more.
In addition to Semrush's standard pricing plans, the company offers optional add-ons listed below.
Additional Users: $45/month per user for Pro Plan, $80/month per user for Guru Plan, and $100/month per user for Business Plan.
Listing Management (Local SEO): $20/month for Basic Locations and $40/month for Premium Locations
Semrush .Trends Data: $200/month per user for all plans
Agency Growth Kit: $150/month
ImpactHero: $200/month
Semrush Pros and Cons
Semrush Black Friday Sale guide would not be complete without mentioning the pros and cons.
Semrush Pros
Extensive keywords and backlinks database
Comprehensive keyword research modules
Domain-to-domain analysis for competitive research
Traffic analysis module to access the crucial information about your website's traffic data, including traffic sources, trends by device, traffic journey, top pages, geo-distribution, and more
Audit the backlink profile and identify the toxic (potentially harmful) links pointing to your site
Backlink analysis to discover new link opportunities
For the features it offers, the price is competitive.
All-in-one SEO toolkit for managing most SEO tasks
Excellent support with a massive knowledge base, including a help center, Semrush Academy, a regularly updated blog, and a Youtube channel
Semrush Cons
The software has a steep learning curve, especially the beginners may find it pretty overwhelming
Prices are steep for new non-experienced users
Black Friday sales are not refundable
Semrush Black Friday Sale 2023: FAQs
1. What is Semrush used for?
Semrush is a popular content marketing toolkit used for keyword research, backlink analysis, advertising research, website audits, technical SEO, social media management, and much more.
2. Which is better – Ahrefs vs Semrush?
Semrush and Ahrefs are a couple of SEO tools for market research and competitive intelligence. Semrush is an all-in-one content marketing tool while Ahrefs is primarily an SEO tool. If you ask me, Semrush offers better value for money for online businesses. 
3. Is Semrush suitable for me?
If you are a blogger, digital marketer, or business owner who is looking to leverage competitive data analysis and content marketing practices to grow an online business, Semrush is suitable for you.
4. How much does Semrush cost?
Semrush has three plans: Pro ($119.95/month), Guru ($229.95/month), and Business ($449.95/month). You can choose any of these plans depending on your requirements.
5. Does Semrush offer a free trial?
Semrush typically offers a 7-day free trial. However, you can get a 14-day Semrush free trial offer using this exclusive link.
Important: Semrush doesn't have any other discount offer except the one that's mentioned above.
Be cautious of fake coupon websites claiming up to 90% off Semrush Black Friday deals that are tricking you to get some affiliate sales.
Instead, get a 14-day Semrush free trial to see what the tool can do.
If you're happy, consider upgrading one of Semrush's paid plans to get insights into your marketing campaign and keep track of your competitors.
Take advantage of the Semrush Black Friday deals and receive up to a $695 discount on the Semrush Guru plan and 500 additional keyword rank tracking credits.
Semrush Black Friday Deals: Summary
A successful business owner understands the importance of marketing.
However, keeping up with the competition can be challenging.
That's why you need Semrush – an advanced tool for marketers who want to stay ahead of their competition.
With the Semrush Guru plan, you get access to the most powerful SEO features, such as keyword research, backlink analysis, site audit, rank tracking, social media monitoring, lead generation, report building, and more!
If you are interested in buying the Guru plan for your SEO agency, don't miss out on this incredible discount offer from Semrush.
This year, Semrush has unveiled an exclusive deal: get $695 in savings with a six-month Semrush Guru plan subscription, i.e., 40% off and 500 additional keyword rank tracking credits.
The Semrush Black Friday discount offer expires on November 30th, 2023. The number of deals is limited as well.
So be sure to get your account before they all sell out!
Semrush Black Friday Deal

Name: Semrush
Description: Semrush Black Friday deal 2023. Save $695 when you subscribe to the Semrush Guru plan for six months, i.e., 40% off and 500 extra credits for keyword rank tracking. Offer valid for a limited time only.
Offer price: 615.96
Currency: USD
Operating System: Linux
Application Category: SEO Tools
Author: Ankit Main
Performance

Ease of Use

Data Accuracy

Pricing

Support
Comments Rating
( reviews)