I'm going to share my honest MyThemeShop review as a blogger, web designer, and MyThemeShop affiliate.
Unlike most other reviews that share only the positive side of a product, I'll discuss why I chose MyThemeShop themes, different pros & cons, MyThemeShop pricing structure, and special discount.
Important
Currently, I'm using GeneratePress Premium Theme on successpixel.com due to its flexibility and extensive customization abilities.
However, I use MyThemeShop themes and plugins on my affiliate sites.
If you're not a tech-savvy, then I'd recommend you to choose MyThemeShop themes due to their ease of use.
WordPress users have unlimited options for themes and plugins.
If you need a WordPress theme for your website, then you can select a free theme from the official WordPress repository or purchase a premium theme from the reputed developer or theme marketplace.
Depending on the required features, performance, and security, WordPress themes may cost zero to a few thousand dollars.
However, normal WordPress users prefer a cost-effective theme having decent features and customization abilities.
Due to the rise in WordPress websites (~ 35%), many developers and theme shops are providing highly-optimized themes at very competitive prices to capture the maximum market share.
As a result of this, hundreds of WordPress themes are available in the market, but at the same time, that makes people difficult to pick the right theme for their site.
You may not believe it, but I have tested more than hundreds of free as well as premium themes in the last few months.
Among all of them MyThemeShop, StudioPress (Genesis), GeneratePress, and Astra are on the top of my list.
What is MyThemeShop?
The name itself shows what MyThemeShop is. It's a theme shop, or you can say it a premium theme membership club.
Started eight years back in 2012, MTS will celebrate its 8th anniversary on 29th April 2020. With the expertise in user-friendly and highly-optimized premium themes with almost every essential feature, it's one of the best WordPress theme clubs in the market.
Look at some statistics.
Currently, MyThemeShop offers a complete package of 100 products with 79 WordPress themes and 21 plugins.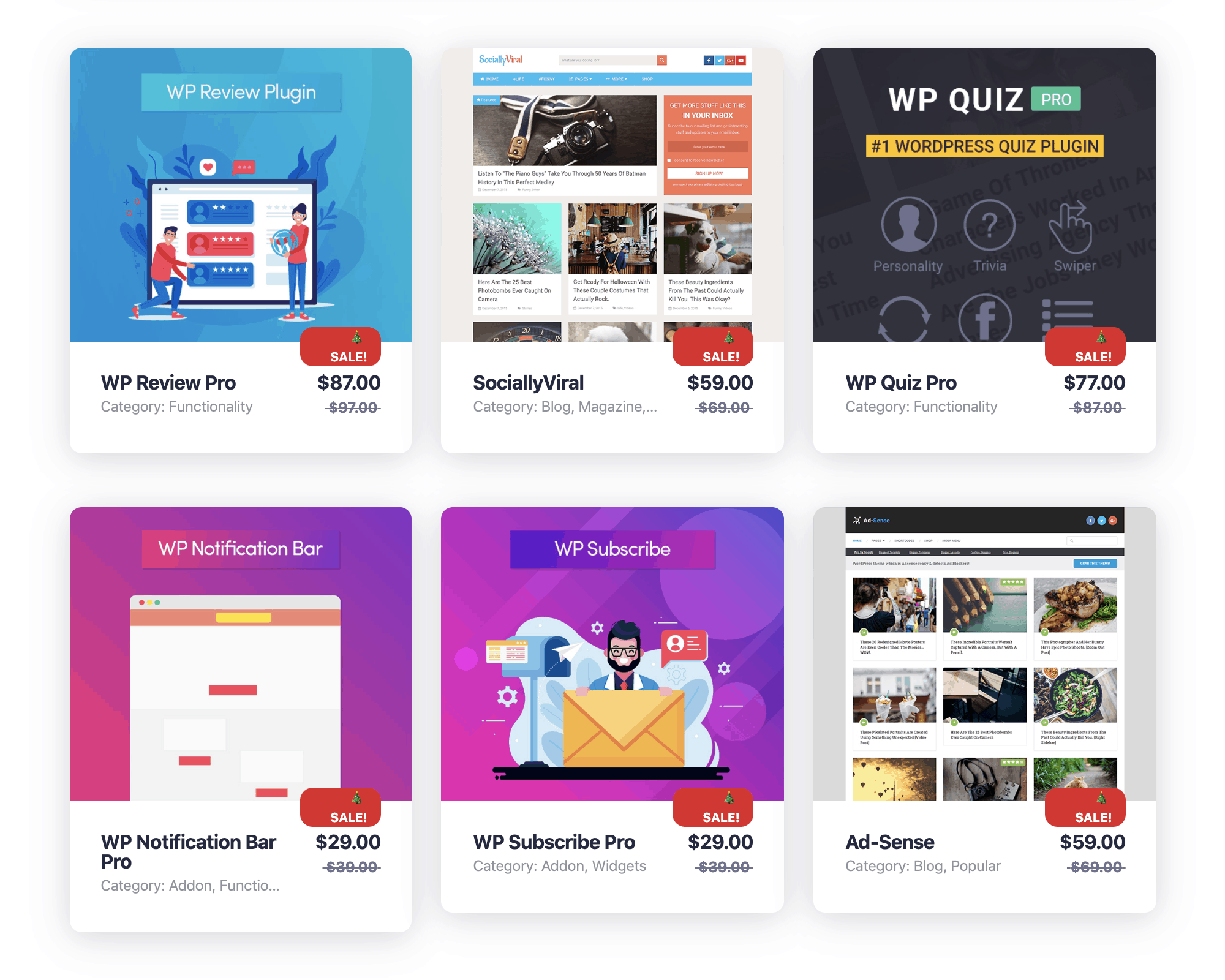 Although all products from MyThemeShop are available to buy individually, you can take benefit of their membership option which will give you access to its all premium themes, plugins and PSD templates.
Believe it or not, MTS is one of the largest premium WordPress theme clubs. I know that they will continue to launch more powerful and beautiful products in upcoming days.
Still, not able to make a decision?
MyThemeShop has more than 647K happy users, and many influencers are using MyThemeShop WordPress themes and plugins on their websites.
MyThemeShop Features
General
Lightweight, clean coded and super fast
Stunning visuals without touching a single line of code
Logo, Favicon and Mobile device icon upload
Built-in AJAX Search Option
Multiple Pagination Options
Responsiveness
RTL support
WooCommerce Ready
Performance
Async JavaScript for improved page loading speed
Prefetching support
Lazy load option to boost page speed
Optimized WooCommerce Scripts
SEO friendly
Schema integration
Styling & Customization
Section for custom CSS (Cascading Style Sheet)
Multiple color schemes options
Right/left sidebar styling
Background patterns included/custom background image support
Parallax support
Lightbox option for images
Homepage
Multiple homepage styles
Built-in homepage slider with the option to choose the categories
Limit number of post on home page
Header & Footer
Show or hide header logo, navigation menus
Social icons and search bar switching for header
Footer navigation
Built-in copyright section (customizable)
Enable or disable footer widgets
Single Post
Built-in Breadcrumbs
Show/hide date in the comment
Highlight the author comment
Miscellaneous
Social Media integration
Built-in ad management and AdSense support
Unlimited sidebar options
Advanced typography support
Translation ready
Import/Export option
Back to top support
Option to create a child theme
One-click updates
Still, there are many other features MTS themes offer, and you will see different options for individual products.
Now, I will tell you some pros and cons of using MyThemeShop. You already know the features and quality it offers but let me honest with my review.
Pros of Using MyThemeShop WordPress Themes
1. Level of Theme Coding
The main thing that makes premium themes distinct over the free themes is the level of coding. As the premium themes are commercial products and developers make money from them, almost every theme shop knows the importance of proper coding.
The free themes which are generally demo/test version of the paid themes and comes with basic features, but the developers spend countless hours on coding and optimizing premium products making them unique & powerful.
They ensure the quality according to industry standards and work continuously to keep updates rolling on so that the theme would be compatible with the latest version of WordPress.
MyThemeShop people have expertise in this area with a vast experience of around five years in this field. They build all their themes with the latest HTML5 and CSS3 markup standards. That ensures better search engine visibility and provides you more power with the most recent browser/plugin technologies.
Unlike other themes that are either shabby or too complicated for webmasters (and search engines also), MyThemeShop has clean and well-commented codes ensuring easier editing, 100% search engine crawlability and have hack-proof.
The themes by MTS support all browser including Google Chrome, Opera, Mozilla Firefox, etc. It's another impressive feature of MTS themes is multisite compatibility.
2. SEO-Friendly Themes
The site design plays an important role in the SEO, and there are many ranking factors relate directly or indirectly to the theme.
I'm mentioning one of these factors i.e., website speed.
The site loading speed is one of the most talked ranking factors.
If your site is not loading within the first couple of seconds, users may abandon your site and at the same time search engines also penalize you for the poor user experience.
Do you want to put yourself in big trouble by not choosing a fast-loading WordPress theme?
Definitely not!
That's why I advise you to pick a speedy MyThemeShop theme for your WordPress site.
See, why MyThemeShop themes are super fast.
Codes are clean and not bloated which makes your site SEO friendly and load fast.
Built-in features such as social media integration, author bio, and contact form eliminate the use of too many external plugins. However, they have designed 21 WordPress plugins in their framework which is the most compatible with the theme codes.
Inbuilt ad management feature in theme options eliminates the use of external plugin or services to manage ads on your site to monetize your blog.
The next popular feature of MTS themes is the advanced typography where you can choose your blog's typography directly through your theme option without integrating external plugins or services.
Important
Don't forget to use a caching plugin on your website which definitely makes a difference.
Apart from the website loading speed, you can get more features helping you with SEO.
100% fluid mobile responsive, schema integration, functions like Lazy load and Prefetching, optimized scripts make MyThemeShop WordPress themes super fast and SEO-friendly.
CTR optimization is another feature MTS provides where you get benefited not only in the SEO but the monetization too.
3. Beautiful Design
It is something where I never compromise. The site itself communicates with the audience, and if your site has an ugly layout, then the chances of people coming back to your site are very less.
Many premium themes have multiple design options or templates that you can change with one click. MyThemeShop offers various customizable templates so that you can choose the best suited for your needs.
The individual developers and design agencies charge a few hundred bucks to the several thousand for Premium customizable templates. But, with MTS, the elegant and eye-catchy design is the matter of just a few minutes without costing you anything extra.
However, you can email them for more customization options according to your requirements.
I always emphasize on website design because the major percentage of user experience depends on on-site design. And, MTS themes do their jobs as promised.
4. Idiot Proof Option Panel
The name itself indicates what I'm trying to say. Everything is designed in such a way that even a newbie who doesn't know a single line of code can customize the theme.
The options panel of MTS is the best among all the themes I ever tested.
It's simply awesome!
A place for everything and everything in its place.
Right from homepage customization to the advanced typography and ads management, all options are accessible at the single dashboard.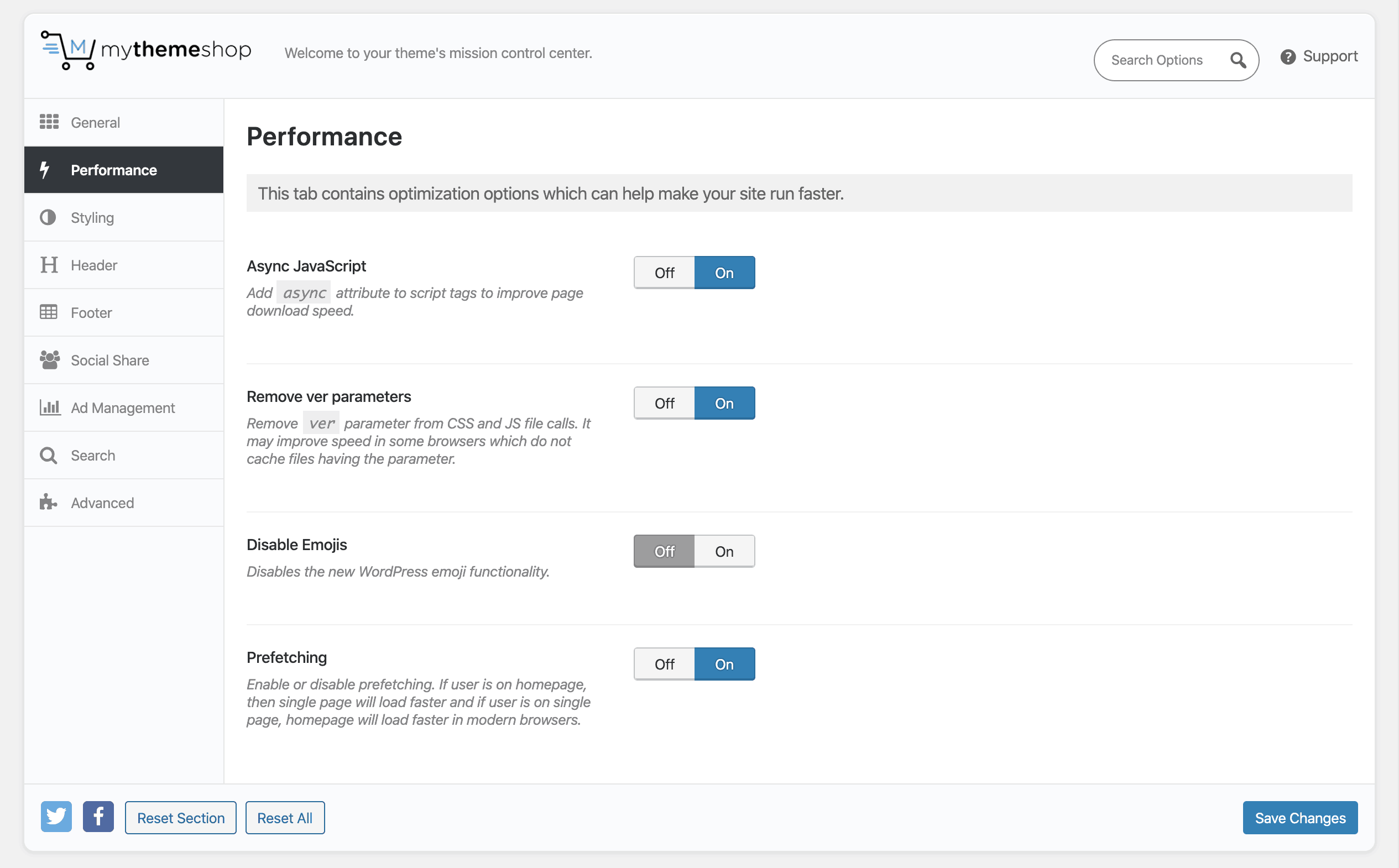 Every theme in the MyThemeShop repository features the same options panel, and anyone can customize his/her theme by using the DIY approach before reaching the support.
5. Technical Support
If you search for the keyword "WordPress themes" on Google, the millions of search results will appear in front of you.
You can select anyone from these results to purchase a theme. After that, you can download and install it on your blog. But, what will you do if you need help with a particular step?
Finding a theme is not difficult, but editing and customizing it may seem like rocket science for non-coders.
MTS does its job efficiently here also.
Although it has not provided a phone call or live chat support (maybe a con for many people), the support team answers every thread related to MTS products on the same day even you are a free member.
The premium member can get priority support if they stick somewhere while editing or customizing the MyThemeShop products.
The support forum includes the search where you can find the solutions for your problem from previously answered queries. The tutorial section will help the people struggling with basic WordPress setup that features 32 video lessons completely free.
For more complicated customization, site migration, adding extra features not promised by MTS, you can email them, and they will provide everything on-the-go. Consider you may need to pay for such services.
6. Affiliate Program
Are you a blogger or a web development/SEO consultant?
You have a chance to get a whopping 55% of affiliate commission on every successful sale of MyThemeShop products.
If someone clicks your affiliate link and buys an extended membership plan of $87, you will earn hefty $47.85.
Isn't it a big deal.
Stop!
It's not everything that MTS offers to its affiliates. It offers a 2-tier affiliate program where you can get 10% of the income for a lifetime that your referral affiliate earns.
The more features of MyThemeShop Affiliate program include a 60-days cookie period and access to text links and banners. You can use deep linking for a particular product for custom recommendations based on your experience.
Cons of Using MyThemeShop WordPress Themes
Though I use products from MTS, a couple of things I really don't like much. I have enlisted them below.
1. Pricing Fluctuations
MyThemeShop is very honest about its pricing, but eventually, you may feel like paying more.
Did I say something wrong?
No! I have praised MTS for its transparent pricing, but the problem is its promotional offers. Occasionally, MTS offers its themes and plugins for a very low price at $19.
How would you feel, if you have bought the theme for $69 on the previous day having the current price $19 only?
Such special promotion should not be random.
This is my personal view, and you can disagree with me.
2. Activating Many Options Make Theme Heavy
Another problem is with the theme features. Enabling many options makes your site perform well but the same time compromises site speed.
I have experienced it with the social icons in header sections and some fonts. For the non-coders including myself, it's not easy to optimize the site in such conditions.
Some other cons are like no real-time support where you can talk with a person on a call or live chat, though it has 24/7 priority support.
MyThemeShop Pricing
MyThemeShop has transparent pricing for its products. Whether you are buying a single theme or an extended membership plan, you will get everything on a single page without any hidden charges.
You can use free products once you create an account on the MTS website or upgrade anytime with a premium plan.
It's free forever plan comes with zero investment, and you can use 19 WordPress themes and 14 plugins without paying a dime to MTS.
The single product license costs $27-69, and if you are lucky, then you can get it for $19 only. You can extend the support and updates by paying an additional few bucks for the successive year.
For the membership plan, you need to pay $349, but currently, it's available for $87 only with the recurring monthly fees of $19 for the extended support and updates which is suitable for developers & ad agencies.
This is definitely not cheap as that of Tesla Themes ($79/year for developer pack) and Elegant themes ($89/year) but not expensive as WooCommerce ($149/year for a single site) or other competitors.
By signing up for an extended membership plan, you can get everything in MyThemeShop product library including 118 themes, 29 plugins and all PSD templates developed by MTS.
With the MTS membership, you have access to all new themes and plugins whenever they roll out without paying anything extra. The support features are also extended to the client's projects.
You can pay via either PayPal or Stripe using your credit/debit card.
30-days money-back guarantee is another important feature of MyThemeShop offers in the pricing section. If the product you purchased is not working on your site or MTS fails to resolve that issue, you can ask for a refund within 30-days.
MTS claims that but I haven't experienced any issue with its products.
Pretty impressive, Huh?
My Experience With MyThemeShop
When I started my first blog, I was looking for an elegant yet fast loading WordPress theme.
My search for a good WordPress theme ended with MyThemeShop.
I saw that each MyThemeShop theme comes with all the necessary files, documentation, and changelog.
Actually, I liked the design, loading speed, and in-built ads management of MyThemeShop WordPress themes.
After watching the demo, I created an account with MyThemeShop and instantly downloaded the Socially Viral theme to my local storage.
To ensure whether the theme contains any malicious code or not, I checked it with VirusTotal, and I found it clean. (Never trust or doubt anything unless you check it yourself).
Although the theme offers many advanced options, it's very lightweight.
I uploaded the .zip file on my site and customized the site look a little by changing colors and typography.
That's it.
Later on, I made a few changes to speed up my WordPress site. E.g., I disabled social icons in the header area that improved my site speed significantly.
One thing I must mention about MTS is its feature-rich options panel.
I'm saying this again and again simply because it worths it.
The page management, typography, and later, the ads management option made me falling in love with MyThemeShop.
Important: You don't need to code-savvy to customize MyThemeShop themes, but you need approximately an hour for tweaking the basic setting to create a stunning website.
E.g., uploading logo, Favicon, sidebars, and other page settings.
MyThemeShop Review By Actual Users
This review is my experience with MyThemeShop, and still, you are not ending with a firm decision, see what the influencers are saying about MTS.
Actually, Matthew Woodward, Zac Johnson, and Jeremy Schoemaker are using MTS themes and giving credit to the MyThemeShop for their success.
Check here the testimonials for MTS.
Popular Products From MyThemeShop
Rank Math
MTS Schema
WP Review Pro
MTS Ad-Sense
MTS SocialNow
MTS Coupon
MTS Writer
Content Locker Pro
URL Shortener Pro
Almost every premium plugin has its free version, but you may need to upgrade if you need some extra features.
Summary
This entire MyThemeShop review is based on my experience, and you would feel the same when you buy MyThemeShop WordPress themes or plugins.
You can watch the demo and finalize the themes or plugins for your site.
If you want to test them live, it would be better to go with the membership plan of MTS.
I'm sure that you have liked this post about MyThemeShop review, so don't forget to share it with your friend.
If you are using any product from MyThemeShop, then leave your comment below what you think about it.
Name: MyThemeShop
Description: MyThemeShop offers 100+ WordPress themes and plugins. It doesn't matter in what niche you are working in, MyThemeShop has a great collection of SEO-friendly themes and plugins to extend their functionalities. Visit MyThemeShop and get an exclusive discount today.
Offer price: 59
Currency: USD
Operating System: Linux
Application Category: WordPress Themes
Performance

Features

Pricing

Support