Affiliate Disclosure: I publish various content marketing strategies, online business ideas, blogging tutorials, review articles, and discount offers on my blog. My content may contain some affiliate links for products/services I use, love, and recommend. If you take action (i.e., subscribe or make a purchase) after clicking one of my affiliate links, I'll earn an affiliate commission at no additional cost to you. It helps me in creating more helpful content like this.
Are you looking for a powerful caching plugin to speed up your WordPress site? If so, you've probably heard of WP Rocket.
WP Rocket is a leading performance optimization and caching plugin on the market.
It's exceptionally easy to use, has plenty of helpful features, and is compatible with most WordPress themes and plugins.
But what about WP Rocket pricing? Is the WP Rocket WordPress plugin worth its price tag?
In this blog post, we'll take a look at WP Rocket's pricing plans in 2023 and see if they're worth the investment.
WP Rocket Pricing Plans
WP Rocket has three pricing plans: Single, Plus, and Infinite.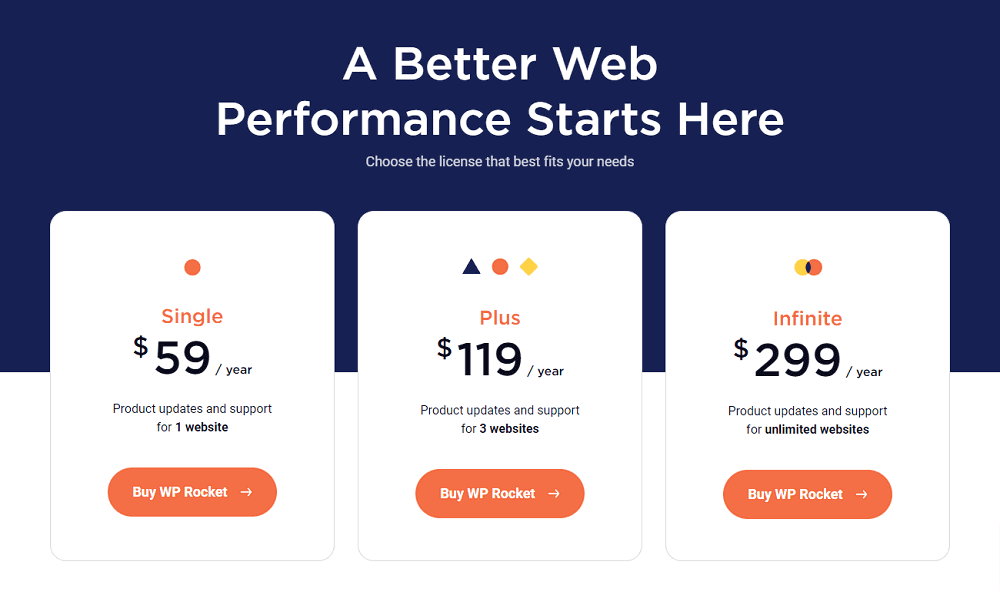 Let's compare WP Rocket Single vs. Plus vs. Infinite and see which plan offers the best value.
1. WP Rocket Single Plan
The plan costs $59/year and is suitable for individuals with only one WordPress website.
The license includes plugin updates and technical support for one year.
2. WP Rocket Plus Plan
The WP Rocket Plus package costs $119/year and is suitable for individuals with up to three WordPress websites.
In addition, the license includes product updates and premium customer support for one year.
3. WP Rocket Infinite Plan
If you have more than three WordPress websites, the WP Rocket Infinite plan is a steal deal. It costs only $299/year and allows you to install WP Rocket WordPress caching plugin on unlimited websites, including client websites.
Like the other two WP Rocket Plus licenses, it includes product updates and premium customer support for one year.
Please note that a free WP Rocket trial isn't available at the moment. Instead, you can get a 14-day money-back guarantee with every new WP Rocket account.
Why is WP Rocket So Expensive?
Due to its single-site license cost and lack of a free trial, WP Rocket may seem a little expensive.
The current WP Rocket pricing starts at $59/year for a single website license and goes up to $299/year for an unlimited website license.
However, comparing WP Rocket's price with other WordPress caching plugins like Swift Performance and FlyingPress, you won't see much difference.
See the WP Rocket vs. Swift Performance vs. FlyingPress pricing tables below for detailed information.
WP Rocket vs. Swift Performance vs. FlyingPress Pricing
| | | |
| --- | --- | --- |
| Subscription Plan | WP Rocket Price | Number of Websites |
| Single | $59 | 1 |
| Plus | $119 | 3 |
| Infinite | $299 | Unlimited |
| | | |
| --- | --- | --- |
| Subscription Plan | WP Rocket Price | Number of Websites |
| Single | $49.99 | 1 |
| Multi | $99.99 | 4 |
| Developer | $239.99 | Unlimited |
3. FlyingPress Pricing
| | | |
| --- | --- | --- |
| Subscription Plan | WP Rocket Price | Number of Websites |
| Personal | $60 | 1 |
| Developer | $150 | 5 |
| Professional | $250 | 50 |
| Agency | $500 | 500 |
The WP Rocket cost may seem high for beginners, but its results surpass most free and premium WordPress caching plugins. In my opinion, it's well worth the money!
See my website's Google PageSpeed Insights report to get a clear picture of its capabilities.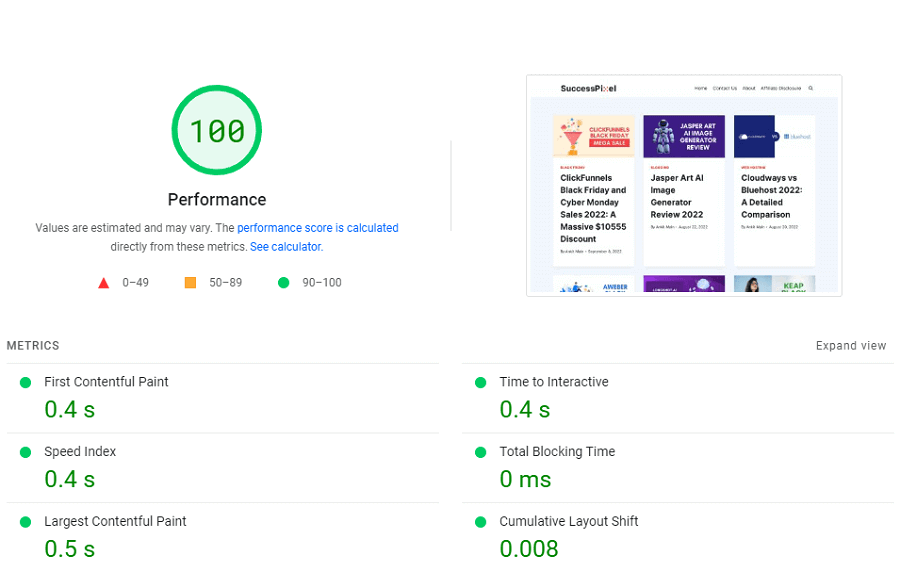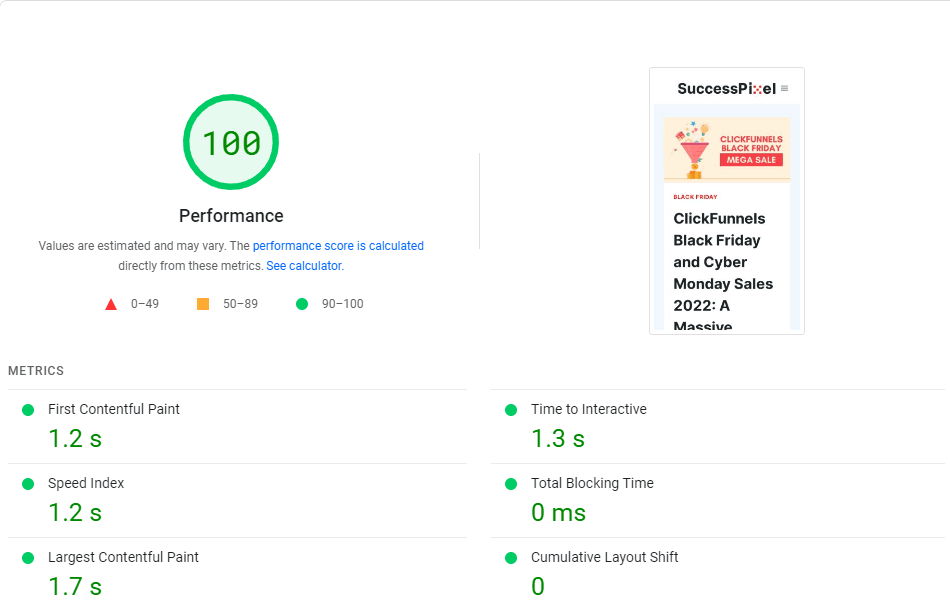 Which WP Rocket Plan Should I Choose?
All WP Rocket plans offer terrific value and come with the same features except for the number of websites they support.
So decide how many websites you have and are planning to create, and purchase the appropriate WP Rocket license.
You can choose Single or Plus licenses and later upgrade to the WP Rocket Infinite license based on how many websites you manage.
7 Ways to Save on WP Rocket Price
In the following section, I will share six unique ways to get great WP Rocket deals.
1. Sign up for the WP Rocket Newsletter
When you first visit the WP Rocket website and sign up for the newsletter, you can receive an exclusive 10% off WP Rocket discount coupon.

The WP Rocket coupon code remains valid for a limited time. So once you receive the coupon, grab the WP Rocket copy as quickly as possible.
If you wish to use the WP Rocket coupon code, you will have to enter it manually during checkout.
2. Keep an Eye Out for WP Rocket's Promotional Campaigns
Since WP Rocket offers promos and discounts throughout the year, you won't have to wait long!
WP Rocket's major promotional campaigns include,
All these offers last just a few days, so hurry up if you don't want to miss out on them.⏱️
You need not worry about how to apply the WP Rocket coupon code since most times, promo codes and coupons are automatically applied during checkout.
However, the discounts may vary depending on the license type and purchase time, e.g., license renewals, upgrades, or purchases made during promotional events.
3. Take Advantage of the 100% Money-back Guarantee
Unfortunately, WP Rocket does not provide a free trial.
That's fine!
But WP Rocket comes with a 14-day money-back guarantee, so you can buy it and see how it affects your website's speed without putting your money at risk.
4. Follow WP Rocket's Social Media Handles
WP Rocket's marketing team often posts about the latest deals on its social media handles.
So check out WP Rocket's posts regularly to learn about the latest deals and discount offers!
Here I have listed the top social media profiles of the WP Rocket
5. Renewals are Eligible for a 30% Discount.
If you enjoyed WP Rocket, renew it before the expiration date and receive a massive 30% off standard WP Rocket pricing!
Even if you wish to upgrade your WP Rocket license, I recommend renewing it first to save money.
6. WP Rocket Upgrades Only Cost the Price Difference
If you purchase a Single license and later decide to upgrade to a Plus or Infinite License, you will only need to pay the difference in prices.
That's awesome!
7. Join WP Rocket Affiliate Program
Have you heard you can earn money with WP Rocket's affiliate program and use it to buy or renew your WP Rocket license?
Simply sign up for the WP Rocket affiliate program here and promote the plugin to website owners, developers, bloggers, and similar audiences by using the company's recommended promotional methods.
You'll receive a 20% commission on every new successful purchase.
This way, you can refer just five people every year to buy WP Rocket and use WP Rocket free for a lifetime.
Isn't it a cool idea?
WP Rocket Pricing: FAQs
Check out these FAQs about WP Rocket Pricing to get more information!
1. How much does WP Rocket cost?
WP Rocket offers three pricing options: the Single plan for $59/year, the Plus plan for $119/year, and the Infinite plan for $299/year. Moreover, you get up to a 30% discount on license renewals and upgrades. 
2. What is the best WP Rocket plan?
Since all WP Rocket plans offer the exact same features and support, you can choose any plan based on how many websites you wish to install the WP Rocket plugin on.
3. Is WP Rocket free?
Unfortunately no. WP Rocket does not offer a free (lite) version or free trial. However, you can take advantage of its 14-day money-back guarantee and use the plugin risk-free for a couple of weeks.
4. How much does Rocket CDN cost?
Rocket CDN is an add-on service to the WP Rocket WordPress Cachin plugin. It costs $8.99/month for one domain. With the WP Rocket annual subscription, you'll get two months free, which brings down the effective price to $89.99.
5. Do you have a WP Rocket discount code or coupon?
WP Rocket restricts its affiliates from promoting unofficial coupons. However, if you're just starting with web development and want to save money on your WP Rocket license, please visit the official website to get an instant 10% off coupon or wait for promo campaigns to get up to a 25% discount on standard WP Rocket pricing.