Affiliate Disclosure: I publish various content marketing strategies, online business ideas, blogging tutorials, review articles, and discount offers on my blog. My content may contain some affiliate links for products/services I use, love, and recommend. If you take action (i.e., subscribe or make a purchase) after clicking one of my affiliate links, I'll earn an affiliate commission at no additional cost to you. It helps me in creating more helpful content like this.
A high-converting sales funnel contributes significantly to the success of any e-commerce business.
Having no sales funnel can result in losing potential customers.
However, building a sales funnel involves designing multiple key pages and setting up a conversion-optimized system by anticipating shopper behavior for acquiring maximum customers, which can be challenging for a novice.
Fortunately, you don't need any coding knowledge or expensive funnel-building software to create an irresistible sales funnel.
You only need a WordPress website, a few plugins, a well-planned customer journey, and of course, a stellar product to get started.
Want to know how to build a sales funnel in WordPress in just a few hours?
Please read this article to learn what sales funnel is, how it works, and how to build one using WordPress with zero coding skills.
What are Sales Funnels?
A sales funnel refers to the customer's journey from the first interaction with your brand to making a purchase.
Its primary objective is to convert prospects into buyers by driving them through a predefined marketing sequence.
You may have different sales funnel steps depending on the product you sell and the marketing strategy you employ. However, the process typically consists of four stages: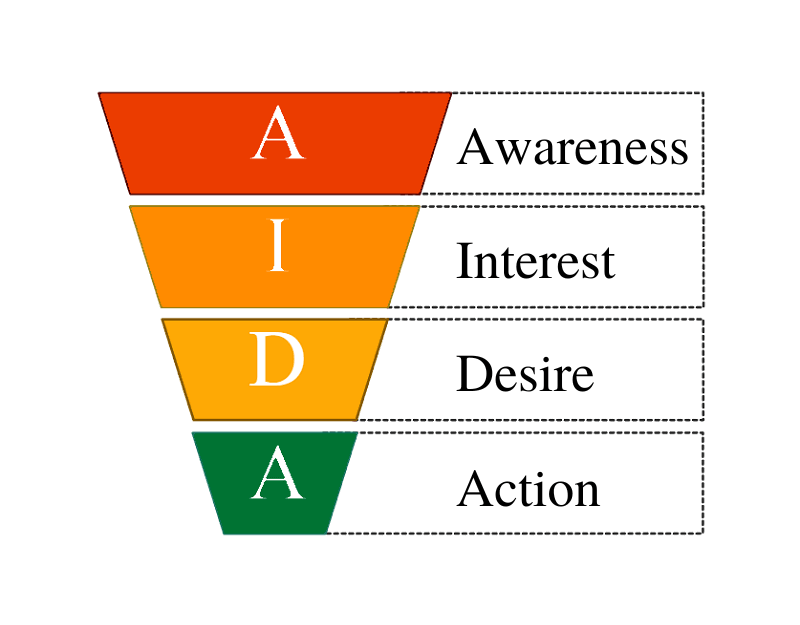 Stage 1: Awareness
Getting people to know your product or service is the first stage of the sales funnel. It is called the "awareness" stage.
During this stage, prospects learn about your company for the first time.
For example, they may have discovered your website or product after clicking on an advertisement, reading a blog, or hearing about it through a friend.
Since you want to move your leads beyond the awareness stage, your brand awareness campaigns must be tailored according to the interests of your target market.
Stage 2: Interest
After discovering your brand, prospects will determine whether it appeals to them.
They might conduct competitive research to ensure you offer the best solution.
Therefore, you should focus extensively on making your target audience problem aware as well as solution aware through your brand awareness campaigns.
Stage 3: Desire
Prospects are more likely to explore pricing options once they have more information about your company.
You can influence prospects to make a purchase during this stage by presenting the conversion-optimized sales pages, webinars, marketing sequences, and follow-up calls.
Stage 4: Action
Eventually, a prospect closes a deal, which is the ultimate goal of any sales funnel.
As a business owner, you can increase profits by upselling other products.
Although you cannot guarantee that people will buy from you the first time around, nurturing campaigns can keep your brand in their minds.
So don't forget to invest in a sales cycle management software such as ActiveCampaign or Keap.
Basic Requirements for Building a Sales Funnel in WordPress
Setting up an effective sales funnel in WordPress requires the following things:
1. A Lightening Fast Web Hosting
Choosing a web host capable of handling sudden traffic spikes is a smart move if you're building an online store.
The WooCommerce hosting market is flooded with options, but Kinsta and Cloudways stand out for their speed, ease of use, and reliable technical support.
2. A Lightweight WordPress Theme
Website speed significantly impacts conversion rates.
In fact, websites loading in 1-second experience five times higher conversion rates than websites loading in 10 seconds. (Source: Portent)
A slow loading page might result in potential customers abandoning your website.
Therefore, you should choose a lightweight and fast WordPress theme such as Astra or Kadence.
3. Ecommerce Plugins
Lastly, you'll need to integrate WooCommerce and other essential plugins on your site to build a sales funnel.
For a quick turnaround, install a dedicated WordPress sales funnel plugin, like CartFlows.
Furthermore, you can use a plugin like Elementor to design high-converting pages and marketing popups.
If you do not wish to install too many plugins, you can still create effective WordPress sales funnels only using Block Editor.
4. A Well-thought Customer Journey
Once everything is ready, think about how the prospects will navigate your sales funnel.
You'll achieve higher conversions, revenue, and even brand loyalty by proactively leading your prospects through your sales funnel instead of letting them figure it out on their own.
5. An Effective Marketing Plan
A sales funnel is worthless without leads and sales flowing into it. Therefore, you should develop an effective marketing strategy to generate brand awareness and drive leads into your sales funnel.
You can accomplish this through digital advertising, email marketing campaigns, SMS marketing, social media, blogs, video marketing, and more.
Be sure to optimize your marketing strategy to drive a positive ROI and increase customer retention to maximize the customer lifetime value.
How to Build a Sales Funnel in WordPress
Having discussed the importance of having a sales funnel for your e-commerce site, let's explore how you can create one with WooCommerce and CartFlows.
The steps below should work for any e-commerce site. However, you can customize your sales funnel to fit your product lineup better.
Step 1: Set up a WordPress Site
Before you can build a sales funnel in WordPress, you must first create a website on the platform.
Be sure to host your site on high-performance WooCommerce hosting and install an SEO-friendly WordPress theme for better chances of ranking on the SERP.
A solid foundation is crucial for e-commerce stores looking to achieve higher organic rankings, generate more leads, and increase sales.
Step 2: Install the Necessary Plugins
Before you start building a WordPress sales funnel, be sure to install all the necessary plugins.
I have compiled a list of helpful WordPress plugins for your convenience.
WooCommerce (E-commerce Store Plugin)
Rank Math Pro (SEO Plugin)
WP Rocket (Performance Optimization Plugin)
CartFlows (WordPress Sales Funnel Plugin)
You need not install WooCommerce, Cart Abandonment Recovery, or Stripe Payment Gateway since the Cartflows setup wizard installs them for you.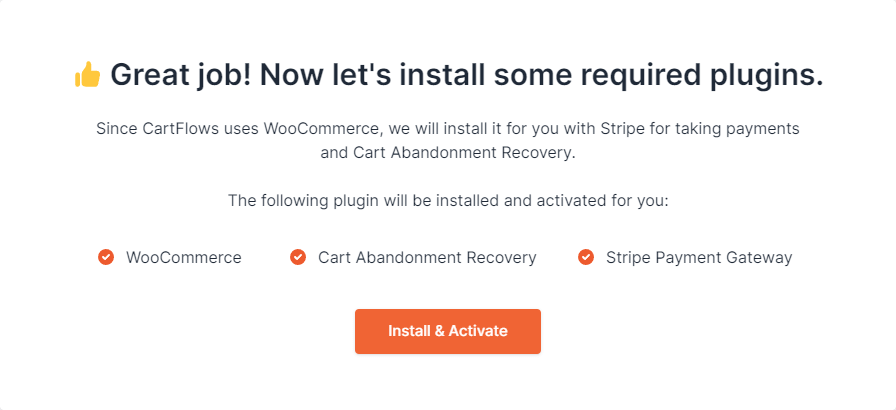 Configure the settings, and you're done.
If you want to create visually appealing landing pages, popups, and lead forms, you can install popular page builder plugins such as Divi or Elementor.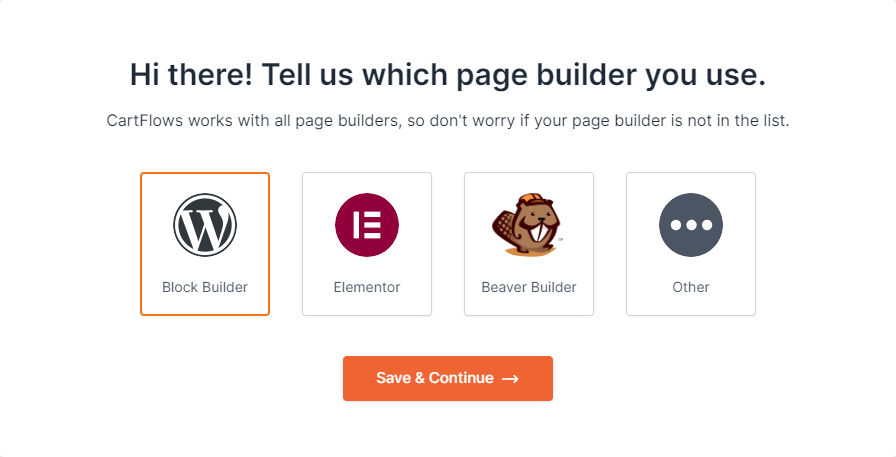 Step 3: Add Your Products
Once you've configured the plugin settings, especially for WooCommerce, click Products > Add New and enter the relevant details of a product you plan to include in your sales funnel.
Repeat the process for any additional products you wish to sell.
Step 4: Create Your First WordPress Sales Funnel with CartFlows
CartFlows lets you create WordPress sales funnels in just a few clicks.
You can get started quickly by choosing from various premade flow templates.
Please note that CartFlows displays only flow templates compatible with the page builder you selected during the plugin setup.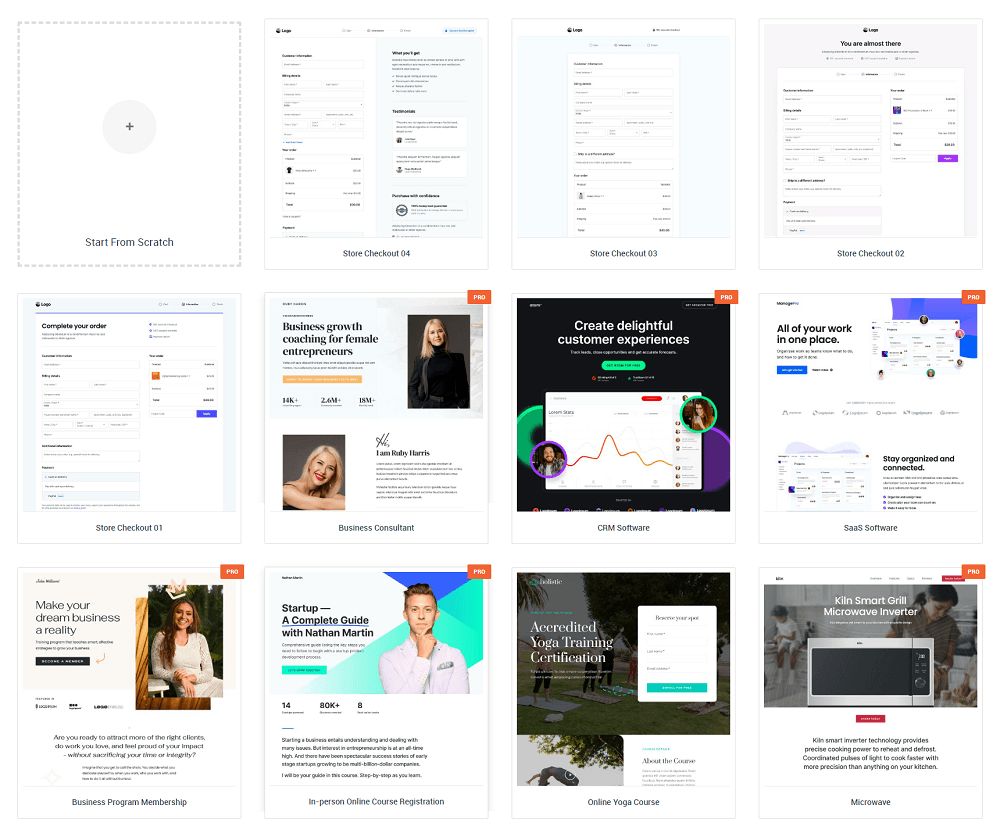 Choose the one you like, and click the Import Flow button to access the flow customization interface.
For example, the selected flow template includes a landing page, a checkout page, an upsell page, a downsell page, and a thank you page.
However, if your template does not include any of these pages, you can click on Add New Step to build them from scratch.
As of right now, we'll use the Elementor page builder to customize our template's landing page.
Click on the Edit option to open the page editor.
Page editing allows you to add, remove, or move page elements as well as replace text and media files.
Don't forget to include a clear value proposition and a strong call to action (CTA). Finally, and most importantly, be sure to save your changes.
Step 5: Design a Landing Page
Creating customized landing pages is an effective way to get your customers' attention.
Landing pages are standalone web pages designed with the specific goal of converting visitors into leads or sales.
Please navigate CartFlows > Flows > Add New to create a new landing page from scratch.
Alternatively, you can choose from the available funnel templates, which you can customize later.
Step 6: Set up a Checkout Page
Again, return to your flow customization interface and design more pages based on your marketing goals.
CartFlows templates typically include a landing page, a checkout page, and a thank you page by default, but you might want to add an upsell and a downsell page as well.
You can quickly expand your flow by adding new steps.
However, you must assign a product to the Checkout page.
The flow customization interface may show a label saying No Product Assigned on the checkout page.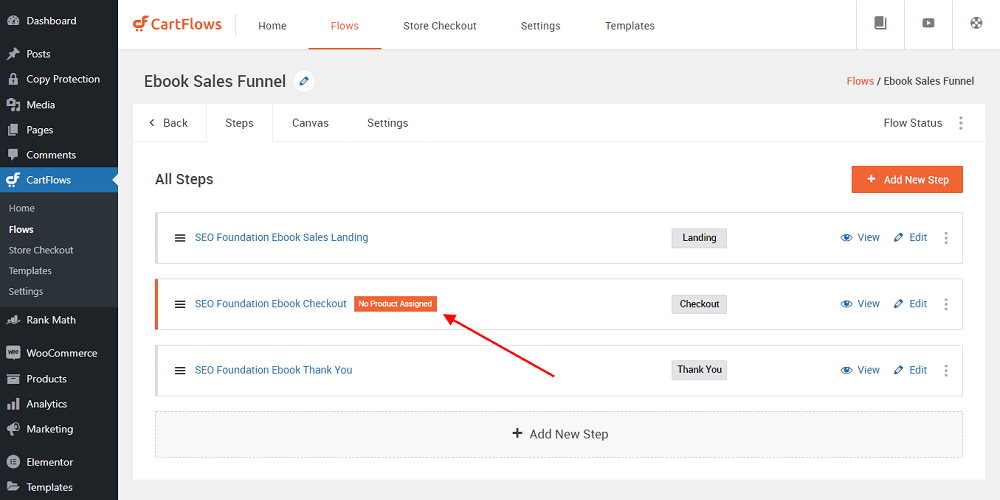 You can configure Checkout Settings by clicking the Edit option, such as linking a specific product to the checkout page, setting a coupon code, enabling product options, and adding order bumps and dynamic offers.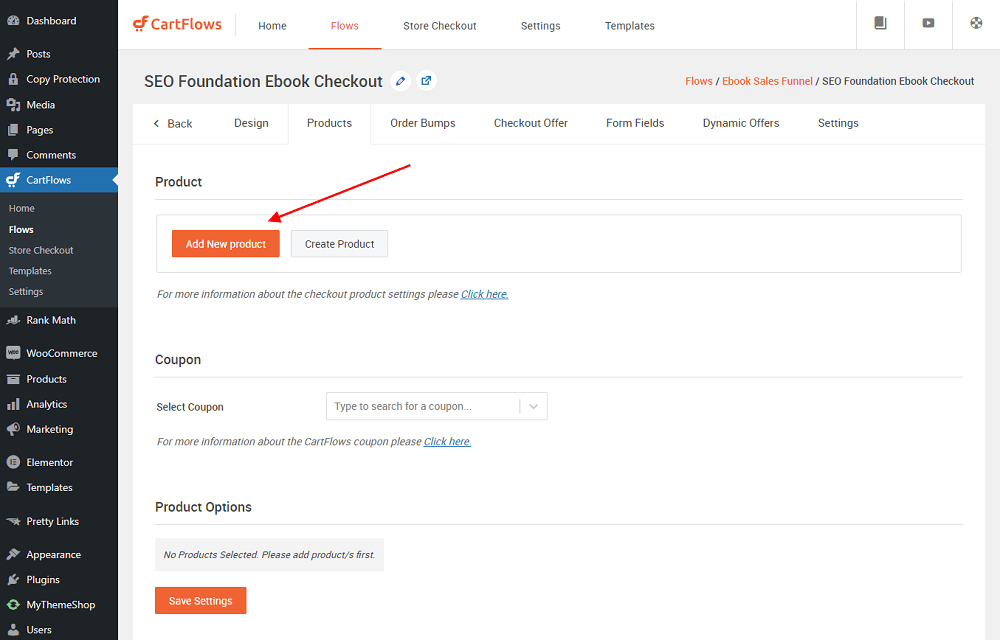 CartFlows offers extensive documentation to help you understand how each feature works.
Step 6: Set up a Thank You Page
With a Thank You page, you can let your customers know that their purchases have been completed and express your appreciation.
If you have an upsell page or social media profile, you may want to include an additional CTA directing buyers there.
This will help you generate more revenue per customer and build long-term relationships with your customers.
Step 7: Add Upsell and Downsell Pages
An effective sales funnel includes a landing page, a checkout page, and a thank you page.
However, you can also implement upsells and downsells to increase the order value and develop a lasting relationship during a customer's shopping experience.
CartFlows Pro version has access to several flow templates that include upsell pages.
Alternatively, you can create upsell and downsell page by clicking Add New Step button on the flow customization interface.
Step 8: Drive Leads to Your WordPress Sales Funnel
The last step is to direct potential customers to your sales funnel.
By default, CartFlows moves users through your funnel based on the flow you define.
So once you've published your sales funnel, direct traffic to your landing page via your marketing channels.
When your customers click on your CTAs, they will be directed to your Checkout and Thank You pages, and your sales process will be complete.
Step 9: Perform A/B Testing
CartFlows enables you to conduct A/B testing across your sales funnel pages, such as landing pages, checkout pages, and thank you pages.
First, you must create two different versions (Control and Variation-1) of your sales funnel pages, changing one variable in each.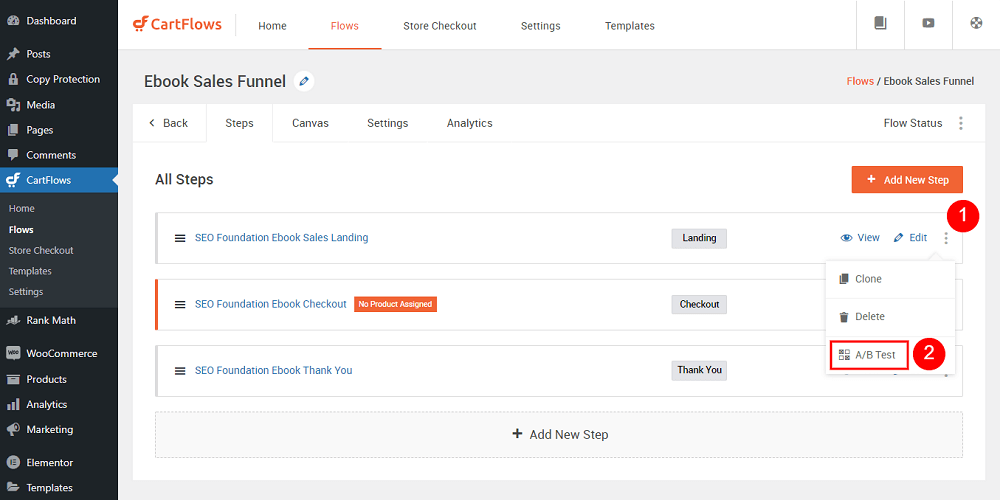 CartFlows will present both versions to comparable audiences and determine which version performed better over a specified period.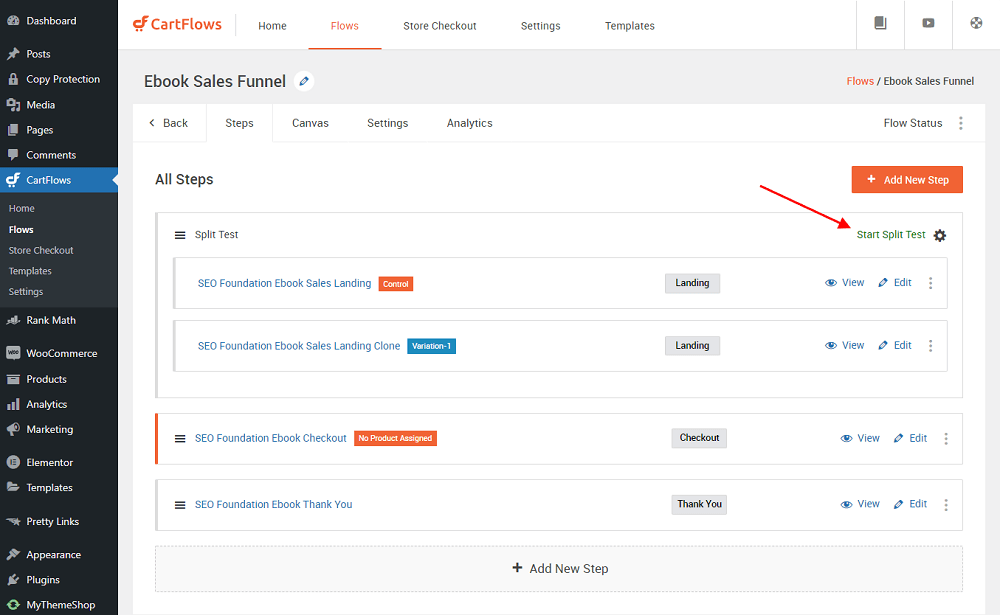 After analyzing the campaign results, you can declare the winning version based on conversion rate and use that version in future campaigns.
Step 10: Monitoring Campaign Performance
CartFlows comes with a built-in flow analytics module. It displays statistics about total orders, gross sales, average order value, and bump offer revenue.
Additionally, it tracks total visits, unique visits, conversions, conversion rate, and revenue.
You can filter this data for a specific period to dig deeper into your marketing campaigns.
Monitoring campaign performance will enable you to optimize your sales funnel and make informed decisions about your marketing strategy.
CartFlows includes native integration with Google Analytics and Facebook Pixel in addition to its built-in analytics.
These platforms allow you to track the following events.
Google Analytics Events
Begin Checkout
Add To Cart
Add Payment Info
Purchase
Optin Lead
Facebook Pixel Events
View Content
Initiate Checkout
Add Payment Info
Purchase Complete
Optin Lead
Lastly, perform a demo purchase to see if the sales funnel is working correctly and if the data reflects in the analytics accounts.
The Brainstorm Force team has published a detailed video guide explaining how to build a sales funnel in WordPress and optimize your checkout pages for better conversion.
You can watch it below.
Conclusion
Every online business needs a sales funnel, regardless of whether it sells physical or digital goods.
It's an excellent tool for boosting conversions, increasing revenue, and building customer loyalty.
You can easily create a sales funnel in WordPress using the right tools and plugins, such as CartFlows.
The good news is that setting up WordPress sales funnels doesn't require any coding experience or complex software with steep recurring costs.
CartFlows may not be the cheapest option, but you can quickly recoup your costs by building sales funnels for others.
Moreover, each product mentioned in this guide comes with a free trial or money-back guarantee.
Take the plunge and start building your first WordPress sales funnel today.