Affiliate Disclosure: I publish various content marketing strategies, online business ideas, blogging tutorials, review articles, and discount offers on my blog. My content may contain some affiliate links for products/services I use, love, and recommend. If you take action (i.e., subscribe or make a purchase) after clicking one of my affiliate links, I'll earn an affiliate commission at no additional cost to you. It helps me in creating more helpful content like this.
There is a special reason for writing this GeneratePress review.
You might be knowing that I'm quite obsessed with website speed and performance.
After Google announced the Speed Update, I started implementing corrective measures to reduce the loading time for my sites.
Since the theme and plugins are the major elements that determine how fast your web page will load, I started testing different free and premium themes that can give me a faster loading time without compromising on aesthetics.
Finally, I found the GeneratePress as an absolutely fantastic choice with a ton of useful features.
GeneratePress Review
GeneratePress is one of the most popular themes in the WordPress repository, with over 400K active installs and 1300+ five-star ratings.
It's perfectly lightweight (less than 10KB gzipped), 100% fluid responsive across all devices, and the best SEO-friendly WordPress theme.
Impressive loading time and unlimited possibilities for customization are another couple of features you'll love.
However, with GeneratePress Premium, you will get 12 different modules to save a ton of time in the customization work.
Why I Switched to GeneratePress?
Although Google Speed update is a primary reason I switched my blog theme to GeneratePress, I have considered a few things.
Earlier I was using MTS Feminine theme (Premium), which was pretty solid too. However, I thought there is room for improvement.
MyThemeShop always rocks with its level of coding, SEO readiness, and customer support but lacks some essential features required in a conversion-focused WordPress theme.
After installing the GeneratePress theme, my blog's loading time and overall performance are significantly better.
Features of GeneratePress WordPress Theme
The free version of the GeneratePress (the base theme) and the premium plugin that works on top of it come with several useful features you can expect from an SEO-friendly WordPress theme.
Here are a few of the key areas where the GeneratePress theme excels:
1. Lightweight
The base theme and the premium add-on pack for GeneratePress are so well-coded that they make it feather-light.
You won't believe it, but this theme is less than 1 MB (zipped) in size. This ensures that your website will load within a blink of an eye.
2. Mobile Responsive
Not having a mobile responsive site doesn't make sense in the current date. Since mobile traffic is growing rapidly, adapting to mobile is always the right choice for any blog or small business website.
With GeneratePresss WordPress theme, your site will be 100 mobile responsive across all devices. Plus, it'll be cross-browser compatible.
3. Schema Microdata Integrated
Schema microdata helps Google easily understand the structure and contents of your site, which leads to a better search ranking. The GeneratePress theme is fully schema microdata integrated, helping you achieve improved rankings in the SERP for your targeted keywords.
4. Modular Design
One of the reasons for using the MTS themes was their options panel. It's completely noob-friendly, and anyone can customize the MTS theme himself without hiring a developer.
GeneratePress is slightly better than MTS and integrated all options in the default "Customize" menu itself. In addition, 12 add-ons in the premium version will let you leverage the theme's powerful customization abilities to create a beautiful website.
5. Developer-friendly
Most of the themes need a Child theme to preserve all the customization and settings you make. Otherwise, theme files get reset with the theme updates losing all the hard work and time you invested in the design of your site.
This won't happen if you are using the GeneratePress WordPress theme.
It comes with options to add hooks and filters to introduce more functionalities without altering the theme files. And you need not worry about losing the changes you've made.
6. Extensive Design Possibilities
GeneratePress features five navigation positions, nine widget areas, five sidebar layouts, drop-down menus (either click or hover), and a Back to top button.
The Premium add-ons like layout, Colors, and Typography create unlimited design possibilities. All these options are available in the native WordPress Customizer, meaning that you can preview every minor change you make to your site's design before hitting the publish button.
You can improve your website's look even more by combining the page-builder plugins like Elementor, Beaver Builder, or Thrive-Architect with the GeneratePress theme.
It works perfectly fine with all well-coded WordPress plugins without a single issue.
GeneratePress Free
GeneratePress is a freemium theme, and you can install the free version (the base) from the WordPress admin dashboard itself by navigating WP-Admin > Appearance > Themes > Add New > GeneratePress.
The free version of GeneratePress is more than enough:
If you are looking for a simple design without any advanced customization.
You know HTML/CSS to tweak some settings yourself to create an intricate design.
Apart from the common features mentioned above, GeneratePress has some essential elements required for a high-performance WordPress theme.
Being a product of the WordPress theme library, GeneratePress has undergone a strict review process by world-class developers.
Plus, the theme follows the latest and most stable code standards that ensure a secure WordPress experience.
Not sure?
See the following images to decide whether GeneratePress is safe for use or not.
GeneratePress Review: Theme Security
1. VirusTotal Scan of SuccessPixel.com
I'm using GeneratePress + GP Premium on this blog because I didn't find any virus or malware in it.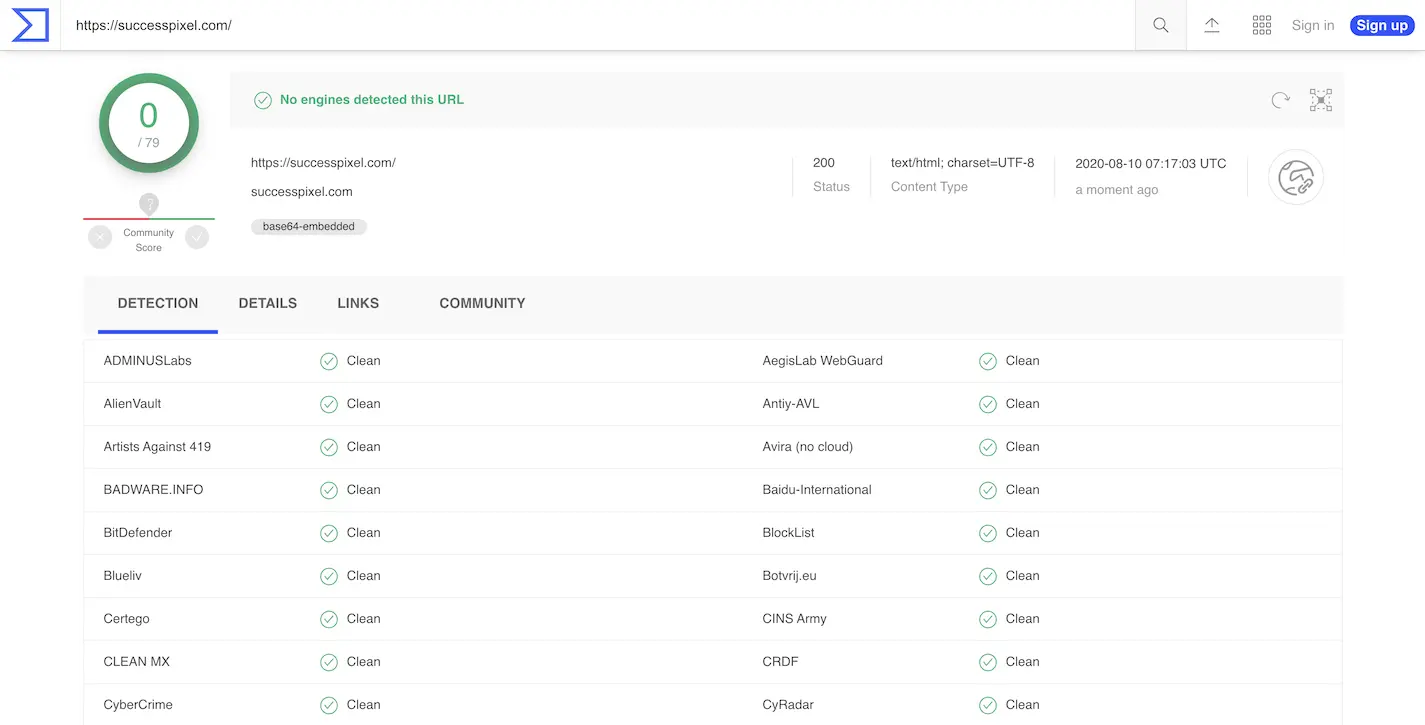 2. ThemeCheck Analysis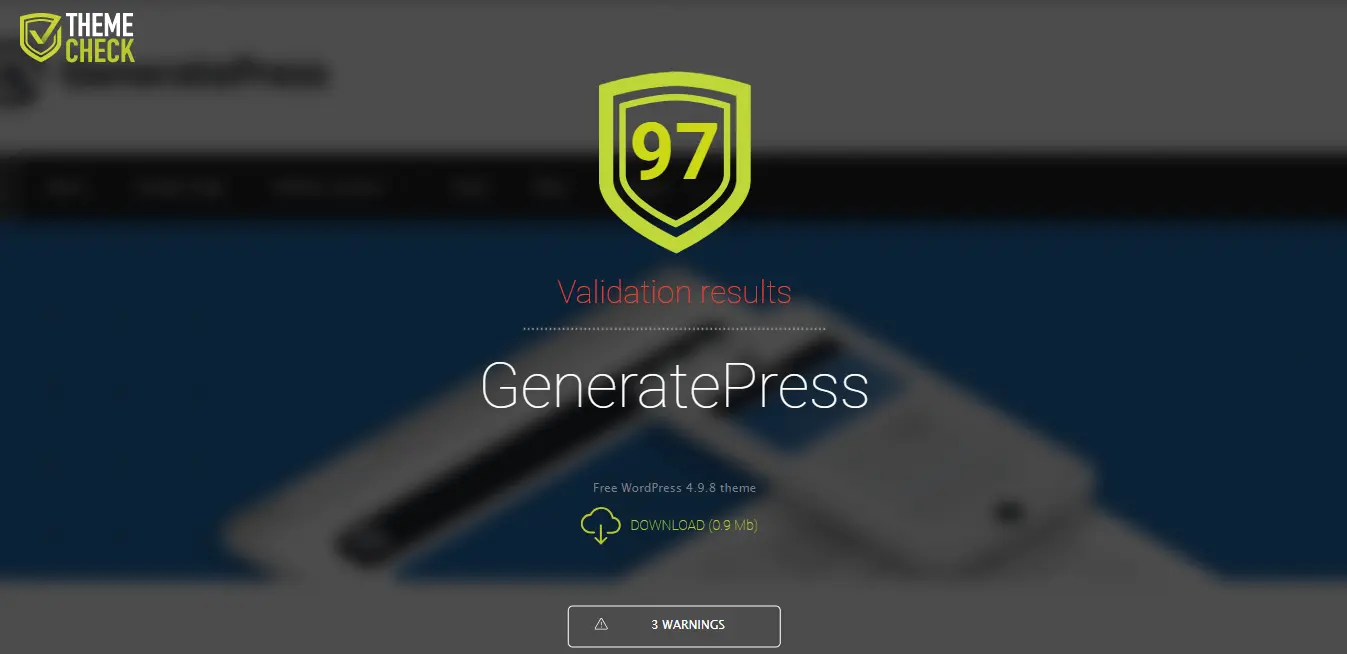 GeneratePress Review: Website Speed
Page speed is the most important element of SEO. And, GeneratePress performs well on this front too.
The clean code and tiny footprints ensure that your website will load very fast.
Here is an example.
If you check your website's loading time using any popular tools, including Google PageSpeed Insights (PSI), Pingdom, or GTmetrix, you'll find that the render-blocking javascript is one of the main culprits that make your site slow.
However, the GeneratePress theme only loads the required scripts and has ditched the jQuery for the clean vanilla javascript to eliminate the render-blocking issues.
You may ask, "Does it really work, as stated by the developer?"
Here is a snap of the Google PageSpeed Insights report for my website's actual speed.

SEO-Friendly
The search engines are the primary source of free traffic for almost every website.
Optimizing your site according to webmaster guidelines helps you improve your site visibility in the SERP.
The validated HTML, inbuilt schema microdata integration, and lightning-fast loading speed of GeneratePress themes give you the perfect head start with search engine optimization (SEO) before you even start adding the contents.
Accessibility Ready
Accessibility is a crucial part of any website. Thus, GeneratePress follows the WCAG 2.0 standards (Web Content Accessibility Guidelines by W3.org) to ensure no one is left out when browsing the website.
Here is another great news!
This theme is translated into over 20 different languages so that maximum people can use it on their website.
GeneratePress Premium (Add-on Plugin)
If you need more features to customize your website like a pro, getting the GeneratePress premium add-on pack of 12 modules would be the best option.
Explore the GeneratePress premium modules below to know how they can save a ton of time designing your website, making this purchase more valuable.
1. Site Library
Many people decide to build a website but are confused about where to start. However, if you have a GP premium, you can import one of the demo sites (with or w/o page builder) to give you a headstart on your next web development project.
2. Colors
This module lets you change the color of almost any visual element using over 60 color options built in the native WordPress customizer.
You can quickly change the colors for website content, navigation, headings, links, buttons, widgets, and footer.
3. Typography
Not all people prefer the system font. Especially the publishers from fashion & lifestyle blogs, food blogs, and portfolio sites want modern & creative fonts to impress their audience.
Don't worry!
The typography module of GP Premium lets you customize your website fonts, their sizes, and other visual aspects with over 70 different combinations.
4. WooCommerce
This module lets you customize the visual aspects of your WooCommerce store, including the colors, typography, and layout.
Obviously, you require the WooCommerce WordPress plugin installed on your website to make this module work.
5. Blog
Do you want a customized look for your blog section?
GP premium's Blog module will help you control the featured image, columns & masonry, infinite scroll & much more.
6. Copyright
Almost every theme contains the copyright text in the footer area with the developer's name and backlink to their site.
It's a better opportunity to promote their products to a broader audience.
However, many people think that it does not look professional.
The copyright module is the perfect choice to replace the default copyright text with a customized message or an affiliate link.
How to Install GeneratePress Premium?
I have already explained the easiest method to install the free version of the GeneratePress theme.
You can also download it from the developer site and upload it to your WordPress site.
Follow the process mentioned here if you have decided to purchase the GeneratePress premium to access all its modules.
Purchase the GP premium
Download the .zip file to the local storage.
Upload this file to the plugin section of your website.
Activate the plugin.
Navigate to WP admin >> Appearance >> Themes >> GeneratePress and activate the premium modules you need.
Now, you can see these features are enabled in the native WordPress customizer where you can change the look of your site.
Like many other popular themes in the market, GeneratePress also supports the Child theme. However, I'm not using this feature.
GeneratePress Pricing and Support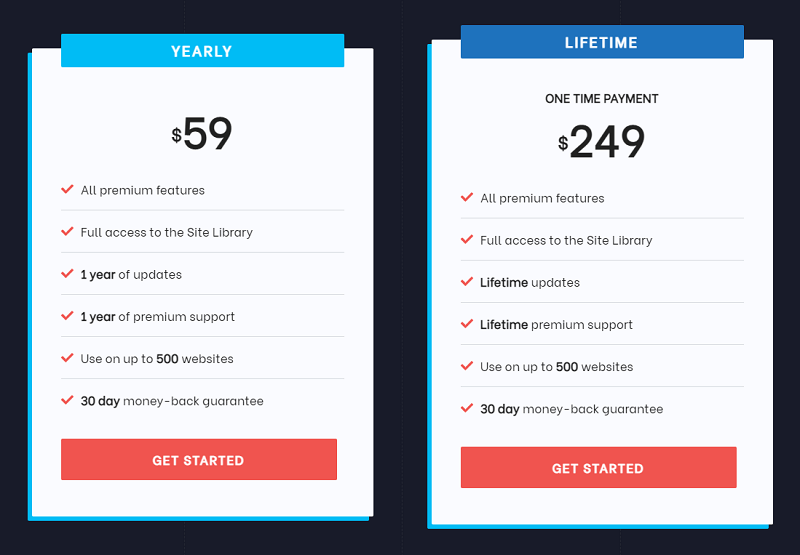 GeneratePress Premium Yearly Plan
GeneratePress is a free theme, but purchasing the premium version will allow access to add-on modules, one year of free updates, and priority support.
GP Premium is available at an affordable price of $59.
The best thing is that you can use it on up to 500 sites even after your theme license expires (Lifetime usage).
Alternatively, you can grab a 40% renewal discount if you decide to renew your GP Premium subscription for the next year.
GeneratePress Premium Lifetime Plan
GeneratePress launched a special lifetime plan to cater to long-term users who want to pay a one-time fee and enjoy lifetime product updates and premium updates.
The GP Premium lifetime license costs $249 and gets you full access to all premium features and the Site Library.
GP Premium's Yearly and Lifetime licenses include a 30-day money-back guarantee. This ensures that you have the chance to test both the theme and plugin extensively before you make your final decision.
If you compared the GeneratePress with other popular themes, you'd find it a far cheaper and completely value-for-money product.
Is GeneratePress Premium Worth Its Price?
And, the answer is "YES!"
GeneratePress Premium is an add-on for a base theme with additional features to customize any blog or business website powered by WordPress.
Since the free version of the GeneratePress theme comes with limited customization options, you need to be an expert to build a professional-looking site.
However, the features, performance, and customer support of GP premium are definitely worth its price, and you'll understand it once you start using GP Premium.
GeneratePress Review: FAQs
1. How do I activate my GeneratePress premium?
Once you purchase the GP Premium, download it to the local storage. Upload the .zip file to the Plugins section. Add license key under WP-admin > Plugins > GP Premium > Configure > Updates to activate GeneratePress Premium.
2. How to update the GeneratePress theme?
GeneratePress releases regular updates to its theme. To update your theme, go to Appearance > Themes. You will have to navigate to Plugins > GP Premium to update the GP Premium plugin. If you want to receive automatic updates, you will have to purchase a license.
3. How many sites can I use GP Premium on?
You can use GP Premium on up to 500 websites, including your client's websites.
4. What happens if I don't renew the GP Premium license?
You can use it for as long as you want. However, you can renew it to receive future updates and premium support. You'll receive a 40% discount on GP Premium renewal.
5. What do you think is the best page builder for the GeneratePress theme?
Beaver Builder, Elementor, and Thrive Architect work well with GeneratePress. You can pick any page builder that suits your requirements.
GeneratePress Review $49.95

Name: GeneratePress WordPress Theme
Description: GeneratePress is a beautiful, clean, and minimal WordPress theme. It's feather-light, 100% mobile responsive, and SEO-friendly with in-built Schema integration. Need a WordPress theme to be compatible with Google Speed update? GeneratePress is absolutely killer choice for your blog or website with super-fast loading time and a smooth user experience.
Offer price: 59
Currency: USD
Operating System: WordPress
Application Category: WordPress Theme
Author: Ankit Main
Summary
After Google Speed update,  I'm really obsessed to improve my blog's overall performance especially the page loading time. Choosing a lightweight theme with less bloat was the top priority along with the speedy server. Thank God! I found GeneratePress which is an absolutely fabulous theme for my WordPress powered blog. It's a mobile-friendly, SEO-ready and perfectly flexible for any customization.
Features

Performance

Pricing

Support
Pros
100% Mobile Responsive
Secure & SEO-friendly
Compatible with most of the Page Builder plugins
Quick Support & Extensive Documentation
WooCommerce Ready
Cons
Your website may look a common one due to the large userbase
The free version has a very limited features