Affiliate Disclosure: I publish various content marketing strategies, online business ideas, blogging tutorials, review articles, and discount offers on my blog. My content may contain some affiliate links for products/services I use, love, and recommend. If you take action (i.e., subscribe or make a purchase) after clicking one of my affiliate links, I'll earn an affiliate commission at no additional cost to you. It helps me in creating more helpful content like this.
What is an Elementor Kit?
Elementor Kit is a complete website design package with a fully functional structure that comprises a number of individual site elements.
It includes theme builder parts, content pages, pop-ups, site settings, and other elements aligned with the same style guide and maintaining seamless aesthetic appeal throughout the entire site.
Instead of importing each Elementor template individually as before, you can now import all the content at once.
This feature is a huge time-saver for professional web designers who have multiple projects on their timelines.
Additionally, the Elementor Kits Library is an excellent resource for aspiring designers to learn about website structure, including all the necessary pages and parts that every website must contain.
What Makes Elementor Kits Special?
Pre-made website kits or templates aren't a new concept in web design, but Elementor Kits are so special because of their unique features, as mentioned below.
1. 90+ Designer-made Kits
Elementor offers 90+ ready-to-use, designer-made full website kits for different industry verticals. So, getting started with any website design project couldn't be easier.
Additionally, you can create entire professional WordPress websites faster and more efficiently using the Elementor Kits.
Each Elementor Kit includes all necessary website components such as content pages, post archive, 404 pages, widgets, header & footer, and pop-ups.
2. Highly Customizable
The Elementor Website Kits have the advantage of being highly customizable. You can edit any website elements to suit your needs.
3. Global Site Editing
Elementor Kits comes with Global Site Editing, which enables you to control all website elements, especially colors, fonts, layouts, theme style, lightbox, and background.
4. One Kit, Many Uses
It is possible to use a single Elementor Kit across multiple projects. On top of that, you can also develop custom website kits for specific projects.
A secret hack!
Export your custom Elementor Kits to .zip or .json files so that you can reuse them in future projects instead of creating a full website from scratch.
Elementor Kits Pricing
Building a complete website requires a substantial budget.
The expenses associated with launching a website include domain, web hosting, WordPress theme, plugin, custom development (if needed), security, and marketing.
While domain+hosting and security are essential for any website, you can reduce web design costs by utilizing the Elementor Kits.
Elementor lets you choose from several website kits depending on whether you have a Free, Pro, or Expert plan.
Select a preferred Elementor plan below to access your favorite website kits.
Free Plan
Number of Websites: Unlimited
Free Elementor Kits: 5 (With Limited Features)
Pro Elementor Kits: NA
Expert Elementor Kits: NA
Price: $0.0
Essential Plan
Number of Websites: 1
Free Elementor Kits: 5
Pro Elementor Kits: 60+
Expert Elementor Kits: NA
Price: $49
Advanced Plan
Number of Websites: 3
Free Elementor Kits: 5
Pro Elementor Kits: 60+
Expert Elementor Kits: NA
Price: $99
Expert Plan
Number of Websites: 25
Free Elementor Kits: 5
Pro Elementor Kits: 60+
Expert Elementor Kits: 20
Price: $199
Studio Plan
Number of Websites: 100
Free Elementor Kits: 5
Pro Elementor Kits: 60+
Expert Elementor Kits: 20
Price: $499
Agency Plan
Number of Websites: 1000
Free Elementor Kits: 5
Pro Elementor Kits: 60+
Expert Elementor Kits: 20
Price: $999
If you intend to use Elementor Kits, there is no doubt that the Elementor Expert plan offers the best value.
The plan allows you to install Elementor Pro on 25 websites and provides access to 60+ Pro website kits and 20 Expert website kits.
How to Install Elementor Template Kit in WordPress?
Below I've put together a complete tutorial to help you figure out how to install Elementor Template Kit in WordPress.
Step 1: Visit the official Elementor website and purchase the preferred plan. As I mentioned earlier, I highly advise you to get the Elementor Expert plan.
Step 2: Install and activate the free Elementor WordPress plugin from your WP-Admin panel.
Step 3: Upload the Elementor Pro plugin that you downloaded from the official Elementor site. Never use a nulled copy of Elementor Pro for saving a few bucks. In many cases, you risk losing control over your entire site if your site gets hacked.
Step 4: Connect your Elementor Pro plugin with your Elementor account by entering the credentials you used to register an account.
Step 5: Once Elementor and Elementor Pro plugins are activated, click on the Templates section on your WP Admin dashboard's left sidebar and choose the Kits Library option.
Step 6: The Elementor Kit library will appear. You can also search and filter for the website kits by categories and tags.
Step 7: You can view a live demo of selected Elementor Kits by clicking the Overview tab.
Step 8: Explore the various sections of the individual website kit to see what's inside, e.g., content pages, site parts, and pop-ups. You can also check how the site looks on tablets and mobile devices to gauge its aesthetic appeal and usability.
Don't settle for anything less than the best. Browse through all the kits you like to find one that works best for you.
Step 9: Select the Elementor Kit you wish to use and click the Apply Kit button.
Step 10: Elementor will ask you to choose the website components to include in your kit before importing it. The default import includes all of your components.
Step 11: Confirm your import by checking the checkbox for each element and clicking the Next button in the bottom right corner.
Step 12: The Elementor website template kit will be applied within a few seconds. Then you can check how your website appears on the front-end or start editing individual components.
How to Edit Elementor Kits?
1. Editing The Pages
The Elementor Kit imports several pages. You can find them under WP-Admin > Pages. For editing, click Edit with Elementor.
2. Editing The Posts
Each Kit includes a few posts that help you visualize the archives, single posts, and other kit layouts.
After writing your own posts, you can edit or remove the auto-generated posts.
3. Editing The Theme Parts
Kits will also import several necessary theme parts from Theme Builder, including the Header, Footer, Single Page, Blog Archive, Single Post, and 404 Page.
You can find and edit these parts in the Theme Builder section.
4. Editing The Popups
If your Kit contains popups for lead marketing, navigation, or other purposes, you can access them by visiting the Elementor Templates section.
You may set dynamic options for your popups.
5. Editing The Site Kit Global Settings
Upon installing the Elementor Site Kits, you will find a pre-configured set of global fonts and colors. The Global Site Settings allow you to modify these options.
In addition to editing the global fonts and colors, you can also change your site identity, including the site name (site title), tagline (site description), logo, and favicon.
Currently, the Site Kit does not create your navigation menu automatically. To create your own menus, go to Appearance > Menus or the WordPress Customizer option.
Elementor Kits: Pros and Cons
You should carefully evaluate both the pros and cons of Elementor Kits before choosing whether to purchase them.
The major pros and cons of Elementor Kits are as follows:
Pros of Elementor Template Kits
An Elementor kit comes with everything you need to build a complete website: headers, footers, content pages, forms, popups, and more
90+ default kits and thousands of third-party kits in various categories accelerate design workflow
User-friendly interface with drag and drop building capabilities
Responsive design across desktop PCs, tablets, and mobile devices
Custom Theme Builder with global site settings
Real-time editing and previews
Advanced modules to create quite complex websites, e.g., countdown timer, advanced galleries, custom price tables, popup builder, and many more
Seamless integration with numerous marketing and CRM tools
Import and Export feature to build a custom website kit once and use it across multiple projects
Cons of Elementor Template Kits
Free Elementor site kits have limited features
Inclusion of some boring template kits in the Kits Library
Slow loading performance based on Google PageSpeed Insights
Inconsistent pricing
A Secret Method for Making Money with Elementor Kits
As the number of new websites launched every day continues to rise, most of them fall short of one of the most critical elements, i.e., a visually appealing design.
By providing web design services for these sites, you can create a reliable income stream.
All you need is the Elementor Pro Expert plan, a reliable web hosting service, and a jarvis.ai account (or access to some good SEO copywriters).
With a small upfront investment, you can earn thousands of dollars per month, and that's too in your spare time.
Here is a complete breakdown of the strategy mentioned above.
Investments:
Total investment: $2271.50 (Annual)
Revenue:
Suppose you get only two sales per month and charge industry-standard fees; you will generate approximately $24,000 in revenue.
Total Revenue: $24000 (Annual)
ROI:
The above sales figures get a massive return on investment of 956.57%. That's with minimum service fees and no upsells.
ROI: 956.57%
While the method isn't intended for absolute beginners, anyone with a good sense of creative design, niche expertise, and excellent marketing skills can grab this golden opportunity.
Elementor Kits: FAQs
1. What is an Elementor Kit?
An Elementor Kit is a readymade web design template that you can use to build your site. The different pages, site parts, settings, content, and other components that make up a fully functional website are all included in this package.
2. How do I download the Elementor kit?
Elementor Kits Library features 90+ designer-made website kits to choose from. You will not need to download them separately. However, if you wish to use a third-party kit on your website, you can download it from the merchant site and import it into your Elementor Kits Library.
3. How to use an Elementor Kit?
First, visit the Elementor Kits Library and choose the suitable kit you want to apply on your website. Then, see the overview, and if you like it, apply the kit. Later, you can edit different site elements, content pages, and site settings as per your preferences.
4. Are Elementor Kits free?
Yes, Elementor offers five free website kits, but they have limited features than Pro or Expert Kits. If you wish to access advanced features and 90+ designer-made kits in six different categories, consider upgrading to the Elementor Expert plan.
5. Does an Elementor Kit mess up my website?
Yes. Applying an Elementor Kit includes content pages, pop-ups, custom headers & footers, site settings, and more. It may change your site's look and functionality, so it's better to backup your site before.
Elementor Kits: Summary
Using Elementor Website Kits is the fastest way to build a WordPress site, especially when you have no idea where to start.
Elementor facilitates normal WordPress users to build a beautiful and fully functional website in just minutes. Even professional web designers can speed up their workflow using the Elementor Website Kits.
With the Elementor Kits at hand, creating stunning websites is no longer an issue.
Give it a try!
You may also like:
Elementor Kits Review + Tutorial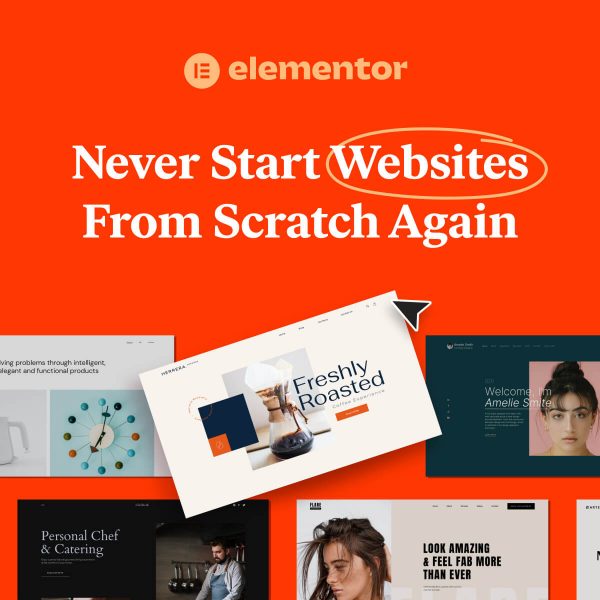 Name: Elementor
Description: Elementor Kit is a complete web design package that features a fully functional structure containing many individual web elements. This article offers a quick overview of an Elementor Kit and a step-by-step tutorial on using it to accelerate your web design process.
Offer price: 49
Currency: USD
Operating System: Linux
Application Category: WordPress Plugin
Author: Ankit Main
Performance

Security

Pricing

Support
Comments Rating
( reviews)