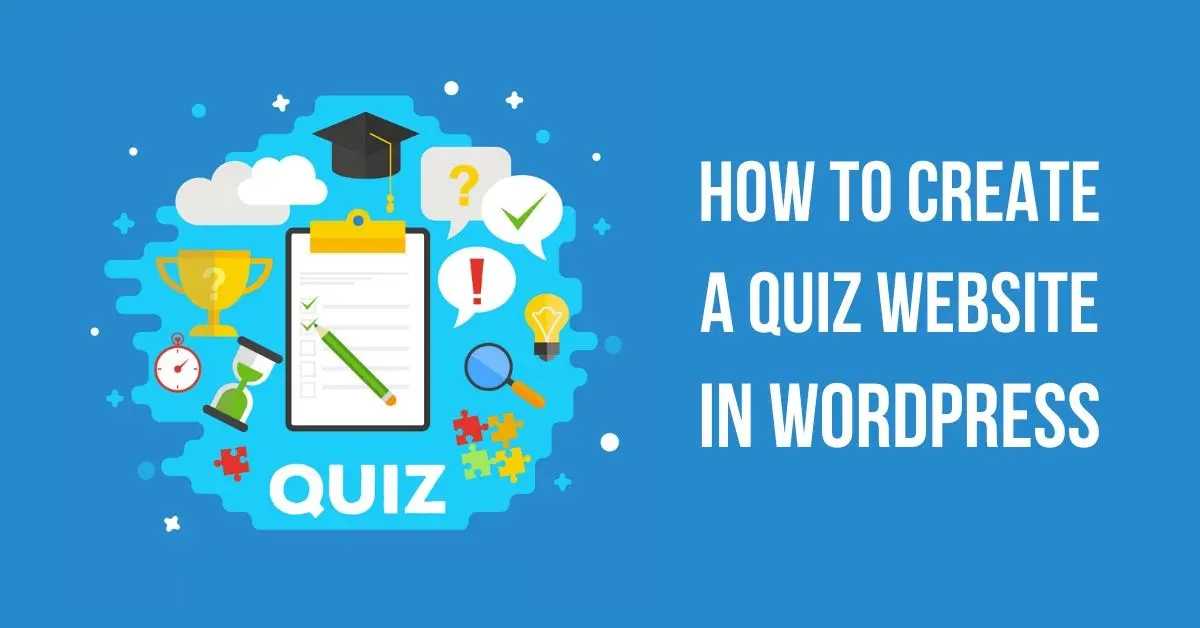 Affiliate Disclosure: I publish various content marketing strategies, online business ideas, blogging tutorials, review articles, and discount offers on my blog. My content may contain some affiliate links for products/services I use, love, and recommend. If you take action (i.e., subscribe or make a purchase) after clicking one of my affiliate links, I'll earn an affiliate commission at no additional cost to you. It helps me in creating more helpful content like this.
I have shared actionable strategies in this article on how to create a quiz website in WordPress to make some money.
Unlike other MMO gurus, I won't promise you that you can make $100 today or make $1000 fast with zero investment.
However, you can easily make $10 a day online by following this step-by-step guide.
One more thing,
The method mentioned in the article is not entirely free. You need a small investment (~$100-150) to purchase the necessary resources and tools.
If you're not able to invest in your website or don't want to put the active effort into promotional activities, this method isn't for you.
Now, let's get started.
Quizzes – Meaning and Importance
Quizzes are web forms with a set of niche-relevant questions to test readers' knowledge or check their buying intent before recommending specific products.
Quizzes help collect users' data, evaluate their responses, and capture the leads by displaying performance stats.
Here are a few benefits of a quiz site.
1. Viral quizzes drive massive referral traffic. You can monetize that traffic by displaying ads on quiz pages or intervals.
Many people share their achievements on social media platforms and challenge others to beat the score. This helps site owners to get free traffic from social media.
Moreover, nobody wants to fail the quiz, especially when their friends are posting winning results. To maintain social status, many users replay a quiz until they get the highest score. That results in more page views and often more revenue.
2. Quizzes help users to test their knowledge on a particular subject.
If you find that they have less understanding of a subject, you can refer them to relevant study material, recommend a training course, or sell educational products.
3. You can ask your potential customers a few questions to know their interest and purchase capacity before recommending specific products.
4. You can build a targeted email list within a short time.
5. Increased brand awareness and massive traffic may drive some sponsorships or brand collaboration opportunities.
I have shared a few websites that successfully implemented quizzes in their content marketing strategy.
Zenni® Optical – an online eyewear brand, used an online quiz to generate over $1.1 million in revenue in six months.
BuzzFeed's "What city should you actually live in" quiz has generated more than 20M page views almost entirely by social shares.
Other websites such as Mashable, Forbes, and Sporcle use online quizzes to drive massive targeted traffic.
Similarly, you can increase the website traffic, leads, and revenue by including online quizzes in your content marketing strategy.
Achieving success like these websites is not possible unless you take action.
So follow the step-by-step tutorial below to create your first money-making quiz website.
How to Create a Quiz Website in WordPress?
You can find various online quiz maker software, including Typeform, SurveyMonkey, and quiz-maker.
However, you won't have full control and flexibility like WordPress-powered quizzes.
Almost each quiz maker software allows limited responses to its starter plans. You need to purchase expensive upgrades to increase or remove these limits.
You may need to create a website to embed the quizzes if you want to insert third-party ad codes for making money.
On the other hand, WordPress is a free and open-source CMS that allows you to create a quiz website within a few minutes.
Unlike online quiz maker programs, WordPress enables full control and flexibility over your quiz website.
You can customize it as you like, create different types of quizzes, get unlimited responses, and earn money by displaying ads or affiliate products.
If you are interested in making real money by creating quizzes, here is a 10-step guide.
1. Pick a Profitable Niche for Quiz Website
While you can succeed in any niche, I suggest picking a niche according to your experience, content availability, and profitability.
If you want to monetize the quiz site with ads, you need a large number of people playing your quizzes regularly. E.g., Entertainment, Elections
On the other hand, affiliate or product-based sites can generate good revenue with limited traffic.
If you target commercial niches with buying intent keywords, you'll see a quick boost in the revenue.
E.g., Web Hosting, Software, Health, Finance, Wellness Products
2. Register a Domain Name
Once you pick a niche, the next part is registering a domain name.
A domain should be short and memorable.
You can use domain name generators to come with some catchy domain name ideas.
Domain registration cost $10-$15 for popular TLDs such as .com, .net, or .info.
NameSilo and Namecheap are the best domain registrars with affordable pricing.
Don't buy a premium domain unless you have a large budget or custom branding requirements.
In addition to the primary domain, I suggest you purchase a vanity domain for marketing purposes.
In case the vanity domain gets blocked by social media networks, you can simply replace it with a new one instead of moving your entire site to a new domain.
Domain registrars often have promotional offers for less popular TLDs. So you can easily get a vanity domain for $1-$2.
Freenom offers free domain registration for five TLDs (one domain per user).
However, it can suspend your account any time for violating their terms and conditions.
It's better to purchase a vanity domain from a reputed domain registrar.
Important: Turn off auto-renewal for vanity domains because most of the unpopular TLDs have extremely high renewal rates compared to their introductory prices.
3. Buy Reliable Web Hosting
Quiz websites often get massive traffic when one or more quizzes go viral.
Shared hosting may not handle such a large number of visits and go down frequently.
As a result, you won't be able to monetize that traffic effectively and lose a major part of overall revenue.
To avoid such problems, I recommend you go with a Cloud VPS with a stable performance during the pick hours.
Earlier, I recommended managed hosting services like HostArmada and WPX Hosting.
Purchasing these web hosting services for a quiz website doesn't make sense unless you are focusing on affiliate or product-recommendation quizzes.
Cloudways is my favorite web host for quiz websites.
Here are a few distinct features of Cloudways hosting:
HTTP/2 Enabled SSD Servers
Free SSL
Email and CDN Add-on
24/7 Real-time Server Monitoring
Quick Technical Support
The Cloudways pricing starts at $10 per month for 1 CPU core, 1 GB RAM, 25 GB storage, and 1 TB transfer.
This configuration is enough for a starter quiz website. You can add more server resources when required.
However, consider purchasing CDN and off-site backup add-ons for improved performance and security.
You might ask me, "Why should I buy Cloudways hosting when I can get a cheap web hosting with unlimited everything for dirt cheap?
Yes, you can get cheap shared hosting for less than $5 per month.
However, in most cases, they have certain limitations, even when they promote their services with an unlimited hosting tag.
Shared hosting servers can't handle the sudden surge of traffic, and your site may face frequent downtime in pick hours, resulting in the loss of valuable traffic and revenue.
Obviously, shared hosting is the cheapest option, but it's not suitable for quiz websites.
If you seriously can't afford the Cloudways during the initial days, you can choose the Fastcomet's FastCloud plan that costs only $2.95 per month.
This plan handles ~25K monthly unique visits and comes with all standard features.
Once you start getting significant traffic and make some money, upgrade your hosting to Cloudways or any reliable web hosting.
Cloudways has an hourly/monthly billing cycle. So you need not pay upfront for a year.
You can support us by purchasing the recommended products through our affiliate links. It helps us bring more valuable content like this without any extra cost to you.
4. Installing WordPress
Once you have a domain and web hosting, replace the existing domain nameservers with new ones provided by your hosting company.
The nameserver updation process may take up to 48 hours, but in most cases, you hardly need to wait for such long.
The next part is installing an SSL certificate on your domain. Both Fastcomet or Cloudways offer a one-click SSL installation.
Now, you can install WordPress on your hosting account. Use a unique username and strong password to minimize the invalid login attempts.
Here are a few more things that you can't afford to skip.
Enter the Site Title and Tagline.
Update the Permalinks structure to the Post name.
Create Categories if applicable.
Ensure Search Engine Visibility to avoid indexing issues.
Setup comment moderation.
5. Installing WordPress Theme and Necessary Plugins
Viral quiz websites often get huge traffic. So you must install a fast-loading theme and only necessary plugins.
GeneratePress and Astra are my favorite WordPress themes.
However, you can choose any theme with unique design layouts, including MyThemeShop Reactor or Socially Viral.
I suggest you stick to GeneratePress or Astra Pro because these themes come with unlimited site usage licenses.
You can simply use them on any number of personal or clients' websites.
The next part is the theme customization.
Upload a site logo, select a font, and choose a trendy color scheme to give your site a viral look.
When you get satisfied with the design, install a few necessary plugins, including:
Caching Plugin – Preferably one that is supported by your web host
Antispam Bee and a reliable security plugin
Shortpixel Adaptive Images
You can find free or premium alternatives to the plugins mentioned above, but I have selected these products after testing them on my live sites.
6. Create Important Pages
Whenever you create a quiz website to make money, you need to create basic pages such as Privacy Policy, TOS, Affiliate Disclosure, About Us, and Contact Us with a direct link to each page.
You can add these pages to the header menus or footer menus.
Reputed ad networks and affiliate programs consider your site trustworthy and quickly approve your application if the basic pages are present.
7. Create Quizzes
Creating engaging quizzes is the most challenging part of this method.
Find the viral topics and build a set of questions and answers to add in the quiz plugin.
I have listed a few ideas for your next quiz.
Sports Events, e.g., World Cup, IPL, Pro Kabaddi, Olympics
Latest Movie Releases, e.g., Bollywood Movies, Hollywood Movies, South Indian Movies
Festivals
Celebrities
Elections
Technology
Travel Destinations
Food
Nature
General Knowledge
You can analyze top quiz websites, Google trends, Twitter trends, Facebook polls, and Viral YouTube videos/Facebook videos to get more quiz ideas.
For affiliate and product recommendation sites, you can build a list of relevant questions to create quizzes ending with a lead or sale.
For example,
You can embed a web hosting quiz on how to start a blog article to understand the visitors' interest, purchase ability, hosting requirements, and recommend the best web hosting to them.
If users like your recommendations, you can generate ~$50 affiliate commission per sale, and this amount goes up as sales volume increases.
To create various quizzes, you need the best quiz maker plugin. I have already mentioned one earlier in the article, i.e., MyThemeShop WP Quiz.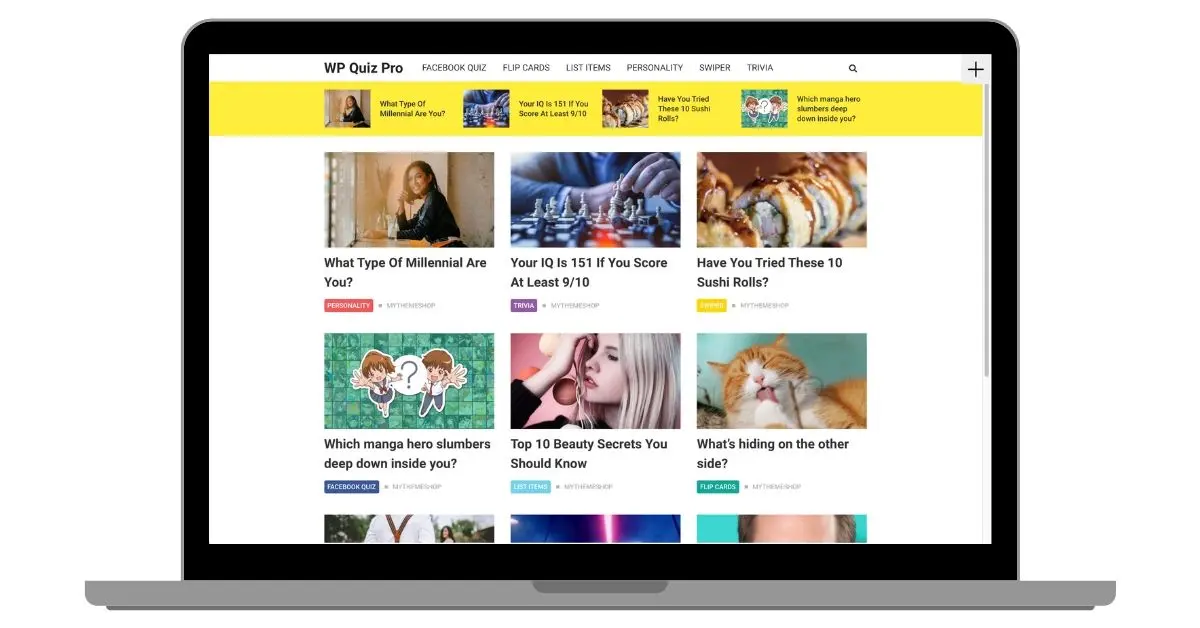 Once you installed the quiz plugin, choose the quiz type suitable for your niche.
I have explained each quiz type below.
➤ Trivia
Trivia quizzes test users' knowledge about a particular topic by asking common yet unexpected questions and surprise them with the final score.
➤ Personality
Personality quizzes help you understand the user profile by asking questions relevant to personal life, habits, and interests.
The results of personality quizzes are often shocking and reveal the little-known things about the user.
➤ Swiper
Swiper quizzes are easy to create and get loved by users for their simplicity. Most importantly, Swiper quizzes are useful in getting the users' feedback on a particular product by capturing and comparing results from a large group of people.
➤ Flip
Flip quizzes are primarily used to test users' knowledge about a specific subject or your product. You can ask them to guess the answers and know the correct answer by a simple flip.
Depending on your creativity level, flip quizzes can drive massive user engagement and help e-commerce sites in brand awareness.
➤ Facebook Quiz
Facebook quizzes leverage social proof to drive engagement. Since many people share their results on Facebook, your quizzes can go viral at any time.
Please note that creating Facebook quizzes requires creating a Facebook app to enable lead capture and Facebook share options.
➤ List
List quizzes are most like the public polls on a particular topic. Users can vote for each question/statement and compare the results in real-time.
This type of quizzes not only generates user engagement but also helps gather marketing intelligence on a product catalog.
Creating quizzes with MyThemeShop WP Quiz plugin is extremely easy.
Click on the WP Admin > WP Quiz Pro > Add New Quiz > Choose Quiz Type to create your first quiz.
You can add questions, answers, visual elements, and set rules by visiting the Content tab.
Images are key elements for quiz websites. You can download royalty-free images from stock photo sites or design your images in Canva.
Please note that, in most cases, online quizzes have less text and more visual elements that may hurt your SEO score and AdSense approval for the reason of thin content.
By adding the supporting content with each quiz, you can eliminate this issue.
Luckily, the WP Quiz plugin allows adding quiz descriptions that serve your purpose. Or, you can embed quizzes in the relevant blog posts.
The Styling tab enables you to change the quiz skin, question layout, font color, and background color.
You'll find the more features under the Settings tabs, including the share buttons, auto-scroll, quiz embed code, lead generation, and monetization options.
8. Drive Traffic to Your Quiz Website
Traffic generation is a crucial step in the success of quiz websites.
The ad-monetized quiz websites require huge traffic to generate significant revenue.
On the flip side, affiliate or product recommendation quiz sites need comparatively less but highly targeted traffic.
Social media is one of the major sources of traffic for quiz websites.
While spamming social media groups may seem lucrative to drive quick traffic, I would not encourage you to get involved in such activities that result in short-term gains and long-term losses.
And irrespective of your promotional techniques, I recommend using the vanity domain instead of your primary domain, especially for social sharing.
SEO, push notifications, email marketing, and creative marketing are a few other traffic generation strategies for a quiz site.
Affiliate marketers and e-commerce sites may spend some money on advertising to drive targeted traffic, and later retarget them to improve the revenue.
Bonus Tips:
➤ Find niche-relevant subreddits and drive targeted traffic by participating in the discussions.
➤ Use visual social media platforms such as Instagram and Pinterest to drive engagement.
You can use clickbait titles on your social media posts, but don't mislead users. Otherwise, they will instantly leave your site resulting in a higher bounce rate.
➤ Leverage the Story features available on Instagram, Facebook, and YouTube to share new quizzes.
➤ Sponsor or partner with a social influencer who has high post engagement to generate additional traffic.
9. Monetize Your Quiz Website
Monetizing a quiz website is the tricky part, and you can't just create a quiz and earn money easily.
I have shared the top 3 monetization strategies for quiz websites.
➤ Ads
Most ad networks require at least some traffic before they start displaying ads on your site.
A few ad networks may check if your site has enough content without errors such as wrong information, grammatical errors, spelling mistakes, and copied/spun content.
Also, look for the design errors, misplaced widgets, broken links, and most importantly site speed.
If you think everything is working properly and your site fulfills the minimum traffic requirements, sign up for your favorite ad network.
You'll surely get an approval.
Get ad code and place it on the prominent places to achieve the maximum ad clicks and impressions.
You can test multiple ad positions or display ads after every nth question to achieve a better ad performance.
➤ Affiliate Marketing/Product Recommendation
Affiliate and e-commerce sites can create quizzes with a set of relevant questions and finally recommend the pre-selected products.
Don't forget to enable lead generation option available in the WP Quiz Pro.
Currently, this plugin supports four email marketing services, including Mailchimp, Aweber, GetResponse, and ConvertKit.
Unlike ad-monetized quiz websites, affiliate sites generate more revenue per user.
➤ Educational/Pay to Play Quizzes
Educational institutes/professionals can make money with quizzes by asking their students to pay for playing the quizzes.
Students who want to test their knowledge can easily pay a one-time or subscription fee to play the educational quizzes. E.g., Science quizzes, Maths quizzes, History quizzes.
MyThemeShop WP Quiz plugin comes with built-in PayPal integration, which is helpful for non-techies.
10. Analyze and Improve
It does not matter which monetization method you've implemented, website analytics is a crucial step for understanding and improving your website traffic, leads, and revenue.
You can easily find the top-performing quizzes by visiting your Google Analytics account.
MyThemeShop WP Quiz plugin offers Google Analytics integration that you can access under the Plugin's Settings menu.
For an in-depth analysis, you can use Google's Campaign URL Builder tool or third-party tracking software.
Google PageSpeed Insights and Semrush are a couple more tools to analyze your quiz website's site speed and SEO performance, respectively. 
Conclusion
I've tried my best to answer the how to create a quiz website in WordPress and make money.
The process may seem exciting to a few people, while others may find it boring and not worth their time.
I can't guarantee you the traffic and revenue because it's purely on how much you've understood the process and the amount of active effort you put in it.
However, by putting this method in action, you can easily generate $10 a day.
Eventually, you can grow this site into $1K per month passive income, and that's possible.
Thanks for reading till the end, and I hope you liked this article.
Please share this post with your friends so that more people can benefit from it.