Affiliate Disclosure: I publish various content marketing strategies, online business ideas, blogging tutorials, review articles, and discount offers on my blog. My content may contain some affiliate links for products/services I use, love, and recommend. If you take action (i.e., subscribe or make a purchase) after clicking one of my affiliate links, I'll earn an affiliate commission at no additional cost to you. It helps me in creating more helpful content like this.
ClickWhale Review: Introduction
Amidst today's dynamic digital marketing landscape, affiliate marketing has proven to be a key monetization strategy for online content creators and affiliate marketers alike. Due to the popularity of WordPress among marketers, robust affiliate manager plugins are in high demand.
ClickWhale enters the picture here.
Despite being relatively new, it has emerged as one of the most competitive options available today.
This plugin makes WordPress affiliate link management an absolute breeze. By combining multiple features into one easy-to-use tool, ClickWhale streamlines the marketing process.
You can shorten, cloak, organize, and track your affiliate links, view reports, and more with just a few clicks. Although its interface is easy to use, it comes with extensive data and customization options. A detailed analytics report provides insight into the top-performing campaigns and affiliates.
Granular controls allow you to experiment with different approaches based on your target audience. Additionally, ClickWhale's automation features help you accomplish several tasks and save time.
ClickWhale is an excellent tool for bloggers, affiliate marketers, or content creators who want to monetize their sites or increase their affiliate commissions.
Staying ahead in the competitive affiliate marketing world requires sophisticated tools that simplify and enhance your efforts. With its robust feature set and seamless WordPress integration, ClickWhale ticks all the boxes.
Equip yourself for affiliate success with the best affiliate link manager plugin.
ClickWhale's Key Features
Experience the pinnacle of effective link management with ClickWhale, a WordPress plugin meticulously crafted to elevate your affiliate marketing experience. Discover a comprehensive suite of cutting-edge features tailored to streamline and optimize your link management endeavors.
Here are some of the standout features that set ClickWhale apart:
A Powerful WordPress Link Manager
If you are looking for an advanced and powerful WordPress link manager, you should check out ClickWhale. This tool allows you to create easy-to-read links, categorize them, track them, and analyze them properly.
For link management, it includes several handy features, including:
1. Create Short and Branded URLs
With ClickWhale, you can create short and memorable URLs that look more trustworthy.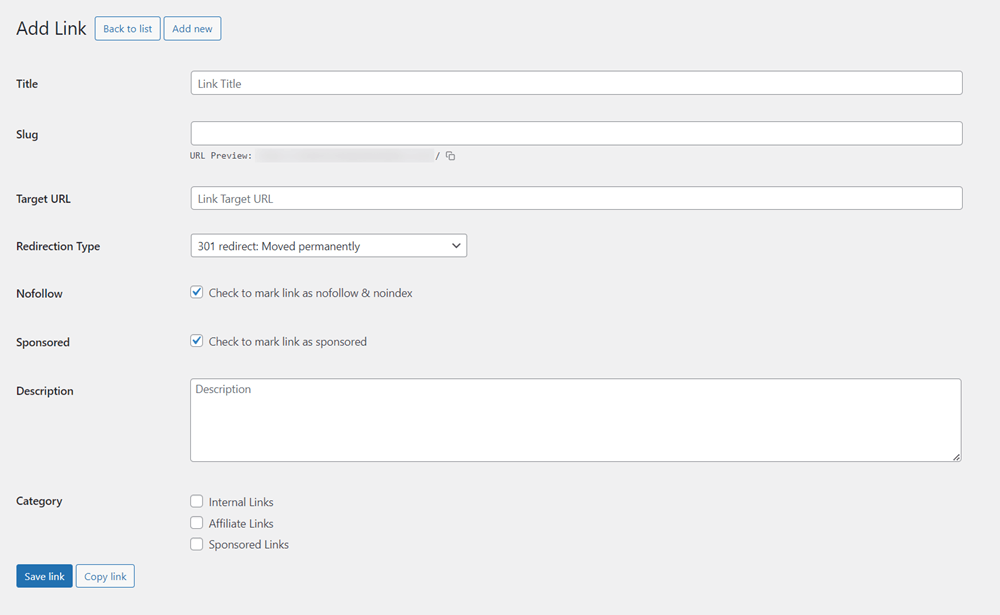 You can customize the URL slugs, choose different link types, set redirection options, organize your links into categories, and add UTM parameters to track your campaigns.
2. Import Your Links From Other Plugins
You can import your existing links to ClickWhale and migrate any crucial fields if you've previously used other WordPress plugins, such as Pretty Links. In this way, you can save time and prevent accidental data loss.
Moreover, the tool enables you to import links to your site from a CSV file. In the import process, you will have the option of mapping columns and editing fields.
3. Analyze Your Links Performance
ClickWhale offers detailed analytics for your links so you can identify which ones perform well and which ones could benefit from improvement.
You can see how many clicks your links receive, where they come from, and how they affect your conversions. This information will help you focus on the best content, tailor it to your audience, and tailor your marketing strategy accordingly.
Revamp Your Online Presence with Link Pages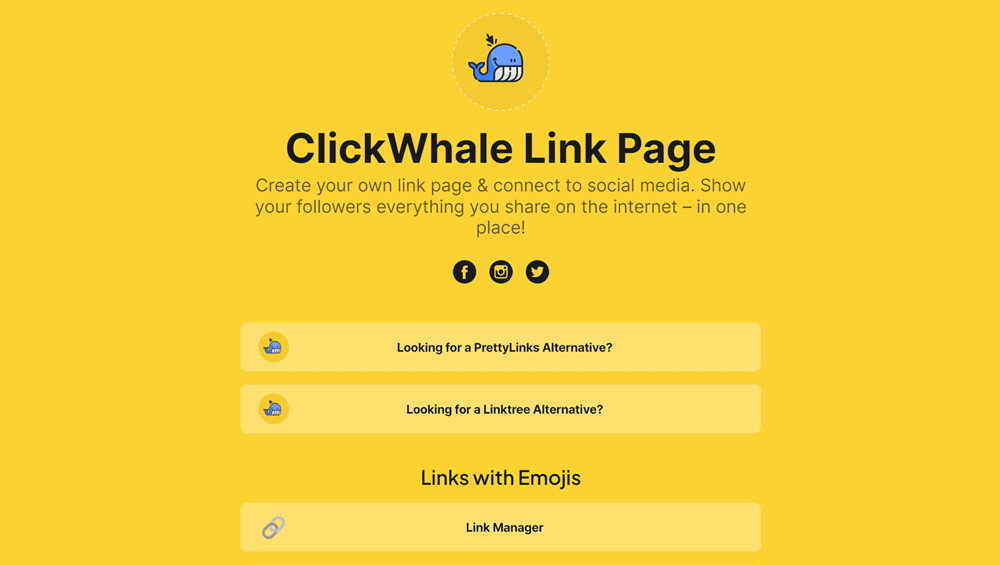 Link Pages enable you to share and update your favorite content seamlessly! With your personalized Link Page, you can connect your social media accounts and display all your hottest content in one place for your followers.
1. Influencers Love Link Pages
By creating link pages, you allow interested users to follow you across other social media platforms, thereby increasing traffic.
Analyzing link click statistics enables you to tweak your content for maximum impact. As a result, you can promote relevant affiliate offers or collaborate with the right brands.
2. Professional Link Pages for Your Company
Often, companies struggle to communicate their complex offerings and messages. ClickWhale's user-friendly Link Pages facilitate companies in delivering a clear statement concisely every time.
With Link Pages aligned to the brand, you can boost sales and profits in no time.
3. Add All the Links You Desire
You can include links to anything you wish – from products you sell to videos or podcasts you've created – to showcase a comprehensive collection to your followers.
Moreover, ClickWhale's pro plans allow you to automatically display your latest blog post feed directly on your Link Pages for extended reach and engagement. You can also choose to show only specific categories.
4. Branded Link Pages for Enhanced Trust
Most social media link management services offer a subdomain to display your link pages.
However, you can integrate your Link Page directly into your domain for enhanced trust and improved branding.
For example: https://successpixel.com/links/
Later, you can personalize it to resonate with your unique brand and consolidate all your products, services, or affiliate links in one place for easy access.
Setting up Your Free Link Page
Setting up Link Pages is quick and easy, as described below.
Step 1: Install Plugin
You can easily install the ClickWhale plugin on your WordPress site, regardless of whether you use a free or premium version! You can only have one link page and ten links in the free version.
Step 2: Create Links
You can create tailored links for your brand with just a few clicks. Navigate to WP Admin > ClickWhale > Link Pages and add whatever content resonates with your audience. The tool comes with a drag-and-drop builder for easy customization.
Step 3: Customize Link Pages
Your Link Pages should reflect your brand's personality. You can assign branded colors and logos and customize them to align perfectly with your unique style.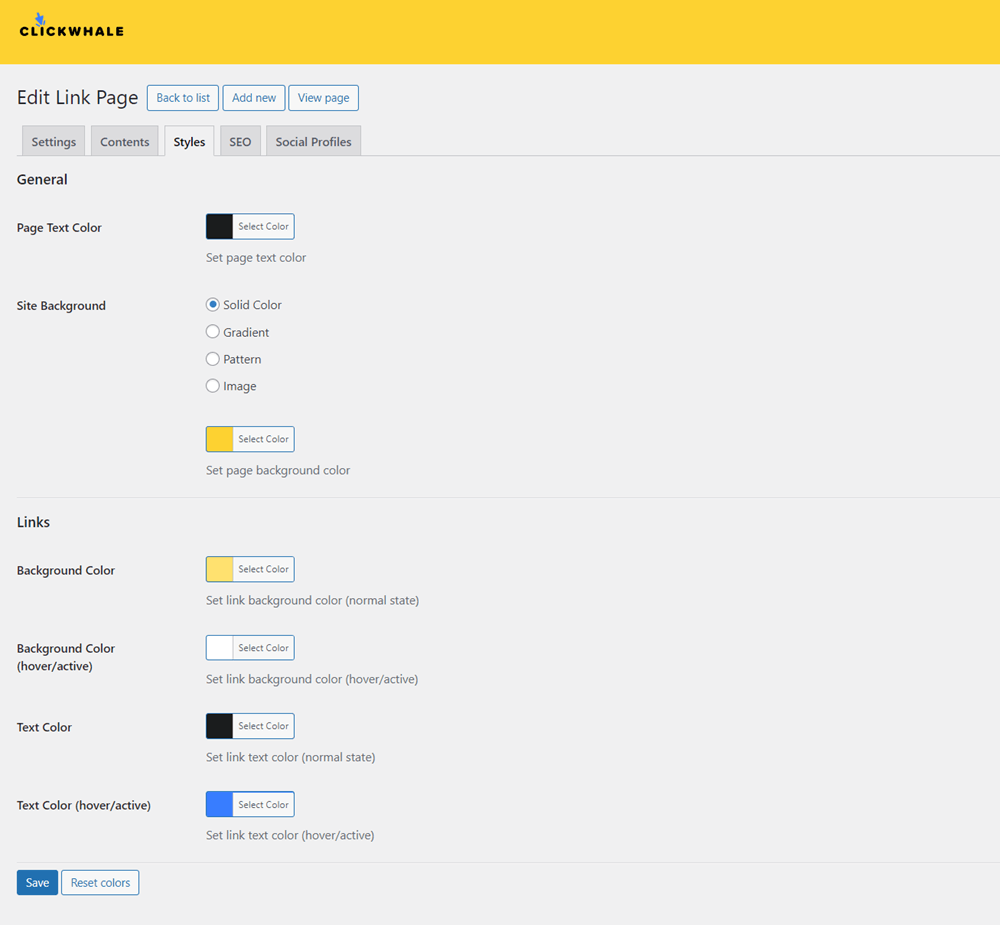 Pro versions allow you to add branded backgrounds, images, patterns, or gradients and customize colors & fonts to give your Link Pages a truly unique online appearance.
Moreover, you can set SEO and Open Graph options for better visibility in search engines.
Step 4: Share Your Content
ClickWhale Link Page lets you share your content with your audience in a fun and engaging way. You can connect with your followers by showcasing everything you create, sell, or organize online through your Link Page.
Overall, Link Page is a game-changer for brands and influencers who want to stay ahead of the competition on social media.
Effortless Tracking Code Management
ClickWhale enables you to manage tracking codes on your WordPress sites seamlessly.
Its innovative solution lets you effortlessly embed tracking codes or code snippets directly onto your website—no need to dive into the complexities of your website's code or install additional plugins.
1. Add Your Codes and Code Snippets
Place all the codes and snippets you need on your WordPress site with ClickWhale without installing any extra plugins.
For example, Google Analytics, Facebook Pixel, and Google Conversion Tracking codes
2. Specify Where to Output the Code Snippet
You can choose where your code should be output. Select whether you want the code to run across the entire website, in all posts, or only on specific pages.
3. Exclude User Roles
ClickWhale lets you establish user roles in settings to control who can execute code snippets on your website.
4. Conversion Tracking
You can easily place conversion tracking codes on your WooCommerce or Easy Digital Downloads stores to track performance. Only ClickWhale Pro users have access to this feature.
ClickWhale Pricing Plans
Besides its free version, ClickWhale offers three premium pricing options based on the number of WordPress websites you want to install the plugin on.
See below for more information on ClickWhale pricing.
1. ClickWhale Free
You can download ClickWhale for free from the official WordPress plugin library.
The free version offers a flexible link manager to create and manage links with ease, apply SEO settings to links, place or share links anywhere you want, and monitor the link clicks with detailed click analytics.
Additionally, you can create custom link pages to share your content or promote your products/affiliate marketing offers on social media platforms. Social media link management tools like Linktree generally do not allow free plan users to use custom domains. That's not an issue with ClickWhale.
Another feature of the plugin is the ability to add third-party tracking codes and scripts to your website through the ClickWhale interface. No additional plugins are required to achieve this.
As you already know, these features would easily cost a few dollars per month, but ClickWhale provides them for free. That's cool.
2. ClickWhale Premium Plans
The free version is packed with a lot of essential features. However, pro users who need advanced functions, detailed reports, and more customization options can upgrade to ClickWhale's premium plans.
Don't worry! ClickWhale offers a 30-day money-back guarantee, so you can try the service risk-free before committing.
Below, you will find detailed information about each plan.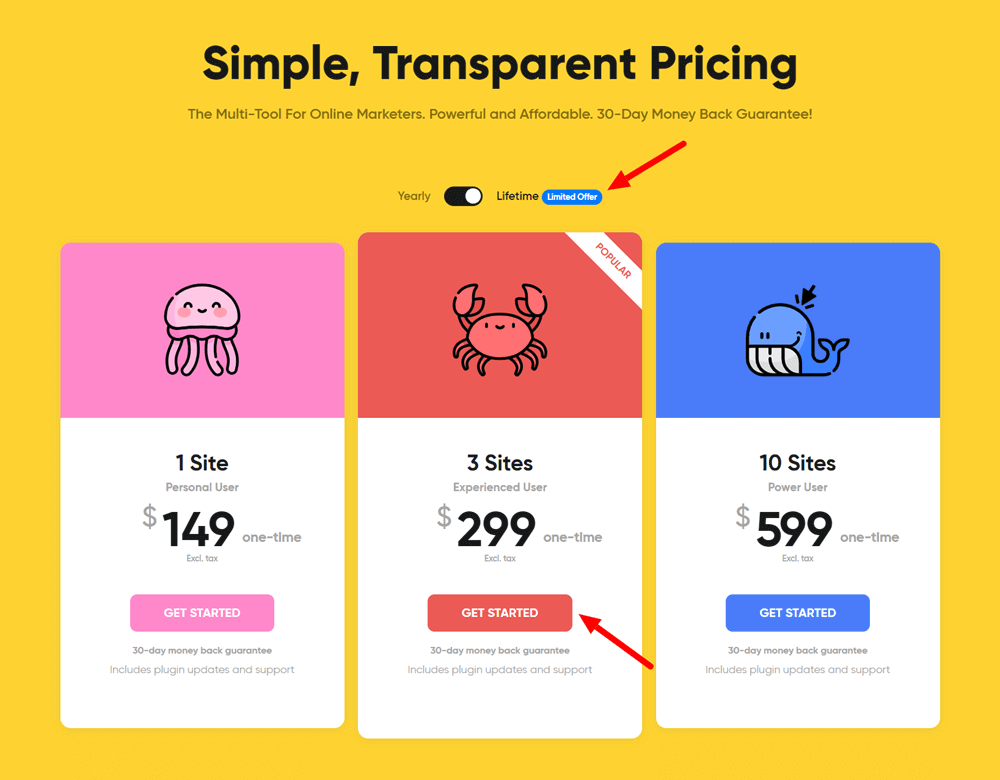 1-Site Plan
The plan is suitable for personal websites and includes one-year plugin updates and support. It usually costs $49/year. However, for a limited time, you can buy a lifetime subscription for only $149.
3 Sites Plan
The plan is suitable for experienced users. It costs $99/year and includes one-year plugin updates and technical support. However, for a limited time, you can purchase a lifetime subscription for only $299.
10 Sites Plan
ClickWhale's 10 Sites plan is perfect for power users managing up to 10 affiliate websites. It usually costs $199/year and includes one-year plugin updates and support. However, for a limited time, you can buy a lifetime subscription for only $599.
Pros of ClickWhale
With ClickWhale, users can enjoy the following benefits:
The plugin lets you organize all links in one place for quick access and hassle-free link management.
Branded (customized) and shortened links are more appealing to visitors and can result in higher click-through rates.
You can add previously created links to your link pages. Adding custom links, pages, posts, and more is also possible. Customize the link titles or change their order via the drag-and-drop interface.
A single plugin combines multiple features, including affiliate link management, internal link management, high-converting link pages, and tracking code insertion, eliminating the need to install multiple plugins.
Specify which user roles to track by setting Exclude User Roles.
Quick migration from other link management plugins, such as Pretty Link and CSV file upload for link import.
Lifetime plans are available (only for a limited time)
Cons of ClickWhale
Even though the plugin provides many necessary features, it still has room for improvement.
As it is a new product, we cannot predict its future development. Still, the company should continue developing the plugin since it has tremendous growth potential, just like Rank Math SEO.
The free version provides limited features.
ClickWhale Review: Conclusion
As the digital landscape evolves, implementing effective marketing strategies and using the right tools are essential. ClickWhale equips you with an all-in-one solution to simplify link management, create high-converting link pages, and deploy site-wide tracking codes with ease.
With its intuitive interface and seamless WordPress integration, you can elevate your affiliate marketing effort and online presence no matter where you are in the learning curve. Detailed analytics provide the insight you need to refine your strategies continuously.
Whether you want to boost conversions, strengthen SEO, or streamline your workflow, ClickWhale has you covered.
Best of all, the plugin is 100% free with essential features and offers premium upgrades for advanced users. Now is the time to step up your WordPress game.
Sign up for ClickWhale and unleash your true affiliate marketing potential.