Affiliate Disclosure: I publish various content marketing strategies, online business ideas, blogging tutorials, review articles, and discount offers on my blog. My content may contain some affiliate links for products/services I use, love, and recommend. If you take action (i.e., subscribe or make a purchase) after clicking one of my affiliate links, I'll earn an affiliate commission at no additional cost to you. It helps me in creating more helpful content like this.
Divi visual builder v4.0 a.k.a. Divi 4.0 has just arrived.
I know you were eagerly waiting for the release of a brand new version of Divi page builder to incorporate more advanced features to your website.
I can't resist myself celebrating this launch event and want you to join me.
Elegant Themes is developing WordPress themes and plugins for more than a decade.
Divi visual builder is one of the most popular products Elegant Themes ever developed.
Since the initial launch of the Divi page builder, it has undergone many changes to fulfill customers' design requirements.
Finally, Elegant Themes has launched the most anticipated Divi 4.0, and here is the first impression of the new version.
What's New in Divi 4.0
If you are following the Elegant Themes Blog, then you may have probably seen the Divi sneak peek posts and short videos.
The Divi development team is adding new features almost every week. These features may seem a slight improvement over the previous version, but actually, they are beneficial for increasing workflow efficiency and overall design productivity.
Let's see what's new coming in Divi visual builder.
1. Custom Theme Builder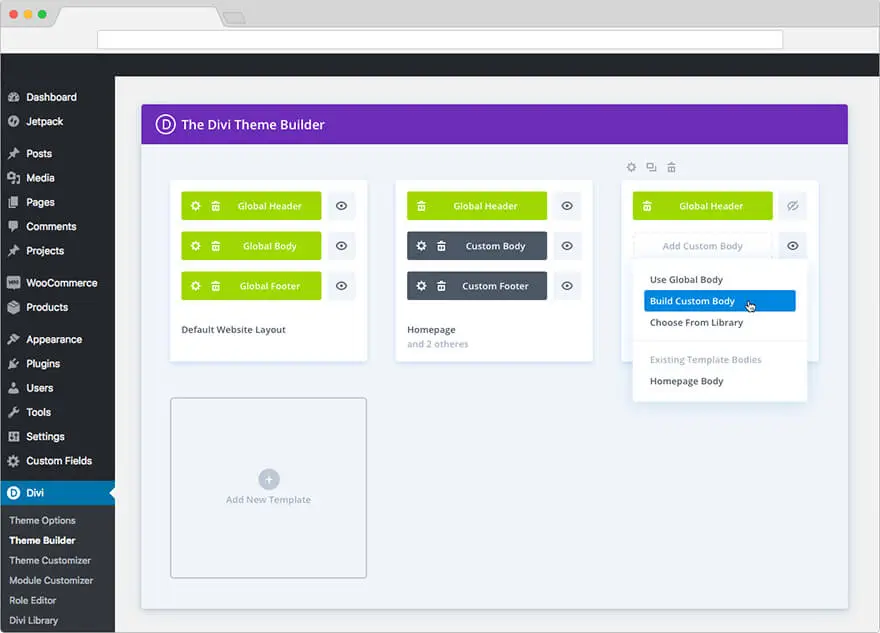 Until the previous version of Divi page builder, its design capabilities were restricted to the page content only.
However, the upcoming Divi 4.0 will introduce a custom theme builder feature.
With Divi Theme builder, you can customize every part of your WordPress website to create a pixel-perfect design.
2. Custom Headers and Footers
People who are using Elementor to design their websites will easily understand the benefits of custom headers and footers.
Elegant Themes is adding the same feature to the new version of Divi visual builder.
You can create a fully customized header and footer using Divi Theme Builder.
With the amazing modules and customization options in Divi Theme Builder, you can extend the design possibilities to endless numbers.
3. Site-Wide Post Templates
An organized site structure attracts more people and lets them stay for a longer time on your website.
Do you want to control how the blog post and product pages are structured across the entire website?
Divi 4.0 will allow you to create site-wide templates for posts and product pages to offer a streamlined user experience.
Instead of editing each post manually, you can customize the appearance of each post on your site at once.
Now, think about how much time you can save designing a large, authority blog or an e-commerce website.
4. Dynamic Content to Divi
This feature allows you to convert any Divi module into a dynamic design element that pulls the dynamic content within it directly from the database.
It enables Divi dynamic modules to update themselves as soon as the connected content changes, allowing you to build fully dynamic post templates.
The new version of Divi Visual Builder also supports custom field data.
If you have created your custom fields or registered a new custom field via a WordPress plugin like ACF, then Divi Builder and the connected module will update itself automatically.
It allows you to control any part of your website and the relevant content in it without opening the Divi Visual Builder.
5. Stunning WooCommerce Builder
Are you bored with the default WooCommerce layouts and want to create attractive designs for your online storefront?
Divi is launching the most anticipated WooCommece Builder with a complete set of customizable WooCommece Modules.
This feature transforms a standard product template into a collection of Divi WooCommerce Modules. It means that you'll have full control over an individual product page design.
Product pages also come with a couple of new template options, including a Sidebar and Full-Width Page.
Divi Visual Builder 4.0 Review: Final Thoughts
After months of development and testing efforts, Elegant Themes has launched Divi 4.0, a new version of the Divi visual builder for all end users.
Divi Theme Builder, dynamic content, and custom post types are going to change the way you used to design WordPress websites.
If you are excited about this release, please let me know in the comment section. Meanwhile, you can enter the Divi 4.0 launch giveaway to get a chance to win a brand new 15-inch MacBook Pro.
You May Also Like
Important
Some of the images and videos in this blog post are taken from Elegant Themes for representation purposes only.
Divi 4.0 - The First Impression

Name: Divi Visual Builder
Description: Divi 4.0 is a powerful drag and drop visual page builder for WordPress sites. Unleash the true power of WordPress by pairing it with one of the most loved visual builder plugins.
Offer price: 80
Currency: USD
Operating System: WordPress
Application Category: WordPress Plugins
Author: Ankit Main
Performance

Design

Pricing

Support
Comments Rating
( reviews)