Affiliate Disclosure: I publish various content marketing strategies, online business ideas, blogging tutorials, review articles, and discount offers on my blog. My content may contain some affiliate links for products/services I use, love, and recommend. If you take action (i.e., subscribe or make a purchase) after clicking one of my affiliate links, I'll earn an affiliate commission at no additional cost to you. It helps me in creating more helpful content like this.
Are you looking for Originality.AI Free Trial 2023?
If yes, this article shares a unique Originality.ai Free Trial link, offering you 75 free AI content detection credits.
To take advantage of these credits, install the Originality.ai Google Chrome extension.
The free credits will help determine if Originality.ai is a reliable AI content detector.
Suppose you find the tool helpful and continue using it after the free trial period. If such a case, you can use the exclusive coupon code: successpixel100 to receive 2000 free credits (equivalent to 200,000 words scanned) on your first purchase.
Let's explore how to activate the Originality.ai trial and get complimentary Originality.AI credits.
How to Activate the Originality AI Free Trial?
Simply follow the step-by-step guide to receive 75 free Originality.ai credits when you sign up for a new account:
Step 1: Click this exclusive link to visit the Originality.AI Chrome extension page, where you can get more information on how to download and install it.
Step 2: Hit the Available on the Chrome Web Store button on the landing page to install the Originality.AI Google Chrome Extension and receive 75 free trial credits to detect if AI generated the content quickly.
Step 3: You'll be redirected to the Chrome Web Store's Originality.ai Chrome extension page. Press the Add to Chrome button in front of AI Content Detector Chat GPT – Originality.AI, as indicated in the screenshot below.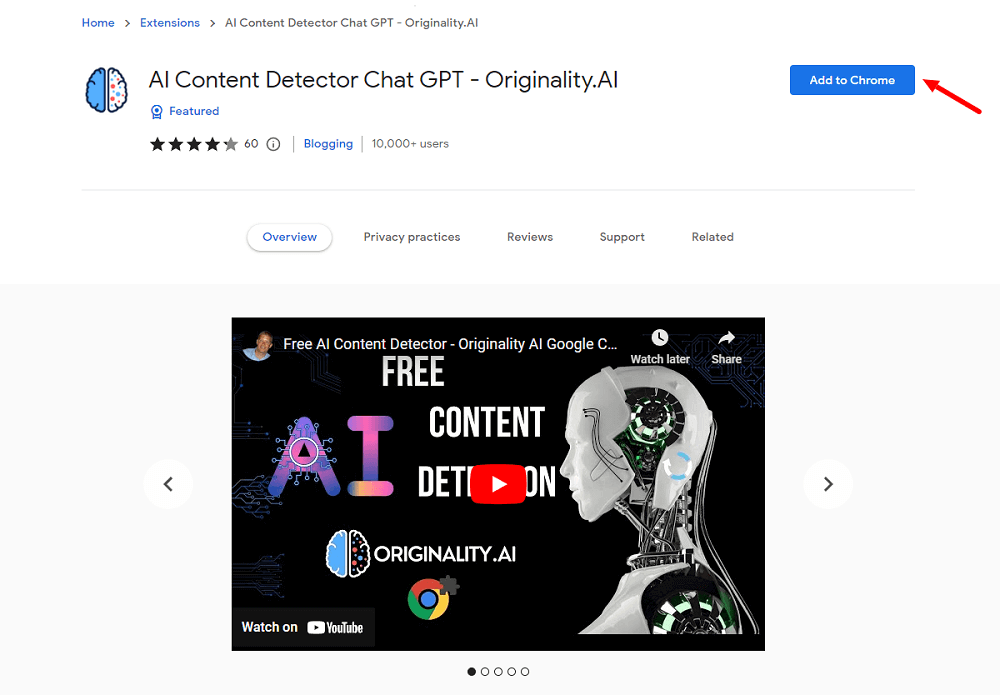 Step 4: Navigate to the extensions section at the top-right corner of your Google Chrome browser and locate the Originality icon. Click the icon to launch Originality.ai. A new window will appear on your computer screen, prompting you to create a free account. Enter your name, a valid email, and a password to register an account. Then you can utilize the Originality tool to quickly and easily detect AI-generated content.
Step 5: After confirming your account, you'll automatically receive 75 free AI detection credits for testing.
Your Originality.ai free trial is now activated. Congratulations!
Start using the AI content detection tool now with your 75 credits to ensure your content is authentic and original.
Limitations of Originality.ai Free Trial
Although the Originality.ai trial provides 75 free credits to test the software's performance, there are three limitations to bear in mind.
1. Lack of Plagiarism Detection Functionality
If you're a blogger or content creator, you're likely aware of how crucial it is to verify the originality of your work with a reliable plagiarism checker.
Unfortunately, the Originality.ai free trial may not provide this feature, leaving you to manually check for plagiarism on your own or use other plagiarism checker tools like Grammarly.
2. No Site-wide Scanning
One of the major limitations of the Originality.ai free trial is that it doesn't permit you to run site-wide plagiarism or AI content scans, a feature exclusively available to paying users.
In other words, while you can still check individual articles or marketing copies for AI content, the functionality to scan an entire website is unavailable.
3. No Premium Support
When using the free trial version, you will not receive premium support from the Originality.ai team, which is only available for paid users.
Why You Should Upgrade to Originality.ai Premium
Below are the key reasons you should consider upgrading to Originality.AI's premium version.
Don't worry! I have an exclusive coupon code that offers a massive 2000 free AI content detection credits (~2,00,000 words checked) for a limited time.
Now let's explore the premium features of Originality AI.
1. AI Content Detection (Content Scan)
Since ChatGPT's launch on November 30th, 2022, it has become a go-to AI content writing assistant for numerous bloggers and content creators to pen their articles.
So if you're outsourcing your content writing work and expecting high-quality human-written content, it's vital to ensure that the content provided is genuine and not produced using AI content generation tools like ChatGPT or Jasper.
Earlier, there was no precise tool to determine if the content was generated by AI or not. Thanks for the request! Here's the rewritten text:
However, Originality.ai helps you effortlessly detect and verify whether writers are generating original content.
Originality.ai's advanced AI detection algorithm identifies if the content was produced using GPT-3, ChatGPT, GPT-3.5 (DaVinci-003), or even the more advanced GPT-4.
To use this tool, you only need to select the text, right-click with your mouse, and choose the Scan with ORIGINALITY.AI option.
The tool will scan the content and inform you whether AI generates it.
Having tested the tool on a few ChatGPT-generated content pieces, I can confirm that Originality.ai can accurately detect any AI-generated content within your writing.
2. Full Site Scanning
Originality.ai is an innovative AI detection software solution that provides users with a powerful site-wide scanning feature to identify AI-generated content or potential plagiarism instances.
The software boasts advanced algorithms that can quickly analyze large volumes of text and identify any possible cases of plagiarism or artificial intelligence-generated content.
As a result, users can maintain their work's integrity and originality while protecting against potential legal or ethical issues.
The tool can scan up to 1,000 pages simultaneously, eliminating the need to manually check each page.
This feature is helpful for those who want to purchase websites and ensure that the content is not written using an AI content generator. Similarly, SEO agencies that outsource content in bulk for marketing purposes can significantly benefit from Originality.ai's Full-site Scanning feature.
3. Plagiarism Detection
Originality.ai's Plagiarism Checking functionality helps you prevent your content from being flagged by search engines and software for potential plagiarism issues. The functionality is highly user-friendly and delivers exceptionally accurate results.
To access the tool, log in to your Originality.AI account, go to the Content Scan tool, and paste the text you want to check for plagiarism. Then, select the Check Plagiarism option and click the Scan Now button.
The tool will thoroughly scan your content and display the results.
So you can ensure that your content is original and free from copyright violations.
4. Team Collaboration
Originality.ai's effortless team collaboration feature ensures your content's originality and relevance by allowing you to add members to your Originality.ai account. In addition, you can assign different roles based on the workflow and scope of the project (coming soon).
The best thing is that you can invite unlimited team members to check the quality of your content.
As a result, you can save valuable time that would otherwise be spent on manual quality control. Instead, you can focus on driving your business forward.
Originality AI Pricing: How Much You Need To Pay After the Free Trial?
Originality.ai offers affordable pricing plans starting at just $0.01 per credit. Each credit allows you to scan up to 100 words, and you can purchase 2000 credits for just $20.
Content marketing agencies or individuals with high content volume can buy up to 100K credits by paying $1000.
I have an exclusive Originality AI coupon code SuccessPixel100 that offers 2000 free credits on your initial purchase.
So, grab this opportunity to try one of the best AI content detection software and ensure your content is authentic and original.
Below are the various Originality AI pricing options:
2000 credits for $20
5000 credits for $50
10,000 credits for $100
25,000 credits for $250
50,000 credits for $500
100K credits for $1000
Pick a plan that suits your project needs and use the software seamlessly.
Originality.AI Free Trial: FAQs
What is Originality.AI?
Originality.AI is an innovative artificial intelligence (AI) tool that can accurately detect content produced by GPT-3, ChatGPT, GPT-3.5 (DaVinci-003), GPT-4, and more.
How can I get the Originality.AI Free Trial?
Installing the Originality AI Chrome extension will give you 75 free credits for testing purposes (with limited features). Once your trial credits run out, you can get 2000 free credits using the exclusive Originality AI coupon code successpixel100 for your purchase.
Is Originality AI free?
Originality AI is not free software. Originality AI pricing starts at $0.01 per credit. However, you can try it for free by following the instructions mentioned in this article.
Can I get a discount on Originality AI purchases after the free trial?
Yes, after the 75 free trial credits run out, you can still get 2000 free credits by using the Originality AI coupon code successpixel100 for your purchase. These credits allow you to run AI content detection or plagiarism scans for approximately 2,00,000 words of content.
Is Originality AI accurate?
Originality AI accurately detects content produced by popular AI language models like GPT-3, ChatGPT, GPT-3.5 (DaVinci-003), and the latest GPT-4. For example, the company claims 99% accuracy on the recently launched GPT-4.
Originality AI Free Trial 2023: Summary
Originality.AI is an exceptional and robust software application that can assist you in identifying content that has been produced with the aid of artificial intelligence tools, such as ChatGPT, Jasper.ai, or Copy.ai.
While installing the Originality.AI Chrome extension offers 75 free credits, you will receive 2000 free credits (equivalent to 2,00,000 words scanned) using the coupon code successpixel100.
It unlocks many advanced features such as Content Scan, Full Site Scanning, Plagiarism Check, and more.
By activating the Originality AI Free Trial, you can guarantee your content is authentic and unique. So grab this opportunity to test the capabilities of one of the most powerful AI detection software and ensure that your work meets the highest standards of originality.
If you've any further questions or concerns about the Originality.AI trial, please feel free to contact me by leaving a comment in the section below. I will respond promptly and provide you with all the information you need.