Affiliate Disclosure: I publish various content marketing strategies, online business ideas, blogging tutorials, review articles, and discount offers on my blog. My content may contain some affiliate links for products/services I use, love, and recommend. If you take action (i.e., subscribe or make a purchase) after clicking one of my affiliate links, I'll earn an affiliate commission at no additional cost to you. It helps me in creating more helpful content like this.
Copymatic is an excellent option when you are looking for versatile, cost-effective, and easy-to-use AI writing software.
This Copymatic review covers every aspect of this product, including its features, pricing, pros and cons, and potential alternatives.
What is Copymatic: Overview
Copymatic.ai is an AI-based writing assistant that uses GPT 3 to generate human-like content in seconds.
I recently tried out Copymatic and was delighted with the results!
The software is easy to use and can significantly speed up content generation.
It can currently create over 70 different types of content in 28 languages.
But that's not all!
You can create a complete SEO-optimized blog post within seconds; you just need to provide a title and a focus keyword.
Copymatic Features
The software lets you create high-converting copies effortlessly thanks to its cutting-edge technology and advanced features!
You can produce unique, high-quality marketing content with zero writing skills.
In a nutshell, Copymatic simplifies copywriting.
As a result, you can generate unlimited written content for all your marketing needs, regardless of your niche.
You don't have to hire expensive copywriters and spend all day writing.
Let's look at some features that make Copymatic an outstanding purchase.
1. Unlimited Content Generation
Copymatic enables you to create unlimited content.
Whatever you need, whether it's short-form content or a full-fledged article, Copymatic can handle the project quickly and easily.
Please note that only the Copymatic Pro plan allows unlimited content generation. Starter plan users receive only 1000 content generation credits, equal to 100,000 words per month.
2. Built-in Plagiarism Checker
Copymatic includes a built-in plagiarism checker tool.
Therefore, you can ensure that all of your content is 100 original before publishing it.
Enter your text into the plagiarism checker, and Copymatic will scan billions of web pages to ensure your content is unique.
The Starter plan offers 3000 words of plagiarism detection credits, whereas the Pro plan offers 10,000 words of plagiarism detection credits.
Additional plagiarism detection credits are available for only $2 per 10000 words.
3. Rewrite suggestions
Copymatic offers several options, including Article Rewriter, Sentence Rewriter, Rewrite With Keyword, and Grammar Rewriter for rewriting text to make it more effective.
For example, Copymatic provides suggestions to clarify unclear sections of text.
Anyone who wishes to make their writing more professional will find this feature extremely helpful.
4. 70+ Content Templates
The Copymatic platform offers more than 70 different templates for content creation.
Using this software, you can easily create high-quality content for your blog, website, or even sales page.
You can request a new tool by logging into your account, even though Copymatic has tools to meet most marketing content creation needs.
5. Long-form Article Writer
One of my favorite features of Copymatic is how easy it makes writing long-form articles.
In less than a minute, you can write a 1500-word SEO-optimized article.
Simply input your content title and focus keywords, and Copymatic will automatically generate an outline, intro, and the complete article within seconds.
The feature is beneficial for producing high-quality, in-depth content for your blog or website if you're short on time or writing isn't your strong suit.
6. 25+ Language Support
Copymatic supports over 25 languages, including English, French, Spanish, German, Hindi, Russian, and Chinese (Simplified).
Copymatic's multilingual support makes it easy to create content in different languages.
Simply select the content template, your preferred language, and provide a content brief, and Copymatic will handle the rest!
This feature is extremely useful if you're marketing to an international audience or targeting a specific country.
Copymatic Pricing
Besides the free trial, Copymatic offers two pricing options, Starter and Pro.
Please refer to the following information for more details.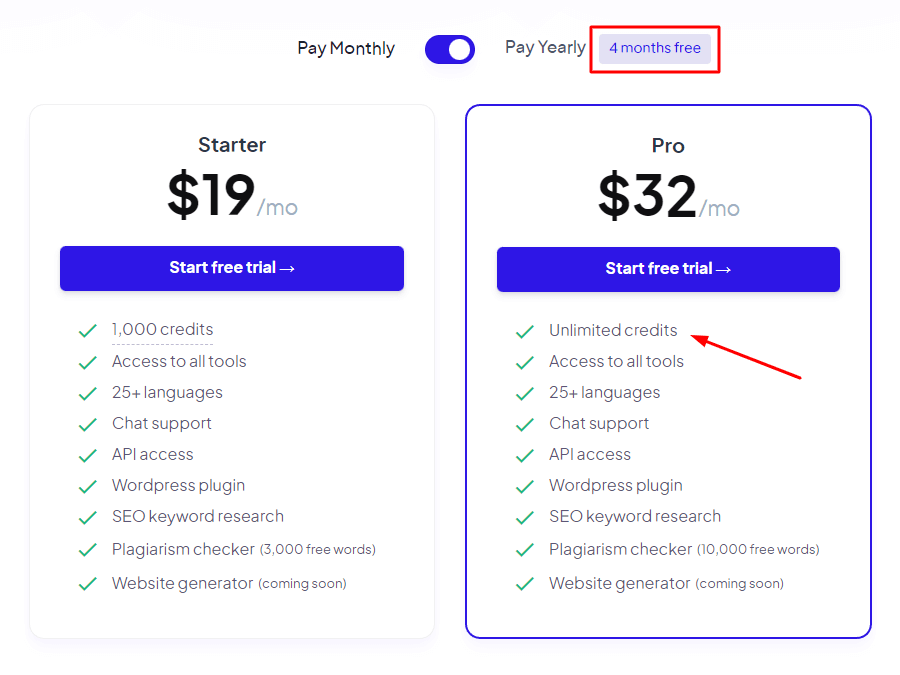 1. Starter Plan
The Copymatic Starter subscription costs $29 per month. However, you receive four months free with an annual subscription, reducing the price to $19 per month.
With the Starter plan, you'll receive 1000 credits for content creation, equivalent to 100K words/month.
Moreover, you can access all Copymatic tools, including its long-form article writer.
By utilizing Copymatic's multilingual capabilities, you can make content in 28 different languages.
On top of that, you'll get 24/7 email support and API access.
The above benefits make Copymatic's Starter package an excellent option for aspiring bloggers and content writers.
2. Pro Plan
The Copymatic Pro subscription costs $49 per month. However, you can receive four months free when you subscribe annually, reducing the cost to $32 per month.
Copymatic Pro includes unlimited content creation credits (up to 2M words per month), making it a steal deal.
Therefore, you need not be concerned about running out of content generation credits.
You'll also receive all Starter package features, including 70+ content tools, a built-in plagiarism checker, multilingual support, 24/7 email support, and API access.
Please note that the Copymatic Pro plan subscribers get unlimited content generation credits and 10,000 words of plagiarism checking credits, while Starter plan subscribers get only 1000 content generation credits and 3,000 words of plagiarism checking credits.
Who Can Benefit from Copymatic?
Copymatic lets you generate unlimited, high-converting content across the various niche.
It is possible to sell AI-generated content after a few minor edits.
You can also kickstart your own copywriting agency and leverage Copymatic to generate loads of content every single day!
In addition to the above use case, Copymatic is beneficial to:
Bloggers and vloggers
Freelance writers
SEO professionals
Social media markters
Email marketers
PPC advertisers
Content marketing agencies
Amazon sellers
Startups and SMBs
PR agencies
Web designers
Copymatic Pros and Cons
Having explored Copymatic's features, let's discuss some of the pros and cons.
Copymatic Pros:
A cost-effective AI writing software with unlimited content generation credits available with the Pro plan
Simple and intuitive interface, suitable for beginners as well
The output text is free of grammar, spelling, and structural errors
70+ content templates covering a wide range of content creation needs, regardless of the niches
Long-form article writer to create a full-fledged SEO-optimized blog post in seconds
Built-in plagiarism checker
Support for 28 languages at the moment
Dedicated WordPress plugin for seamless integration
Free trial available to all new users; it does not require a credit card to sign up
An unconditional 30-day money-back guarantee
24/7 customer service via email and live chat
Copymatic Cons:
The Starter plan comes with only 1000 content generation credits
Both Starter and Pro plans have limited plagiarism credits
Copymatic Alternatives
You can explore other alternatives if you are not convinced that Copymatic is the right choice for your needs.
Here are a few Copymatic alternatives to consider:
Jasper.ai is a powerful copywriting software that uses AI to help you generate high-quality content in minutes.
Like Copymatic, it has a user-friendly interface and many time-saving features, including 50+ content templates, Jasper recipes, and Jasper commands.
Boss Mode plan users have access to the long-form editor, SEO Mode, plagiarism checker, and a lot more features to create unique, SEO-optimized content 5x faster.
Last year, Jasper discontinued their unlimited plan.
Currently, the company offers three different pricing plans: the Starter plan ($29/month for up to 20K words), the Boss mode ($59/month for up to 50K words), and the Custom plan.
Moreover, Jasper.ai offers a free 5-day trial that allows you to generate up to 10,000 words.
Why not give it a try?
Writesonic is another next-gen AI-powered software that breaks through writer's block and generates eye-catching and attention-grabbing content quickly and easily.
It features 60+ content creation tools in 25 international languages, including English, Spanish, French, and German.
Like Copymatic.ai, Writesonic offers AI Article Writer 3.0 to produce 100% original, engaging and coherent full-length articles within minutes.
The Writesonic integrates with Semrush, WordPress.com, and WordPress.org to streamline your copywriting process.
Moreover, Writesonic is one of the most affordable AI writing assistants on the market, starting at just $10 per month.
Copymatic Review FAQs
Below you will find a few frequently asked questions (FAQs) about Copymatic.ai.
1. Is Copymatic free? 
Yes, Copymatic offers a free trial with ten credits, allowing you to access all its AI tools, including article writer, landing pages, social media posts, Google ads, emails, press releases, content rewriters, and more. You can generate approximately 1,000 words with ten credits.
2. Does Copymatic offer a discount?
Copymatic offers a 40% discount on both monthly and annual billing cycles, irrespective of your plan. Enter the coupon code 40TODAY at checkout to receive an instant 40% discount.
3. Can I use Copymatic for writing long articles?
Yes, of course! You can quickly write long-form articles by using Copymatic. Once you enter a title and focus keywords, the software generates subheadings, an intro paragraph, and the entire blog post within seconds.
4. Is the generated content original?
Some content outputs have shown signs of plagiarism, particularly long-form articles. However, you can easily detect duplicate content using a built-in plagiarism checker and rewrite it to make it original.
5. Is there a WordPress plugin available for Copymatic?
Yes, Copymatic provides a free plugin for importing Copymatic-generated content to your WordPress site.
Copymatic Review: Conclusion
Copymatic.ai is a revolutionary software to generate attention-grabbing content for unlimited niches.
It lets you create emails, landing pages, video scripts, and ad copies under countless trending categories.
You can add perfection to automatically generated content using a built-in text editor.
Overall, I am impressed with Copymatic, and I would recommend it to anyone interested in creating unique content that results in higher sales and better profits.
Why are you waiting? Try it out now!
Also Read: Copymatic Coupon Code: Grab 40% Discount Deal (Verified)

Name: Copymatic
Description: If you want to save time and produce more content for your blog in less time, Copymatic is the right choice for you. Copymatic automatically writes unique, engaging, high-quality content, from long-form blog posts or landing pages to digital ads in seconds. Plus, an annual subscription includes four months free.
Offer price: 19
Currency: USD
Operating System: Linux
Application Category: AI Copywriting Software
Author: Ankit Main
Performance

Ease of Use

Pricing

Support
Comments Rating
( reviews)