Affiliate Disclosure: I publish various content marketing strategies, online business ideas, blogging tutorials, review articles, and discount offers on my blog. My content may contain some affiliate links for products/services I use, love, and recommend. If you take action (i.e., subscribe or make a purchase) after clicking one of my affiliate links, I'll earn an affiliate commission at no additional cost to you. It helps me in creating more helpful content like this.
ConvertBox Black Friday Sale 2023: Introduction
Black Friday, the most awaited shopping extravaganza of the year, is here.
It's not just about shopping for fancy gadgets and clothing; it's also an excellent opportunity for businesses to seize incredible deals on everyday essentials like software products, web hosting services, and more.
If you're in the online marketing game, you're in for a treat. ConvertBox, a top-notch cloud-based pop-up and lead generation tool, offers exclusive lifetime deals this Black Friday.
In this article, we will delve into the world of ConvertBox, explore its exciting features, and reveal the fantastic Black Friday offers you can't afford to miss.
What is ConvertBox?
ConvertBox is a powerful and user-friendly on-site messaging tool that empowers businesses to create pop-ups, overlays, and forms with ease.
It is designed to capture leads, reduce cart abandonment, and boost conversion rates. With its intuitive interface, even those with no coding skills can create stunning pop-ups to engage and convert website visitors effectively.
ConvertBox Black Friday Deals
This Black Friday, the company is offering an unbeatable deal. For a fraction of the cost, you can get lifetime access to the ConvertBox platform.
Usually, the ConvertBox subscription costs $99/month ( $1,188/year). However, the lifetime subscription is available for only $495 during the sale window. It's a one-time investment that will pay off for years to come.
In addition to lifetime access, the company offers a quick Pro Account Upgrade at a one-time cost of $95, exclusively for Black Friday customers.
This add-on can supercharge your pop-ups and lead generation efforts, providing extended plan limits (up to 500,000 views/month and 50 sites), five sub-user logins, and allowing ConvertBox usage on clients' websites.
With such a versatile lead generation and on-site messaging tool, you'll always have an edge over your rivals.
ConvertBox Pricing Plans
ConvertBox is a popular lead generation and on-site messaging software that helps businesses capture leads and engage with website visitors. ConvertBox offers a range of pricing plans to meet the needs of different companies.
Here is an overview of ConvertBox pricing options, along with a detailed table to provide a clear breakdown of different ConvertBox plans and associated features.
ConvertBox offers ongoing pricing plans starting at $99/month ($1188 annually), currently unavailable on its official website. You must contact their sales team to purchase the monthly/annual subscription plans.
On the other hand, if you want to use ConvertBox for a longer duration and don't want to pay massive recurring subscription charges, grab the ConvertBox lifetime plan and Pro account upgrade for extended plan limits and some additional features.
You can learn more about the ConvertBox Lifetime plan and the Pro account upgrade below.
| | | |
| --- | --- | --- |
| ConvertBox Plan | ConvertBox Lifetime | ConvertBox Lifetime + Pro Account Upgrade |
| Price | $495 One-time | $590 One-time ($495+$95) |
| Monthly Views | 250,000 views/month | 500,000 views/month |
| Connected Websites | 10 | 50 |
| Sub-user Logins | NA | 5 |
| ConvertBox on Clients' Websites | NA | Yes |
| Black Friday Deal ➜ | Buy Now | Buy Now |
ConvertBox's pricing plans offer flexibility, allowing businesses to choose the plan that best aligns with their specific needs and budget.
Moreover, a risk-free 30-day money-back guarantee ensures their investment is protected.
Currently, ConvertBox supports major credit cards, pre-authorized debit, PayPal, US bank accounts, Cash App Pay, Klarna, and Alipay as payment options.
Choose the appropriate plan, complete payment, and start designing your marketing campaigns with the world's easy-to-use lead generation platform.
Why Should You Buy ConvertBox?
Increasing conversions is a high-stakes game for online businesses.
Shoppers are searching for the best deals, and you must stand out to capture their attention, thus driving them down the sales funnel.
ConvertBox can be your one-stop solution for your conversion needs, enabling you to create eye-catching pop-ups and promotional offers that make your website visitors take action.
ConvertBox Black Friday is the perfect time to get this fantastic tool at a discounted price. So grab your ConvertBox lifetime deal this holiday season and level up your marketing game.
Key Features of ConvertBox
ConvertBox is an easy-to-use marketing tool that allows you to create pop-ups, forms, and surveys to capture leads and increase sales.
Its features include an intuitive drag-and-drop editor, advanced targeting options, and advanced analytics. I've listed some of the key features below.
1. Easy-to-Use Interface
ConvertBox is designed for simplicity. You don't need any technical expertise or even basic coding skills to get started.
With its drag-and-drop form builder interface, you can create stunning pop-ups and overlays in minutes. Its user-friendly interface allows you to customize pop-ups to match your brand effortlessly.
2. Customization Options
With ConvertBox, you have complete control over the design and content of your pop-ups. You can design them according to your target audience and make them visually appealing. Customization features include fonts, colors, styling options, images, and more.
3. A/B Testing
A/B split testing is crucial for optimizing your pop-ups. ConvertBox makes it easy to create and test multiple variations of your pop-ups to find out what works best for your audience.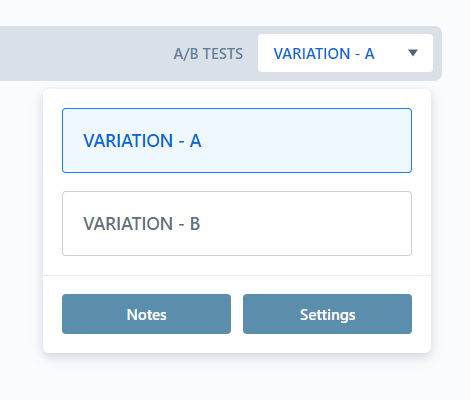 This feature can significantly enhance your conversion rates.
4. Advanced Targeting
ConvertBox offers advanced targeting options. You can display pop-ups based on user behavior, such as exit intent, time spent on the site, or specific pages visited.
These targeting options ensure that your messages are relevant and timely.
How to Get Started with ConvertBox
Here is a complete guide on how to get started with ConvertBox and create your first popup.
1. Sign Up for an Account
Getting started with Convertbox is a breeze.
Step 1: Follow this exclusive link to the ConvertBox Black Friday and Cyber Monday sales page.
Step 2: Click the "Get Your Lifetime Account" button to choose the ConvertBox lifetime plan. You'll be auto-redirected to the checkout page.
Step 3: If you're a growing brand or e-commerce business with plans for future expansions, the "Pro Account Upgrade" add-on is a must-buy.
Step 4: Then, add your contact information and payment details to finish the signup process.
You'll instantly gain access to a world of possibilities for your online marketing efforts.
2. Create Your First Popup
Once you're in, click the "New ConvertBox" button on the main screen to create your first popup.
Use the intuitive interface to customize it to your liking.
You can select templates, set targeting rules, and integrate your forms with any email marketing platform. The possibilities are endless.
Benefits of ConvertBox for Your Business
As a result of incorporating ConvertBox into your marketing strategy, you can enjoy a multitude of benefits, such as:
1. Increased Conversions
The primary goal of Convertbox is to boost your conversions.
Engaging popups and other forms of on-site messaging, displayed at the right time, can encourage visitors to take action, regardless of whether they buy something or subscribe to your newsletter.
2. Email List Growth
Building and nurturing your own email list is essential for long-term success. Convertbox can help you rapidly grow your list by capturing leads effectively.
3. Reduced Cart Abandonment
Cart abandonment is a common problem for online stores. Based on 48 cart abandonment studies, the average cart abandonment rate is 70.19%. (Source: Baymard Institute).
Convertbox can help reduce this by displaying targeted offers and reminders to customers about to leave your site.
Conclusion
ConvertBox is your secret weapon for boosting website conversions, reducing cart abandonment, and growing your email list.
With its easy-to-use interface and advanced feature set, it's a must-have tool for any online business. And, with the exclusive Black Friday deals, there's no better time to jump on board.
So, seize the opportunity before it's gone, get started with ConvertBox, and make this Black Friday your best one yet!
Common FAQs About ConvertBox
1. Is ConvertBox suitable for beginners?
Yes, ConvertBox is designed with beginners in mind. Its user-friendly interface and pre-made templates make it accessible to anyone, regardless of technical expertise.
2. Can I integrate ConvertBox with my email marketing platform?
Yes, ConvertBox offers seamless integration with popular email marketing platforms, simplifying the process of capturing and managing leads.
3. What makes ConvertBox different from other popup builders?
ConvertBox offers advanced targeting and A/B testing features, which many other popup builders lack. This allows you to design personalized and more effective popups and on-site messaging campaigns.
4. Is ConvertBox mobile-friendly?
Yes, ConvertBox popups are 100% responsive and mobile-friendly, ensuring a seamless experience for all users.
5. Can I use ConvertBox on multiple websites?
ConvertBox allows you to use it on multiple websites (up to 50), making it a versatile choice for various online projects. 
FAQs About ConvertBox Black Friday Sale 2023
1. How long will the ConvertBox Black Friday deals be available?
The Black Friday deals will be available for a limited time, so be sure to grab them while they last.
2. Can I upgrade my plan later if I start with a Black Friday deal?
Yes, you can upgrade your plan as your business grows. ConvertBox offers flexibility to accommodate your needs.
3. Is there a money-back guarantee with the Black Friday deals?
ConvertBox offers a 30-day satisfaction guarantee, ensuring you are happy with your purchase.
4. What type of support does ConvertBox provide to its users?
ConvertBox offers excellent customer support, including product tutorials, FAQs, and a responsive support team to assist you with unknown issues.
5. How do I access the ConvertBox Black Friday deals?
To access the exclusive Black Friday deals, visit this link and get started today!