Affiliate Disclosure: I publish various content marketing strategies, online business ideas, blogging tutorials, review articles, and discount offers on my blog. My content may contain some affiliate links for products/services I use, love, and recommend. If you take action (i.e., subscribe or make a purchase) after clicking one of my affiliate links, I'll earn an affiliate commission at no additional cost to you. It helps me in creating more helpful content like this.
Shopify Black Friday Deals and Discounts
If you plan to set up an e-commerce store, you can take advantage of a massive 50% discount during the Shopify Black Friday and Cyber Monday sales in 2023.
Shopify Black Friday deals offer a fantastic opportunity to save big on your subscription fees.
Shopify is an all-in-one e-commerce solution for building, growing, and managing online businesses.
1.7 million businesses worldwide use Shopify as their e-commerce partner.
For a limited time, you can subscribe to Shopify Starter for just $5/month or save 50% off any standard Shopify plan when you subscribe annually.
Besides that, you can try Shopify Basic or Starter plan for 3 months for only $1/month. That's an incredible offer considering the benefits Shopify provides.
All plans include world-class e-commerce store-building software that is easy to use, beautifully designed, and fully customizable.
You'll also get access to our award-winning 24/7 support team with less than 15 minutes of average response times.
So grab your Shopify Black Friday deal now and take your business to the next level.
This offer will not last long, so make sure you claim your discount while it lasts!
How to Activate Shopify Black Friday Deals in 2023?
Step 1: Click this special link to visit the official Shopify site.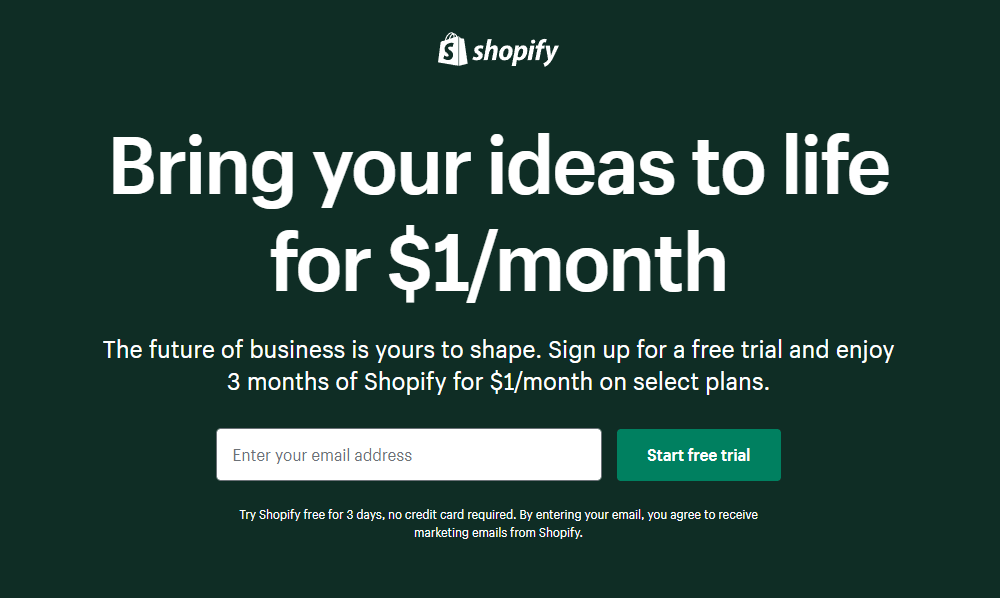 Step 2: Enter your email address to start your free trial (no credit card required).
Step 3: Follow the step-by-step onboarding process to create a new Shopify store.
Step 4: Visit your Shopify store's admin dashboard. On the following screen, you'll be prompted to select a plan.
Step 5: Pick a suitable plan for your store. However, the Shopify Advanced plan is more suitable if your sales volume is high.
The plan offers an array of impressive features, including more staff members & locations, fraud analysis, professional reports, reduced transaction fees, and many more.
Step 6: Choose a billing cycle. Choosing the annual billing cycle will give you the biggest 50% discount. That's up to a massive $1814.64 in savings.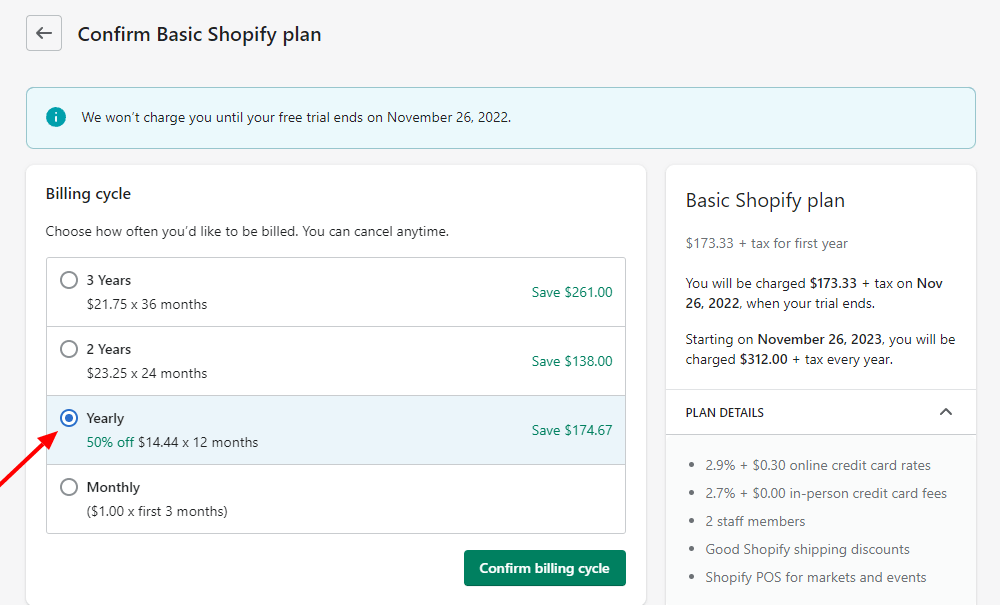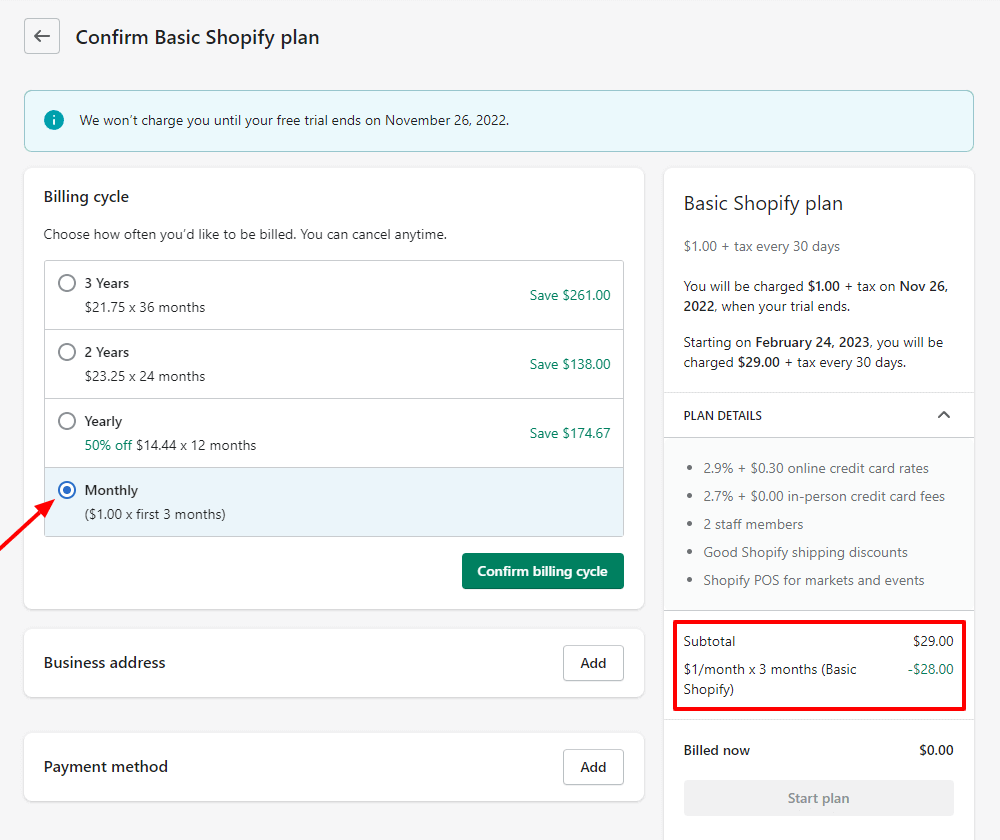 Step 7: Add a credit card or international debit card to enable automatic payment when your 3-day free Shopify trial ends.
Step 8: Finally, review your order summary and click Start Plan to continue your free trial for your selected Shopify plan.
The company won't charge you anything for the first 3 days.
During this time, you can explore the Shopify platform, learn how it works, and build a Shopify store to sell your products.
After that, you can leverage other Shopify tools to scale your e-commerce business to the next level.
Shopify Black Friday Sale 2023: Pricing Plans
Shopify is the best option if you're thinking of starting an online store.
Shopify's affordability, design flexibility, and reliability make it a favorite choice for both regular e-commerce and drop shipping businesses.
Reviewing Shopify's pricing reveals that the company offers a wide range of options to suit different types of customers.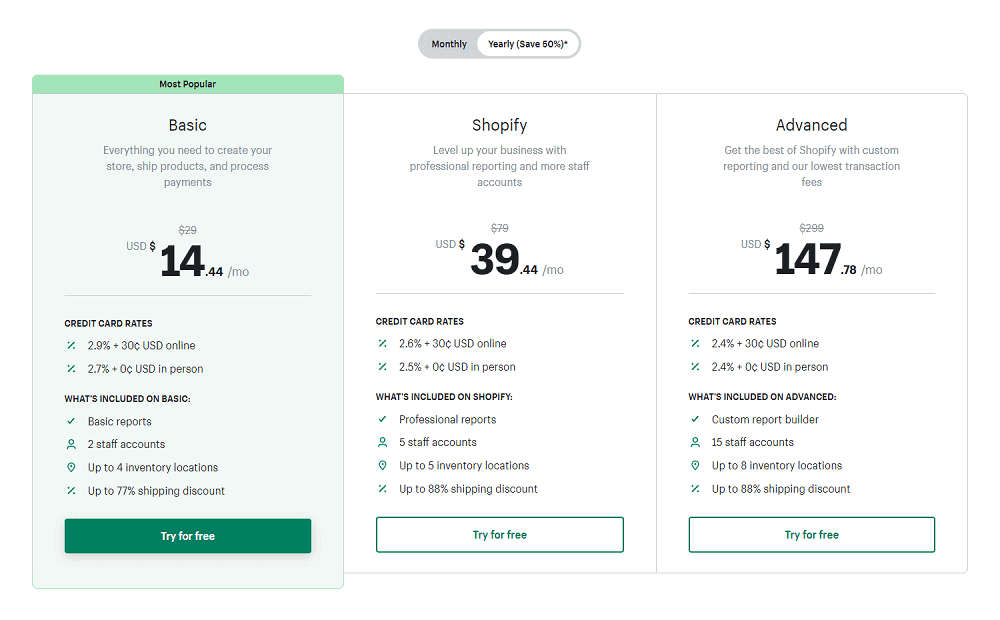 Take a quick look at Shopify's pricing plans below.
Shopify Black Friday Deals 2023: FAQs
Below are a few FAQs regarding Shopify's Black Friday deals for 2023.
Here you will find information about Shopify Black Friday discounts, the account setup, and much more.
1. What is Shopify?
Shopify is a leading e-commerce SaaS platform for online stores and retail POS (point of sale) systems. The company offers an easy-to-use e-commerce builder to assist individuals and small businesses with setting up and managing online stores without requiring any coding knowledge.
2. How much does Shopify cost?
Shopify offers a wide range of pricing options, including Shopify Lite, Basic Shopify, Shopify (Standard), Advanced Shopify, and Shopify Plus. The price for Shopify Starter starts at $5/month and goes up to thousands of dollars with Shopify Plus.
3. Are there any setup fees?
No, Shopify does not charge setup fees on any of its plans.
4. Can I change my plan later on?
Yes! You can upgrade or downgrade Shopify your plan at any time.
5. Are there any transaction fees?
Shopify Payments does not charge transaction fees. However, additional fees (up to 2%) will apply if you choose an external payment gateway.
6. Do I need a web host to set up an online store on Shopify?
No, all Shopify plans include secure, unlimited hosting, except for Shopify Lite. In addition, Shopify provides free unlimited data transfer with all plans.
7. Can I use my own domain name?
Yes. You can purchase a domain name with Shopify or use one you already own. Every Shopify store receives a free myshopify.com domain on signup. Replace it with a custom domain to give your site a more branded appearance.
8. Is Shopify PCI Compliant or PCI Certified?
Yes. The Shopify platform is certified Level 1 PCI DSS (Payment Card Industry Data Security Standard) compliant. This assures all your data and customer information is highly secure on this platform.
9. What is Shopify Plus?
Shopify Plus is a cost-effective enterprise platform with complete control over store customization, integrations, and sales flow. Get in touch with Shopify Plus support team for a custom quote if you are looking for an enterprise-class e-commerce SaaS solution.
10. What is the Shopify Black Friday deal for 2023?
The company hasn't announced any special Black Friday discount. However, you can get up to 50% off on Shopify annual plans during Black Friday and Cyber Monday.
Shopify Black Friday Sale 2023: Summary
Shopify Black Friday Sale Cyber Monday deals are now live.
During this promotion, you can get up to 50% off tri-annual plans, saving you up to a whopping $1814.64.
Shopify Lite, Basic, and Advanced plan users will receive access to the best e-commerce solution, allowing them to sell anywhere in the world.
Shopify's best-in-class performance and flexibility have already won the trust of 1.7 million users.
So, instead of spending thousands building a custom e-commerce site from scratch, you can sign up for a 3-day Shopify free trial and create a beautiful but conversion-friendly store using its easy-to-use templates and themes without any coding knowledge.
Furthermore, Shopify has a Black Friday sale where you can save up to 50% off regular monthly prices.
The offer ends on November 30th, so act fast!
Shopify Black Friday Cyber Monday Deals

Name: Shopify
Description: Shopify is a one-stop e-commerce platform to help you launch an online store quickly. More than 1.7 million businesses worldwide trust Shopify for its convenient e-commerce solutions. Shopify's Black Friday Cyber Monday deals will save you up to 50% off standard pricing if you plan to set up an online business. The deals will soon expire, so don't wait too long. Instead, act fast and save 50%.
Offer price: 5
Currency: USD
Operating System: Linux
Application Category: All-In-One E-commerce Platform
Author: Ankit Main
Peformance

Security

Ease of Use

Pricing

Support
Comments Rating
( reviews)