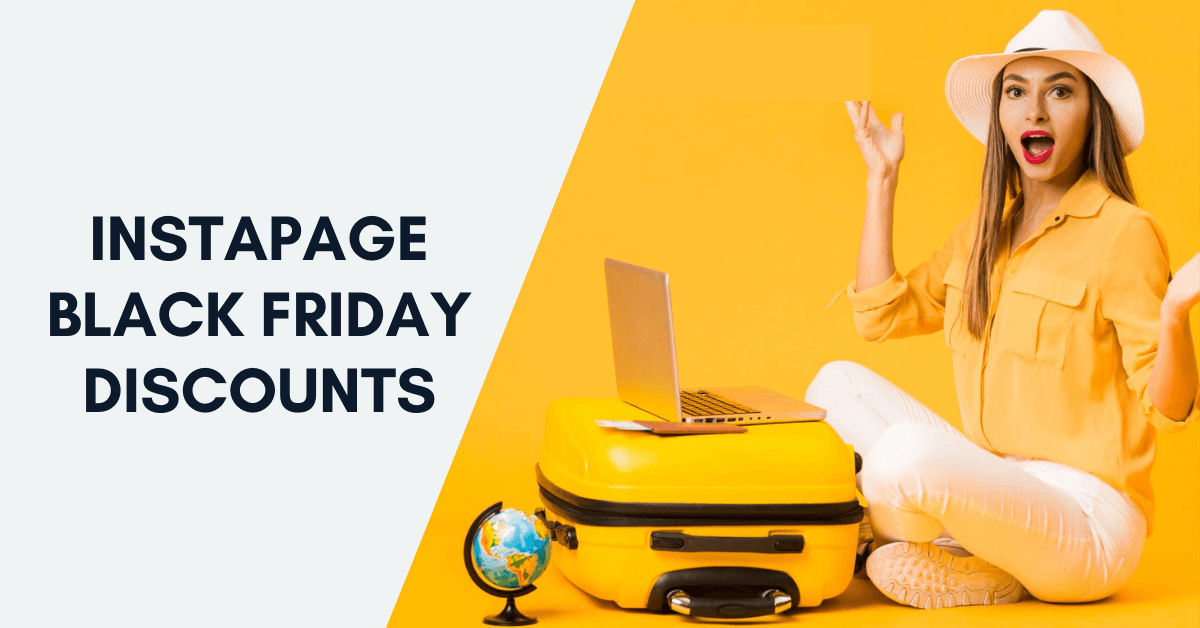 Affiliate Disclosure: I publish various content marketing strategies, online business ideas, blogging tutorials, review articles, and discount offers on my blog. My content may contain some affiliate links for products/services I use, love, and recommend. If you take action (i.e., subscribe or make a purchase) after clicking one of my affiliate links, I'll earn an affiliate commission at no additional cost to you. It helps me in creating more helpful content like this.
Instapage Black Friday Deals 2023
If you're searching for the best Instapage Black Friday deals, you're in the right place.
The Instapage Black Friday sale is now live.
The company currently offers up to a 33% LIFETIME DISCOUNT when you purchase an annual subscription, so take advantage of the special deal before it expires.
What is Instapage?
Instapage is an extremely powerful landing page builder with many innovative features for marketing teams, advertising agencies, and e-commerce businesses.
With its outstanding user experience, collaboration features, Instablocks®, AMP support, and more than 500+ layouts, Instapage stands out from the crowd.
Instapage customers have created over 4M landing pages, reaching over 4 billion unique users, and have achieved an average 400% increase in conversion.
Best of all, Instapage is on sale during Black Friday.
You can get an instant 33% off when you purchase an annual subscription.
Click on the following button to receive your discount.
How to Activate Instapage Black Friday and Cyber Monday Deals 2023?
Here are the simple steps you need to follow to take advantage of this deal.
Step 1: First, click this unique link to visit Instapage Black Friday sale page. Once redirected, you can access exclusive deals and discount offers.
Step 2: Choose the Instapage Building plan and switch to the annual billing cycle to get an instant 33% discount. You'll receive an additional 25% off during Instapage Black Friday Cyber Monday sale.
Step 3: Click the 14-DAY FREE TRIAL button to access the signup page.
Step 4: Create a new Instapage account by entering your name, company name, work email, and password. You can also specify the purpose of getting an account, e.g., increasing conversions for your business, marketing team, or advertising agency clients. Alternatively, you can sign up with Google in just a few clicks.
Step 5: Read and agree to Instapge's Terms of Service and Privacy Policy on the next page. In addition, you may opt to receive updates, tips, and offers via email.
Step 6: Fill up the payment details (credit card credentials) and billing address.
Step 7: Review the card summary. If everything looks good, click the SIGN UP button to start your free trial. You will automatically be upgraded to the pre-selected billing plan after 14 days and have uninterrupted access to Instapage services.
Congratulations, you have successfully redeemed the Instapage Black Friday Cyber Monday deal.
Note that the Instapage Black Friday discount is auto-applied to your cart value. No special Instapage coupon or promo code is required.
Instapage Pricing
Instapage pricing is critical in deciding whether the service is right for your business.
Instapage offers three pricing options to get started.
1. Instapage Startup Plan
It's the cheapest Instapage plan available at $89/month. In addition, an annual plan gets you an instant discount of 33%, reducing the plan price to $59.
But the plan only allows you to create three landing pages, receive 1K visitors, have one workspace, and 1 team member.
Due to such strict plan limits, purchasing it does not make sense.
Competing products like Leadpages provide better value for half the price of the Instapage Startup plan.
2. Instapage Building Plan
You can subscribe to the Instapage Building plan, which costs $299 a month or $199 if you choose to pay annually.
An annual subscription requires a $2388 upfront payment but offers a 33% discount over monthly payments.
The plan provides reasonable limits of 30 published landing page experiences, 30K monthly unique visitors, three workspaces, and three team members.
3. Instapage Converting Plan
If your business grows beyond the Instapage Building plan limits, you can request a customized package tailored to your needs.
It includes many advanced features, such as Global Blocks, 1-to-1 ad-to-page personalization, heatmaps, page migration, and custom integrations.
If you're still unsure, feel free to sign up for the 14-day free trial.
To access the trial, you must enter your credit card information, which will be automatically charged after the trial period, but if you're not satisfied, you can cancel.
Top Instapage Features
It is arguably the best landing page builder platform on the market, packed with many powerful features.
You can check out the list of these features if you are interested in learning more.
1. The Industry-Leading Landing Page Builder
Instapage lets you create stunning, conversion-friendly landing pages.
The Instapage landing page builder removes the hassle of designing on-brand, conversion-friendly landing pages with contextual element editing, over 5,000 fonts, and 33 million images.
2. Proven Template Layouts Based on Industry & Use Case
You can select a landing page layout from a massive library of 500+ fully customizable and conversion-optimized templates regardless of what kind of campaign you are creating.
3. Visual On-Page Collaboration
Currently, Instapage's Collaboration Solution is the only fully integrated one on the market.
Streamline the design review process by collaborating in real-time with teammates and clients.
It enables you to create, review, and publish your landing pages faster and drive more conversions.
4. Instablocks®
Create hundreds of personalized landing pages quickly with individual page blocks that you can customize, save, and reuse.
Select from a wide selection of pre-designed templates, like headers, footers, testimonials, and more, or you can build your own blocks from scratch.
The Instapage Converting plan includes a unique global Blocks feature for managing and updating global templates with a single click.
5. Intuitive Form Builder
Easily create custom forms with multiple fields, drop-down lists, or radio buttons.
Transform complex forms into multiple steps to collect more information from your prospects to reduce friction points and improve engagement scores.
Exit-intent popups, Thank You and confirmation pages, and customizable confirmation messages assist your conducting successful marketing campaigns.
6. Advanced Reporting and Optimization
With server-side A/B Split Testing, heatmaps, conversion analytics, drop-in pixel tracking, and real-time reports, you can make data-driven marketing decisions and optimize your landing pages accordingly.
7. Publishing to Unlimited Domains
Unlike many other landing page platforms, Instapage lets you publish your pages to as many unique domains as you or your client need.
8. Third-Party Integrations
Instapage integrates with the most popular third-party advertising, analytics, CRM, email marketing, and marketing automation platforms.
Instapage currently supports more than 120 tools across multiple vertices. E.g., Hubspot, Salesforce, Marketo, Keap, Mailchimp, Shopify, Google Ads, Facebook Ads, and many more.
9. Unmatchable Speed and Security
With its exceptional performance and security, Instapage made a giant leap forward.
Native AMP support, Thor Render Engine, global CDN, dual cloud infrastructure on both Amazon and Google, and advanced image optimization algorithms all contribute to the rapid loading of landing pages.
Moreover, robust security features make the Instapage Black Friday deal more appealing.
SSL certificates, GDPR-compliant data processing, SOC 2-compliant platform, and 99.99% uptime make it an unbeatable deal.
Instapage Pros and Cons
Undoubtedly, Instapage is a popular choice among advertisers for creating high-converting landing pages.
However, you should look at the platform's pros and cons before making a purchase.
Instapage Pros
Advanced landing page creation platform with many innovative features
An intuitive user interface
Over 500 customizable landing page layouts have been created and tested for conversions
Mobile-responsive and native AMP support
Optimize conversions by dynamically delivering relevant post-click landing page experiences to each visitor
Robust experimentation to optimize conversion rates through accurate A/B testing, heatmaps, analytical insights, and personalization
Connect your ads to relevant post-click landing pages to offer personalized experiences with AdMap®
Faster campaign launches with visual collaboration
Improve your website's performance with AMP & the Thor Render Engine®
Integrations with Zapier, Salesforce, Marketo, and HubSpot
Enterprise-level security and up to 99.99% uptime
Instapage Cons
Slightly expensive for SMBs
No free plan (however, a 14-day free trial is available)
Limits on monthly visitors and published landing pages
Fewer e-commerce options than competitors
Refund issues and predatory billing have been reported several times
Instapage Black Friday Sale 2023: FAQs
1. What is the Instapage Black Friday deal?
Instapage's Black Friday Deal offers a 33% lifetime discount on the Instapage annual subscription. In addition, you'll receive a 25% exclusive discount as part of the Instapage Black Friday Cyber Monday promotional campaigns.
2. When is the Instapage Black Friday sale in 2023?
The Instapage Black Friday Cyber Monday sale 2023 begins on 24 November (Thanksgiving Day) and runs till 28 November (Cyber Monday).
3. What is Instapage used for?
Instapage is primarily used for building professional-looking landing pages optimized for conversions without writing a single line of code. Instapage's ease of use, design freedom, innovative features, and enterprise-grade security make it an ideal choice for marketing teams, ad agencies, and e-commerce businesses.
4. Is Instapage free?
No, Instapage doesn't provide a free plan. Nevertheless, if you wish to try the service before purchasing it, you can sign up for a 14-day free trial.
5. How much does Instapage cost per month?
Instapage offers three pricing options: Startup plan, Building plan, and Converting plan. The Startup plan costs $89per month, whereas the Building plan costs a whopping $299 per month. However, you can get a 33% off by purchasing an annual subscription, which reduces the Instapage pricing to $59 per month and $199 per month for the Startup and Building plans, respectively. Besides that, you can request custom pricing for the Converting plan based on your unique needs.
6. Does Instapage offer WordPress integration?
Yes, Instapage has a dedicated plugin to deliver a streamlined experience for WordPress users.
7. Does Instapage integrate with Shopify?
Instapage allows you to add a Shopify Buy button to a landing page. Moreover, third-party software, such as Zapier, Automate.io, and Integrately, facilitates seamless integration between both platforms.
Instapage Black Friday Deal 2023: Summary
Instapage is undoubtedly one of the most powerful landing page platforms on the market.
Instapage has everything you need to build custom landing pages that are aesthetically appealing and brand-consistent.
It is the only platform that allows you to connect unlimited domains, making it an ideal choice for marketing firms and ad agencies managing multiple clients simultaneously.
A great landing page is the heart of a successful promotion.
Therefore, if you are looking for an intuitive and powerful landing page builder with complete design freedom that enables you to create conversion-optimized landing pages easily, don't miss out on the Instapage Black Friday deal.
Instapage Black Friday Deals
Name: Instapage
Description: Instapage is an advanced landing page creation platform packed with a wide range of innovative features for advertising agencies and e-commerce businesses. Instapage offers a 33% discount when you purchase an annual plan. Just click the button below to claim your discount.
Offer price: 59
Currency: USD
Operating System: Linux
Application Category: Landing Page Builder
Author: Ankit Main
Performance

Ease of Use

Pricing

Support
Comments Rating
( reviews)