Affiliate Disclosure: I publish various content marketing strategies, online business ideas, blogging tutorials, review articles, and discount offers on my blog. My content may contain some affiliate links for products/services I use, love, and recommend. If you take action (i.e., subscribe or make a purchase) after clicking one of my affiliate links, I'll earn an affiliate commission at no additional cost to you. It helps me in creating more helpful content like this.
Jungle Scout Review: Unveiling the Ultimate Amazon Seller's Toolkit
Are you an aspiring Amazon seller or a seasoned entrepreneur looking to grow your e-commerce business on the world's largest online marketplace?
If so, you've probably heard about Jungle Scout.
In this comprehensive Jungle Scout review, we'll dive deep into the latest information about Jungle Scout, explore its top features, pricing plans, and discounts, and answer a few frequently asked questions.
By the end of this article, you'll have a clear understanding of how Jungle Scout can help you thrive on Amazon.
What is Jungle Scout?
Jungle Scout is an all-in-one platform designed to assist Amazon sellers in finding profitable products, optimizing their listings, and growing their businesses on Amazon.
Founded by Greg Mercer in 2015, Jungle Scout has become one of the most popular tools among e-commerce entrepreneurs. With a robust suite of features, Jungle Scout aims to simplify product research, track market trends, and provide valuable insights to sellers, helping them make data-driven decisions for their businesses.
Jungle Scout offers users a comprehensive platform for selling on Amazon.
Currently, the company boasts a team of 200+ Amazon experts worldwide, headquartered in Austin, Texas, and with an office in Vancouver, British Columbia. Each of them is committed to supporting sellers and brands on Amazon.
It's easy to understand why over 600,000+ entrepreneurs and leading brands trust Jungle Scout.
Why You Need Jungle Scout
Previously, Amazon sellers researched products, analyzed competitors, and built spreadsheet libraries manually due to limited data availability.
Jungle Scout does that all for you instantly, so you don't need to spend hours on it.
Product research and competitive analysis are the most critical factors for a successful Amazon business.
Nowadays, competition is fierce like never before.
In 2020, Amazon Marketplaces welcomed 1.3 million sellers worldwide. Among these new sellers, 13.8% signed up on Amazon.com, whereas Amazon.in contributed 12.1% to new marketplace sellers. (Source: Statista)
With such a competitive e-commerce business environment, your chances of success are slim if you don't choose a unique, profitable, and in-demand product.
On the other hand, Amazon's net revenue from e-commerce and service sales has increased dramatically between 2004 and 2022. Its net revenue grew from 470 billion U.S. dollars in 2021 to almost 514 billion U.S. dollars in the last reported year. (Source: Statista)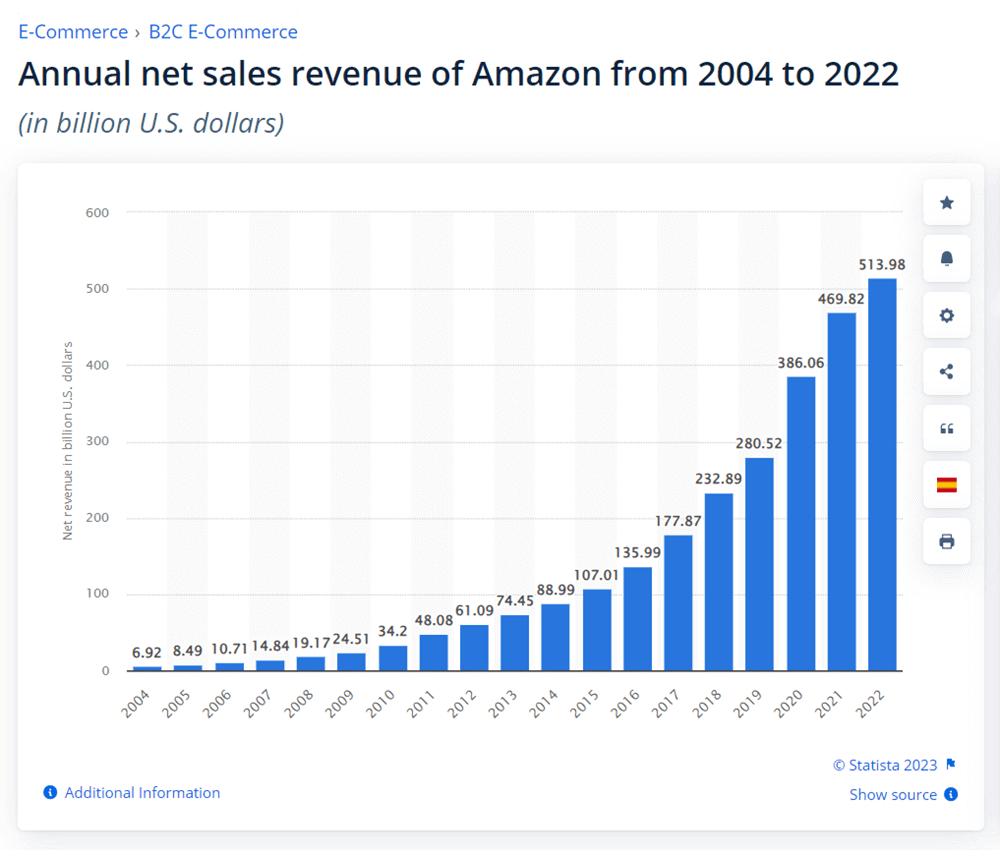 That's more than the GDP of UAE and Singapore, the two richest economies in the world! (Source: Worldometer, GDP by Country)
It's no wonder Amazon marketplace has a large number of sellers. It's a money-making opportunity!
All you need is the right tool to find high-demand, low-competition products.
In this case, Jungle Scout is one of the most reliable market intelligence sources for building successful Amazon businesses.
Top Features of Jungle Scout
In light of what Jungle Scout is and why it's essential for Amazon sellers, let's delve into its top features.
Jungle Scout is a powerful tool to build a profitable Amazon business through data-driven decisions. It helps you figure out what products are in demand, what keywords will generate more sales, and how to automate inventory and review requests.
Below are a few key features of Jungle Scout:
1. Product Database
The Product Database, often known as the heart of Jungle Scout, is a goldmine for product research.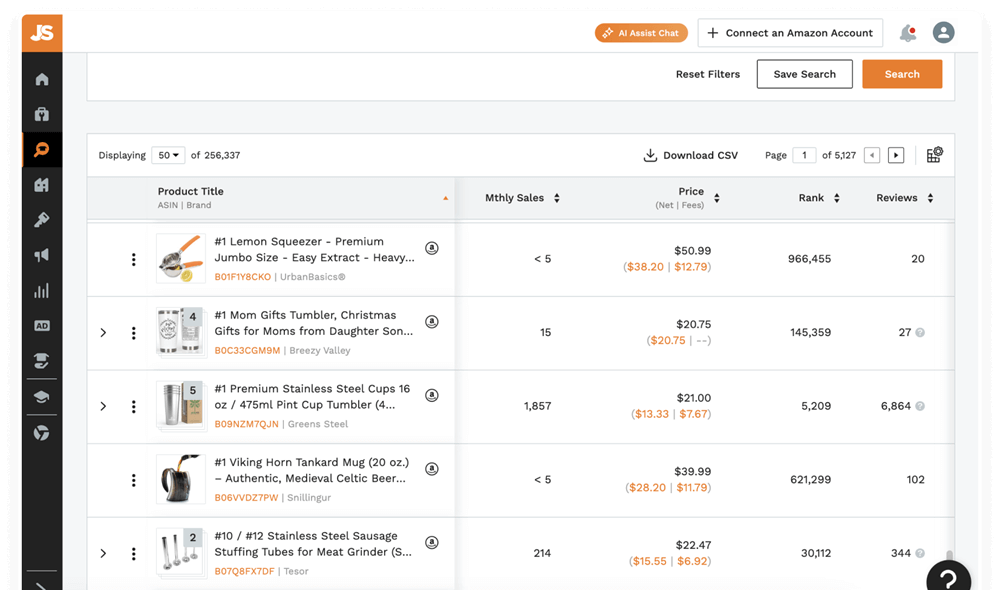 It allows you to search through Amazon's extensive catalog of 475 million products to identify profitable product opportunities by applying various filters, such as categories, sales rank, price, and estimated sales.
You can quickly identify products with high demand and low competition or underperforming listings.
You can use Jungle Scout's FBA Profit Calculator to keep track of overhead costs and Amazon seller fees. Be sure to take these calculations into account when doing your research so that you can invest with confidence in the right opportunity.
2. Jungle Scout Extension
Jungle Scout's browser extension lets you validate Amazon product ideas instantly.
With this most robust Chrome and Firefox extension for Amazon, Jungle Scout allows you to forecast product sales, request reviews, and evaluate new opportunities in one click.
When researching products to sell, it's a big time saver since you can access all the information you need immediately.
3. Opportunity Finder
Opportunity Finder is an advanced tool for finding high-demand, low-competition product keywords consumers search for in the Amazon marketplace.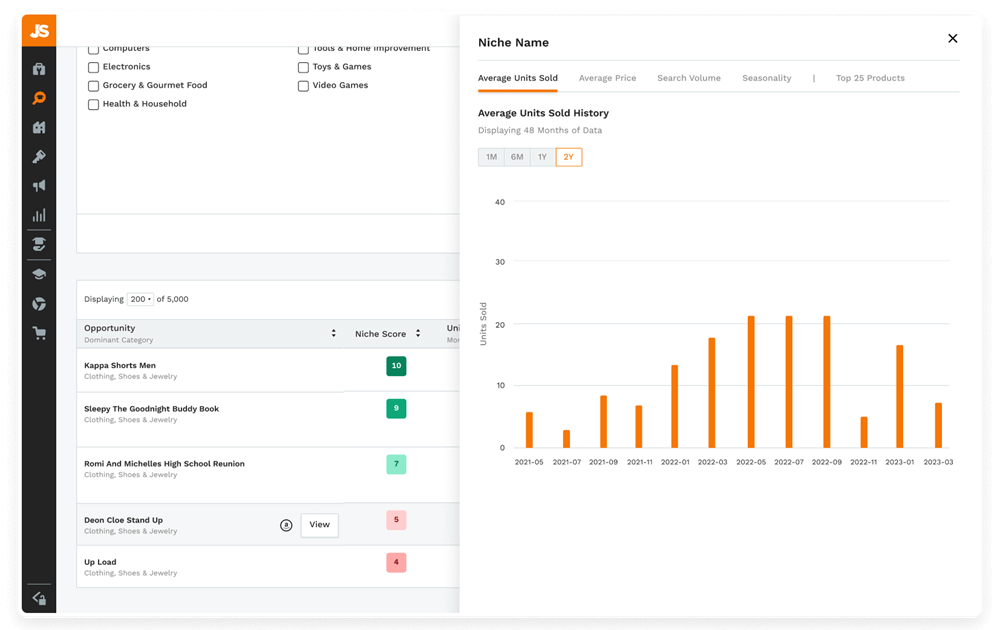 It analyzes historical data and trends to identify products with high potential for success. You can easily convert a seed keyword into a market segment and view in-depth data on sales performance, emerging trends, and competitive insights.
This feature lets you stay ahead of competitors and capitalize on new opportunities.
4. Keyword Scout
Keyword Scout is a powerful tool for finding high-impact keywords for your listing and PPC advertising campaigns.
It allows you to refine thousands of keywords using advanced filters, such as organic and sponsored data, include/exclude terms, estimated PPC bids, and more.
Optimizing your listings with the right keywords can significantly improve your products' visibility.
5. AccuSales™
Jungle Scout's proprietary AccuSales™ engine analyzes over 2 billion data points daily. Having access to such massive data has added benefits for Amazon sellers.
With accurate information at your fingertips, you can make critical business decisions with complete confidence.
6. Product Tracker
Jungle Scout's Product Tracker lets you save and monitor opportunities. Tracking the performance of a product or a group of products over time reduces the risk of seasonality or demand shifts.
It helps you validate your prospective winning product by evaluating sales and trends.
7. Listing Builder
Listing Builder simplifies the process of creating and optimizing product listings.
It provides templates and guidelines for creating compelling product titles, descriptions, and bullet points that resonate with potential buyers. The tool also provides a listing optimization score to get instant feedback about your product listing.
This feature ensures that your products stand out in Amazon's crowded marketplace.
8. Rank Tracker
With the Jungle Scout Rank Tracker tool, you can effortlessly track keyword performance over time, providing you with a competitive advantage in the dynamic world of e-commerce.
By reversing-searching a grouping of ASINs, you can view the historical keyword performance and learn what keywords influence your listings and those of your competitors.
Analyzing this data helps you uncover keywords with a proven track record of success and identifies underperforming ones. Moreover, the preset filters allow you to focus on critical keyword data that may influence your ranking strategy.
You can receive valuable insights into historical ranking trends and streamline your process by seamlessly tracking and adding keywords from Keyword Lists and Keyword Scout to Rank Tracker. Adding annotations to ranking graphs for a well-organized cause-and-effect analysis enhances your future strategies.
Based on all its benefits, I think it is the SEO tool you need to keep up with the competitive environment of Amazon e-commerce.
9. Most Reliable Supplier Database
Jungle Scout's Supplier Database gives instant access to an extensive list of verified, high-quality product manufacturers and suppliers that can help you bring your product idea to life.
Moreover, you can validate suppliers by viewing their confirmed shipments and customers and even see what manufacturers your competitors are using.
Besides identifying verified suppliers, the Supplier Database is your one-stop destination for matching products to factories, searching for a specific brand, company, or supplier name, and discovering niche suppliers willing to handle smaller order quantities.
Plus, you can pinpoint the exact supplier of any product on Amazon in seconds by searching with Amazon's ASIN. Managing supplier quotes, samples, and purchase orders is a breeze with the Supplier Tracker, ensuring you maintain a comprehensive record of your financial transactions.
Elevate your Amazon selling game with the Supplier Database, and turn your visions into successful endeavors.
10. Promotions
You can launch promotional campaigns right within Jungle Scout to jumpstart early sales on Amazon Marketplace.
Getting early sales is crucial for ranking higher and faster.
A targeted promotional campaign increases engagement and encourages customers to leave positive reviews. You can personalize the customer experience and accelerate sales growth.
Jungle Scout has a unique promotion abuse prevention system. The feature allows you to restrict the maximum number of items an individual consumer can purchase. Jungle Scout's innovative inventory management capabilities prevent excessive purchases to maximize the effectiveness of your promotions.
11. Review Automation
It's an industry-first, Amazon ToS-approved system that automates the Seller Central review request process for all eligible orders. Once set up, it saves you time by eliminating manual review requests on Seller Central.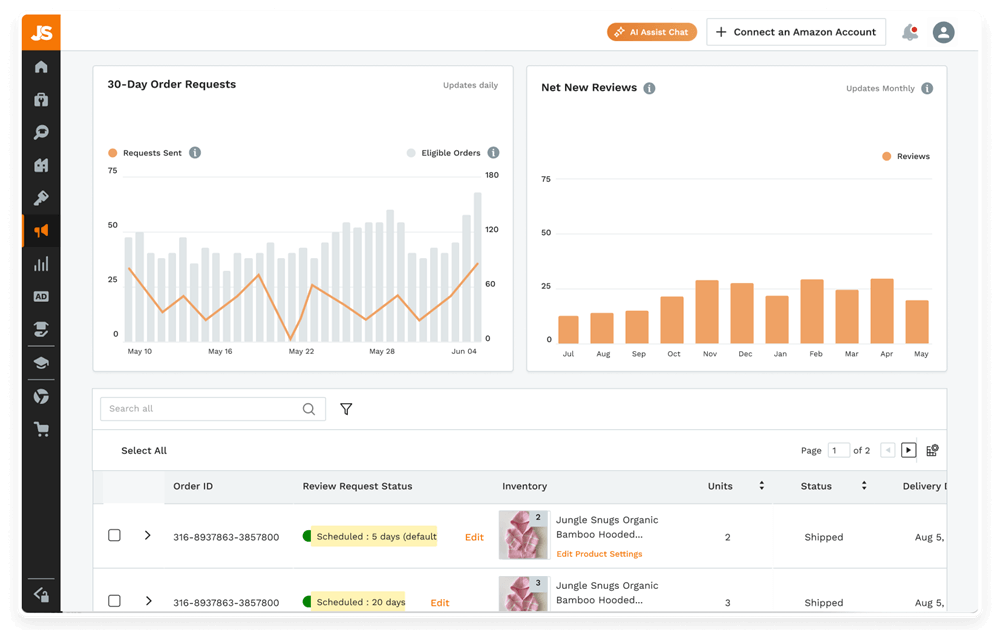 You can decide which of your products and orders receive a review request. It also lets you determine whether and when customers receive review requests at the marketplace, product, or order level.
Keeping an eye on order and review status will help you stay on top of your business. You can see your orders in an organized table view, change orders in bulk, and filter review requests according to their status.
This tool shows you the time you've saved by automating your review requests and enabling you to focus on sales activities.
12. Sales Analytics
Jungle Scout's Sales Analytics delivers real-time Amazon sales data, streamlining the tracking and management of your financial information.
With the Profit Overview, you can easily access current and historical sales data, enabling you to focus on profit-building and cost-saving strategies. You have the flexibility to view sales and profit data from a company-wide perspective or through a multi-product dashboard, which includes key metrics like units sold, net margin, ROI, and revenue.
Custom date ranges empower you to compare sales over time, shedding light on the impact of promotions, refunds, and other variables.
Jungle Scout's newly launched AI Assist serves as a virtual CFO, analyzing your data and delivering valuable insights to optimize your sales and growth.
You can also delve into specific product performance, examining sales, revenue, PPC campaign success, and supplier and shipping costs at a granular level.
For a comprehensive financial picture, generate professional profit and loss statements, including critical metrics such as revenue, costs of goods sold, operating expenses, and hidden fees, across selected timeframes to evaluate progress, discover trends, calculate and manage taxes, and more.
You can also document and customize expenses, including advertising costs, salaries, shipping and inventory costs, or any other fees associated with your business.
With Sales Analytics, you're well-equipped to maximize your earnings and make informed financial decisions on Amazon.
13. Inventory Manager
Data-driven inventory management is at the core of Jungle Scout's Inventory Manager.
This tool lets you view the real-time status of your Amazon FBA inventory and classifies your products as Reorder Now, Reorder Soon, In Stock, or Overstock. It also suggests a date and quantity to order, as well as estimated costs and profits. It enables you to forecast how much stock to order and the right time to place an order, improving Amazon sales and preventing stockouts.
With Jungle Scout's Inventory Manager, you can reduce long-term storage fees and avoid fees for returns and disposals of FBA inventory by ensuring you don't order too much stock too early and don't overorder.
A lack of inventory, a.k.a. stockouts, leads to lost sales, rush shipping costs, fulfillment delays, and unhappy customers. Having fewer conversions can also negatively impact your keyword ranking, Buy Box position, and your overall competitive edge. The Jungle Scout inventory monitoring tool helps you avoid Amazon stockouts, which can be disastrous for your business.
14. Advertising Analytics
Advertising Analytics helps sellers evaluate PPC performance by aggregating Seller Central and Campaign Manager data. This tool calculates advertising ROI using metrics and data visualizations at the company, ASIN, and campaign levels.
You can determine the advertising campaign's profitability by analyzing key performance indicators through customizable widgets and a company-wide waterfall chart.
The dashboard offers a transparent overview of the sales performance of a specific ASIN or product. You can track key metrics like total sales, ACoS, and TACoS to see how advertising impacts organic sales.
Additionally, the tool allows you to visualize multiple campaign metrics in a clean, customizable interface. You can find relevant keywords and search terms to integrate into your ads by switching between multiple views, including top campaigns, product ads, and ad groups.
15. Category Trends
Jungle Scout's Category Trends tracks the top 100 products in any Amazon category or subcategory. After analyzing category performance and comparing it with historical trend data, you can quickly determine which category to pursue in your next product launch.
Once you have a product idea, delve deeper into it and validate it with Jungle Scout's complementary tools. The Jungle Scout platform makes it simple to save and track product ideas and start keyword research straight away.
16. Alerts
Jungle Scout's Alerts feature notifies you of critical Amazon product changes in real-time, regardless of whether you're logged in, so that you can take immediate action.
It allows you to view changes to Amazon products, including product titles, images, categories, and new sellers to a specific listing.
You can also set or customize alert thresholds for price changes, Best Seller Rank, and product rating.
Amazon product review alerts feature notifies you when the overall star rating falls below your custom threshold. It also informs about new, deleted, or unavailable reviews or Buy Box ownership updates.
Monitoring your competitors' listing changes gives you a competitive edge if you intend to scale your Amazon business. To achieve this goal, Jungle Scout allows you to track your competitors' listings and price changes at a glance.
In addition, this tool provides daily updates on the performance of your Amazon business.
Jungle Scout AI Assist
The Jungle Scout AI Assist integrates artificial intelligence to automate critical tasks and provide Amazon sellers with immediate actionable insights and recommendations.
1. AI Assist for Review Analysis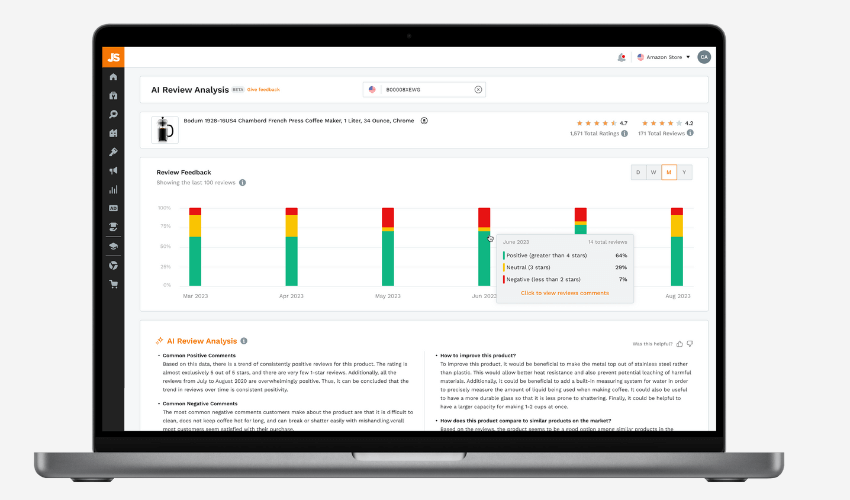 The Review Analysis feature utilizes AI Assist to discover trends in product reviews and provide insights into customer sentiment.
AI Assist analyzes the product reviews and ratings for any ASIN and serves as a quick product research tool to assess product opportunities.
AI Assist's summary covers the most common positive and negative comments, improvement suggestions, detailed competitive analysis with tips for competing with the product, and more.
2. AI Assist for Listing Builder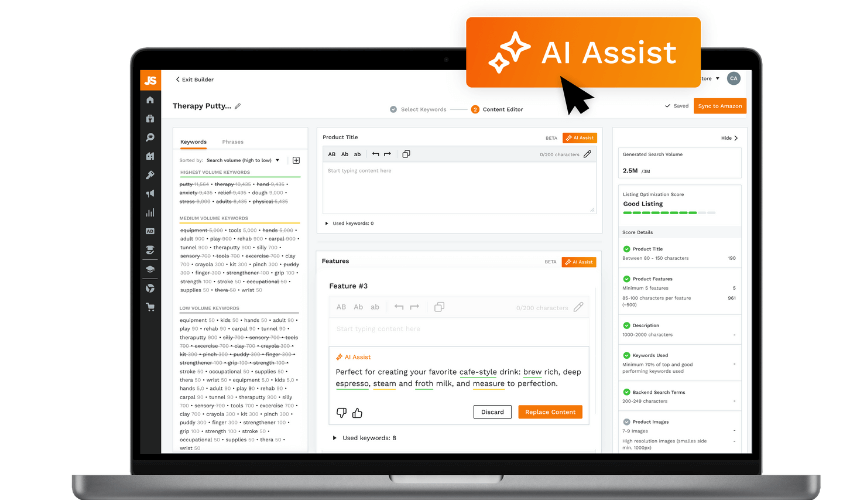 Jungle Scout's AI Assist for Listing Builder lets you create keyword-rich, relevant content in just a few clicks.
The software pulls a listing's top keywords and automatically generates a product title, features, and a thorough product description. It could include new ideas highlighting product benefits to keep you ahead of competitors.
Moreover, AI Assist provides listings in English, allowing sellers to optimize their listings for English-language Amazon marketplaces.
Boost your product's visibility and save time with AI Assist for Listing Builder.
3. AI Assist for Profit Overview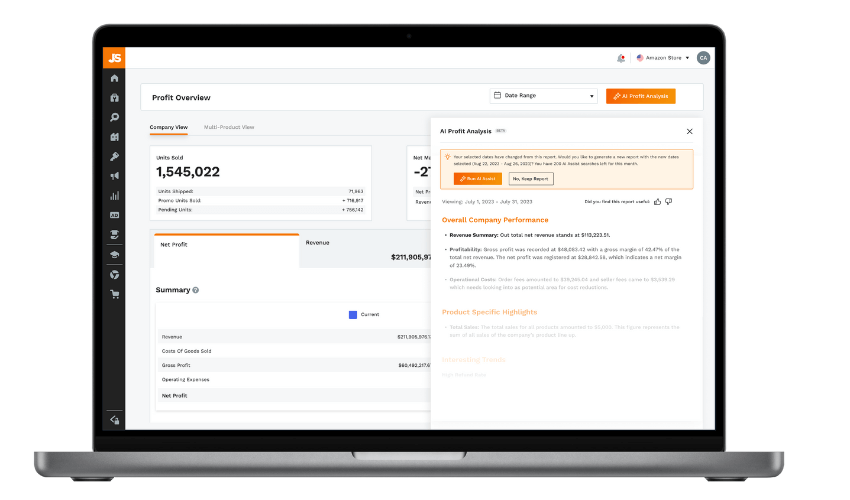 The AI Assist analyzes Profit Overview data (such as revenue, profit margins, cost of goods sold, fees, and more), builds an in-depth financial report, and suggests strategies to improve sales and profitability.
The AI Assist financial report includes insights into underperforming products, high refund rates, and optimal growth strategies.
4. AI Assist Chat
It provides immediate, thorough answers about Amazon selling, growing your business, and similar queries.
Whenever you're struggling to find a product, want more reviews, or want to know what an FNSKU is, you can rely on AI Assist Chat for quick assistance.
By leveraging Jungle Scout's unmatched library of expert resources, the software provides you with valuable advice whenever you need it and helps your business run more efficiently.
Jungle Scout Accuracy
It is widely recognized and trusted as the most accurate software tool in the e-commerce industry for helping entrepreneurs and sellers find profitable products on Amazon.
Several factors contribute to Jungle Scout's data accuracy.
One of the key factors contributing to Jungle Scout's accuracy is its robust data collection and analysis capabilities.
Today, the company mines and processes vast amounts of Amazon product data from multiple sources, including sales trends, customer reviews, and historical pricing, and processes nearly 2 billion data points daily. This allows Jungle Scout to get a more complete picture of the Amazon market.
Second, Jungle Scout uses machine learning to refine its sales estimates over time. The company's machine learning models have been improved continuously since 2014 for maximum accuracy. It provides users with precise insights into market trends and product demand. Therefore, more businesses trust Jungle Scout's data today than ever before.
This meticulous data-driven approach ensures users can make informed decisions when selecting products to sell, thereby reducing the risk of investing in unprofitable ventures. Moreover, Jungle Scout's ongoing updates and continuous improvements further enhance its accuracy.
As the e-commerce landscape evolves, the software adapts and incorporates the most recent Amazon policies and algorithms. This commitment to staying up-to-date with the marketplace's evolving dynamics ensures that users are equipped with the latest and precise information, helping them make well-informed business decisions that can lead to successful product launches and long-term success.
The company claims that its AccuSales™ algorithm is ~84.1% accurate. As a result, Jungle Scout's sales estimates tend to be within 15.9% of the actual figures.
Keyword Scout provided much more accurate keyword search volume data than Helium 10's keyword tool when compared to Amazon's search volume data in SQP. The average difference between Keyword Scout and Amazon's search volume was 10.93%, and Helium 10 showed a difference of -58.38%.
Of course, no sales estimation tool is perfect. Jungle Scout's estimates can be affected by a number of factors, such as seasonality, new product launches, and changes in Amazon's algorithm. However, Jungle Scout's accuracy is still one of the best in the industry.
As a result, Jungle Scout is considered a valuable ally for e-commerce entrepreneurs seeking to navigate the competitive world of Amazon with confidence and accuracy.
Jungle Scout Pricing Plans
Jungle Scout offers multiple pricing options to meet the needs of Amazon sellers around the world.
Choose a plan that aligns with your business goals and budget. Jungle Scout offers four regular pricing plans and an exclusive Master Bundle with 80% off.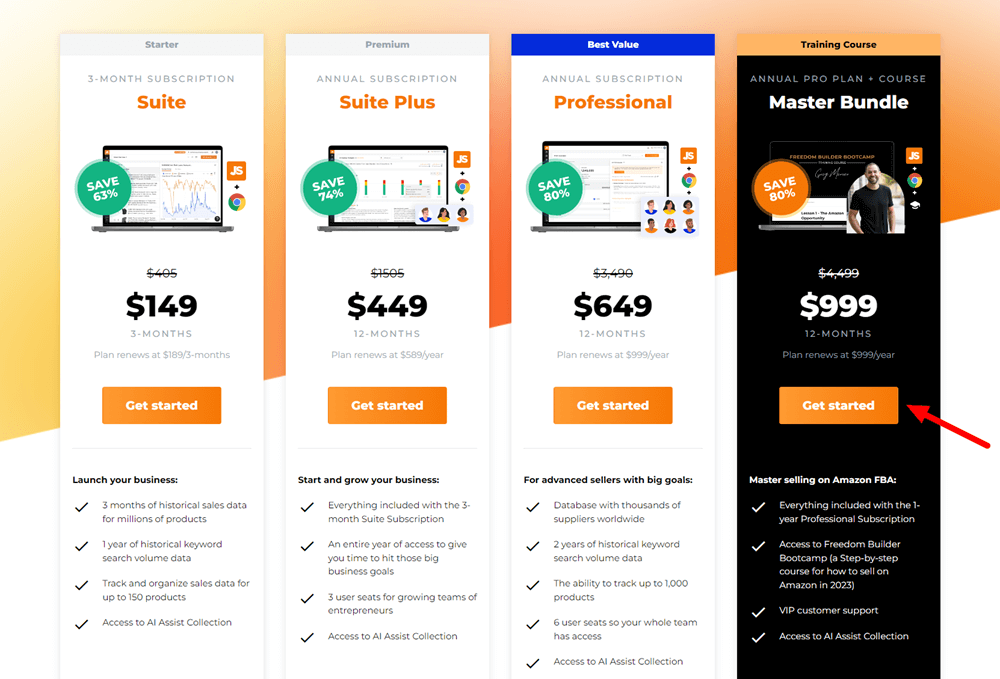 See below for more information about Jungle Scout pricing options.
1. Basic Plan
The company designed this plan specifically for casual users who are looking for a quick way to validate their product ideas while browsing Amazon.
It costs $29/month (billed at $349/year) and offers a single-user license. Since the plan focuses on beginners and casual users, it comes with low usage limits for Keyword Scout, Product Database, Supplier Database, and Opportunity Finder.
It lacks many critical features, including Rank Tracker, Advertising Analytics, Listing Builder, Promotions, Alerts, Inventory Manager, and more.
Additionally, the users can't access Jungle Scout's new AI Assist feature that automates specific tasks and provides business recommendations on the fly.
2. Suite Plan
Jungle Scout's Suite plan comes with everything you need to manage your Amazon business expertly and find new products. The plan costs $49/month (billed at $589/year).
It includes all Basic plan features plus unlimited product and keyword research searches, review automation with advanced features, advanced seller features, PPC analysis, and access to AI Assist automation and business insights.
One of the best things about this plan is that you can get access to historical keyword data for the past year and historical product data for the past three months.
3. Suite Plus Plan
It's an annual Jungle Scout Suite plan with additional benefits exclusively available through this special promo link.
Usually, the Suite plan costs $589/year, but the Suite Plus plan offers the same benefits for only $449/year. It includes everything in the Suite Subscription and three user seats for growing teams of entrepreneurs.
Since an extra Jungle Scout user seat costs $459/year, Suite Plus is a much better deal.
4. Professional Plan
The Jungle Scout Professional Plan is tailored to experienced Amazon sellers who want access to all of Jungle Scout's features.
With more data, more users, and more access to advanced features and historical data, it becomes a must-have tool for pro users and established companies selling on Amazon.
This plan usually costs $84/month (billed at $999/year), but with my exclusive discount link, you can get it for only $649/year.
The key features include a global supplier database, two years of historical keyword data, the ability to track up to 1,000 products (ASINs), and six user seats, enabling multiple users to access the data.
5. Master Bundle
Jungle Scout's Master Bundle is an excellent choice for those who wish to become successful in Amazon FBA.
The package includes all the benefits of the 1-year Professional subscription, Freedom Builder Bootcamp access, VIP customer support, and AI Assist credits.
The whole package could easily cost $4499, but you can get it for only $999/year, i.e., a massive 80% off.
Furthermore, you can renew the plan at the same price without paying an additional fee.
The Master Bundle includes:
12 months of Jungle Scout Professional subscription ($999 value)
Freedom Builder Bootcamp course ($1,499 value).
Six user seats included ($2,295 value)
How to Sell on Amazon 2023 PDF download ($99 value)
Getting Started Checklist ($59 value)
Jungle Scout's Month-by-Month Seller Guide ($39 value)
VIP customer support (Priceless)
Therefore, the Jungle Scout Master Bundle offers exceptional value for Amazon business owners interested in starting and growing their businesses.
Jungle Scout Alternatives
If you aren't satisfied with Jungle Scout, you can explore the following alternatives. Each of these Jungle Scout alternatives has its unique features and strengths.
As an Amazon seller, the choice ultimately comes down to your individual needs and preferences.
Check out these options to find the best product research tool to help you succeed in the competitive world of e-commerce.
1. Helium 10
Helium 10 stands as the ultimate comprehensive software solution to cater to both Amazon and Walmart sellers.
Whether you're in search of a profitable product, aiming to discover high-impact keywords, enhance your product listings, engage with buyers for reviews, efficiently manage your inventory, prevent coupon stacking, or streamline your PPC campaigns, Helium 10 offers an array of top-notch tools tailored for Amazon sellers. With its extensive toolbox, it's a solid alternative to Jungle Scout.
Its toolkit empowers you to boost your revenue and minimize the time spent on everyday store management. Since businesses come in different shapes and sizes, Helium 10 provides the flexibility to choose a tool plan that perfectly aligns with your business needs.
Once you've subscribed to a Helium 10 plan, you can easily connect your Amazon seller token, offering you an unprecedented level of business management. Start today and witness the difference Helium 10 can make for your e-commerce venture!
2. Viral Launch
Viral Launch provides Amazon sellers with the necessary tools to succeed in the fiercely competitive e-commerce market.
As a comprehensive platform offering tools, training, and cutting-edge insights for sellers, Viral Launch offers a detailed market assessment and granular analysis of long-tail keywords.
It offers an extensive selection of features, including product discovery, market research, keyword optimization, listing builder, PPC automation, and review generator.
With its product discovery tool, sellers can identify profitable product opportunities by analyzing market trends and competitor data. Additionally, Viral Launch's market research tools allow users to gain valuable insights into their niche, helping them make data-driven decisions.
The platform's keyword and listing management features transform product listings, allowing sellers to improve their visibility and ranking on Amazon.
Viral Launch is known for its data accuracy and user-friendly interface, making it a go-to choice for Amazon sellers aiming for increased profitability and streamlining their operations.
3. AMZ Scout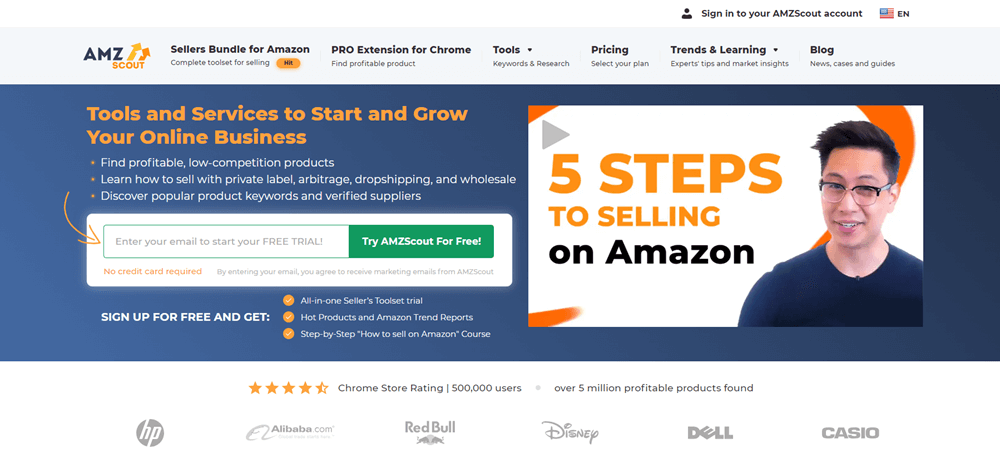 AMZ Scout is a versatile software solution tailored to Amazon sellers seeking essential data and insights to enhance their business strategies. With its array of tools, AMZ Scout assists in product research, competitor analysis, and market tracking.
One of its standout features is its product research tool, enabling sellers to discover potential product opportunities with high demand and low competition. The platform also offers data on historical sales, helping sellers assess market trends and make informed choices.
AMZ Scout's competitor analysis tools provide a comprehensive view of the competitive landscape, allowing sellers to understand their rivals' strategies. The market tracking feature offers real-time data on product prices and trends, making it easier for sellers to stay updated with market fluctuations.
AMZ Scout is recognized for its affordability and reliability, making it an excellent choice for Amazon sellers looking to make data-driven decisions and grow their businesses.
The software pricing starts at $49/month. You can explore more pricing options based on your preferences. However, the platform offers lifetime access to Seller's Bundle for Amazon + One Individual Product Research for only $1749.99, which is a steal deal considering the value it offers.
Jungle Scout Review: Conclusion
Jungle Scout stands as a pivotal tool for Amazon FBA sellers, offering a comprehensive feature set and the latest AI Assist technology.
With its eminent capabilities to assist in product research, competitor analysis, and long-term product tracking, it simplifies the complex world of Amazon selling and serves as a guiding light toward profitable business decisions.
Jungle Scout's reputation as a market leader and its gold standard status in the realm of Amazon product research tools is well-deserved.
For those who wish to thrive in the dynamic world of online retail, especially Amazon FBA, Jungle Scout is not merely an option but a necessity.
In short, it's a compass that steers sellers away from costly pitfalls, enabling them to navigate the competitive landscape with confidence and make well-informed business decisions.
As we wrap up this Jungle Scout review, it's evident that this tool is a crucial asset for anyone looking to harness the immense potential of Amazon FBA and elevate their business to new heights.
Jungle Scout Review: FAQs
Here are some frequently asked questions (FAQs) about Jungle Scout software. These FAQs give you a quick overview of Jungle Scout and its capabilities for Amazon sellers.
Please keep in mind that specific details and features may evolve, so always check Jungle Scout's website for the latest information.
Q: What is Jungle Scout?
Jungle Scout is an all-in-one software platform designed to assist Amazon sellers in product research, competitor analysis, keyword optimization, and other essential tasks to help them succeed on Amazon.
Q: How can Jungle Scout help me find profitable products on Amazon?
It provides tools like the Product Database and Opportunity Finder to help you identify products with high demand and low competition, making it easier to find profitable opportunities.
Q: Can I use Jungle Scout for other Amazon marketplaces, or is it limited to Amazon.com only?
Yes! Jungle Scout supports multiple Amazon marketplaces (currently 17), allowing you to explore and accumulate data from various regions and expand your business globally.
Q: What are the key features of Jungle Scout?
Jungle Scout offers features such as product research, keyword research, product and supplier database, competitor analysis, listing builder, inventory manager, rank tracker, sales analytics, and more.
Q: Is Jungle Scout suitable for both beginners and experienced Amazon sellers?
Yes, Jungle Scout caters to a wide range of users, from newcomers to experienced sellers, offering features suitable for all skill levels.
Q: Can I try Jungle Scout before purchasing it?
Unfortunately, no! Jungle Scout does not offer free trials. However, you can get 7-day money-back guarantees for new users. 
Q: What is the pricing structure for Jungle Scout?
Jungle Scout offers different pricing plans, including Basic, Suite, Suite Plus, and Professional plans and an exclusive Master Bundle. The pricing varies based on the plan and duration you choose. However, I recommend you try the Master Bundle, which includes all Jungle Scout features and the all-new Freedom Builder Bootcamp Course.
Q: Can I cancel my Jungle Scout subscription at any time?
Yes, you can cancel your Jungle Scout subscription anytime. Following the current term, your subscription will end without further charges if you cancel. Alternatively, you can upgrade your plan at any time, with any incremental charges prorated.
Q: Does Jungle Scout offer customer support and resources to assist users?
Yes, Jungle Scout provides customer support through email, a contact form, and an extensive resource library that includes KB articles, FAQs, video tutorials, and case studies to help users get the most out of the platform.
Q: How can Jungle Scout help me save money and make informed decisions as an Amazon seller?
By providing accurate sales data, market insights, and competitor analysis, Jungle Scout empowers you to avoid making costly mistakes, such as low inventory (stockouts) or investing in low-demand products.