Affiliate Disclosure: I publish various content marketing strategies, online business ideas, blogging tutorials, review articles, and discount offers on my blog. My content may contain some affiliate links for products/services I use, love, and recommend. If you take action (i.e., subscribe or make a purchase) after clicking one of my affiliate links, I'll earn an affiliate commission at no additional cost to you. It helps me in creating more helpful content like this.
What is WP Review Pro?
WP Review Pro is one of the most powerful and feature-rich WordPress plugins from MyThemeShop that helps you create product reviews easily.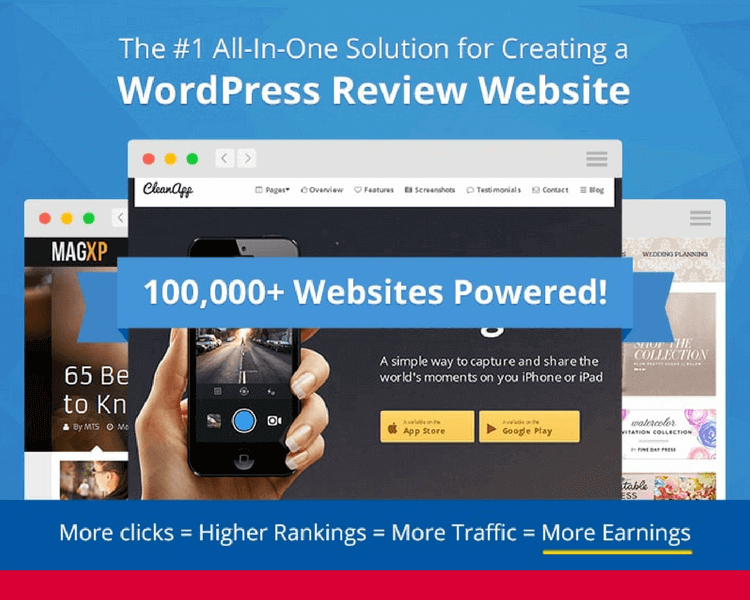 People research products thoroughly before making a buying decision and reading the reviews on different channels is a major part of that research.
With the help of WP Review Pro, you can create beautiful, and information-packed reviews on your website without any technical or design skills. These reviews will help you to promote your own products as well as affiliate products.
Apart from that, you can also integrate WP Review Pro on your WooCommerce website, which will replace the traditional review feature. It will help your customers leave detailed reviews resulting in increased sales volume.
WP Review Pro Features
WP Review Pro is distinctly ahead of its competitors, and I have mentioned some of the unbeatable features of this plugin below.
1. Support for 19 Types of Rich Snippets
WP Review Pro is a powerful review plugin for WordPress whether you are reviewing Amazon products, movies, books, games, or anything else.

You can select your preferred snippet in a few clicks out of its total 19 types of rich snippet support.
2. 16 Predefined Designs
The premium version of the WP Review plugin has packed with 16 pre-built design templates that you can start using on your website or blog immediately.
It also gives a customization ability where you can change each template's colors and other visual elements from the plugin control panel itself to tailor each template to your brand.
3. Multiple Rating Systems (Star, Point, Percentage, Circle, Thumbs)
Usually, regular review plugins offer only a few rating systems including Star, Percentage, and Decimal points.
However, WP Review Pro features additional rating systems, including colorful Circle and Thumbs.
Multiple products need different types of rating systems, and WP Review Pro is ready for them all.
You can use star, point, percentage, thumbs up, and circle rating criteria to create perfect reviews for all products.
4. User Comment Rating and Review
When a person commits a buying decision, positive reviews and comments from other people will probably help to convert him into a customer.
By using WP Review Pro WordPress plugin, you can even display your readers' comments and overall ratings about that particular product that you reviewed.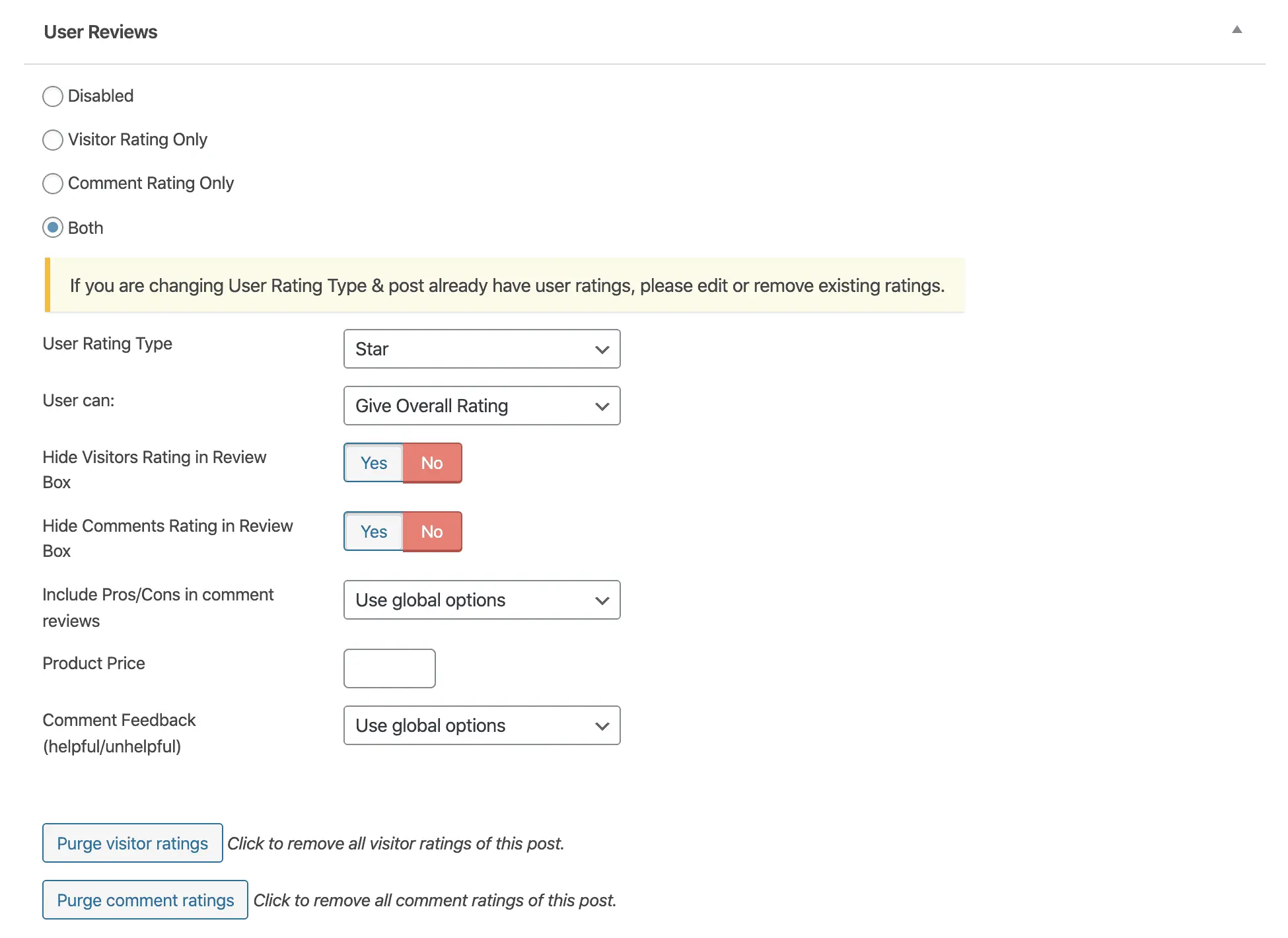 Users can rate individual features, leave comments on the review, and even mark others' comments as helpful or not helpful.
5. Compatible with Any WordPress Theme
When you purchase a premium WordPress plugin from a third-party developer or marketplace, It may not work with your current theme.
You will either end up losing money on that specific purchase or not being able to get the functionality that you wanted to add to your site.
However, you need not worry about the same if you are going to use WP Review Pro WordPress plugin on your website.
MyThemeShop developers have developed this plugin by following WordPress guidelines strictly which makes it compatible with almost every WordPress theme.
Simply install and activate the plugin no matter which theme you are using and start adding beautiful reviews of the products or services in a visual format.
6. Google Places Reviews Integration
Google is the largest search engine as well as a trusted brand across the globe. When people buy something, they don't forget to check Google Reviews.
If you are running a business or helping someone in marketing activities, (especially, local businesses), you can leverage that trust by adding Google Places Reviews integration offered by the WP Review Pro plugin.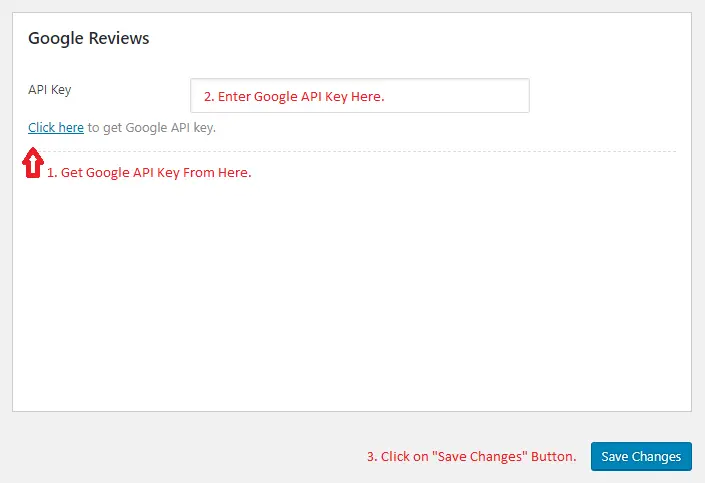 This feature helps you to embed Google reviews on your website and improves social proof or trust among your audience.
7. Yelp Reviews Integration
Yelp is a business directory or a small search engine that features reviews of hundreds of thousands of businesses.
WP Review Pro's Yelp Review integration lets you import those awesome reviews about your business and add them to your website effortlessly.
8. Facebook Reviews Integration
If you have a solid presence in social media and already created an authority on Facebook, Twitter, etc. you would definitely try to add this social proof to your website especially Facebook reviews about your business.
With WP Review Pro, embedding those Facebook Reviews on your website is extremely easy. You only need to enter your Facebook app credentials, and you can start importing any Facebook reviews in a few seconds.
9. Comparison Table
After Google started showing Featured snippets on the top of SERP, many people tried to write how-to guides and listicles, and add tables in their blog posts.
Creating how-to guides and listicles is quite easy to format but adding tables, especially SEO-optimized comparison tables is quite difficult if you don't know the coding process.
However, WP Review Pro makes it much easier than you might have expected. Apart from reviewing a single product, you can add a comparison table to compare and review the features of multiple products and services.
This can help your visitors to take the buying decision and improve your CVR if you use it smartly.
If you have a niche blog that promotes Amazon Affiliate products or similar, WP Review Pro is a must-have WordPress plugin for you.
10. Popup and Notification Bar
Although many visitors (including myself) hate seeing popups multiple times, the laser-targeted lead magnets work awesome for affiliate blogs and websites that sell products or services.
To add this functionality, you might need to install a couple of plugins for Popup and notification bar/smart bar.
It comes pre-installed with WP Review Pro.
Its pop-ups and notification feature will help you showcase your top-performing review posts to your visitors and get more clicks and views on your review articles.
A special feature of this plugin lets you promote multiple related reviews with the exit-intent popup by analyzing visitors' on-page behavior.
On another hand, the notification bar is a super amazing feature to promote your page or product. You can make it sticky so it will be visible for most of the time before people leave.
If you are an expert at writing headlines that convert visitors into customers, this feature alone will give you what you haven't expected yet.
11. WooCommerce Integration
Today, the e-commerce industry is gearing up including some giants as well as many small and medium businesses. Even it works at the micro-level, and thousands of solo entrepreneurs are starting up their e-commerce stores.
Apart from some hosted-commerce platforms, WordPress+WooCommerce is the best choice for those solopreneurs who want to get complete control and flexibility.
If you are an owner of one of those e-commerce stores, you might already know that reviews are an integral part of any e-commerce website.
And, the best part of WP Review Pro is that you can integrate it seamlessly with a WooCommerce website giving a boost to conversions by replacing the existing WooCommerce review forms with gorgeous and advanced review forms which are customizable too.
12. Advanced Yet User-Friendly Options Panel
The learning curve is a common thing when you use all-in-one/multipurpose WP plugins. Many premium tools offer advanced features that often don't use by most people but make the options panel a little complex to understand.
However, this is not the case if you are going to use WP Review Pro WordPress plugin. Although it has several useful features you won't find elsewhere, all settings, options, and configurations are just a layman's task.
Plus, if you stumble upon something, MTS documentation and quick 24/7 support will help you out of your problem on the go.
13. Mobile Friendly
Developing mobile-friendly WordPress themes and plugins is no more optional, and WP Review Pro is crafted with a mobile-first approach.
So you need not worry about how your site and its content will look on mobile devices. Everything will look perfect on all mobile devices without compromising the desktop viewing experience.
14. Developer Friendly
Although WP Review Pro WordPress plugin packs many powerful features, it is extendible too. Developers can create unlimited custom templates or use some filters in WP Review Pro to customize this plugin.
Moreover, this plugin is translation-ready and follows WordPress's translation guidelines, making it easy and secure to translate into any language you desire.
Pros of WP Review Pro
WP Review Pro WP plugin by MyThemeShop is one of the most comprehensive review plugins available in the market.
Apart from the main features mentioned above, there are a lot of additional features you must be knowing.
1. Unlimited Color Options
WP Review Pro does not limit you to using only default templates and colors. You can style your reviews by choosing any color that matches your brand identity. You can also customize the pre-defined templates and beautify them according to your visual requirements.
2. Import Ratings from Other Plugins
You may ask, "What to do if I'm already using another review plugin and want to switch to WP Review Pro? Will my old reviews disappear?
But you need not worry about that also. You can import reviews if you are currently using any of the six most popular plugins in a single click including:
YASR – Yet Another Stars Rating
Author hReview
WP Rich Snippets
Reviews
WP Product Review
GD Rating System
3. Custom Icon Support
WP Review Pro supports more than 600 fonts from the Font Awesome library. Using this Font Awesome integration, customizing the rating icons in WP Review Pro is a matter of just a few clicks.
4. 10 Custom Widgets Included
MyThemeShop has included 10 custom-designed widgets to WP Review Pro which you can add to your website. These widgets will let you add a variety of reviews to the footer, sidebar, and other widget-enabled areas of your website.
5. Show Average Rating from Author or Users
Mostly, bloggers or website owners review products and give a rating but sometimes showing reviews from front-end users helps to build authority.
WP Review Pro boasts a unique feature that lets the site owner choose the source of the average ratings for the particular product he reviews. He can either display his own ratings or choose the aggregate ratings given by the readers.
6. Review Box Embed Option
You might have seen the embed code for YouTube Videos, Tweets, or Infographics, but not for reviews. WP Review Pro plugin's unique embed feature allows anyone to embed your review on their website.
Once enabled, your website visitors viewers will see an embed code for each review you have created. Using this they can embed the review on their own website and in return, you'll get a backlink to your article.
Isn't that amazing?
Just make sure you create awesome review articles that everyone will love.
7. Custom Location
MyThemeShop has added shortcode support to the WP Review Pro and using that you can place your reviews in any location within your article.
By default, the plugin places the review box either before or after the content automatically. But you can manually insert the shortcode in the location of your choice.
WP Review Pro Pricing
How to Purchase WP Review Pro?
This plugin is developed by MyThemeShop and is available at an annual subscription fee.
You can choose a single site license, 3 sites license, or unlimited sites license depending on your requirements.
Pricing Table for WP Review Pro WordPress Plugin
| | | | |
| --- | --- | --- | --- |
| No. of Sites | Original Price | Special Discounted Price | Buy Now |
| 1 Site | $77 | $67 | Buy Now |
| 3 Sites | $97 | $87 | Buy Now |
| Unlimited Sites | $107 | $97 | Buy Now |
Many people may not afford to spend money on such essential tools which actually help to get more conversions. However, you should make a small investment for the success of your blog.
Take advantage of the special link below to purchase WP Review Pro license at a discounted price.
WP Review Pro FAQs
1. What is WP Review Pro?
WP Review Pro is a powerful, feature-rich WordPress review plugin from MyThemeShop that helps you create beautiful product reviews in a few minutes.
2. How to use WP Review Pro?
Once you installed WP Review Pro on your WordPress site, select a review type, and add necessary details such as product name, description, image, and the purchase link. You can also add schema markup for reviewed items so that search engines can display rich snippets in the SERP.
3. Is WP Review Pro compatible with my WordPress Theme? 
Yes, WP Review Pro is created by following WordPress's standard plugin code guidelines. It means that WP Review Pro plugin is compatible with all WordPress themes that are coded by following WordPress standard code guidelines.
4. Can I use WP Review Pro on more than one website? 
Depending on the license you purchase, WP Review Pro can be used on one or more WordPress sites. I would recommend you get unlimited sites license or MyThemeShop membership because these options offer better value for money.
5. Will WP Review affect my website's speed?
No, the plugin architecture and code of WP Review Pro have been optimized to achieve the fastest possible speed for your WordPress site. 
6. Can I use WP Review on my e-commerce store? 
Yes. WP Review Pro plugin has native integration with WooCommerce, which is one of the most popular WordPress e-commerce plugins. WooCommerce compatibility makes WP Review Pro a perfect choice for your e-commerce stores, affiliate blogs, and small business sites to represent products and services beautifully. 
7. Does MyThemeShop offer a discount coupon for WP Review Pro?
Yes, You can get $10 off on any WP Review Pro plan by visiting this page. Apart from that, MyThemeShop runs promotional campaigns occasionally where you can get up to 50% discount on the pro version of WP Review.
WP Review Pro - Best Review Plugin For WordPress

Name: WP Review Pro
Description: WP Review pro is the best review plugin for WordPress especially those are affiliate websites and rely mostly on SEO traffic. It's fluid responsive, lightweight and SEO optimized with 14 types of rich snippets. Plus, WP Review Pro WP plugin fully customizable and you can create beautiful looking reviews using start, point, percentage, and thumbs rating. Check out other great features of WP Review Pro here as well as get an amazing discount on your purchase.
Offer price: 67
Currency: USD
Operating System: WordPress
Application Category: Premium WordPress Review Plugin
Author: Ankit Main
Features

Ease of Use

Plugin Support

Pricing
Pros
100% Mobile Friendly
Fast Loading Time
Unbeatable Features
Awesome Support
Cons
Learning Curve For Newbies
A Little Expensive
Comments Rating
( reviews)