Affiliate Disclosure: I publish various content marketing strategies, online business ideas, blogging tutorials, review articles, and discount offers on my blog. My content may contain some affiliate links for products/services I use, love, and recommend. If you take action (i.e., subscribe or make a purchase) after clicking one of my affiliate links, I'll earn an affiliate commission at no additional cost to you. It helps me in creating more helpful content like this.
Before going through the Rocket.net hosting review, you should understand the need for a premium managed WordPress hosting service for your website.
Recently, Google announced that the page experience signals became a part of its search ranking algorithm in May 2021.
Web hosting service significantly impacts one of the major page experience metrics, i.e., Core Web Vitals (CWV), or in simple words, the web page speed performance.
That's why choosing high-performance hosting is essential to get better search rankings.
You will find hundreds of web hosting companies depending on your budget and requirements.
However, managed WordPress hosting services take care of everything, including server management, performance, security, software updates, and technical support.
That allows you to focus more on core business and marketing tasks instead of managing servers and troubleshooting technical issues.
If you think similarly and want to go with a premium hosting company that takes care of your WordPress sites, I recommend you check Rocket.net.
I'm sure you'll fall in love with Rocket.net. Still, I urge you to read the complete Rocket.net review before making a purchase decision.
Rocket.net Hosting Review: Overview
Rocket.net claims to be one of the fastest managed WordPress hosting services.
Cutting-edge performance, an intuitive control panel, reliable security, scalable infrastructure equipped with an advanced web tech stack, and responsive customer support make Rocket.net a perfect choice for WP-based business sites and WooCommerce stores.
I've mentioned a few key points below to help you make your Rocket.net hosting purchase decision easier.
Guaranteed improvements to your Google PageSpeed and YSlow scores (or get your money back)!
Free CDN with 200 global PoPs
An intuitive hosting control panel (Rocket.net UI is ❤️)
One-click WordPress installations and staging areas
Free Backup and Restore
Built-in WordPress Security Suite with an active WAF
Zero downtime WordPress migrations.
24/7 managed support by true WordPress experts.
Please note that Rocket.net focuses primarily on WordPress hosting instead of domain registration, emails, and other services.
While it can be a negative point for some people, I hope the Rocket.net team will explore the other web services to offer a one-stop WordPress hosting solution to its customers.
Now, let's discuss how Rocket.net hosting performs on various parameters.
Rocket.net Hosting Review: Speed Performance
If you're searching for a WordPress host that offers lightning-fast site speed, you should try Rocket.net managed hosting services.
It offers an in-house engineered Rocket Speed Algorithm to load your WordPress as quickly as possible.
The entire Rocket.net hosting infrastructure consists of:
1. Edge Cloud
Rocket.net has deployed an Edge Cloud, which is up to 3x faster than the public cloud.
20+ hosting PoPs and 200+ CDN PoPs connected over a multi-terabit network significantly improve the site speed performance.
2. Enterprise Servers with Guaranteed Resources
Rocket.net Hosting server farm uses bare metal servers combined with SSD drives, and gigabit connectivity peered at an internet exchange.
The best thing is Rocket.net provides dedicated resources for every account. It combines the simplicity of shared hosting and the power of VPS to ensure better performance.
3. Global CDN
Rocket Hosting's Always-on CDN helps WordPress users in multiple ways. It improves the site speed through dynamic content delivery, image optimization, and mobile accelerations.
That's not all.
Rocket.net CDN enhances your website security with Advanced WordPress WAF and DDoS protection suite.
4. WordPress Optimized Stack
Rocket Managed Hosting deployed a WordPress-optimized stack for faster loading time and enhanced website security.
It utilizes enterprise servers equipped with 16 CPU cores and 256 RAM. In addition, the state-of-the-art web technologies, such as PHP 7.4, HTTP/2, optimized MySQL, Asset Proxy, and micro-caching, give Rocket.net users an edge over their competitors.
5. Expert Optimizations
Large unoptimized images, code bloat, and misconfigurations are the main culprits for slower site speed. Unfortunately, most managed WordPress hosts refuse to optimize such websites by saying the particular activities are out of their scope.
That's not the case with Rocket.net managed hosting solution.
Rocket.net WordPress experts apply the best speed optimization practices to ensure your site load blazingly fast for all visitors.
The process includes theme optimizations, JS code review, plugin troubleshooting, CDN configuration, and many advanced options.
In most cases, you'll see a significant difference in your Google PageSpeed score and perceived site loading time after Rocket.net expert optimizations.
If you're getting an extremely poor Google PageSpeed Insights Score, you should immediately move to a better hosting platform.
Here is a special offer for my Rocket.net Hosting review readers.
Rocket.net Hosting Review: Test Result
I conducted a few performance tests during the last few days.
Here are the test results for a website hosted on the Rocket.net server.
1. Uptime and Response Time Recorded by UptimeRobot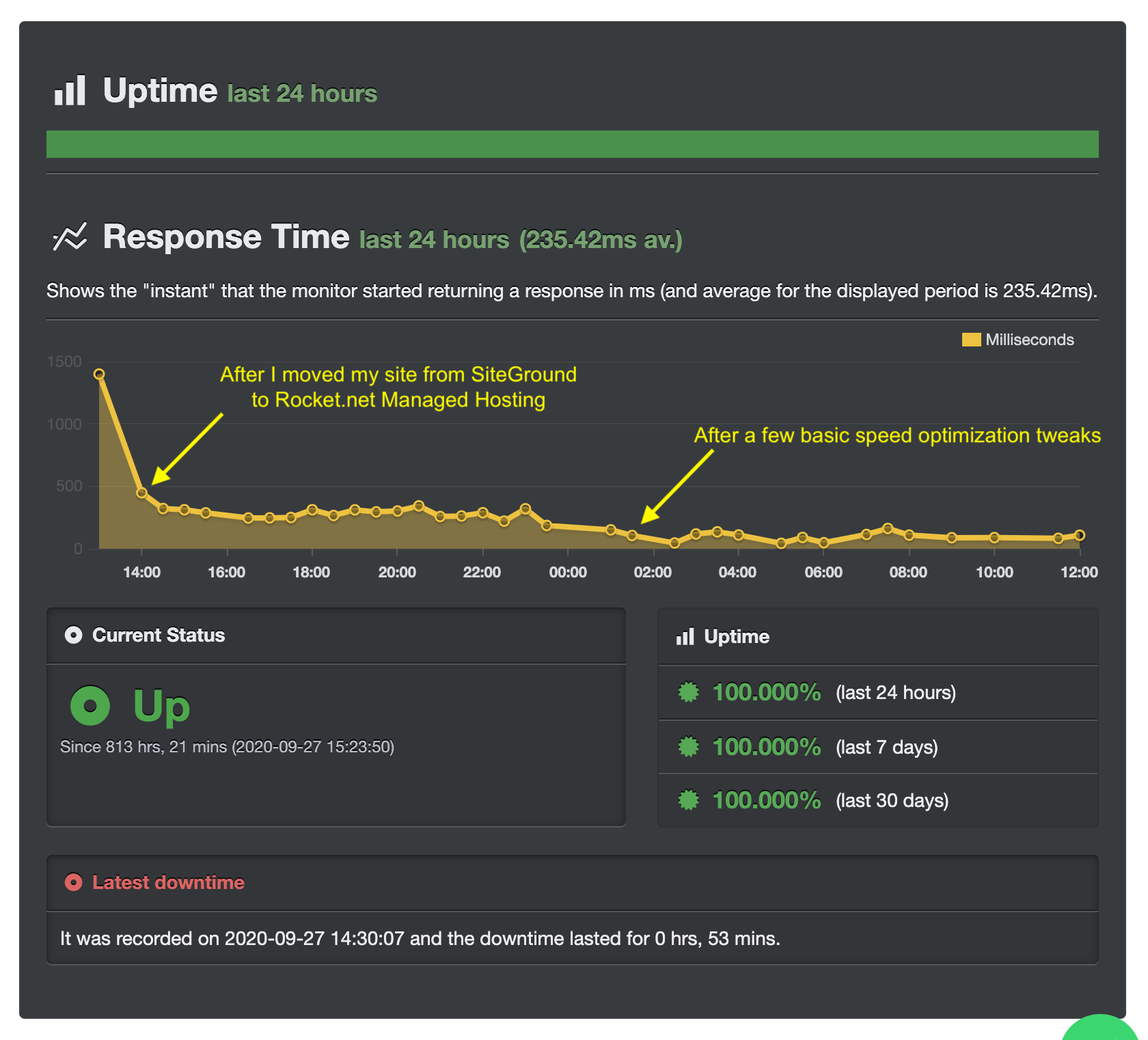 You can clearly see the difference in the response time recorded by UptimeRobot after I migrated from SiteGround to Rocket.net Managed Hosting.
I experienced a significant improvement in response time.
Currently, I get an average response time of 67.66 ms.
2. TTFB (Time to First Byte) Report By KeyCDN
Google recommends having TTFB under 200 ms.
In my Rocket.net Hosting review, I found that the TTFB for a site hosted on Rocket.net servers is much lower than the recommended value.
3. Google PageSpeed Insights Score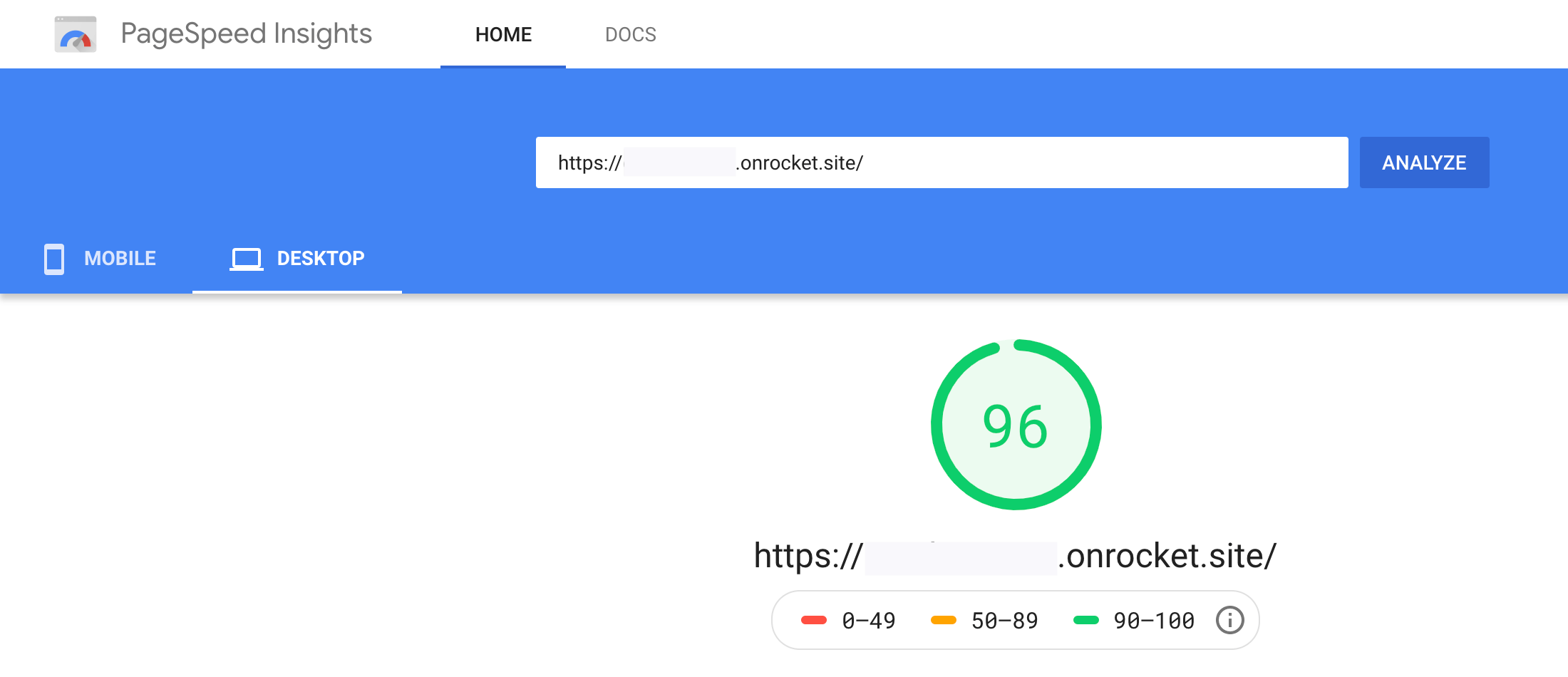 4. GTmetrix Score (Recorded After Lighthouse Integration)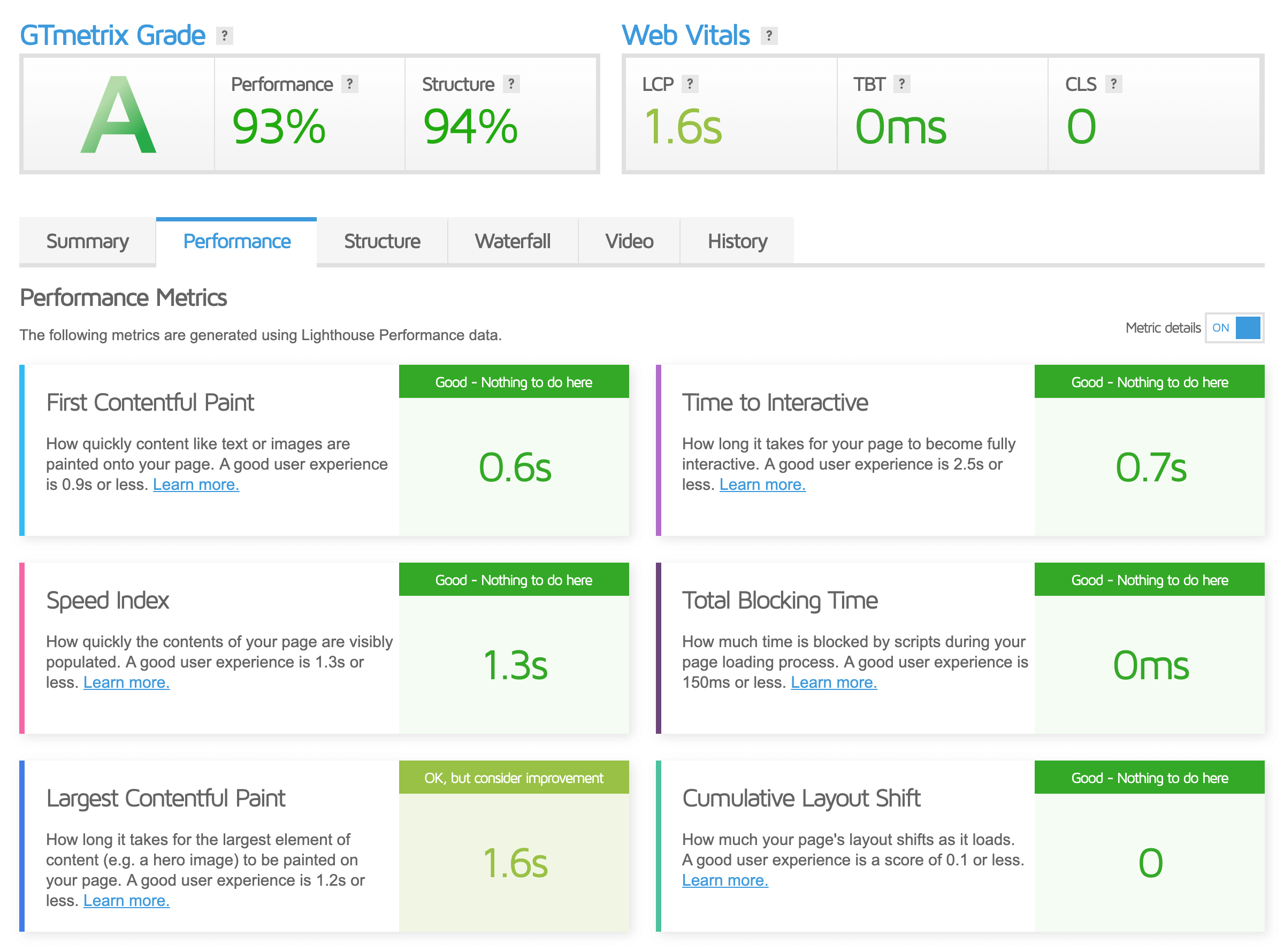 5. Load Impact Test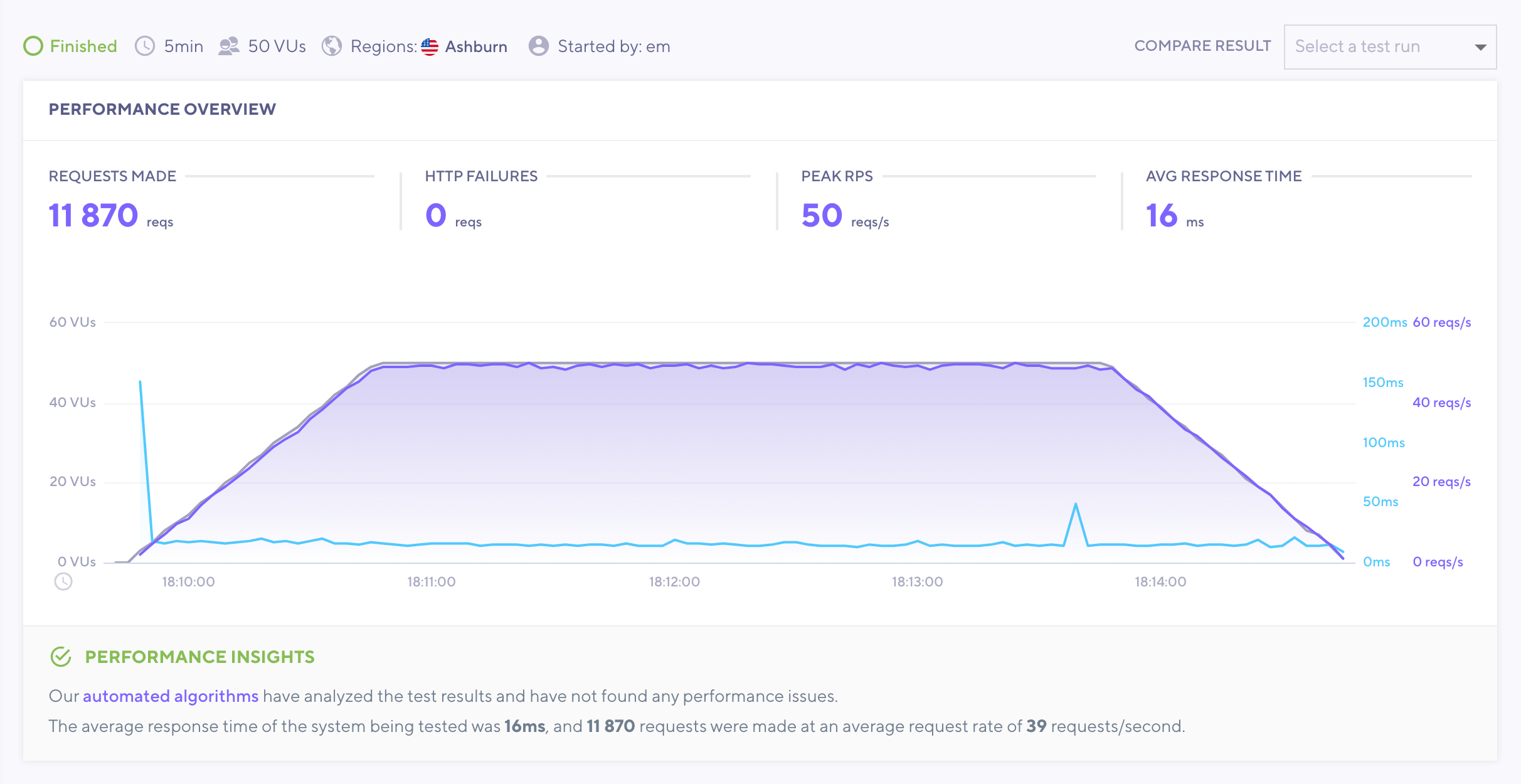 I conducted multiple tests to check the performance of Rocket.net hosting.
The results are pretty impressive.
Don't you think so?
Rocket.net Hosting Review: Security
Website security is one of the critical aspects of online business.
That's why Rocket.net offers a robust website security suite for the websites hosted on its platform at no additional cost.
Rocket.net managed security allows you to spend more time building and managing the website content instead of worrying about its security.
All Rocket.net servers are protected with enterprise-grade WAF.
It helps you fight against SQL injections and brute force attacks.
Rocket.net monitors every WordPress installation for malware and hacking attempts and releases quick patches when malware is detected.
Account isolation is another method for Rocket.net users to improve website security.
Currently, many third-party WordPress security services cost $50-$1000 per year.
Similar features are pre-configured in the Rocket.net hosting platform at no extra cost.
I have mentioned key security features of the Rocket.net Managed Hosting below.
Free SSL Certificates Powered by Sectigo
Free Daily Backups with 14 Days of Data Retention
On-Demand Full Website Backups
OWASP Top 10 Protection
Bruteforce Protection
Weak Password Prevention (Rocket.net Enforces You to Use Strong Passwords)
Hack & Malware Removal (Real-time Scanning and Free Patching)
Resource Isolation
Commercial sites have many security risks.
However, the chances of a breach are considerably low when your site is hosted on a premium managed hosting solution such as Rocket.net.
Rocket.net Hosting Review: Customer Support
Customer support must be one of the top priorities when you purchase a managed WordPress hosting service.
Not every one of you is a WordPress developer who can troubleshoot and fix all website problems independently.
Luckily, Rocket.net offers solid customer support via phone calls, email, and live chat.
The support team is very responsive and instantly connects with you over live chat.
I interacted with Rocket.net support a couple of times, and my experience is pretty impressive.
Here is an example.
I wanted to migrate my website from SiteGround to Rocket.net servers. So I started a chat with one of its support executives.
He advised me to open a support ticket for website migration and provide the previous host's login details.
You won't believe that the Rocket.net migration team moved my entire site to its platform within just 32 minutes.
Honestly, I didn't expect such quick technical assistance.
Rocket.net has other support channels, including phone calls, emails, and knowledgebase.
If you're a DIY-type WordPress user, Rocket.net has a few KB articles and FAQ sections. 
Don't expect vast support documentation because Rocket.net is a fairly new company to the hosting market.
However, creating a robust Knowledge Base could reduce support queries over live chat and phone calls.
Rocket.net Hosting Review: Pricing Plans and Discount
| | | | | |
| --- | --- | --- | --- | --- |
| Plans | Starter | Pro | Business | Agency |
| Websites | 1 | 2 | 10 | 25 |
| Storage | 10 GB | 20 GB | 40 GB | 50 GB |
| Bandwidth | 50 GB | 100 GB | 300 GB | 500 GB |
| Average Visits Per Month | 250,000 | 1,000,000 | 2,500,000 | 5,000,000 |
| Price (Monthly) | $30/Month | $60/Month | $100/Month | $200/Month |
| Price (Annually) | $25/Month | $50/Month | $83/Month | $166/Month |
| Discount | $1 Launch Offer | $1 Launch Offer | $1 Launch Offer | $1 Launch Offer |
| Buy Now (Link) | Starter | Pro | Business | Agency |
1. Starter Plan 
Rocket.net Starter plan is for individual creators and bloggers who own only a single site.
The plan allows 1 WordPress install and staging area. The disk space is 10 GB and enough for most users who own a personal site.
However, media-heavy blogs, photography sites, and frequently updated news sites that post tons of content every day may quickly run out of storage space.
Rocket.net claims that the Starter plan can handle ~25,000 monthly unique visitors. You'll also get standard features, including free SSL, global CDN, WAF, and a 99.99% uptime guarantee with this plan.
The Starter plan costs $30 per month (equivalent to the Kinsta Starter plan). However, you get two months of free hosting on annual purchases which effectively reduces the pricing to $25 per month.
Currently, Rocket.net is running a special launch offer where you can get the Starter plan for $1 for the first month (a $29 instant discount).
After reading my Rocket.net hosting review, if you feel it's worth paying $1 for a complete month, then click the button below to visit the Rocket.net landing page.
2. Pro Plan 
Rocket.net Pro plan is designed for web creators and online businesses that host multiple websites.
This plan supports up to 3 WordPress websites and allows ~100,000 monthly unique visitors across all websites.
You'll get 20 GB disk space and 100 GB bandwidth for your hosting account.
Like the Starter plan, the Pro offers all standard features, including free SSL, global CDN, WAF, and a 99.99% uptime guarantee.
The Pro plan costs $60 per month. However, you get the same plan at $50 per month by paying annual bills upfront, i.e., free hosting for two months.
3. Business Plan  
Rocket.net Hosting's Business plan is suitable for startups, SMBs, and blog networks requiring single login management.
The plan allows up to 10 WordPress installs and ~250,000 monthly traffic.
Rocket.net's global CDN and full-page caching mechanism enable you to handle even more visits per month.
The business plan offers 40 GB storage, which seems a little low.
Surprisingly, Kinsta found that the average WordPress installation for a typical client is just 1 GB for a single site.
That's why 40 GB of disk space is enough for most users.
As you upgrade Rocket.net hosting, there is not much difference in features except the disk space, bandwidth, and a number of WP installations.
You'll receive the same level of hosting services and customer support irrespective of the plan you choose.
Let's discuss the pricing for the Rocket.net Business plan.
The plan costs $100 per month if you pay monthly. The annual billing gives two months of free hosting, i.e., $83 per month.
4. Agency Plan  
Rocket.net Agency plan is for large publications, e-commerce stores, professional website designers, and agencies that manage multiple client websites.
This plan allows up to 25 WordPress installations. In addition, you'll get 50GB storage and 500 GB monthly bandwidth with each account.
Agency plan users can host multiple large websites. That's why Rocket.net allows a massive ~500K monthly traffic on Agency plans. 
If you're buying the Rocket.net Agency plan, you need not worry about the WordPress-specific features.
Each agency plan includes free SSL, free CDN, unlimited migrations, automatic daily backups with 14 days of retention, WAF, hack & malware removal, and many other features. 
The pricing for the Agency plan is $200 per month, with a monthly billing cycle. However, you can get a ~17% discount on annual billing that effectively lowers the Agency plan price to $166 per month.
If you're not sure about the hosting performance and support quality even after reading my Rocket.net Hosting review, please grab a $1 launch offer coupon to test it for a complete month.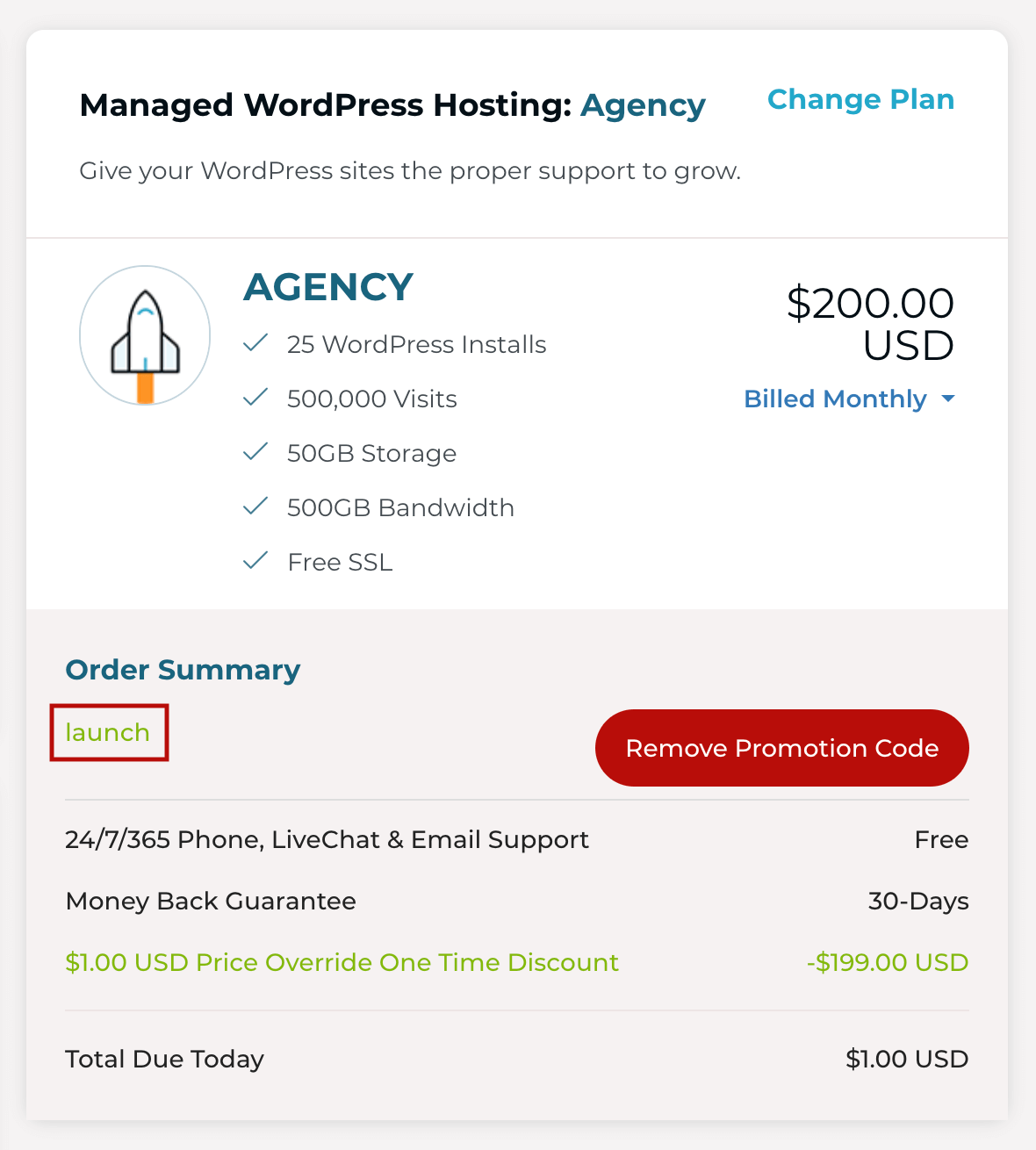 That's a $199 saving on the first-month bill.
Pros of Rocket Managed Hosting
State-of-the-art Hosting Infrastructure built on Enterprise Servers
Free CDN with 200+ Global PoPs
99.99% Uptime Reliability
Managed Security, Including Free SSL, WAF, DDoS Protection, and Hack & Malware Removal
Daily Automatic Backup with a 14-Day Retention Window
Free Staging Installs
Automatic Updates
Multisite Support
Dedicated Resources (CPU, RAM, I/O) for Every Account
Full Page Caching
WordPress Optimized Software Stack
24/7 Responsive Support
Simple and Transparent Pricing
Expert Optimizations for Better Site Speed Results
Advanced Features for Developers, e.g., SSH Access, Git Integration, and Cron Jobs
Cons of Rocket Managed Hosting
A Little Expensive for Beginners and Non-commercial Sites
No Email Hosting
No Domain Registration
Pre-installed WordPress Plugins (I Seriously Hate Such Marketing Tactics)
Poor Support Documentation/Knowledge Base Articles for DIY Users
Supports the only WordPress CMS
Rocket.net Alternatives
Managed WordPress hosting space has fierce competition. If you don't want to go with Rocket.net, I have listed the top alternatives that offer similar performance and a few extra features, such as email accounts and domain registration.
1. Kinsta
Like Rocket.net, Kinsta is a premium managed hosting service powered by the Google Cloud Platform. 
24 global data centers, highly secure network, daily backups, hack & malware removal, speed optimized stack, free migrations, and expert support are key features of Kinsta Hosting.
The pricing starts at $30 per month and can go up to $1500 per month depending on the number of sites and server resources required.
Currently, Kinsta is offering two months of free hosting on its annual plans.
Grab this deal before it expires.
2. WPX Hosting
WPX is a popular managed WordPress hosting with some cool features such as unlimited migrations, daily backups, free SSL, and hack & malware removal.
The best thing is that you can register domain names and create email accounts, which is currently not possible with Rocket.net.
LiteSpeed-powered servers combined with custom-built WPX Cloud enable you to achieve excellent hosting performance worldwide.
The WPX Hosting Pricing starts at $24.99 per month for up to 5 websites. Upgrading to an annual subscription reduces the price to $20.83 per month.
Bigger websites can purchase higher-tier plans or ask for custom pricing.
3. Cloudways
Cloudways offers managed cloud VPS hosting at affordable pricing.
If you want to get the best site speed, security, and uptime reliability, Cloudways is a good option.
It allows you to choose one of the five popular cloud providers to host your site and provides you with complete server management and technical assistance at an extremely competitive price.
The Cloudways pricing starts at $10 per month ($0.0139 per hour). You can add more resources or purchase add-on services by logging into your account dashboard.
Rocket.net Hosting Review: FAQs
What is Rocket.net Hosting?
Rocket.net is one of the best managed WordPress Hosting Platforms, which promises a simple UI, blazing-fast page speed, and a secure hosting environment. In addition, it offers 24/7 technical assistance over live chat, phone calls, and emails with a quick resolution time. The pricing starts at $30 per month and goes high up to $200 per month.
How fast is Rocket.net Hosting?
Rocket.net Hosting promises the fastest page speed. The enterprise-level infrastructure and WordPress-optimized stack enable Rocket.net users to achieve a loading time of less than 2 seconds with zero to little optimization.
What is Rocket.net's uptime rate?
Rocket.net claims a solid 99.99% uptime for the websites hosted on its servers. However, I got 100% uptime for a Rocket.net test site. 
Would you recommend using Rocket.net?
In my Rocket.net hosting review, it performed beyond my expectations. If you can afford the pricing, I would highly recommend using Rocket.net to host your business sites.
Does Rocket.net offer a free trial or discount coupon?
Currently, Rocket.net doesn't offer a free trial, but the new hosting purchases are protected with a 30-day money-back guarantee. Get an exclusive $1 Rocket.net launch coupon and save up to $199 on your first month's hosting bill.
Rocket.net Hosting Review: Conclusion
I hosted a clone of my blog – SuccessPixel, on Rocket.net managed hosting platform to evaluate its UI, speed, security, and support.
It beats many premium WordPress hosts on the above parameters.
Still, I can't say that Rocket.net is a perfect WordPress hosting option for everyone.
It misses a few critical features, like email hosting and domain registration.
I hope that Rocket.net will include those features in the upcoming days.
The pricing is an issue for some people.
These people should either focus on creating the right strategies to generate positive ROI or look for affordable cloud hosting services such as Cloudways or ScalaHosting.
I strongly suggest you get Rocket.net hosting and try to build a recurring revenue stream.
It'll allow you to pay the hosting bills and grow your business to the next level.
Rocket.net Hosting Review
Name: Rocket.net Hosting
Description: Rocket.net is a powerful managed WordPress hosting. Its easy-to-use control panel, lightning-fast speed, and built-in website security features give your website an instant advantage in today's competitive world. Get Rocket.net Hosting for $1 for the first month as a launch offer. Click the button below to claim your discount.
Offer price: 1
Currency: USD
Operating System: Linux
Application Category: Managed WordPress Hosting
Author: Ankit Main
Performance

Security

Pricing

Support
Comments Rating
( reviews)