Affiliate Disclosure: I publish various content marketing strategies, online business ideas, blogging tutorials, review articles, and discount offers on my blog. My content may contain some affiliate links for products/services I use, love, and recommend. If you take action (i.e., subscribe or make a purchase) after clicking one of my affiliate links, I'll earn an affiliate commission at no additional cost to you. It helps me in creating more helpful content like this.
"How to create a WordPress website from scratch" is a frequently asked question by beginners and aspiring bloggers.
Whether you want to build a hobby blog or a professional website, this responsive web design tutorial will help you.
Later you can monetize it using Affiliate marketing, Google AdSense, or even drop shipping can give you lots of money.
Self-hosted WordPress site is not compulsory, but it's not optional too.
You should go with a self-hosted website to earn huge money from the internet.
Many platforms, including WordPress, can bring unbelievable opportunities to you with no coding skills required.
What is Required to Create a Responsive Website from Scratch?
I have already written about how to create a free blog with Blogspot.com. It's for essential learning and to improve your blogging skills.
You can learn a few basic things with that platform and earn a small amount of money. But if you want to create something big and make tons of money, it's better to move on to the self-hosted platform.
Self-Hosted blogs have a better reputation and seem more professional than free platforms. However, it doesn't mean you can get a reputation and a massive profit from the self-hosted platform without doing any work. You must work smart (not hard) to get your bank account flooded with money.
Free platforms have limitations regarding web space, design, and extra features like e-commerce capabilities. You may not build a full-featured online store with them.
On the self-hosted platforms, your limitations go away, and the sky is the limit for you. You can do everything you want, and at the same time, earning possibilities also increase tremendously.
Now, you must be eager to start your blog or website. So I will help you to create your self-hosted blog or website step by step.
How to Create a WordPress Website for Beginners [Step-by-step Tutorial]
There are several platforms like Drupal and Joomla for CMS (Content Management Systems), but WordPress is very popular among them.
It's a free platform where you can create a website.
The most recent stats show that WordPress is the No. 1 CMS powering around 43% of the entire web (As of October 23, 2023), which is rising.
It's still at the top of the chart, with a market share of 64.3% of the known CMS. So we are going to use WordPress to create a website.
To create a responsive self-hosted WordPress website (or blog), you will need the following:
CMS (WordPress itself)
Responsive theme and essential plugins
Niche-relevant content
Wait here and reread the requirements before going to create a self-hosted website. So you can get the briefs of building a website. You must play smart with the above tools to increase your reputation, online presence, and brand and business growth. So we will start now.
1. Select a Perfect Niche
Selecting an appropriate niche is crucial if you don't have any business or brand. Of course, a brand owner will probably go with his brand name, but you must emphasize this as an independent person.
If you select a proper niche, then the chances of your success will be more.
Most people will suggest you go for the trending topic, but it's not worth it in every case.
If you plan a long career with it, you should select an evergreen niche for your website.
Go with the generic or independent niche like sports, culture, health, and finance in which you have expertise instead of currently trending topics that will fade over time.
Important: For event blogging, you can choose trending topics or upcoming events like festivals.
2. Register a Domain Name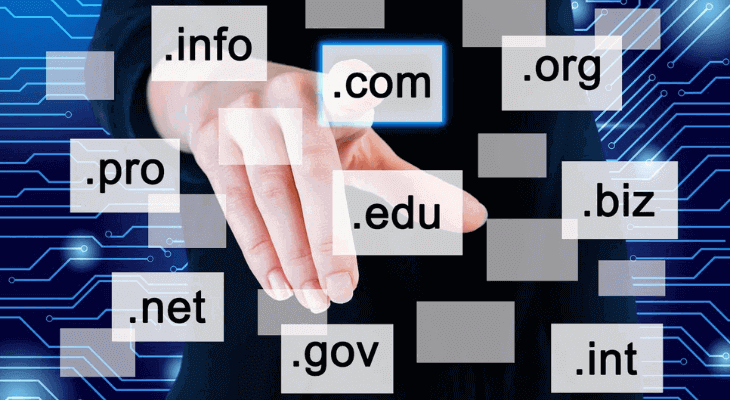 Nowadays, finding a perfect domain name has become a terrible job because popular domains are already registered or trademarked by other people.
But don't worry!
You can still own a suitable TLD (Top Level Domain) for your website.
It may be generic or keyword-based.
If you want to stick with a single niche only, now and in the future, then a keyword-rich domain name must be your first choice.
Otherwise, you can select any name or phrase as a domain name; even you can include your name in it if possible.
The important thing about selecting domain names is that the domain name must be easy to remember, short, and simple to type. Don't use hyphens and numbers too.
Find a good domain name that won't lead to copyright infringement or cybersquatting issues.
The next thing is to select an appropriate domain extension. I'm sure you will choose the '.com.' extension for your website.
Although there are other TLDs, you must go for '.com.' whenever possible because it's the highest-rated TLD extension.
3. Hosting Service Provider
Once you get a perfect domain name, the next move to create a website is to buy a hosting service. It may be shared hosting, VPS hosting, reseller hosting, or cloud hosting.
Shared hosting is good enough for starter sites or even for medium-sized websites. However, if you are seriously planning to build a business website, you can go for managed WordPress hosting or Cloud VPS with dedicated IP.
The selection of hosting needs proper guidance; otherwise, you may lose money by investing it in the wrong place. Therefore, before buying any hosting service, you must check for the following points.
1. Reliability
Reliability includes server uptime and prompt customer support. Before buying a hosting service, server uptime is the most critical aspect to check. If the server is not responding, you will lose your traffic very quickly, affecting your revenue the most.
2. UI Quality
The server UI quality includes how easy to manage your account is with the help of Cpanel (Control Panel) and its navigation. At the same time, you can check what are the services inside your Cpanel and how handy it is to operate even as a rookie.
3. Flexibility
Check for the flexibility of your hosting provider concerning grading and transfer of domain with time and money.
Check their terms of service once before buying a hosting plan that we generally don't.
4. Resources Limit
Visitors feel very good when the site loading time is fast, and can quickly get the content they are searching for.
Check reviews from experts about it. Take an overview of space and the bandwidth they are providing.
For the average website, 1-5 GB of space and 30-50 GB of bandwidth are enough. You can upgrade the current plan in case of the traffic to your site is very high.
5. Price
Last but not least, when you want to buy a hosting plan, look at the market price and its offerings. Some companies offer hosting services at a meager price.
Be aware of them concerning the above points. Even the expensive hosting plans may not be better.
Compare various plans on different key points and select the best and go for it. Sometimes, you may get coupons or deals.
We recommend buying web hosting from Hostinger as their service is best suited for any webmaster.
Look for the plan best suited for you. I recommend you pick Hostinger's WordPress Starter plan, which offers ample resources to host multiple websites.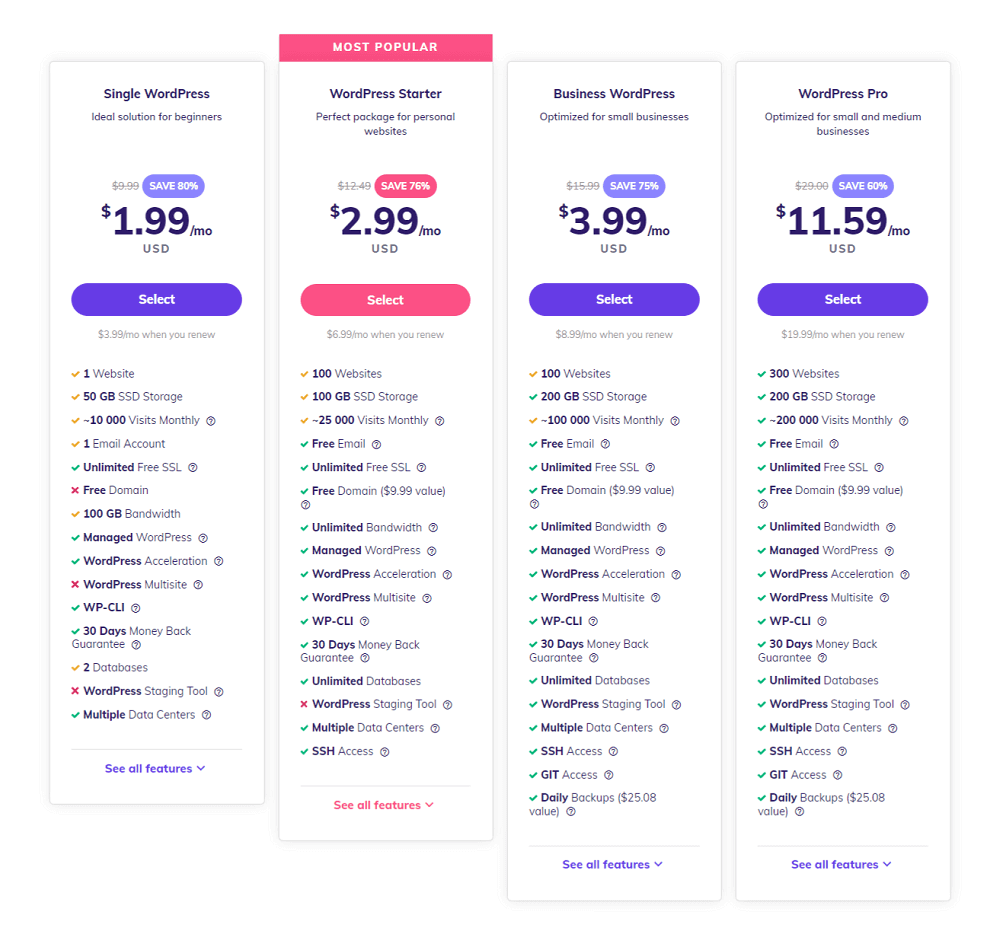 4. CMS (WordPress)
As we decided above, we will go with WordPress. Although there are different CMS (Content Management Systems), we have found that WordPress is better than other CMS software.
After buying a domain and hosting, you can log in to your cPanel, where you can see your database, files, backups, domain, emails, and app installers.
From the installer menu, Select and install the WordPress CMS on your domain (Leave the directory field blank).
Fill in all essential details for the WordPress site, including site name, description, admin name, and password.
Choose a secure password for WordPress with combinations of letters, numbers, and special characters.
Select a responsive theme from the list and save the installation progress.
Yeah! Your website is live now, and you can start to blog or create web pages on it.
5. Themes and Plugins
Themes
A good theme is vital to your website's growth because it gives your site a beautiful look and adds some extra value.
It's also helpful in engaging visitors on the page for a long time, thus increasing your conversions. So always prefer a responsive theme.
As the mobile market is increasing and more than 50% of visitors come with mobiles, your website must be responsive. That responds to any screen size very effectively for a better user experience.
You can get it for free or invest a few bucks to buy a premium theme to give your website a beautiful look. Optimize your theme for better conversion and leave white space on web pages.
It not only gives a pleasant look but also helps the reader to crawl more on that particular web page.
Plugins
The next step to make is to install essential Plugins for your website.
Many people give you different recommendations, but these are the must-have plugins: Rank Math SEO, WP Rocket, and Forget Spam Comment.
The list is vast, and you can find the best WordPress plugins according to your needs.
Themes and Plugins are either free or paid. So you can decide whether to buy, irrespective of their marketing gimmicks for paid versions.
6. Contents Publishing
All things are set up. Now you can publish the posts on your blog. Next, create basic pages like About Us, Contact Us, and Privacy Policy (if you are going for marketing to monetize your website/ blog).
Other pages are Terms of Service and Disclaimer which are helpful if you are planning for an online business. Link all pages and posts to each other wherever possible only take care not to exceed it,
If you have expertise in the selected field, you can easily create content on it. Otherwise, you can outsource the content.
The only thing to check is whether the content provided by the freelancer or outsourcing party is original and correct or not. Initially, you have to work more, but you can easily earn a streamlined flow of passive income when you set.
You can also use AI Writing Software to create high-converting content quickly and easily.
I hope you have better understood every basic concept of the self-hosted responsive WordPress website. If you want to add more points, let me know by putting them in the comment box.