Affiliate Disclosure: I publish various content marketing strategies, online business ideas, blogging tutorials, review articles, and discount offers on my blog. My content may contain some affiliate links for products/services I use, love, and recommend. If you take action (i.e., subscribe or make a purchase) after clicking one of my affiliate links, I'll earn an affiliate commission at no additional cost to you. It helps me in creating more helpful content like this.
WordPress Plugins are incredibly powerful tools for adding new functionalities to the site and extending the existing ones.
Many people ask me about the best WordPress plugins for blogs to improve SEO, social sharing, and aesthetic feel.
However, I recommend installing only the required plugins to get optimal performance.
In this article, I have shared a list of the must-have plugins for WordPress-powered sites.
Considering a bright future in blogging, you should check out this complete list of the best WordPress Plugins for blogs in 2023.
10 Best WordPress Plugins For Blogs [2023Edition]
1. Antispam Bee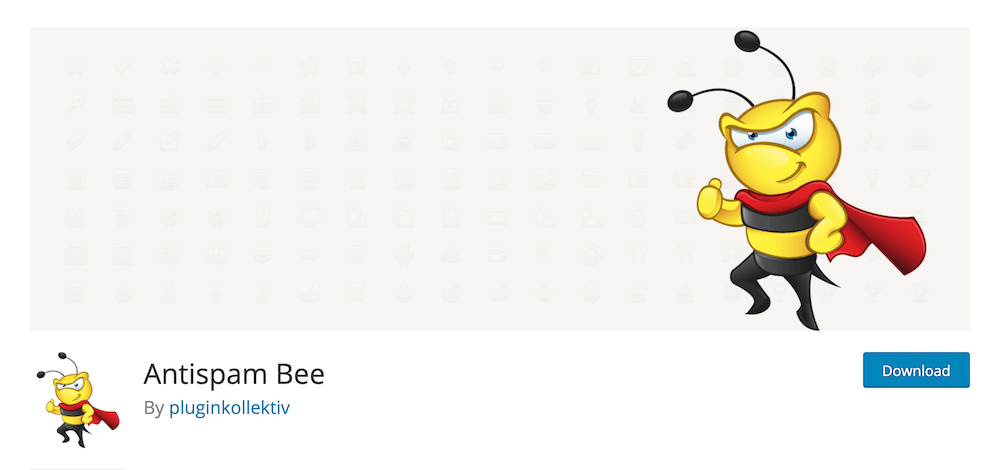 Antispam Bee protects your site from spam comments and trackbacks, without captchas and without sending any personal information to third-party services.
It is 100% GDPR compliant, ad-free, and completely free of charge.
You can review the comments for spam under the Comments section of your WordPress admin dashboard.
It checks for all comments automatically and filters out comments which look like spam.
Other features include status history, URL on each comment body to show hidden links, and discard feature to wipe out blocked and spam comments.
You as admin can see all approved comments on your dashboard.
2. Rank Math SEO Plugin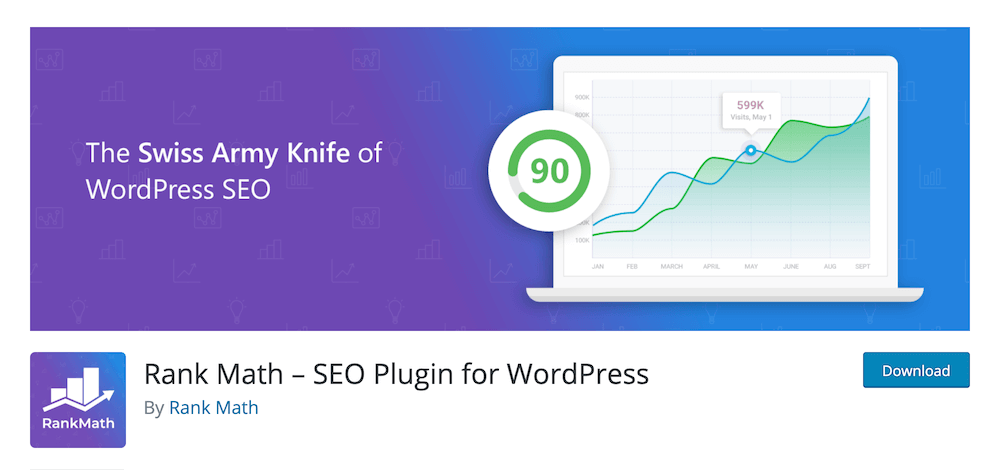 If you are running a WordPress blog and you haven't configured it with the Rank Math SEO plugin, then you are losing a lot of organic traffic.
Initially, I was using Yoast SEO, but Rank Math has opened a horizon of new possibilities with more advanced features in its free version.
Rank Math SEO plugin helps you improve your on-page elements, link structure, and social media integrations to control your SEO (Search Engine Optimization) process.
At the same time, you can tweak more advanced settings like managing 404 Errors, Redirections, Rich snippets, and AMP.
Rank Math SEO is the best SEO plugin for WordPress websites without being code-savvy.
3. All In One WP Security & Firewall
All In One WP Security & Firewall is one of the most downloaded WordPress security plugins.
It's powered by a regularly updated threat defense feed to stop your site from getting hacked or severe other security issues.
All In One WP Security is a stable and well-supported plugin offering a bunch of security features for completely free.
These security features include firewall, user login security, file system security, user accounts security, database security, and blacklist functionality.
4. Novashare
Novashare is an extensive social media sharing plugin that offers maximum flexibility allowing you to share your content on more than 19 popular social networks.
It also offers many attractive templates with the most comprehensive set of automatic design positions and attention-grabbing styling.
Whether you want to enable image sharing, add a social counter, or add a Click to Tweet block without an extra plugin, the Novashare WordPress plugin is a perfect tool at an affordable cost.
Need more?
Here are some notable features of the Novashare WordPress plugin:
Lightweight & blazing fast that won't slow down your site
Multiple social sharing options, including image pins and click-to-tweet block
Social share count
GDPR compliant
Built-in analytics for social metrics
Affordable pricing
*After testing more than 20 popular social sharing plugins, I've found that Novashare is the best WordPress social share plugin, and I'm using it on several websites.
5. GDPR Cookie Consent (CCPA Ready)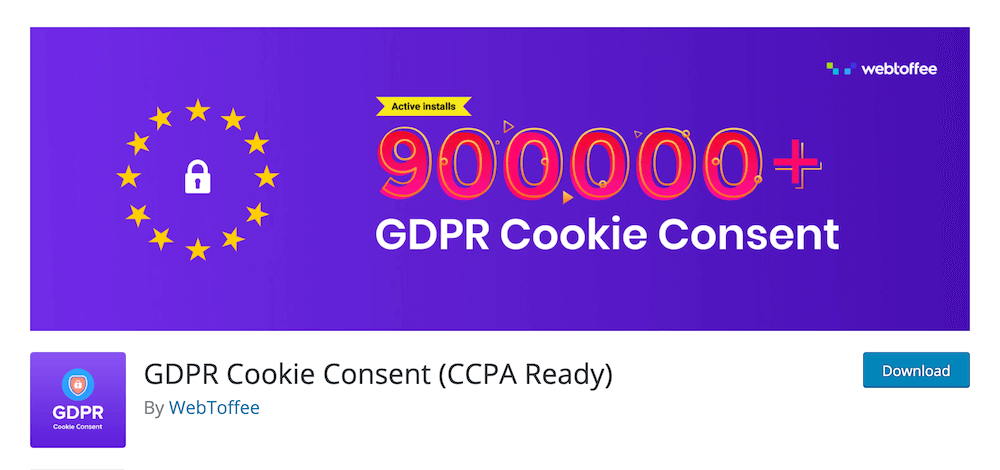 The GDPR Cookie Consent is the simplest and most popular WordPress Cookie Consent plugin to inform the users that your website uses cookies.
Cookies are important to identify users, keep them logged in, and track their on-site activities.
However, user consent is required to collect and process data to comply with the EU cookie law or GDPR.
The GDPR Cookie Consent WordPress plugin is fully customizable where you can change the cookie message, text color, and background to fit with the visual appearance of your website.
There are many other options including –
GDPR and CCPA Ready
Multiple cookie expiry options
Make the cookie notice bar disappear after a few seconds or accept on scroll
Option to refuse functional cookies
Option to revoke the user consent
Seamless integration with Official Facebook Pixel, Smash Balloon Instagram Feed & Twitter Feed
Select the position of the cookie message box
6. Thrive Architect
When we build a landing page or custom layout for blog posts, we probably need different tools like shortcode plugins, contact forms, Click to Tweet plugins, animation effects, and Table builders.
A few smart people choose a visual page builder instead of installing tons of plugins which may hamper the website performance.
However, most of the visual page builders available in the market work similar to the backend builders, and we need to compromise on the speed of site development.
This is not the case anymore.
Now, you can use Thrive Architect to build a conversion-optimized homepage, landing pages, sales pages, or custom layouts for blog posts.
You can design or customize a web page using pre-built conversion elements even when you don't have coding knowledge.
Thrive Architect lets you preview your pages on different screen sizes and tweak settings to make them mobile-friendly.
It offers 36 essential page-building elements including CTAs, lead generation forms, pricing tables, and integration with 30 third-party services to win each development hustle.
Are you struggling to get conversions on your website?
Get Thrive Architect WordPress plugin and convert your blog into a money-making machine.
7. Swift Performance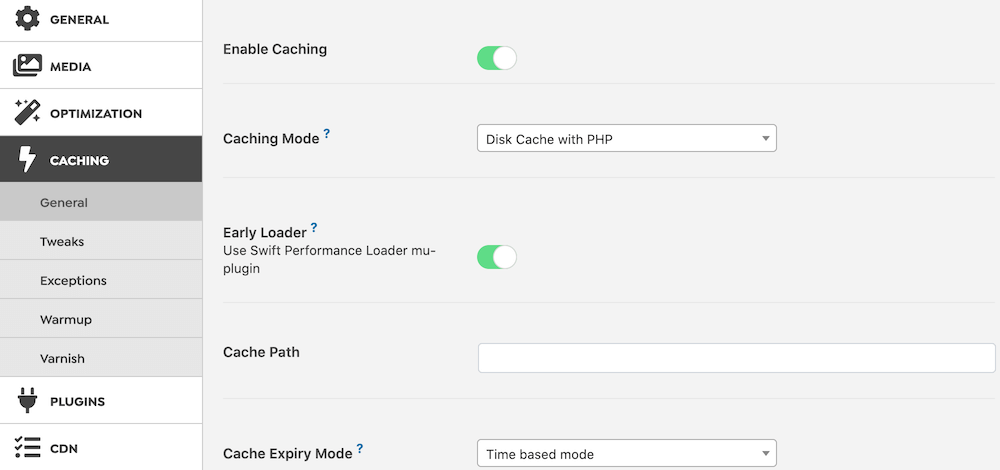 Swift Performance is one of the simplest WordPress caching plugins and justifies its name with its performance.
Swift Performance increases the loading speed of any WordPress site through an intelligent caching mechanism. You can even cache dynamic pages, and AJAX requests, and add exceptions (page, URL, or content-based rules).
Here are the top reasons why Swift Performance is our #1 pick.
Modern page caching system
Compatible with WooCommerce, bbPress, Cloudflare, and Varnish
CSS and Javascript optimization

Database Optimizer to clean duplicated metadata, orphans,

expired transients,

and spammy comments

Plugin Optimizer
Premium users will get additional features such as Compute API (speed up the merging process and decrease CPU usage), critical icon fonts, unlimited image optimizer with WebP support, remote cron, and extended WooCommerce features.
You can try Swift Performance Lite before purchasing the premium version.
However, if you have a budget for site speed optimization, I recommend getting a Swift Performance premium.
8. Easy Table of Content
If you write long-form articles, then adding the table of content is extremely useful to improve user experience by letting them quickly navigate your web pages.
Writing custom code for the table of content is not everyone's cup of tea.
However, the Easy Table of Content WordPress plugin automatically adds a TOC for every blog post, page, and custom post type containing the output of the_content() template tag.
You can also change the settings for individual posts and pages or hide the table of content on a post-by-post basis.
9. ThirstyAffiliates Affiliate Link Manager
ThirstyAffiliates is a WordPress plugin that empowers you to monetize a WordPress website with affiliate marketing.
It offers various features, including inbuilt affiliate link shortening/link Cloaking, 301 redirections, customizable link URL prefixes, DoFollow/ NoFollow option, and much more.
Here are a few more useful features to get more revenue from your affiliate links.
Autolink Keywords: Increase your affiliate income by automatically linking affiliate links to keywords throughout your site.
Geolocation Links: Geo-target your visitors and redirect them to geographically appropriate alternative affiliate URLs, an excellent way to level up your income.
In-depth Reports: ThirstyAffiliates provides in-depth analysis for your affiliate links in the form of charts and tables full of useful statistics, plus regular admin email reports.
Automatic 404 Checker: The WordPress plugin proactively checks affiliate links for 404 and saves you a potential revenue loss.
10. WP Review Pro
WP Review Pro is the best WordPress plugin for blogs that use affiliate marketing or e-commerce store as their primary monetization strategy.
It enables you to create beautiful review boxes, popups, notification bar, and comparison tables.
WP Review Pro supports ~19 types of schema and helps you get rich snippets in the SERP.
Rich Snippets are very interactive and often contain images, star ratings, product details, and author information.
As a result, rich snippets have higher CTR than regular snippets indirectly impacting SEO ranking and organic traffic.
It's fully compatible with WP Multisite.
Since I started using WP Review Pro, I saw a huge spike in my affiliate commissions.
Do you want to improve your organic rankings and get more traffic and sales?
Visit MyThemeShop and get a license of the WP Review Pro WordPress plugin for your affiliate blogs.
Final Words
I have shared the list of some of the best WordPress Plugins for blogs, and surely it can help you to keep your blog alive and to grow continuously.
If you find any WordPress plugin worth adding to this list, then feel free to write it down in the comment box below.
If you have any queries or feedback on my post, let me know.
Don't forget to share this post with your friends using WordPress for building their site(s).