Affiliate Disclosure: I publish various content marketing strategies, online business ideas, blogging tutorials, review articles, and discount offers on my blog. My content may contain some affiliate links for products/services I use, love, and recommend. If you take action (i.e., subscribe or make a purchase) after clicking one of my affiliate links, I'll earn an affiliate commission at no additional cost to you. It helps me in creating more helpful content like this.
If you're searching for the best WPX Hosting alternatives, I have listed top managed WordPress hosting services with superior performance, robust security, and responsive customer support.
You need not read the entire article.
Pick one of the web hosting services from the table below and check whether it meets your requirements.
I'm sure that your search for the best WPX.net alternative will end here.
List of 10 Best WPX Hosting Alternatives
WPX.net is undoubtedly one of the best WordPress hosting for business sites. It offers faster speed, dependable security features, and quick technical support.
Still, many people search for WPX.net alternatives.
The reason is quite simple.
Although WPX Hosting is powerful WordPress hosting, it has a few downsides. Switching to one of the WPX competitors will help you overcome these issues.
Downsides of WPX Hosting Service
1. Suitable for Multi-site
WPX.net Hosting plans start at $24.99 for 5 websites. It costs less than $5/month for each site, and annual pricing lowers the cost a bit. Still, WPX Hosting is not an affordable web hosting service for most single website owners, especially beginners with limited funds.
2. No cPanel Support
The cPanel is widely used for managing web hosting services. However, WPX.net uses a custom hosting control panel.
No doubt the WPX Hosting panel has a great UI, but it lacks some critical features.
3. No Phone Support
WPX.net does not offer phone support, saving a huge cost on technical support. Some webpreneurs may require this feature that is unavailable at WPX Hosting.
4. Speed Performance
If you load multiple heavy websites on a single account, the speed performance may not be impressive.
5. Website Migration Policy
If you fail to change nameservers (or MX records), that requires further migration work, WPX.net charges $98 per site for each additional migration after the original free migration work.
Plus, WPX charges an extra $98 per site if the actual domain name, or a website's URL address, is being changed during the website migration process.
In case you have similar issues, you can choose one of the best WPX Hosting alternatives listed below.
The Best WPX Hosting Alternatives
Each customer has unique web hosting requirements. Hence I have listed the top 10 managed WordPress hosting services that match WPX.net in one or more categories.
Depending on your site's requirements, you can choose one of the best WPX Hosting alternatives.
1. Kinsta
Kinsta is a premium-class managed WordPress hosting and seems the perfect competitor to WPX.net.
Google Cloud Platform powers Kinsta's infrastructure, ensuring the ultimate speed performance and network availability.
State-of-the-art technologies such as PHP 8.0, Nginx, MariaDB, LXD software containers, and compute-optimized VMs enable your site to load extremely fast.
Plus, these technologies allow complete resource isolation, automatic resource scalability, and high availability.
From the security perspective, Kinsta is one of the most secure WordPress hosting platforms. It offers SSL certificates, hardware firewalls, DDoS Protection, automatic backups, and 24/7 site monitoring.
Kinsta checks all websites every 2 minutes and fixes if anything goes wrong even before you or visitors notice it.
MyKinsta panel, staging areas, free migrations, 22 global data centers, free CDN, and enterprise-level hosting make Kinsta a perfect WPX Hosting alternative.
Kinsta pricing starts at $30/Month for a single site plan and goes up to $1500/Month for 150 WordPress sites plan.
Compared to WPX.net, Kinsta is an expensive web hosting option. However, it's 100% value for money services.
A special mention – Kinsta powers numerous top websites, including Ubisoft, Buffer, FreshBooks, Flippa, Tripadvisor.
So if you want a reliable hosting provider, Kinsta is undoubtedly my #1 recommendation as a managed WordPress host.
Pros
Google Cloud Platform (GCP) powered infrastructure
Ultimate speed irrespective of the number of hits or website size
Dependable security and hack-fix guarantee
Auto Scaling Resources
Free Migrations
24/7 Site Monitoring
Quick customer support
Cons
No phone support
External email service integration required
A little expensive
2. Rocket.net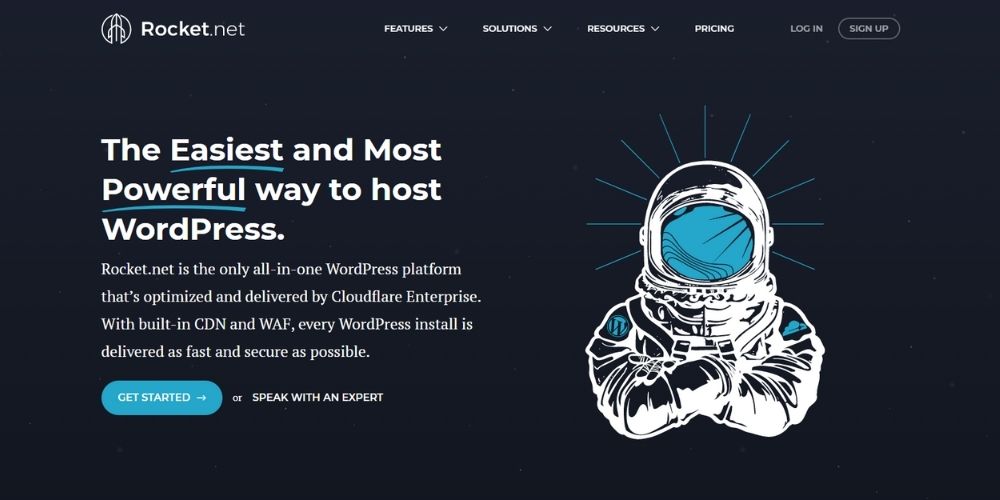 It's a powerful WordPress hosting platform built over Cloudflare Enterprise. Many of you already use a few Cloudflare services, especially its CDN and Railgun.
So don't worry about the hosting performance again.
Rocket.net automatically optimizes your website with no configuration required from your side.
Global CDN with full-page caching, HTTP/2 & HTTP/3 support along with Brotli compression and image optimization, and Argo Smart Routing allows your website to run faster than ever before.
Rocket.net hosting takes your website security seriously.
That's why Rocket.net offers two-layer protection for every website hosted on its platform.
The first security layer consists of Global Website Firewall powered by Cloudflare Enterprise WAF that blocks malicious requests before they are about to reach your WP installation.
The second security layer is a local website firewall powered by Imunify360. This feature scans your server for all incoming requests enabling protection against brute force attacks, weak password usage, and similar threats.
Additionally, Rocket.net deployed real-time malware scanning that automatically searches and fixes malware issues at no additional cost.
Easy-to-use control panel, free SSL, hassle-free website migrations, automatic updates, on-demand backups with up to 14 days retention, access to developer tools such as SFTP, SSH, Git Integration are a few more things that make Rocket.net one of the best WPX Hosting alternatives.
Like WPX Hosting, Rocket.net Hosting isn't cheap either. The Rocket.net pricing ranges from $30 for a single website plan to $200 for a 25 websites plan.
However, you can get two months of free hosting on annual hosting purchases.
No doubt that WPX.net is cheaper than Rocket.net and can accommodate more websites in its starter plan.
But in the performance battle, Rocket.net has the edge over WPX Hosting.
Please don't take my words.
Grab any Rocket.net plan at just $1 for the first month and decide whether it's the best fit for your requirements or not.
Pros
Cloudflare Enterprise Platform
Significant improvements in Google Pagespeed Insights (GPSI) score
Highly secure platform with hack & malware removal promise
Quick and hassle-free migrations
24/7 site health monitoring
Ultrafast customer support
Cons
No phone support on starter and pro plans
External email service integration
A little more expensive than WPX.net
3. Cloudways
Cloudways is a popular managed cloud VPS hosting solution at an affordable cost.
It offers superfast site speed, managed security, unlimited app support, and 24/7 technical assistance.
Shared hosting can't handle heavy traffic sites effectively.
Switching to VPS or cloud hosting is a great option, but server management is a complex and tedious task.
Instead, you can purchase a managed cloud VPS and focus on your core business.
Cloudways enables you to achieve this freedom.
Auto-healing SSD servers, built-in CDN and caching, HTTP/2, and PHP 8.X help your site load faster than your rivals.
Cloudways has adopted the pay-as-you-go pricing model.
The entry-level plans start at $10 per month and can go high up to thousands of dollars per month depending on the server configuration and bandwidth you consume.
The flexible pricing structure allows you to get superior performance without worrying much about hosting expenses.
Cloudways partnered with the top five cloud providers, including Digital Ocean, Linode, Vultr, AWS, and Google Cloud.
You can start small and upgrade as your site grows.
Do you want to get a free Cloudways trial before making a final move?
Follow this special link and grab a 3-day Cloudways free trial without a credit card.
Impressive, isn't it?
Pros
Top five cloud providers
Best-in-class performance.
Managed security with WAF, DDoS Protection, and 2FA
Auto-healing SSD servers
Free website migration
24/7 Technical Support
Flexible pricing structure with pay as you go
Cons
No cPanel
Customer support can be improved
No domain registration and email hosting
WPX Hosting Alternatives – FAQs
1. Is WPX Hosting good?
WPX Hosting is a popular managed WordPress hosting that offers excellent performance and quick customer support. WPX Hosting is an affordable service costing less than $5/Month for each site if you host multiple websites.
2. What is the fastest WordPress hosting?
WPX.net claims to be the fastest WordPress hosting. A few independent reviewers like Matthew Woodward and Kevin Ohashi agree with that. In case you are not happy with WPX.net for any reason, switch to any of the WPX Hosting alternatives that offer similar or better speed performance, e.g., Rocket.net, Cloudways.
3. Which is the cheapest WPX Hosting alternative?
GreenGeeks is the cheapest WPX Hosting alternative. Its pricing plans start at just $2.49 per month. Like WPX.net, GreenGeeks offers SSD-powered LiteSpeed servers, HTTP/2, Free CDN, SSL+automated backups, advanced security features, and 24/7 technical support. If you have a limited web hosting budget, GreenGeeks is a great option to start with.
What is the Best WPX Hosting Alternative?
Many bloggers and reviewers praise WPX.net. However, it's not the best fit for everyone. The user interface, speed performance for high-traffic sites, and migration process need improvements.
WPX.net lacks some critical features such as phone support and cPanel.
If you're a WPX Hosting user for a while but are not happy with your hosting experience, you should look at our list of handpicked WPX Hosting alternatives.
Kinsta and Rocket.net are premium managed WordPress hosting with skyscraping performance, ironclad security, and excellent technical support round the clock. While these are not the cheapest WPX.net alternatives, you get what you pay for.
Cloudways and Scala Hosting are two managed Cloud VPS services that give precise server control and faster speed performance. Easily scalable resources and a flexible pricing structure are the main reasons to go with these hosting services.
Finally, you have some managed WordPress hosting services such ChemiCloud and GreenGeeks. You can expect almost similar performance as WPX.net, but their initial term pricing is extremely affordable.
Now, it's your turn.
Please choose the best hosting from the above list of top WPX Hosting competitors and get started with it.
Don't forget to share which host you chose and why. I'd love to know your thoughts.
One more request,
Please share this article with your digital family and enable us to help more people to choose the right web hosting for them.