Affiliate Disclosure: I publish various content marketing strategies, online business ideas, blogging tutorials, review articles, and discount offers on my blog. My content may contain some affiliate links for products/services I use, love, and recommend. If you take action (i.e., subscribe or make a purchase) after clicking one of my affiliate links, I'll earn an affiliate commission at no additional cost to you. It helps me in creating more helpful content like this.
The article discusses the 10 best productivity tips for bloggers, online entrepreneurs, and people working from home who struggle with the most common problems such as procrastination, poor time management, and lack of a healthy work-life balance.
As a full-time blogger, I also have to deal with a series of routine tasks, including:
Brainstorming new content ideas
Analyzing competitors
Writing and proofreading new articles
Updating old articles
Reviewing the newly released products
Moderating comments
Optimizing a website for performance and security
Promoting content on various platforms
Networking with fellow bloggers
And many more
Each of us has 86400 seconds in a day, but how we utilize that time determines whether we are successful or not.
In 2018, I made some important schedule changes, and the results are impressive. Adapting to new things wasn't easy since I was used to my old routine.
However, I had to redesign my routine for personal growth and better living. Looking back, I'm very pleased with my decision.
The changes in my schedule enhanced my income and allowed me to spend more time with my friends and family.
I want to share those changes and the best productivity tips for bloggers and online entrepreneurs working from home that may benefit your life.
1. Set Clear Blogging Goals
Establishing clear and attainable goals along with a realistic due date for each sub-task is the best way to upscale your productivity.
You can set multiple short-term and long-term goals.
A short-term blogging goal could be writing 500 words in a single day or sharing a blog post on the top 10 social media platforms.
Similarly, a long-term blogging goal might be Financial Independence, Retire Early (FIRE) at 40.
Set SMART goals and focus on achieving them instead of getting distracted by random tasks and falling victim to the shiny object syndrome.
A common goal of many bloggers is to increase their website traffic and income.
If you ask me, that's not a proper goal.
Instead, they could say their aim is to reach 5,000 organic visitors and $500 per month in the next six months.
Please keep in mind that "a goal without a plan is just a wish." Thus, you should make a proper plan to attain your goal.
2. Create a To-do List
Maintaining a to-do list is essential for staying on the right track.
Not knowing what you have to do when you wake up is a waste of time and energy.
The entire process takes time, and you may spend time on activities that are not crucial for your business and won't produce good results.
Likewise, if you suddenly realize that you need to attend a client meeting or contact your virtual assistant about a new project while you are writing the next blog post, you may find yourself in these circumstances:
Quitting a current task and preparing for the new one. (Unproductive)
Ignoring the new tasks and continuing to work, your mind remains distracted and worries you'll forget or delay important tasks. (Unprofessional & unproductive)
Preparing a clear plan in advance and prioritizing your tasks is the best way to avoid such problems.
Below are a few productivity tips for bloggers and online entrepreneurs on how to achieve better results with a to-do list:
Plan in Advance
Knowing what to do next is the best way to move forward.
Therefore, plan your blogging task in advance, probably right before going to bed.
Having a game plan will save you precious time in the early morning.
Prioritize the Most Important Tasks (MITs)
Organize your daily tasks and prioritize the Most Important Tasks (MITs).
Regardless of what happens, focus on accomplishing those tasks first, then proceed with the rest later on.
Task management apps usually allow users to assign task priorities. It will prove invaluable to you if you learn to use this feature.
Determine the Time Limit For Each Task
Assign time limits to each task added to your to-do list.
By doing this, you can focus on the task at hand instead of wasting time on irrelevant activities.
Completing tasks on time enables you to spend more time on your personal interests.
Keep Your Objectives Realistic
Committing to too many tasks and then failing half of them is one of the worst mistakes you can make.
After reading Chris Fox's ebook "5,000 Words Per Hour: Write Faster, Write Smarter," trying to compete with him isn't a smart idea.
Nothing is impossible if you move forward in small steps.
Do not get overwhelmed by other peoples' achievements. Instead, aim for realistic but still challenging objectives, then push your abilities a bit to accomplish them.
Use Task Management (To-do list) Apps
Task management (to-do list) apps help keep track of planned tasks and stay organized.
You can use any simple or advanced tools depending on the feature requirement. E.g., Google Tasks, Todoist, TickTick, Trello, and Asana
Most to-do list apps offer free versions that are great for getting started.
You can upgrade to their premium plans to unlock more features such as increased limits, advanced analytics, priority support, and custom integrations.
3. Stick to a Routine
Having a routine makes life easier, but only if you stick to it!
Successful bloggers create and follow their blogging schedules diligently.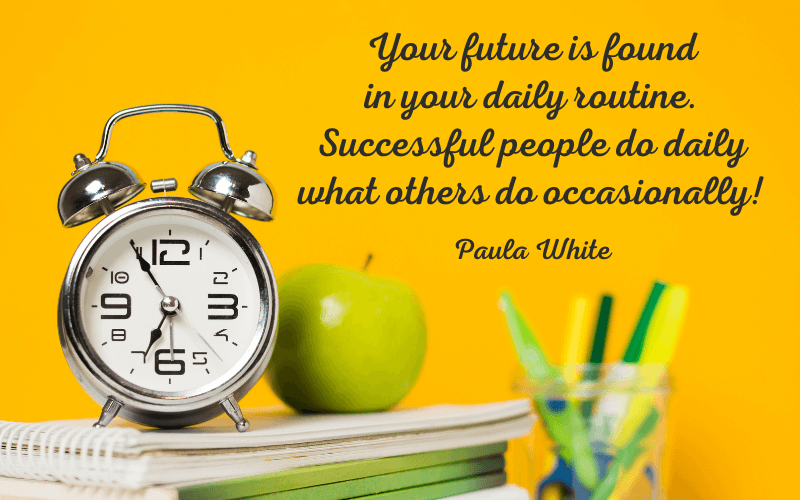 My observations confirm that cultivating and following the right habits is one of the best productivity tips for bloggers and online entrepreneurs working from home.
I remember I was working from my living room when I started my blogging journey.
Due to not many people in my area knowing much about blogging, I was mostly treated like an unemployed individual sitting at home.
I used to ask for shopping groceries, greeting guests, and other household chores during my work hours.
Although I had a flexible blogging schedule, I was unable to follow it.
Therefore, I started working at night, and it tripled my productivity and income.
Today, six years after starting a blog, I have convinced everyone that blogging is a great career choice like any other business. I have to give my heart and soul to ensure an excellent return.
By setting up my home office, I avoided time wasters and continued to work as per my routine.
Since I started following the schedule, I noticed a big difference in my productivity (almost 3X).
So whenever possible, just make sure to have your own workspace and do your best to stay on top of your schedule to assure the best results for your blogging efforts.
It doesn't matter if you're a full-time blogger or have a 9-to-5 job while blogging as your side hustle; staying to a routine will increase your productivity significantly.
For example, if you make it a habit to write blog articles in the mornings or at night, you're essentially training your mind to consistently "switch on the writer mode" at that time.
4. Research
Make sure you have done all the necessary research before you start any blogging task.
For example, when writing a blog post, you must do competitor research, including organic & PPC keywords, backlink profile, content structure, publishing frequency, and traffic statistics of your competitors.
Besides, you should also find enough content to incorporate into your article.
Make a list of the leading publications and authors in your field that you intend to cite in your article as a reference or authority source.
Both Semrush and Ahrefs make excellent picks for blogging research.
Researching content ideas and maintaining references can be expedited by storing them on apps such as Evernote or Pocket that you can access in the future.
Alternatively, you can save references directly on your browser's bookmark bar.
It is also good to look at the top review sites, public forums, and relevant social media communities if you have affiliate sites.
Still, I strongly suggest that you buy the product and thoroughly test it before writing any product review or affiliate article.
The idea of content curation is fine, but original, researched-based content is more valuable.
So next time you write an article, make sure to research everything and take notes, screenshots, reference links, and everything else before you drop your fingers on the keyboard.
5. Create Systems, SOPs, and Checklists
Building systems and standard operating procedures (SOPs) speeds up the blogging workflow.
Utilizing templates or checklists is an excellent way to organize various tasks.
For instance, you can develop an article structure based on a popular content marketing framework such as AIDA or REAN.
It is also possible to create checklists for competitors' research, content writing, and on-page SEO activities.
Using graphic design templates is another best productivity tip for bloggers.
Develop eye-catching templates for blog images and social media creatives that reflect your brand color, font, and unique design touch.
With it, you'll be able to develop blog graphics faster while also building your brand at the same time.
The images below demonstrate how to design multiple blog images by customizing a pre-built template.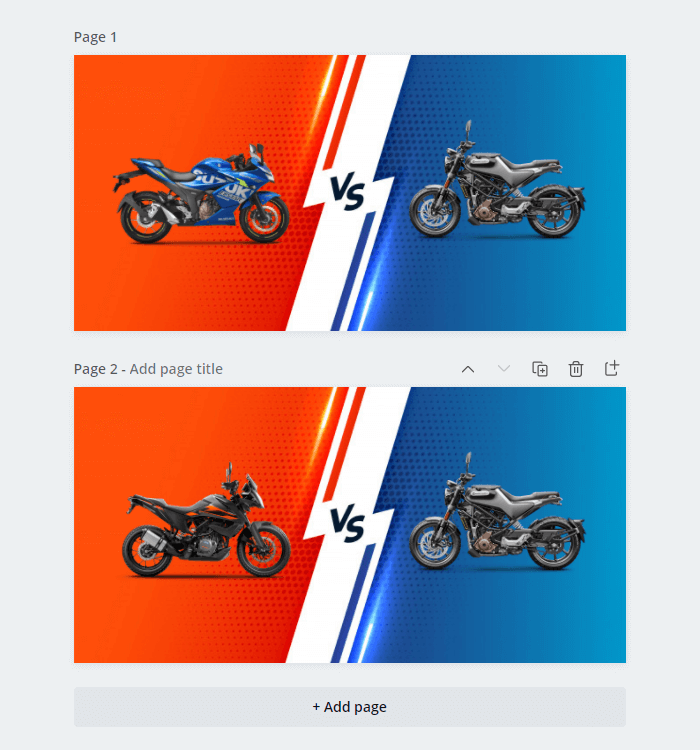 6. Work in Batches
Instead of performing the same task multiple times a day, do it once but over a longer period.
It's surprising to know that working in batches is one of the most powerful productivity hacks for bloggers and online entrepreneurs.
Working in batches is not appropriate for everything, but it is extremely beneficial for performing repetitive tasks.
For example,
Researching SEO keywords
Writing blog articles
Designing, editing, resizing, or compressing images
Scheduling social media posts
Moderating comments
Replying to emails or messages
And many more
Using the batch working method enables you to accomplish more work in a shorter time since it encourages commitment to a specific task.
7. Eliminate Distractions
Distraction is the biggest enemy of productivity.
Being distracted by the things around you reduces your productivity often without you realizing it.
The key to success is to eliminate distractions and stay focused. The following tips can help you eliminate distractions:
Stay Away from Mobile
Keep your mobile phone away from your workstation while you're working.
Picking a mobile during work hours may result in hours spent checking social media updates, YouTube videos, or Quora answers.
It is better to focus on your current job than waste your precious time on nearly unproductive tasks.
Disable Mobile Push Notifications
You may receive the following notifications on your mobile device:
New SMS or WhatsApp message
New message or reply to messenger chat on Facebook, Twitter, or LinkedIn
Push notifications for blogs you subscribed
Random marketing communication
Mobile apps reminding you to use it frequently, e.g., PUBG Mobile
Apps or websites promoting the latest features or products
Mobile apps pushing notifications for time-sensitive events, e.g., Dream11
Device alerts, e.g., battery low/full, high temperature, data consumption limits, software update
It's unnecessary to interact with your phone after every notification, but the sad truth is we have become too accustomed to it.
Nevertheless, you can probably save yourself from unwanted notifications by disabling them all.
Use White Noise
White noise refers to the combination of all the sounds in a frequency range of 20 to 20,000 Hz that our ears can recognize and hear.
You hear approximately 20K different sound tones simultaneously when you hear white noise.
Sounds overwhelming?
Don't worry, I'll explain how it works.
It is easy to recognize the individual voices of two people in a conference room.
In contrast, you can't distinguish who is speaking when thousands of people are shouting around you all at once. It sounds like a blurred roar.
White noise also has a similar effect.
When you hear so many different sounds simultaneously, they blend to form a distinctive noise that blocks any other distracting sounds.
A Journal of Cognitive Neuroscience study found that playing white noise can improve learning and memory in distracting environments, which may positively affect productivity.
The following is a popular example of white noise.
Google Play and iTunes offer some white noise apps, including Noisli, Brain.fm, and White Noise Lite.
Get Dedicated Workspace
Yes, blogging offers you complete freedom to work from anywhere with just a laptop and fast internet connectivity.
However, a dedicated workspace triggers your mind to switch in work mode quickly and minimizes most external distractions.
Clean and organize your desk to improve productivity even further.
You should also pay close attention to several things at the workplace, including light, temperature, ventilation, tidiness, and overall ambiance.
Get Dressed Properly
Wearing shorts or casual apparel during your work hours is fine, but you should change into proper business attire if you feel distracted.
It produces a psychological effect on your mind that you have to devote more time to blogging activities.
You may also find that other family members treat you the same way.
Block Unnecessary Sites
In most cases, you spend your precious work time on unproductive activities like visiting Facebook and Twitter nonstop for hours, but you do nothing about it.
Install an app to block unnecessary sites for a while if you lack self-restraint or don't feel bad for your actions. E.g., Stay Focused and Focus Me.
People who find it difficult to focus on tedious tasks such as content writing or coding might be surprised to discover this absolutely brilliant productivity hack.
8. Automate
Do you feel like you are always busy but never productive?
As your life gets busier, it's easier to keep pushing off the tasks that you need to complete asap.
After ignoring them for a long time, you notice they've not moved at all!
This is where automation comes into play.
It can make your day more productive by taking care of those pesky tasks so you can focus on what really matters.
Plus, marketing automation significantly reduces cost by improving workflow speed and preventing mistakes.
Below I have mentioned the best blogging tools that will help you automate some repetitive tasks.
Semrush
Semrush is an all-in-one marketing toolkit with 40+ advanced modules to grow your online business.
You can automate various blogging tasks using Semrush. E.g., site audit, social media posting, keyword rank tracking, and many more.
Tailwind
Tailwind is a smart social media automation tool for Pinterest and Instagram.
It allows you to create, schedule, and analyze valuable metrics for Pinterest Pins and Instagram posts on a single dashboard.
If you use Pinterest as a primary traffic channel in your content marketing strategy, you should get Tailwind asap.
Click the link below to start your Tailwind free trial (no credit card required).
ConvertKit
Email marketing is one of the most profitable marketing channels for bloggers with 42x ROI.
ConvertKit introduces whole new possibilities for the blogging business by offering advanced email marketing features such as autoresponders, sequences, tagging, automated funnels, schedule broadcasts, and third-party integrations.
Conversion.ai
Are you tired of spending hours researching and producing a blog post that doesn't convert well enough?
Forget about the old ways that don't seem to work nowadays or cost a fortune.
The best way to create high-converting content at scale is conversion.ai.
It's a new platform that uses artificial intelligence to create 46 types of marketing content, including blog posts, Facebook ad copies, and product descriptions.
(Surprisingly, this paragraph is written using conversion.ai).
Feeling curious about this tool or want to check it out for yourself?
Click the link below to visit the Conversion.ai offer page.
9. Outsource Time-consuming Tasks
If the time spent on your business is not enough, you should consider outsourcing some time-consuming tasks.
When I launched my first WordPress blog, I was spending hours upon hours editing images and videos.
I finally decided to hire one guy to help me with this task because I realized that there is more important work for me for growth.
Outsourcing allowed me to concentrate on more important tasks that resulted in more revenue.
You can also outsource some tedious tasks that do not require complex problem-solving.
Please make sure to hire someone who can deliver high-quality work at an affordable cost and within a pre-defined time.
The outsourcing process should achieve the following things:
Cost advantages
Increased productivity
Focus on core business
Reduce infrastructure and technology expenditures
Access to skilled resources
Time zone advantage
Faster and better services
I have prepared a list of tasks best suited for outsourcing if you do so.
Editing images, podcasts, or videos
Creating social media graphics
Writing blog posts
Doing competitors research
Completing surveys
Designing logos
Creating promotional content
Setting up marketing campaigns or sales funnel
Maintaining website
Improving SEO
Setting up marketing campaigns
However, when you outsource your tasks to a freelancer or an agency, make sure you're comfortable sharing your ideas with someone else.
Also, consider the frequency and quality of outsourced work.
If you're happy with everything, go ahead.
You'll realize outsourcing is one of the best productivity tips for bloggers and online entrepreneurs working from home.
Pro Tip:
Instead of outsourcing content writing, build high-quality links to your site.
Once your site has good domain authority (DA), organic traffic, and link profile, start accepting guest posts or sponsored submissions.
It will reduce content creation costs and speed up your workflow while generating new revenue streams.
10. Use Smart Writing Hacks
Have you ever felt stuck with a content writing project?
It happens all the time to the best of us, but there are plenty of ways to get things back on track!
This section covers everything from the Pomodoro technique to keyboard shortcuts that will help make the content writing process easier and more enjoyable.
Use Pomodoro Technique
It's a highly effective time management technique that breaks tasks down into 25-minute intervals with a five-minute break in between.
Francesco Cirillo, then a university student, developed the Pomodoro Technique in the late 1980s.
Cirillo struggled to complete assignments and focus on his studies.
In response to feeling overwhelmed, he decided to dedicate just 10 minutes of focused study time.
Inspired by the challenge, he found a tomato-shaped kitchen timer, and the Pomodoro technique was born.
Even today, the Pomodoro technique is considered one of the best productivity hacks for bloggers and content writers to manage distractions, focus on the task at hand, and prevent burnout.
Learn Keyboard Shortcuts to Accomplish Tasks Faster
Learning keyboard shortcuts is one of the smart productivity tips for bloggers, content writers, and designers!
Shortcuts save time on repetitive tasks and speed up the writing process.
In place of the standard copy and paste options, you can use the CTRL+C and CTRL+V shortcuts.
If you can afford it, Stream Deck is a fully customizable LCD keypad that optimizes your workflow as a blogger or broadcaster (live streamer).
Unleash your creative genius and accomplish by focusing on what matters the most.
Maintain a Correct Sitting Posture
A correct sitting posture is very important while writing.
The most common problems during typing are back pain and neck pain, which you can easily avoid by adopting the proper sitting position.
Maintaining a straight upper spine will help you avoid these problems and contribute to better long-term health for your body.
Aim to keep your head up high with your chin parallel to the ground.
A high back chair also helps maintain this upright position by supporting some of your weight from behind, making it easier for you to sit without straining the neck, shoulders, or lower back muscles.
Balance your feet comfortably, or simply place them flat on the floor.
Conclusion
Achieving greater productivity is like a marathon, but it's worth the effort.
Changing habits may take time, so don't expect instant progress in your productivity.
Incorporate some of the productivity tips mentioned above into your routine to accomplish more and enjoy your blogging lifestyle!
If you find any of the above productivity tips helpful, please leave us a comment below.