Affiliate Disclosure: I publish various content marketing strategies, online business ideas, blogging tutorials, review articles, and discount offers on my blog. My content may contain some affiliate links for products/services I use, love, and recommend. If you take action (i.e., subscribe or make a purchase) after clicking one of my affiliate links, I'll earn an affiliate commission at no additional cost to you. It helps me in creating more helpful content like this.
Looking for an unbiased Elementor AI review to see how it stacks up?
I have published a comprehensive review highlighting the software's innovative features, pricing, real-life benefits, and potential drawbacks. After reading it, you will feel more informed and prepared to make a decision.
Elementor AI has been getting a lot of buzz since the company opened beta access. Many people have already begun using Elementor AI to design websites, create content, and automate mundane tasks.
Based on my evaluation of the software over the last few days, I am confident that Elementor AI will transform the entire web design landscape by providing unprecedented levels of creative control and automation capabilities.
What is Elementor AI?
Have you been spending countless hours writing website content? Would you like to streamline your web design process and improve productivity?
If so, look no further than Elementor AI.
The software's advanced AI capabilities allow you to write content and customize design elements directly within Elementor Page Builder. In addition, it lets you translate your text into multiple languages.
Therefore, you no longer have to switch back and forth between multiple programs or windows, saving you valuable time and energy.
But what sets Elementor AI apart from other artificial intelligence-powered solutions?
In the first place, the software generates blog articles and page content uniquely tailored to your niche and audience. This feature alone could save you hours of brainstorming, researching, and writing content, leaving you more time to focus on promotional activities, community building, and interacting with your target audience.
That's not all.
Elementor AI's advanced features let you craft content that's not only great for humans but also for search engines.
The software can generate keyword suggestions, SEO-friendly headlines, and meta descriptions.
Utilizing these tools, you can ensure your content is informative and optimized for search engine visibility.
Elementor AI's ease of use is one of its most impressive features. Its UI is simple and intuitive, even for beginners.
The tool is a game-changer for anyone looking to supercharge their web development workflow without spending a fortune.
So why wait? Try Elementor AI today and see how it transforms your website design experience.
How to Use Elementor AI?
You can use Elementor AI by following these steps:
First, you'll need to set up a WordPress site to install Elmentor. I'll walk you through each step of creating a WordPress website.
1. Choose a Domain Name
Choose a domain name before you begin building your WordPress website.
The domain name is the web address or URL of your website that people type in to access it.
You can purchase a unique domain name from a reputed domain registrar, such as Namesilo or Namecheap. Choose a domain name that is memorable, unique, and relevant to your business.
2. Choose a Web Hosting Provider
Next, you'll need to select a web hosting provider. It allows you to store your website files on a server that's accessible online.
You can choose a high-performance web hosting service, such as ChemiCloud, Cloudways, or HostArmada. Always look for a provider that offers blazing-fast loading times, reliable uptime, and excellent customer support.
Since you want to use Elementor's page builder and AI features, I recommend you check out Elementor's own cloud hosting solution.
It comes with multiple innovative features, including advanced caching, staging environment, secure database access, Cloudflare SSL and CDN, preinstalled Elementor Pro website builder plugin, Hello Theme, and premium customer support, designed for a seamless website-building experience.
3. Install WordPress
After you buy your domain name and web hosting, it's time to install WordPress.
Most web hosting providers allow you to set up WordPress with just one click.
However, if your hosting provider doesn't offer this, you can manually install WordPress by following the instructions on the WordPress website.
4. Choose a Theme
Once the WordPress setup is complete, the next step is to select a theme. A theme powers your website's visual design and functionalities to determine how your website looks and operates.
You can pick a beautiful yet functional theme that fits your business and personal preferences.
5. Install Elementor WordPress Plugin
Elementor is a popular visual page builder plugin for WordPress that enables you to create custom page layouts and designs.
You can install Elementor by going to the WordPress plugins page and searching for it. Once you have installed Elementor, you can start creating custom page designs and layouts for your website.
With Elementor Cloud Hosting, there's no need to manually install Elementor (free) and Elementor Pro plugins as they come preinstalled.
6. Create a New Post or Page
Once you've installed and configured Elementor, you can create a new post or page on your website. To begin, navigate to the WordPress dashboard, hover over the "Posts" or "Pages" menu, and then click "Add New."
Click the "Edit with Elementor" button on the top of the WordPress editor to enable Elementor page editing.
7. Add an Elementor Widget
The next step is to add an Elementor widget to your post or page. You can add the widget from the Elementor sidebar (elements panel) to your live editor by dragging and dropping.
Elementor AI supports multiple widget types, including Heading, Text Editor, Button, and HTML.
8. Write with AI/Code with AI
Once the widget has been added, select the element you wish to edit, and click "Write with AI" or "Code with AI" to initiate the prompt. The Elementor AI modal will appear on your screen.
Based on what you want to accomplish, pick a predefined prompt or make up your own by clicking the "New Prompt" button on the Elementor AI modal.
9. Improve the AI-generated Content
Elementor AI generates content based on parameters you set, such as tone, style, language, readability, and word count. You can further modify the content output by adjusting these parameters or editing it manually.
For example, you can change the content tone from Casual to Professional, shorten/expand the content, fix grammar errors, or simplify the content to tailor it to your target audience.
In addition, you can translate the output content into 25 different languages on the fly.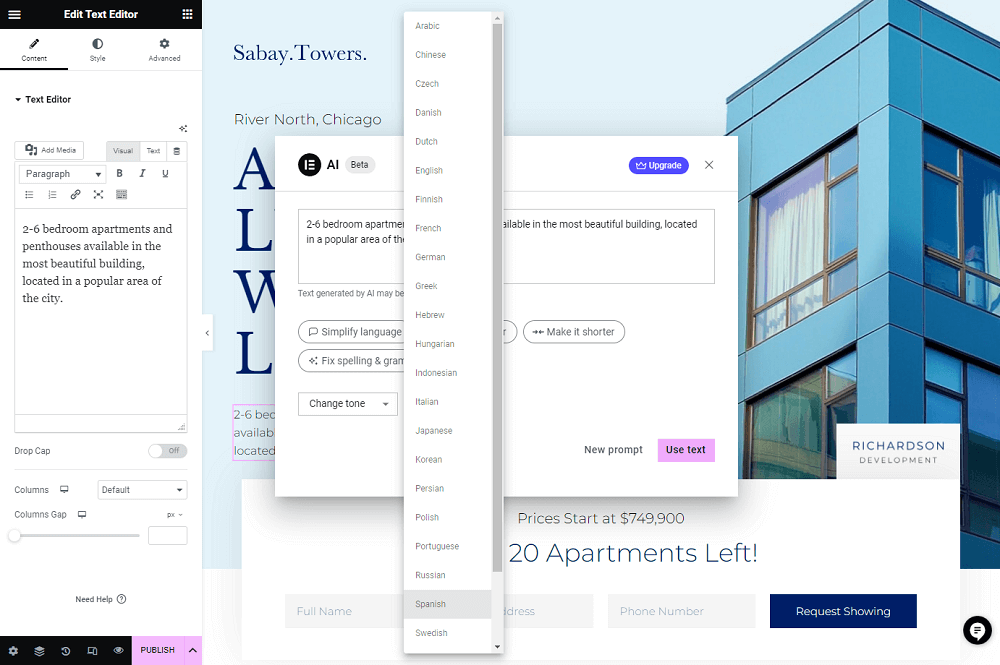 10. Add custom CSS or Code (Requires an Elementor Pro or Cloud Hosting License)
You can use Elementor AI to apply custom CSS to various design elements and create custom code on your Elementor website if you have a valid Elementor Pro or Cloud Hosting subscription.
11. Publish your Post or Page
Once you are satisfied with the content generated by the AI, you can click on the "Publish" button in the bottom-left corner to make your blog post or page go live on your website.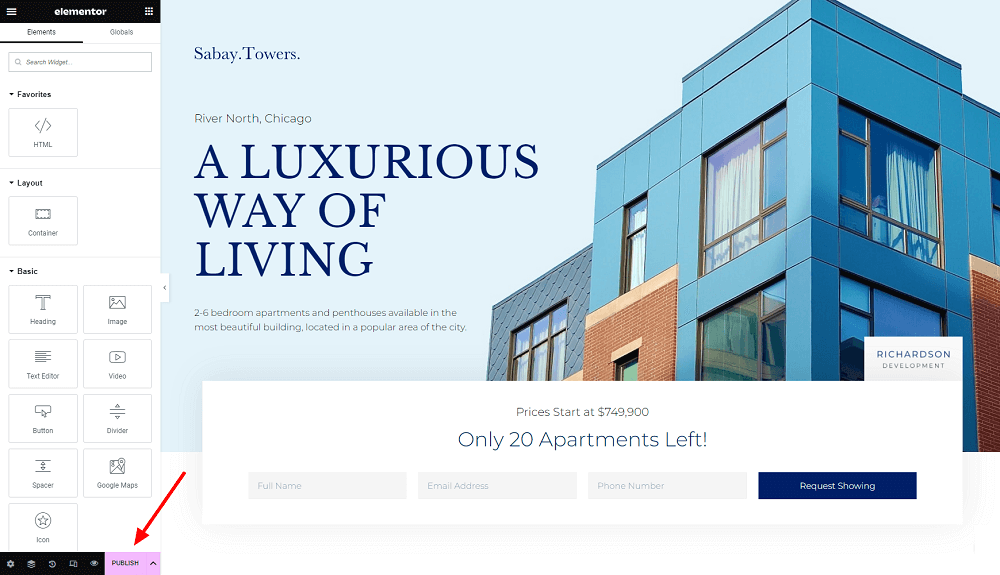 Elementor AI Use Cases
Elementor AI can help you in several ways.
Here's a video from Elementor's official Youtube channel demonstrating how Elementor AI works.
1. Generate and Edit AI Content
Elementor AI helps you produce compelling content faster. Moreover, you can fix spelling and grammatical errors, adjust content tone, reliability, and word count, and translate text without third-party programs.
As a result, you can create more engaging content tailored to your target audience while saving time.
For example, I tried Elementor AI for creating Hindi content and was completely blown away by the results.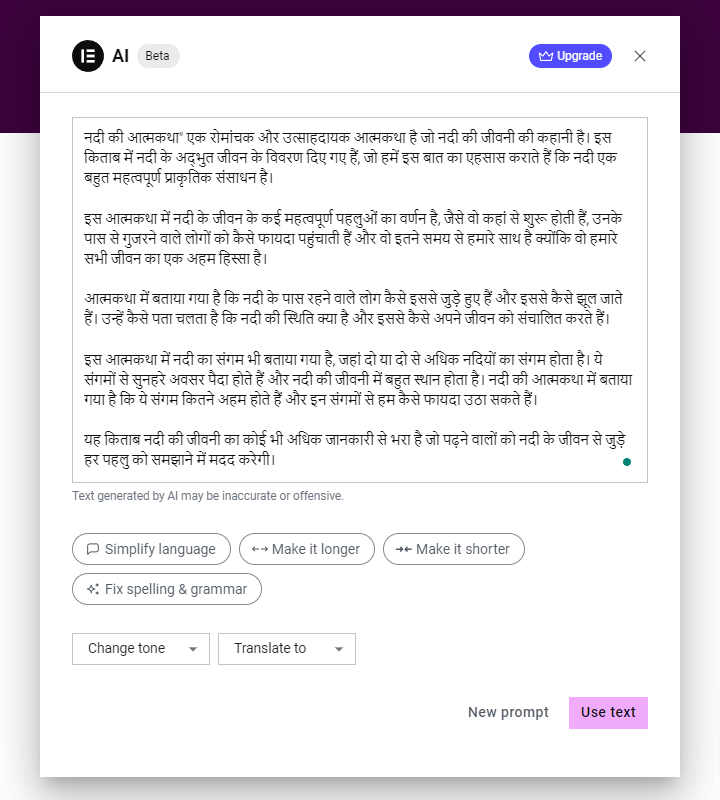 2. Identify Low Competition SEO Keyword Opportunities
Elementor AI finds low-competition SEO keyword opportunities for a seed term and provides key metrics for these keywords.
Later, you can incorporate these keywords into your content to increase your chances of getting better search engine rankings.
Below I have attached the output for SEO keyword suggestions from Elementor and ChatGPT.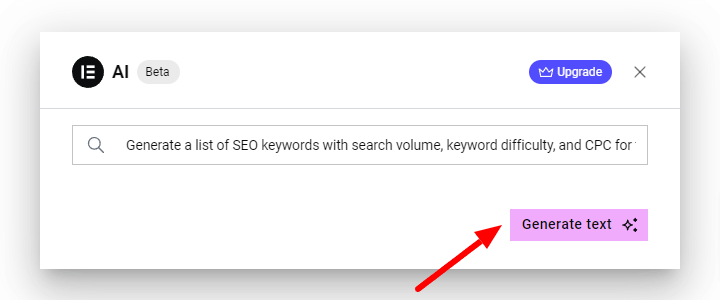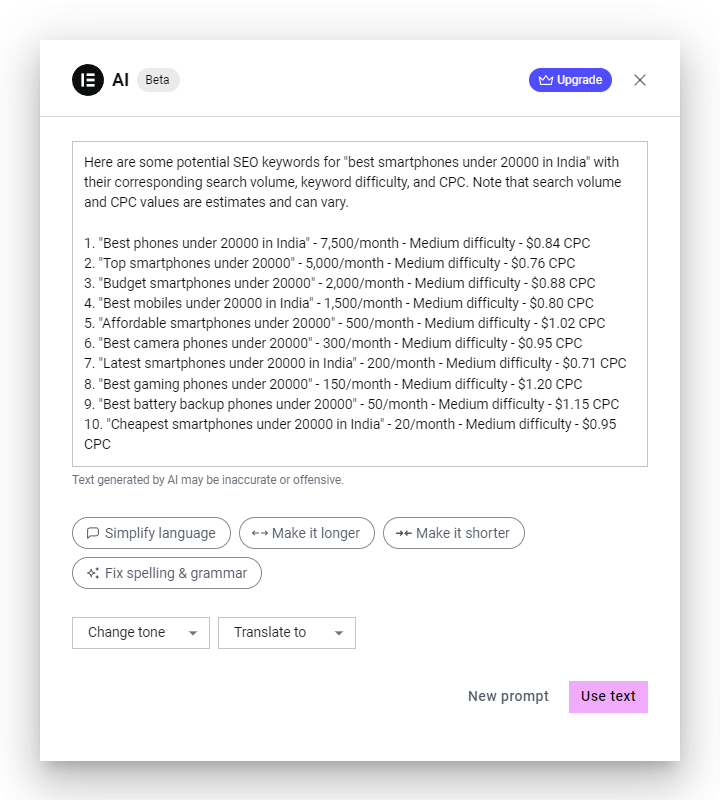 3. Make Your Website Multilingual
Localizing your website is an excellent way to enhance the visitor experience.
Elementor AI saves your time and money by avoiding paying for third-party translation tools, freelancers, or spending hours translating your website's content.
Instead, place the text you want to translate in the modal's input field and ask AI to translate it into any supported language.
Additionally, you can select one of the 25 most popular languages from the handy dropdown menu in the modal popup to speed up the process.
4. Create Custom CSS
Elementor AI allows Pro users to create custom CSS to customize the website's look and feel. Adding this feature will help your website stand out from the crowd.
By utilizing Elementor AI's custom CSS feature, you can add unique touches to your website to make it stand out in the crowd.
Here's a mini tutorial on how to add CSS custom code to the heading widget:
Step 1: Select the Heading widget.
Step 2: Navigate to the Advanced tab of the Heading widget and select the Custom CSS option.
Step 3: Click the "Code with AI" icon.
Step 4: Enter your custom CSS prompt to create the effect you want, e.g., "Add rainbow-colored animated text gradient on hover."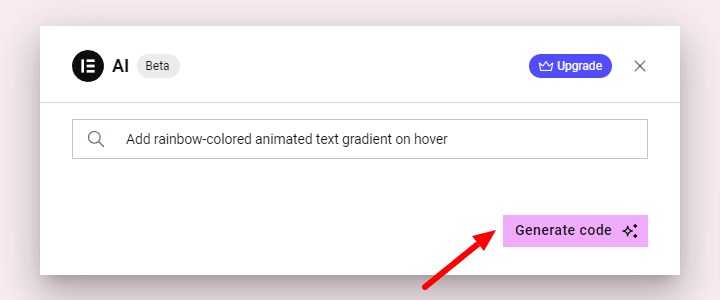 Step 5: Click on "Generate code." It'll add the following CSS Custom code to the selected heading widget.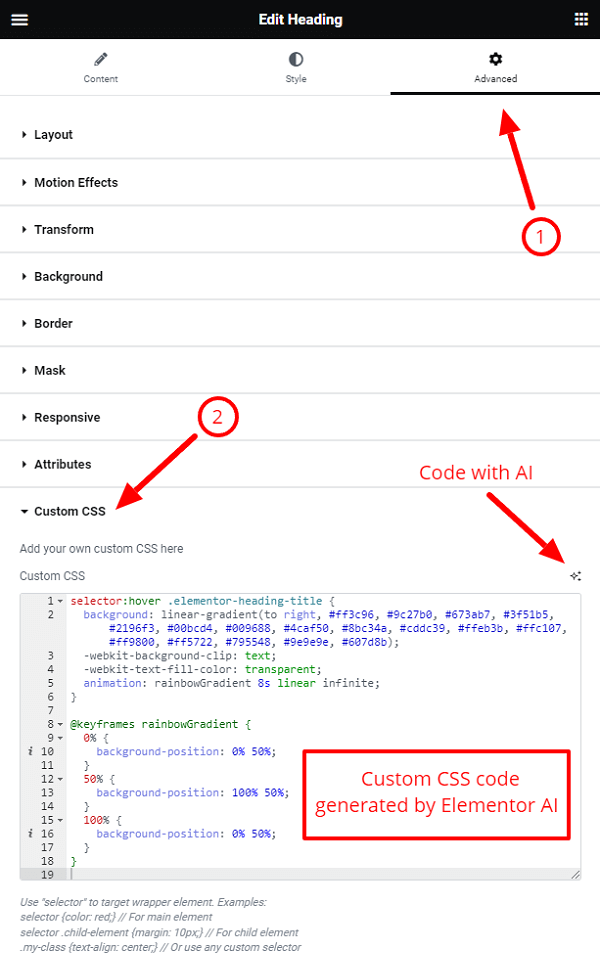 Step 6: Click "Preview" to see how the custom CSS looks. Then, if you're happy, hit publish.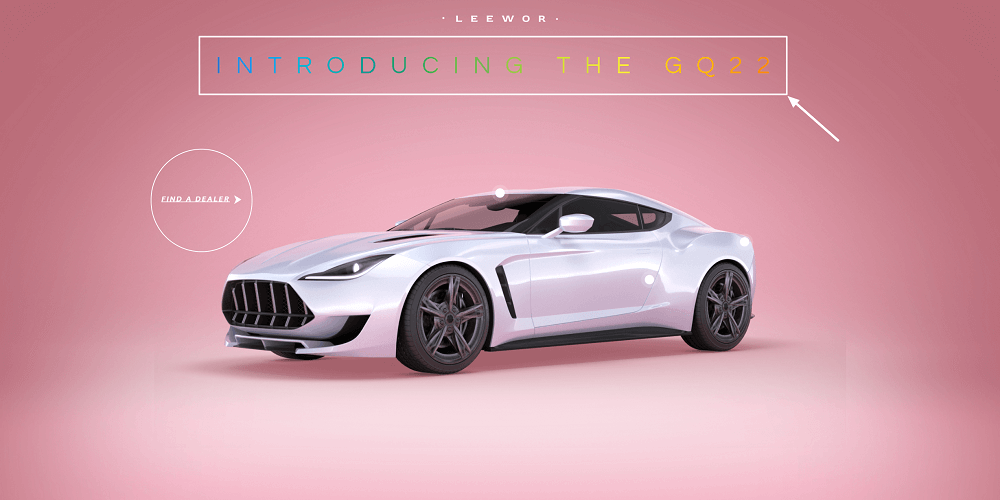 Step 7: You can take inspiration from other websites and play around with Elementor AI's auto-suggested CSS prompts to craft custom CSS prompts.
5. Create Custom Code
Elementor Pro users can write custom code using Elementor AI.
The Custom Code feature enables you to add complex website features quickly and easily, giving you the power to design your site exactly how you want it.
Here's a mini tutorial on how Elementor AI can assist you in writing Google Analytics 4 (GA4) embed code.
Step 1: Navigate to WP Admin > Elementor > Custom Code on your Elementor Pro-powered website.
Step 2: Click the Add New Custom Code button to start.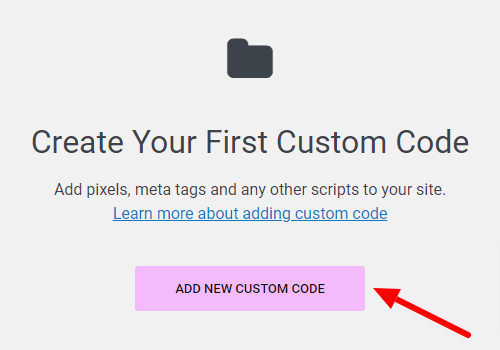 Step 3: Add a Title for your code, select the Location, and click "Write me code" to launch Elementor AI.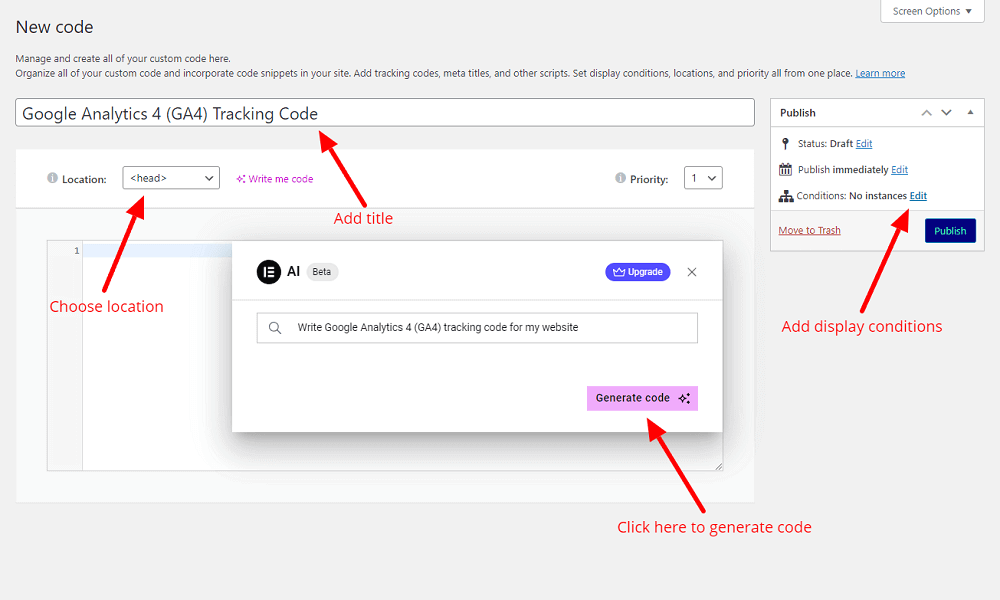 Step 4: Write a prompt and hit the "Generate code" button.
Step 5: Elementor AI will generate a custom embed code for Google Analytics 4 along with instructions.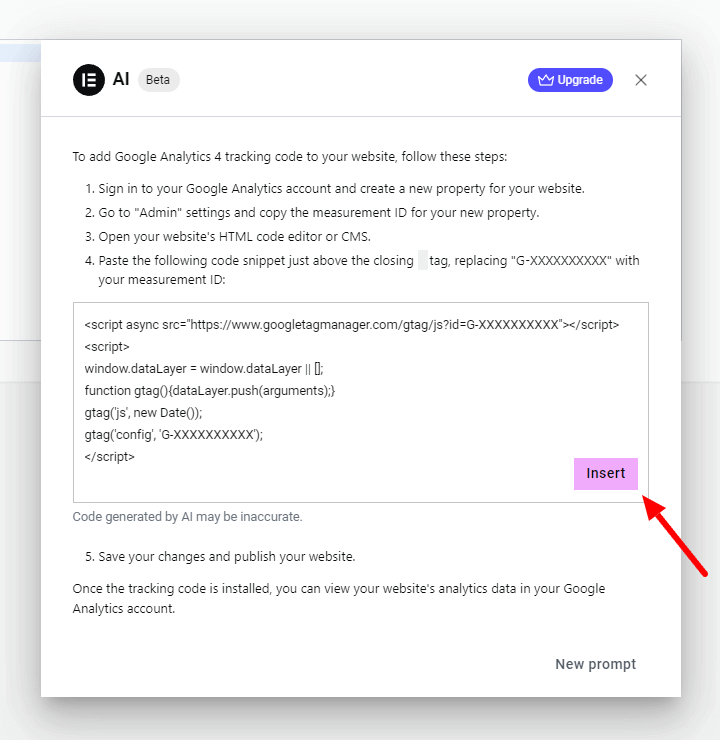 Step 6: Follow the instructions (e.g., replacing measurement ID) and review the code for errors.
Step 7: Add Display Conditions where you want the code to fire.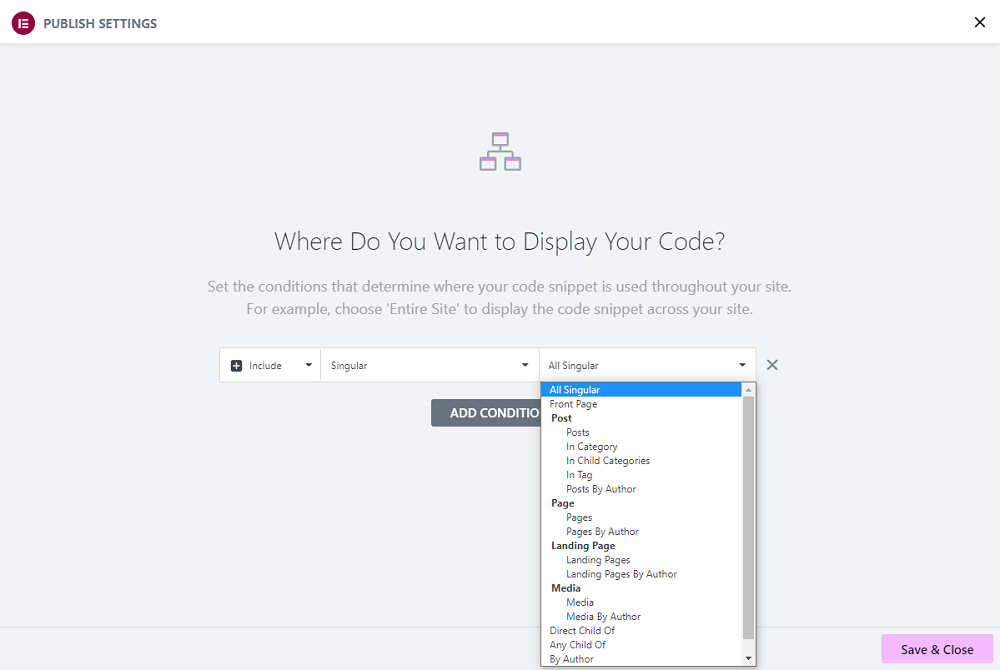 Step 8: Hit "Publish," and Google will start collecting analytics data for your website.
5. Generate HTML Code for Any Purpose
With Elementor AI, you can generate HTML code for any widget on your site with a few clicks.
Do you want to embed a Youtube or Spotify playlist on your website?
Request Elementor AI to generate custom HTML code and insert it where you want the playlist to appear. Then, you only need to change its ID before using it.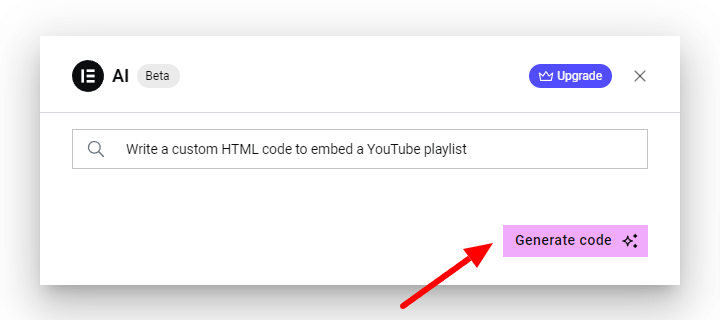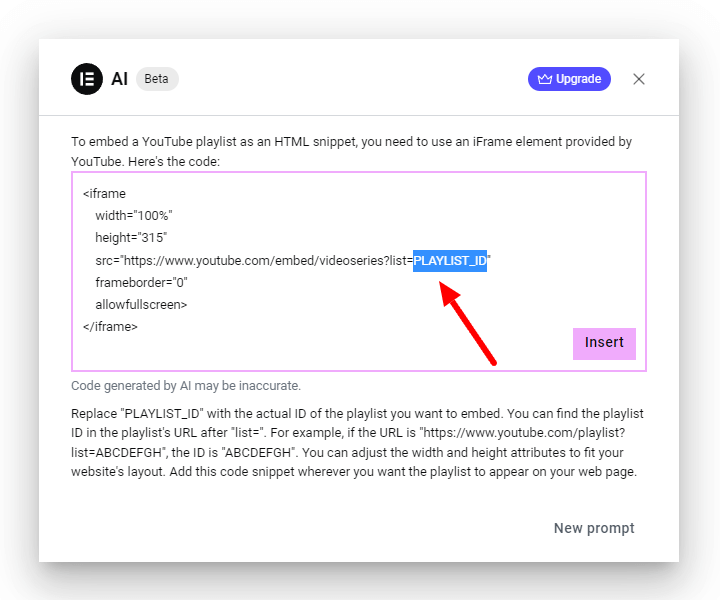 7. Generate Beautiful AI Images (Coming soon)
Finding the perfect royalty-free visuals for your website is time-consuming.
No worries! Based on the prompts you provide, Elementor AI generates attractive images.
So instead of scrolling through hundreds of image libraries, you can get stunning AI-generated visuals for a fraction of the cost—without worrying about copyright issues.
Elementor AI Pricing
Here's the good news: you can try out Elementor's impressive AI capabilities for free!
When you sign up for Elementor, you will receive a free trial of Elementor AI. Make sure your website is running Elementor 3.13 or higher for Elementor AI to function correctly.
After your free trial credit quota expires, you will no longer receive responses to your Write with AI requests.
To continue using the service, subscribe to Elementor AI Write.
It costs only $2.99/month ($35.88 billed annually) for unlimited access (FUP applies).
You can use the Elementor AI subscription on any Elementor-powered website you manage.
Note that it is a personal subscription valid for any number of websites. However, it cannot be shared with other web creators to prevent service abuse.
The Elementor AI service is available to all users individually. Therefore, your clients will need to create their own Elementor accounts to use Elementor AI features. Their usage will be independent of Elementor AI subscriptions.
Below you can compare the Elementor AI free and premium subscriptions (unlimited access).
Elementor AI Free vs. Elementor AI Premium
| | | |
| --- | --- | --- |
| Features | Elementor AI Free | Elementor AI Premium |
| Craft unique content based on your prompts or queries | Yes | Yes |
| Fixing grammar errors | Yes | Yes |
| Multilingual support (provides translations in 25 languages) | Yes | Yes |
| Create custom CSS code to enhance the appearance of your website | No | Yes |
| Generates custom code for use cases like Google Analytics or Facebook Pixel tracking | No | Yes |
| Create HTML code for any purpose, such as embedding Youtube or Spotify playlists | Yes | Yes |
| AI Image generation | Coming soon | Coming soon |
| Pricing | Free trial with limited credits | $2.99/month or $35.88/year (billed annually) |
| Quick Links | Get Started For Free | Subscribe Now |
The Advantages of Elementor AI
Elementor AI offers the following benefits:
1. Improved Content Creation Experience
Elementor AI's content creation feature helps you write high-quality content in just a few seconds, including headlines, product descriptions, blog paragraphs, and more.
This feature is beneficial if you lack confidence in your writing skills or are short on time.
2. Content Style Consistency
Elementor AI allows you to maintain a consistent style throughout your website's content.
You can refine your prompts and get results that match your brand quickly with Elementor's AI writing assistant.
3. Relevant Suggestions
Whenever you open Elementor AI, you automatically receive relevant suggestions based on the asset you are working on.
E.g., if you select a heading widget and choose Elementor AI to assist in writing the compelling heading, a set of appropriate suggestions is added to the modal.
In this way, you can fine-tune your request (prompt) and achieve the desired outcome.
4. Faster Workflow
Elementor AI speeds up your web design workflow significantly. It saves you hours researching, writing content, correcting grammar, and designing/customizing complex web elements.
You simply need to enter the prompt, and Elementor AI will take care of the rest.
5. Increased Productivity
Elementor AI automates many time-consuming tasks associated with website development, such as content writing and visual customization, freeing you up to take care of other aspects of your business.
Moreover, Elementor AI is natively incorporated into Elementor Page Builder, which means you won't have to switch between Elementor's Visual Editor and the AI tool you use, offering you great convenience.
6. Custom Code for Advanced Use Cases
Elementor Pro users have access to some advanced features of Elementor AI. E.g., creating custom CSS code to enhance your website's visual appeal and generating custom code for Google Analytics or Facebook Pixel tracking.
7. Affordable Pricing
For a limited time, you can try Elementor AI for free on any Elementor website. It allows you to access AI-driven writing and proofreading tools.
In addition, upon expiration of your trial credits, you can upgrade to Elementor AI Write's Unlimited Access subscription for only $2.99 a month, which can be used across multiple projects.
The Limitations of Elementor AI
Although Elementor AI is a powerful tool for simplifying web design and content creation, it has a few limitations like other AI-powered software solutions.
Elementor AI has the following limitations:
1. AI-Generated Content and Custom Code May Be Inaccurate
Elementor AI can occasionally produce inaccurate results. You must fact-check AI-generated information before publishing it on your website.
Similarly, while AI-written custom code is intended to work with the Elementor Editor, sometimes it may not work as expected.
Before implementing any Elementor AI-generated code, I strongly recommend saving or backing up your page and reviewing the code.
2. Elementor AI Icon Proximity
Despite Elementor AI being easily accessible from the editor, it would be more convenient if the Write with AI icon was positioned near the element you hovered over.
Additionally, it eliminates the need to repeatedly navigate to the element customization panel in the left sidebar.
Wordtune and Grammarly have executed this feature to the best of their abilities.
3. Support for Limited Languages
Elementor AI supports 29 languages but may not be suitable for users who need support for less common dialects or languages.
You can either wait for Elementor to support more languages or try third-party translation services.
4. Limited Support for Non-Elementor Users
The Elementor AI is explicitly designed for the Elementor visual editor, which may not be suitable for other website builders and content management systems (CMS).
If you're using a different page builder, Elementor AI can still serve as your AI writing assistant with some hacks. However, it is time-consuming. You can achieve similar results with ChatGPT or other GPT-powered tools.
5. May not be Suitable for Complex Workflows
Although Elementor AI can automate some tasks, it may not be suitable for many complex workflows that require extensive customization.
You'll need specialized solutions to accomplish these tasks.
6. Custom Code Generation Requires an Elementor Pro or Cloud Subscription
Elementor's Custom CSS and Custom Code features require Elementor Pro or Elementor Cloud Hosting license, along with an active Elementor AI subscription.
Custom code allows you to modify the appearance and functionality of your website. Unfortunately, non-Elmentor users and free Elmentor users cannot access those features even if they have a valid Elmentor AI subscription.
Elementor AI Review: Frequently Asked Questions
What is Elementor AI?
Elementor AI is an innovative feature natively integrated into the Elementor website builder that leverages the power of artificial intelligence to streamline the process of creating and managing a website. It helps you design your website, research and write content and fine-tune it for search engines.
What are some examples of how Elementor AI can be used?
Elementor AI helps you improve your website in several ways. For example, you can simplify your writing, change the content tone, shorten/expand text, and even translate it into other languages. Additionally, it can assist you in designing your website layout, creating custom codes, and optimizing your content for better search engine visibility.
What languages does Elementor AI support?
Elementor AI supports all WordPress languages. The list includes the top 29 languages, including English, French, Russian, Japanese, Hindi, Indonesian, Malay, German, Italian, Korean, Arabic, Czech, Hungarian, Spanish, Portuguese, Chinese, Thai, Vietnamese, Hebrew, Dutch, Polish, Turkish, Greek, Swedish, Danish, Finnish, Romanian, Norwegian, and Slovak.
Can I use Elementor AI on multiple websites?
You can use Elementor AI on any Elementor website you're working on without any limitations. The Elementor AI subscription can be used on unlimited personal websites but can't be shared with other web creators.
Can Elementor AI handle multilingual sites?
Yes, Elementor AI facilitates multilingual website creation via content translation suggestions. Additionally, it can help you optimize your website for different languages and cultures.
Can Elementor AI correct my spelling and grammar?
Elementor AI scans your text for spelling and grammar errors and suggests corrections. It helps you create more accurate and professional-looking content.
How much does Elementor AI cost?
Elementor AI costs only $2.99/month ($35.88/year billed annually) and can generate unlimited text and code. In addition, A free Elementor AI trial (with limited credits) will also be available when you connect your WordPress site to an Elementor account.
How does Elementor Pro differ from Elementor AI?
Elementor Pro is a premium extension to the free Elementor WordPress page builder plugin with additional widgets and advanced features. On the other hand, Elementor AI is an artificial intelligence-powered solution that streamlines content generation and web design.
Is Elementor AI exclusive to Pro?
No, Elementor AI is available in the free and pro versions of the Elementor plugin. However, some advanced AI features, such as creating custom code or CSS, are only available to Elementor Pro users.
Elementor AI Review: Summary
Based on my experience with Elementor AI, it is a valuable add-on to Elementor's visual page builder. It makes building and managing websites easier than ever before. It's quick, intelligent, easy to use, and suitable for beginners and professionals alike.
Elementor AI provides relevant suggestions for content generation and design customizations. As a result, you save plenty of valuable time and can spend more time doing what you enjoy.
Only a few companies specialize in end-to-end website-building solutions today, and Elementor would be proud to lead the field.
In short, it elevates the page-building experience to a whole new level. Of course, Elementor isn't perfect yet, but I hope it has the potential to revolutionize web design.
Give it a shot and unleash the power of Elementor AI for yourself. Let's enter the new era of website building with Elementor AI.