Affiliate Disclosure: I publish various content marketing strategies, online business ideas, blogging tutorials, review articles, and discount offers on my blog. My content may contain some affiliate links for products/services I use, love, and recommend. If you take action (i.e., subscribe or make a purchase) after clicking one of my affiliate links, I'll earn an affiliate commission at no additional cost to you. It helps me in creating more helpful content like this.
Before diving deep into ChatGPT statistics and exploring lesser-known facts, let's discuss the impact of artificial intelligence on our daily lives.
No matter how we feel about artificial intelligence, it has already transformed how we communicate and work. AI-powered chatbots like ChatGPT and Bard have revolutionized how humans interact with machines and obtain helpful information.
I was initially skeptical due to the fear-inducing headlines, e.g., AI, particularly ChatGPT, will replace humans. Moreover, ChatGPT gained a lot of attention when OpenAI released it. The app reached 1 million users in just five days. (Source: Sam Altman, on X)
However, I don't think ChatGPT will soon replace highly skilled professionals. It can serve as the best AI writing assistant to improve your productivity. We expect the app to become even more powerful with future releases and enhancements.
So, I have curated 100+ impressive ChatGPT statistics categorized by various criteria, such as history, users, revenue, and product updates.
Key ChatGPT Statistics
Here's a quick look at some key ChatGPT stats if you're short on time.
ChatGPT currently counts over 100 million users and receives nearly 1.5 billion monthly visitors. (Source: SimilarWeb)
Direct traffic accounts for the majority of ChatGPT traffic (92.45%), followed by organic searches (5.78%).
The company gained 1 million users in just five days.
Earlier, ChatGPT was entirely free to use. As of February 2023, the company introduced the ChatGPT Plus subscription alongside the free version, which is available for $20 monthly.
ChatGPT runs on GPT-3.5, while Plus users have access to GPT-4 since March 2023.
In terms of ChatGPT users, the USA has the most ChatGPT users (14.82%), followed by India (8.18%).
The GPT-4 model can produce 25,000 words and understand over 26 popular languages.
24% of companies saved between $50,000 and $70,000 by using ChatGPT in their workflow. Moreover, 11% reported saving over $100,000 since introducing ChatGPT.
ChatGPT's user base consists of 55.99% male and 44.01% female.
Within three weeks of its release, ChatGPT's iOS app had been downloaded 5 million times.
Compared to GPT-3 and older models, GPT-4 is significantly more accurate and quick.
OpenAI (the company behind ChatGPT) seeks a new valuation of up to $90 billion in the sale of existing shares. (Source: WSJ)
ChatGPT User Statistics
1. User Growth
While most artificial intelligence-powered tools, including ChatGPT, can't be a perfect replacement for their skilled and experienced human counterparts, they can help users in several ways.
For example, ChatGPT can help users develop new project ideas, brainstorm keywords and topics, compose a quick article draft, do quick mathematical calculations, provide programming-related assistance, translate text, and perform many other tasks.
As a result, ChatGPT has a large user base, which has grown exponentially since its launch.
Here's a quick breakdown of ChatGPT's user growth between November 2022 and September 2023.
After launching on November 30, 2022, ChatGPT reached one million users within just five days.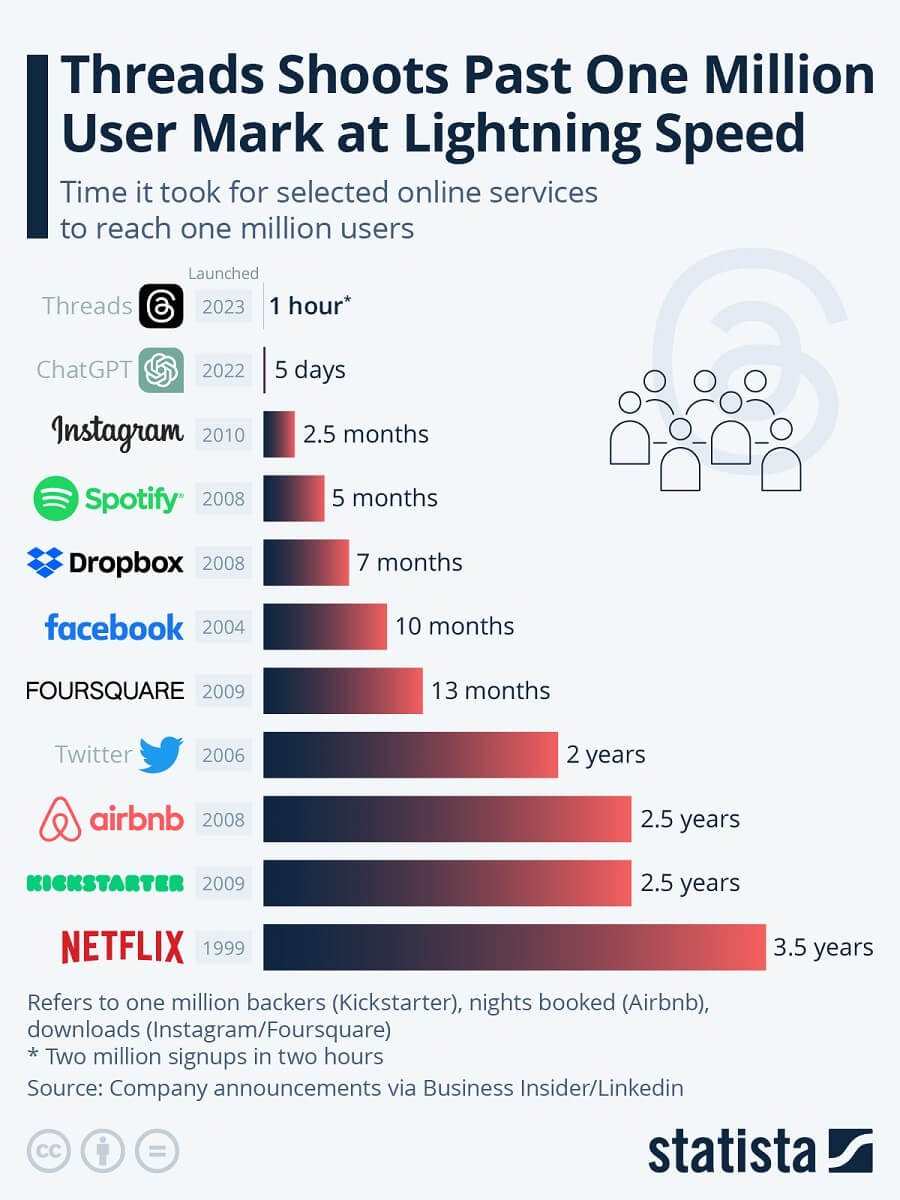 The ChatGPT platform set the record for the fastest-growing platform in terms of user base. Instagram's Thread app later broke this record.
| | | |
| --- | --- | --- |
| Online Service/Platform | Launch Year | Time Taken to Reach 1 Million Users Mark |
| Threads | 2023 | 1 hour |
| ChatGPT | 2022 | 5 days |
| Instagram*** | 2010 | 2.5 months |
| Spotify | 2008 | 5 months |
| Dropbox | 2008 | 7 months |
| Facebook | 2004 | 10 months |
| Foursquare*** | 2009 | 13 months |
| Twitter | 2006 | 2 years |
| Airbnb** | 2008 | 2.5 years |
| Kickstarter* | 2009 | 2.5 years |
| Netflix | 1999 | 3.5 years |
* refers to *1 million backers (Kickstarter), ** 1 million nights booked (Airbnb), *** 1 million downloads (Instagram/Foursquare)
ChatGPT users increased by a staggering 9900% by January 2023 (two months after OpenAI released ChatGPT to the public), gaining 100 million active users.
Global desktop and mobile website traffic dropped by 3.2% to 1.43 billion in August 2023, following approximately 10% dips from each of the previous two months. (Source: Reuters)
The traffic recovered In September 2023, with 1.5 billion total monthly visits — up by 4.69% from the previous month.
2. ChatGPT Statistics: Current Users
ChatGPT currently has over 100 million users worldwide.
Based on the latest data from SimilarWeb, ChatGPT received over 1.5 billion visitors in September 2023, 4.69% higher than August 2023.
The bounce rate for ChatGPT is only 36.36%. On average, users spend 7 minutes 36 minutes on the website and view 4.17 pages per visit.
3. ChatGPT Statistics: Demographics
According to the latest ChatGPT statistics, the majority of users are from the USA (14.82%), followed by India (8.18%), Colombia (4.01%), the Philippines (3.65%), and Japan (3.14%).
| | | |
| --- | --- | --- |
| Rank | Country | Percentage of ChatGPT Users |
| 1. | USA | 14.82% |
| 2. | India | 8.18% |
| 3. | Colombia | 4.01% |
| 4. | Philippines | 3.65% |
| 5. | Japan | 3.14% |
| 6. | Others (Combined) | 66.2% |
55.99 % of ChatGPT users are male, while 44.01% are female. Recently, ChatGPT has seen a significant increase in female users.
Most ChatGPT users are between 18 and 34, making up 61.56% of total ChatGPT users.
ChatGPT services and API access are available in 161 countries, territories, and regions worldwide. It is still unavailable in some major countries, including:
Afghanistan
Belarus
China
Iran
Russia
Ukraine (certain exceptions)
Venezuela
According to a recent YouGov poll, nearly half of Americans have heard a little or a lot about ChatGPT. Approximately two-thirds of those respondents hold postgraduate degrees.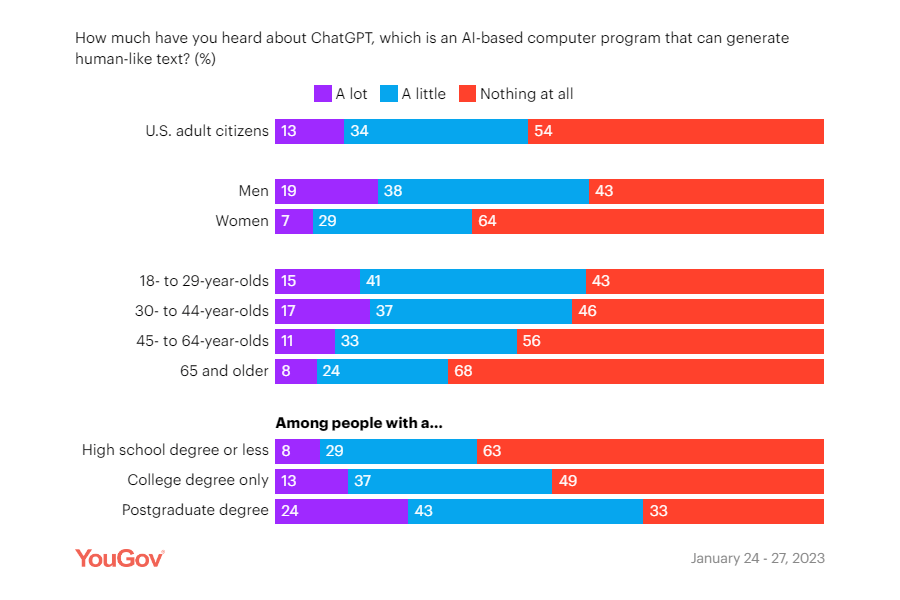 Furthermore, the same survey found that 54% of respondents have never heard of ChatGPT.
4. Business Cost Savings through ChatGPT
Earlier, I believed ChatGPT was just a simple AI-powered chatbot that answers user queries. However, many American businesses use ChatGPT to automate various workflow functions.
Surprisingly, Statista reports that around a quarter of companies saved $50,000 to $75,000 with ChatGPT.
14% of companies saved $75,000 to $100,000, and 11% saved over $100,000 by integrating ChatGPT into their workflow.
ChatGPT Traffic Statistics
Visits from organic sources represent 99.98% of total ChatGPT traffic, while paid visits account for 0.02%. (Source: SimilarWeb)
Top Marketing Channels
92.45% of ChatGPT visits are direct.
Organic search is the second-most popular method of accessing ChatGPT, driving 5.78% of overall traffic.
Referrals are the third-most popular way to access ChatGPT services, driving 1.35% of total visits.
Here's a breakdown of the most popular ChatGPT marketing channels:
| | | |
| --- | --- | --- |
| Rank | Marketing Channel | Percentage of Traffic |
| 1. | Direct | 92.45% |
| 2. | Organic Search | 5.78% |
| 3. | Referrals | 1.35% |
| 4. | Social | 0.28% |
| 5. | Mail | 0.13% |
| 6. | Display | <0.01% |
| 7. | Paid Search | <0.01% |
Social Media Traffic
YouTube drives most of ChatGPT's social media traffic (68.71%).
As a comparison, here are a few other social networks:
| | | |
| --- | --- | --- |
| Rank | Social Network | Percentage of Traffic |
| 1. | YouTube | 68.71% |
| 2. | WhatsApp | 8.09% |
| 3. | Facebook | 7.43% |
| 4. | LinkedIn | 2.93% |
| 5. | Twitter | 2.89% |
| 6. | Others (combined) | 9.95% |
Top Keyword Traffic
It is estimated that approximately 12.7K keywords are used to access ChatGPT.
The most commonly searched keyword is "chatgpt," with 21.6 million monthly searches.
The next most searched term is "chat gpt," with 12.8 million monthly searches.
| | | | |
| --- | --- | --- | --- |
| Rank | Keyword | Monthly Traffic | CPC |
| 1. | chatgpt | 73,281,440 | $0.44 |
| 2. | chat gpt | 45,391,940 | $0.46 |
| 3. | gpt | 1,681,490 | $0.40 |
| 4. | chatgpt login | 1,771,990 | $0.45 |
| 5. | chat gtp | 1,089,450 | $0.45 |
ChatGPT History and Development Updates
December 11, 2015: Elon Musk, Sam Altman, Ilya Sutskever, and others founded OpenAI, an artificial intelligence company.
February 2018: GPT-1, the first generation of the Generative Pre-trained Transformer (GPT) language model, was released.
February 2019: GPT-2 was released with 1.5 billion parameters, demonstrating significant improvements in text generation capabilities.
June 2020: GPT-3 was released, one of the largest and most powerful language models comprising over 175 billion parameters.
2022: ChatGPT launches early access, quickly gaining popularity for its ability to generate engaging and realistic conversations.
November 30, 2022: OpenAI officially released public access to ChatGPT, quickly becoming a social media sensation.
December 5, 2022: ChatGPT surpasses one million users within only five days of its launch.
January 2023: ChatGPT service surpassed the 100 million users mark.
February 1, 2023: OpenAI launches ChatGPT Plus subscription in the USA for $20 a month, providing users with priority access to new features and faster response times. Later, the company expanded ChatGPT Plus access for international customers on February 10, 2023.
March 1, 2023: OpenAI released ChatGPT API, allowing developers to integrate ChatGPT service into their applications.
March 14, 2023: OpenAI introduced the latest GPT-4 language model to ChatGPT with enhanced capabilities in advanced reasoning and complex instructions and added more creativity.
March 23, 2023: OpenAI launches ChatGPT plugins, allowing users to extend the functionality of ChatGPT with third-party tools.
May 18, 2023: ChatGPT launched an iOS app that syncs your conversations, supports voice input, and brings the latest language model improvements to your fingertips. Later, on May 23, 2023, OpenAI extended the ChatGPT iOS app's availability to more countries.
July 25, 2023: ChatGPT released an Android application for users in the United States, India, Bangladesh, and Brazil, which is available to download from the Google Play Store.
August 28, 2023: OpenAI announces Enterprise plans for ChatGPT, offering businesses customized solutions for their needs, including enterprise-grade security and privacy and ChatGPT's most powerful feature set.
September 25, 2023: OpenAI began rolling out new voice and image capabilities in ChatGPT. A new, more intuitive interface is now available to you that lets you have a voice conversation or show ChatGPT what you're talking about.
ChatGPT Cost and Revenue
1. ChatGPT Cost
Currently, ChatGPT is estimated to cost around 36 cents per query. Based on a report by Dylan Patel, a chief analyst at SemiAnalysis, ChatGPT costs approximately $700,000 per day to operate. However, this estimate is uncertain due to several unknown variables, such as query volume, GPU performance and utilization, server and GPU prices and availability, power consumption and cooling requirements, and infrastructure maintenance and depreciation costs. (Source: Business Insider)
Please note that ChatGPT is still under development, and as the technology advances and becomes more efficient, the cost per query will decrease.
ChatGPT costs vary depending on the number of queries processed per day. For example, the cost of ChatGPT would be around $360,000 if it processed 1 million daily queries. However, if ChatGPT processes 10 million queries daily, it would cost a whopping $3.6 million.
ChatGPT service remains relatively expensive for OpenAI, but costs are expected to decrease over time as the technology advances.
2. ChatGPT Revenue: Is ChatGPT Profitable?
ChatGPT, an AI-powered chatbot, generates revenue through a variety of channels, including:
Offering API services to businesses
Providing a premium subscription plan, i.e., ChatGPT Plus
Selling training datasets
Providing language processing consulting services
ChatGPT Enterprise
OpenAI, the company that created ChatGPT, predicted $200 million in revenues by 2023 and $1 billion by 2024. It reportedly made less than $10 million in 2022.
OpenAI might earn $3.6 million to $4 million from the ChatGPT Plus subscriptions alone.
As of October 25, 2023, OpenAI has not publicly disclosed the exact number of ChatGPT Plus customers. However, according to available data, there are between 180,000 and 200,000 ChatGPT Plus subscribers.
This estimate is based on the following assumptions:
As of October 2023, ChatGPT has over 180.5 million active users.
Approximately 1% of users convert from free to paid.
Please remember that this is only an estimate, and actual numbers may differ.
ChatGPT Enterprise is Open AI's specialized offering of ChatGPT for businesses with enterprise-grade security and privacy, unlimited high-speed GPT-4 access, extended context windows for processing longer inputs, enhanced data analysis capabilities, customization options, and much more.
OpenAI can expect to generate the bulk of its revenue from this service.
Language Model Training
What Language Model does ChatGPT use?
ChatGPT uses a fine-tuned version of GPT-3.5 (text-DaVinci-003). The ChatGPT Plus service includes access to GPT-4 with a usage cap, which offers better accuracy and support for both text and image inputs than GPT-3.5.
GPT-4 supports a context window of over 25,000 words of text, facilitating tasks like long-form content creation, extended conversations, and document search and analysis.
Additionally, GPT 4 outperformed GPT 3.5 on performance tests— scoring high approximate percentile (over 90%) in several challenging human examinations like the US BAR exam and Biology Olympiad.
OpenAI developers spent six months making GPT-4 more aligned and safer. As a result, GPT-4 is 82% less likely to respond to disallowed content requests and 40% more likely to provide factual responses than GPT -3.5 on their internal evaluations.
How Large Was the ChatGPT Training Dataset?
ChatGPT was trained on a large amount of textual data, which included text databases obtained from various online sources.
The training set involved enormous amounts of data (around 570 GB), and the model was developed with 175 billion trainable parameters. The training set was curated from multiple sources such as web texts, books, Wikipedia, articles, and other written material available on the internet.
The developers fed the model approximately 300 billion words (~499 billion tokens). (Source: LinkedIn Pulse)
The terms "word" and "token" are often used interchangeably in NLP, but their meanings differ slightly. Here is an example to illustrate the difference between both terms: for instance, consider the sentence "Alex is going to the market.". There are six words: "Alex" "is" "going" "to" "the" and "market". While there are seven tokens: "Alex" "is" "going" "to" "the" "market" and "."