Affiliate Disclosure: I publish various content marketing strategies, online business ideas, blogging tutorials, review articles, and discount offers on my blog. My content may contain some affiliate links for products/services I use, love, and recommend. If you take action (i.e., subscribe or make a purchase) after clicking one of my affiliate links, I'll earn an affiliate commission at no additional cost to you. It helps me in creating more helpful content like this.
Grammarly is a powerful grammar checker tool that corrects spelling and grammar errors.
It helps write clear and error-free copy with its customizable style guides.
Grammarly also has an AI-powered plagiarism detector that discovers duplicate content by scanning massive ProQuest databases and over 16 billion web pages.
Grammarly is a useful tool for students, copywriters, and bloggers, but it may not be suitable for everyone.
Based on their budget and requirements, they can choose one of the best Grammarly alternatives currently available on the market.
I've curated a list of the top Grammarly alternatives that include both free and premium software.
Best Grammarly Alternatives: Top Websites Like Grammarly
| | | | |
| --- | --- | --- | --- |
| Product Name | Available Integrations/Add-ons | Price | Link |
| ProWritingAid | MS Word/Outlook, Google Docs, Scrivener, Open Office | Free and Premium Plans Starting at 63.20 Per Year | Visit Now |
| Hemingway Editor | Desktop versions for Windows & macOS | Free and Downloadable Desktop Version Costs $19.99 Per License | Visit Now |
1. ProWritingAid
Important:
One of the best Grammarly alternatives – ProWritingAid, is giving away yearly and lifetime premium subscriptions for free by referring 10/20 users to its platform.
Click here to get your unique referral link and start promoting it to win premium access.
ProWritingAid is a powerful grammar and style checker that helps you to write clear, mistake-free content.
It enhances your writing by delivering thousands of grammar, spelling, and readability improvements in real time.
The key to good writing goes beyond good grammar.
That's why ProWritingAid copy editors have hand-coded thousands of rules to cover the most crucial style suggestions to improve the impact of your writing.
It highlights repetitiveness, vagueness, sentence length variations, excessive adverbs, passive voice, complex sentence structures, and many more elements.
A built-in Word Explorer and contextual thesaurus will assist you in discovering the perfect words for your copy.
The best thing is you can develop your skills as you write by using the app's suggestions, explanations, videos, and quizzes.
With ProWritingAid's seamless integration with Microsoft Word/Outlook, Scrivener, Google Docs, Open Office, and Final Draft, you can edit your writing wherever you write.
It supports major internet browsers such as Google Chrome, Firefox, Edge, and Safari via extensions and works on all major sites, including Gmail, Facebook, Twitter, Quora, and Medium.
ProWritingAid Pricing Plans
ProWritingAid offers one free and three premium plans as below.
Free Plan: $0
500 Word limit for each check
Web-only access
Monthly Subscription: $20 Per Month
No word limit
Access to desktop apps, browser extensions, and add-ons
100% privacy and GDPR compliance
Yearly Subscription: $63.20 Per Year (with a special link below)
No word limit,
Access to desktop apps, browser extensions, and add-ons
100% privacy and GDPR compliance
Up to 67% discount on monthly pricing + 20% Extra Discount
Lifetime Subscription: $319.20 One-time (with a special link below)
No word limit,
Access to desktop apps, browser extensions, and add-ons
100% privacy and GDPR compliance
A one-time payment that includes future updates
20% Extra Discount
2. Hemingway Editor
Hemingway Editor is one of the most popular grammar checker tools.
It features an uncluttered design and loads quickly across different devices without having to install anything extra.
Hemingway App highlights complex, lengthy sentences and common errors in different colors.
Whenever you see a yellow sentence, please rewrite it to be concise or split it.
A red highlight indicates that your sentence is so complex and dense that your readers will have trouble following its meandering, splitting logic. Edit that sentence to remove the red.
Replace words with purple highlights with shorter ones. Mouse over them for hints.
Blue highlights point out weakening words and adverbs; consider replacing them with stronger ones.
Phrases in green indicate a passive voice. If necessary, rewrite them in the active voice.
The Hemingway app allows text formatting via a built-in toolbar located at the top of the editor window.
Hemingway is pretty easy to use. If you're working on something, paste it in and edit it away. Alternatively, click on the Write button to create a new document.
Hemingway App Pricing
Currently, Hemingway offers a web-based editor and desktop application for Windows and macOS.
The web version is free, but the downloadable desktop application costs $19.99.
A big advantage of Hemingway's desktop version is that it does not require an Internet connection.
3. Slick Write
Slick Write is a powerful proofreading tool that provides comprehensive grammar and style-checking features.
Since English is a challenging language for foreign writers, you will stand out from the crowd by using correct grammar and diverse vocabulary.
It doesn't matter whether you're a blogger, novelist, SEO expert, or student writing an essay for school. Slick Write can help you take your writing to the next level.
Good sentence structure and the right word choices improve the impact and readability of your content while building your readers' trust.
Besides learning basic grammar and spell checks, Slick Write helps you develop effective writing habits.
Slick Write automatically saves your documents to your browser's local storage for easy access, but it does not redistribute them.
Only make sure to disable this feature when you work on a shared computer.
Please be assured that your content remains private and secure at all times.
With all of these points in mind, Slick Write is one of the best free Grammarly alternatives.
Slick Write Pricing
As of right now, the service is free. Premium plans are not available.
Best of all, Slick Write is accessible online, so there is no need to download or install any software on your pc.
However, you can use Chrome or Firefox extensions to submit your work.
Only remember to submit a novel or long document in multiple parts to avoid word limits.
4. Ginger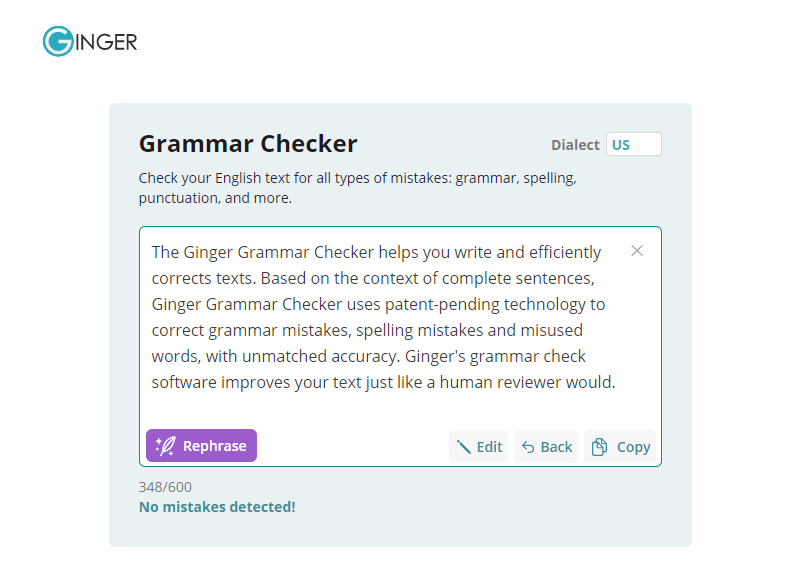 Ginger Software provides comprehensive grammar and spelling corrections, content rephrasing, and translations into over 40 languages.
Ginger grammar checker can identify and fix grammar mistakes, spelling mistakes, and misused words with unparalleled accuracy based on the context of complete sentences.
Enjoy single-click proofreading that fixes your grammar mistakes while improving your English writing.
It proofreads your text just as a human reviewer would.
Upgrading to Ginger premium plans unlocks a few exciting features, such as unlimited grammar checks with advanced suggestions, unlimited sentence rephrasing, expanded AI-based synonyms, and translation of content to 40+ languages.
Ginger Software is compatible with the majority of platforms, websites, tools, and devices.
It provides various writing suggestions when you post a Tweet, compose a Gmail message, draft a Word document, or write anywhere!
However, being one of the best Grammarly alternatives, Ginger misses a critical feature, i.e., plagiarism detection.
I hope Ginger will add a plagiarism-checking feature in its future updates.
Ginger Software Pricing
The basic version of Ginger software is free with very limited features.
It allows grammar checks for only 300 characters with its free plan (600 characters when you create a free Ginger account). It seems nothing less than a marketing gimmick.
However, Ginger premium plans come with many advanced features.
For a limited time, Ginger offers 30% off on all its premium plans.
Plus, you'll receive a special promo coupon with an extra 40% off discount on your annual subscription.
Browse Ginger pricing plans for more information.
5. Writer.com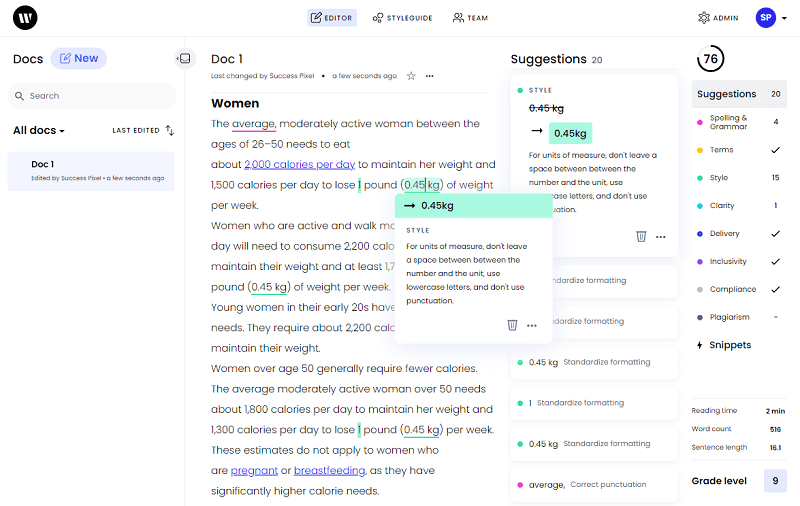 Writer's AI-powered writing assistant makes your text well-structured, error-free, and easy to understand.
A comprehensive set of grammar and spelling checking features ensures that your text is free of any error, from silly punctuation errors to irregular verb conjugations and misspelled words.
However, unlike most writing improvement tools, the Writer provides several unique features that make the writing stronger, including readability, clarity, approachability, conciseness, writing style, tone, brand voice, terminology, uniqueness, and bias.
In addition to grammar and spelling checks, Writer provides an AI-powered plagiarism checker.
The software identifies suspiciously similar content and flags it so you can be sure your writing is unique.
The Writer is best-suited for professional use and can prove the best Grammarly alternative.
It is available as a browser extension, Microsoft Word plug-in, and Google Document add-on.
When you want a full-screen, distraction-free editing experience, Writer has a good web editor as well.
Writer.com Pricing
A number of Writer's features are available for free, including grammar checks, punctuation checks, and plagiarism detection.
Upgrading to a Writer premium plan will unlock some advanced features. The premium plan starts at $11 per user per month, and you get a 25% discount on its annual subscription.
Enterprise clients can ask for custom pricing.
Are you still confused between Grammarly vs. Writer.com?
Try Writer free for 30 days to see if it meets your needs. No credit card is required.
Best Grammarly Alternatives: FAQs
1. What is Grammarly?
Grammarly is a powerful writing assistant tool that checks your copy for grammar, punctuation, and spelling errors. Many individuals primarily use it to check their grammar and plagiarism. In addition to grammar correction, Grammarly offers suggestions for vocabulary, syntax, and writing style.
2. How much does Grammarly cost?
Grammarly offers three different pricing plans: 
1) Free plan with basic writing suggestions 
2) Premium plan starts at $12 per month that includes style, clarity, and advanced corrections 
3) Business plan starts at $12.50 per month per user with some business-specific features and priority email support.
3. Is Grammarly Premium worth it?
Yes, after using Grammarly for the last five years, I can say the premium plan is definitely worth it. It offers advanced grammar suggestions, vocabulary support, and plagiarism checking.
4. Which is the best alternative to Grammarly?
ProWritingAid and Writer.com are the best Grammarly alternatives, but you can also try other writing improvement tools listed in the article.
5. Is ProWritingAid better than Grammarly?
ProWritingAid is an excellent tool for checking style and readability errors. But considering overall features and price, Grammarly is a slightly better option for copywriters and bloggers.