Affiliate Disclosure: I publish various content marketing strategies, online business ideas, blogging tutorials, review articles, and discount offers on my blog. My content may contain some affiliate links for products/services I use, love, and recommend. If you take action (i.e., subscribe or make a purchase) after clicking one of my affiliate links, I'll earn an affiliate commission at no additional cost to you. It helps me in creating more helpful content like this.
Why Avoid Overspending on Black Friday
Black Friday and Cyber Monday are the year's biggest shopping days.
With so many discounts and deals, you may lose yourself in the excitement and spend more money than you planned.
While saving money on purchases is always great, overspending can lead to regret later.
So to ensure that your Black Friday shopping experience is rewarding and budget-friendly, here are seven secret tips to avoid overspending on Black Friday and Cyber Monday shopping period.
1. Plan Your Budget Properly
Before you even begin looking at potential deals and sales, you must set a budget for yourself.
Calculate how much you can realistically afford to spend before diving into the sales so you don't find yourself tempted to overspend.
Be sure to stick to your budget and avoid exceeding it, no matter how attractive the deals are.
2. Prepare a Shopping List
Making a list of items you want to buy can help keep you focused on accomplishing your shopping goals without getting distracted by other things that catch your eye.
Write down all items, including house essentials, gifts, and luxury items, and prioritize your purchases accordingly.
Having a list also helps ensure you only buy what you need instead of making impulse purchases solely because there's a good deal available.
3. Use Cash Whenever Possible
Credit cards provide convenience, rewards points, cashback, and loyalty bonuses, but avoiding shiny object syndrome and controlling spending may prove challenging.
Pay with cash whenever possible so you can feel and see the amount you're spending. E.g., in physical stores or places where cash-on-delivery is available.
As a result, you'll be less likely to make impulse purchases and avoid overspending on Black Friday.
4. Do Your Research Before Purchasing Any Product
When shopping for something, make sure you compare prices at different stores and websites before you buy.
Don't just settle for the first offer you run across; make sure you know what other shops offer and if there are any coupons or discounts that could save you even more money.
Examine historical prices for the products you wish to purchase, especially for expensive or one-time purchases.
Compare multiple websites and stores for the best offers, and make sure you read their terms, return policies, and reviews before putting in your credit card information.
Doing a little bit of extra work can often result in significant savings!
5. Use Discount Coupons
Look out for coupon codes offered by stores during Black Friday and Cyber Monday sales, which may provide free shipping or additional savings over already discounted items.
It's worth searching for coupons to get the best deal possible.
However, you should ensure that the deal offers an actual discount, not a price reduction that includes fake discounts.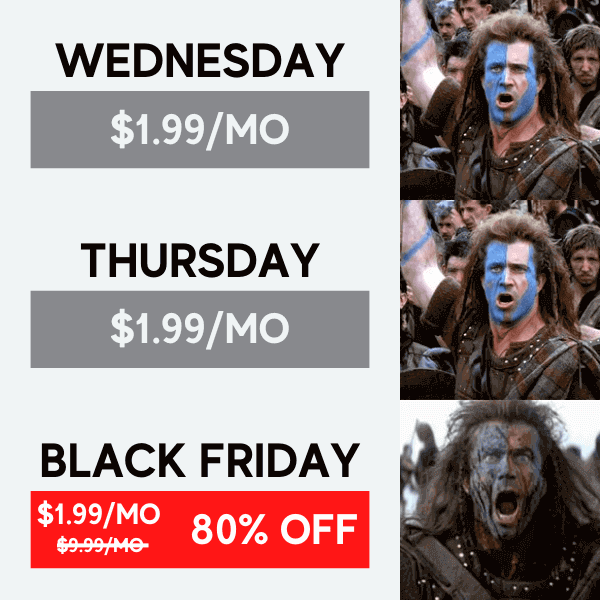 6. Sign Up for Email Newsletters
Very often, companies offer extra savings for newsletter subscribers. Consider signing up for newsletters for brands you're planning to shop at before placing your order, as you could save 10% or more.
7. Invest in Side Hustle
Black Friday is the perfect opportunity to invest in side hustles that help your long-term financial objectives.
Instead of buying things you don't need, invest your money into projects that could earn you more.
Stock investing or starting a side business are examples of this.
Investing wisely during the holiday season can protect your finances and avoid overspending.
Suppose you wish to earn $1,000 per month in 2023; the following products will assist in getting you started and enabling you to grow your business rapidly.
Web Hosting Black Friday Deals
WordPress Themes Black Friday Deals
Email Marketing Software Black Friday Deals
AI Writing Software Black Friday Deals
SEO Tools Black Friday Deals
Conclusion:
Saving money during the holidays doesn't have to be complicated—it just takes a little bit of planning and self-control.
Following these simple tips, you can enjoy Black Friday and Cyber Monday shopping season without breaking the bank!