Affiliate Disclosure: I publish various content marketing strategies, online business ideas, blogging tutorials, review articles, and discount offers on my blog. My content may contain some affiliate links for products/services I use, love, and recommend. If you take action (i.e., subscribe or make a purchase) after clicking one of my affiliate links, I'll earn an affiliate commission at no additional cost to you. It helps me in creating more helpful content like this.
WP Spectra Pro Black Friday Sale: Introduction
Websites that stand out need the right tools in today's ever-evolving digital landscape. This Black Friday, WP Spectra Pro opens the doors for WordPress enthusiasts to elevate their website-building game.
The Spectra Pro visual website builder integrates seamlessly with the WordPress block editor. It introduces a plethora of smart blocks, block patterns, wireframes, ready-made templates, and an array of tools designed to transform the website creation process.
During this year's holiday sale, WP Spectra offers 50% instant discounts on its premium plans, providing an irresistible deal. The sale runs from 20 November to 30 November 2023.
Seize this opportunity now before it's too late.
WP Spectra Pro Black Friday Sale: Overview
| | |
| --- | --- |
| Product Name | WP Spectra |
| Product Category | WordPress Visual Page Builder |
| WP Spectra Black Friday Deal | Up to 50% Off |
| Special Bonuses | ProjectHuddle + SureWriter + SkillJet Academy Membership |
| WP Spectra Black Friday Promo Code | Not Required |
| WP Spectra Black Friday Sale Start Date | 20 November 2023 |
| WP Spectra Black Friday Sale End Date | 30 November 2023 |
| Discount Link | Grab The Deal |
How to Activate the WP Spectra Black Friday Deal
Unlocking the WP Spectra Pro Black Friday deal is a straightforward process. Below, you will find step-by-step instructions for getting started.
Step 1: First of all, navigate to the official WP Spectra Black Friday Sales page.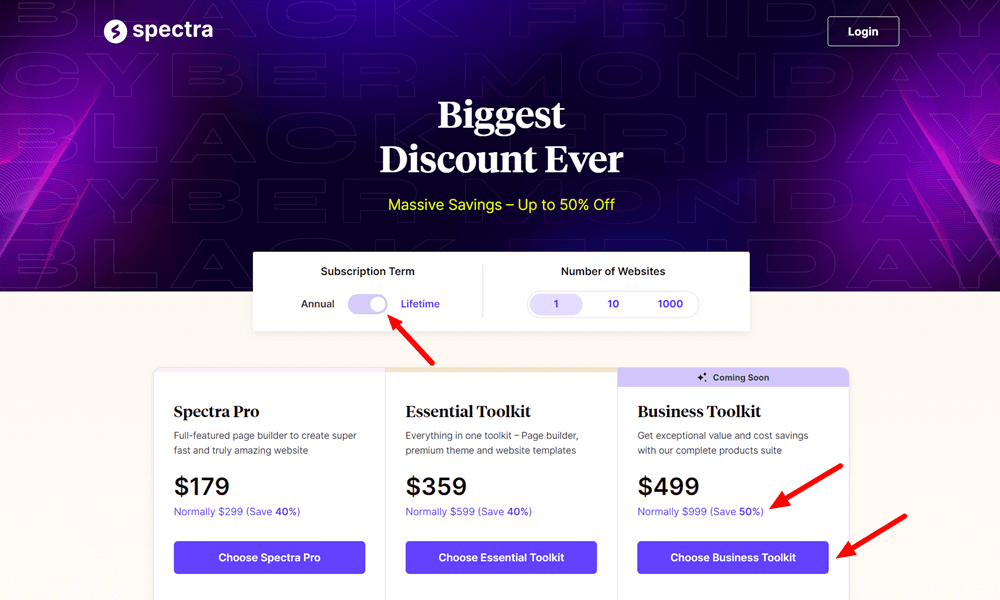 Step 2: Choose the pricing plan that aligns with your website needs. The company offers three pricing packages: Spectra Pro, Essential Bundle, and Business Bundle. Check out the features and functionalities available in each Spectra plan. Then, choose the Subscription Term (Annual/Lifetime) and the number of WordPress websites you would like to install WP Spectra on. All prices will be adjusted accordingly.
Step 3: Proceed to the checkout page. Enter your email address, secure password, and name to create a new WP Spectra account.
Step 4: Verify the selected plan and the Spectra Black Friday promo code. During the Black Friday promotional period (20 November 2023 to 30 November 2023), the coupon code for the deal is auto-applied at the checkout page.
Step 5: Use your credit/debit card or PayPal to complete your purchase if everything is fine.
Congratulations, you've successfully redeemed the Spectra Black Friday deal.
Top Features of Spectra WordPress Page Builder
Spectra is not just a WordPress page builder plugin; it's a revolution in web design, transforming the default WordPress editor into a powerhouse of creativity and productivity. Here's a detailed exploration of Spectra's features that make it the preferred tool for beginners and seasoned web designers alike.
1. Native WordPress Interface
Spectra is designed to enrich the default WordPress block editor, making it easy to use even for beginners. Its seamless integration allows users to leverage the power of a page builder in WordPress' familiar interface.
2. Super Fast and Stable
Working with the native WordPress editor, Spectra eliminates dependencies on external code, resulting in a fast and stable website-building experience.
Moreover, assets are loaded dynamically on demand, optimizing website performance during editing and ensuring super-fast results. Spectra's lightning-fast editor delivers a frustration-free website-building experience compared to slow page builders.
3. Secure and Integrated
Crafted with clean code following the latest standards, Spectra focuses on security and seamlessly integrates with any WordPress plugin, ensuring a robust and secure foundation for your website.
4. Extensive Library of Pre-built Websites
Spectra boasts an ever-growing library of professionally designed pre-built websites covering various niches, including blogs, portfolios, eCommerce, restaurants, local businesses, agencies, pet care, tourism, health, and fitness. With a one-click installation, your website is ready to shine.
5. Ultimate Page Speed Performance
Experience unmatched performance with websites that score high in Core Web Vitals (CWV) and receive Google's love with a 100% Page Speed Score.
6. Modern React Framework
Powered by the revolutionary React framework, Spectra's components are faster and more efficient, providing an unparalleled website-building experience.
7. Advanced Web Creation Experience
Spectra provides advanced design options not available in the default WordPress block editor, including organized settings, professionally designed templates, wireframes, and patterns.
Improved workflow, user experience, typography, colors, flexbox containers, and Spectra's unique blocks contribute to creating stunning websites in less time.
8. Seamless Integration with Your Favorite Tools
Spectra seamlessly integrates with a range of tools, providing an enhanced website-building experience.
9. Icons and Image Library
Access a vast library of icons and images within Spectra, ensuring you always find the perfect visuals for your website.
10. Built-in SEO Features
Optimized assets, faster load times, and schema support make Spectra an ideal choice for creating SEO-friendly websites.
11. GDPR Compliance
Spectra enables GDPR compliance by allowing users to import templates locally and host Google Fonts on their servers.
12. Mobile Friendly
Create inherently responsive and user-friendly websites that look great on all devices and screen sizes.
13. User-friendly Interface
Spectra offers a user-friendly and intuitive interface, making website building accessible to all, regardless of skill level.
14. Join our Thriving Community
Built by Brainstorm Force, the creators of the Astra theme, Spectra comes with the support of a thriving community, detailed documentation, regular updates, and world-class customer support.
There's no wonder why 3 million websites and 50,000 users trust the Brainstorm Force's products.
Grab a copy of Spectra Pro and elevate your website-building journey today!
WP Spectra Pricing Plans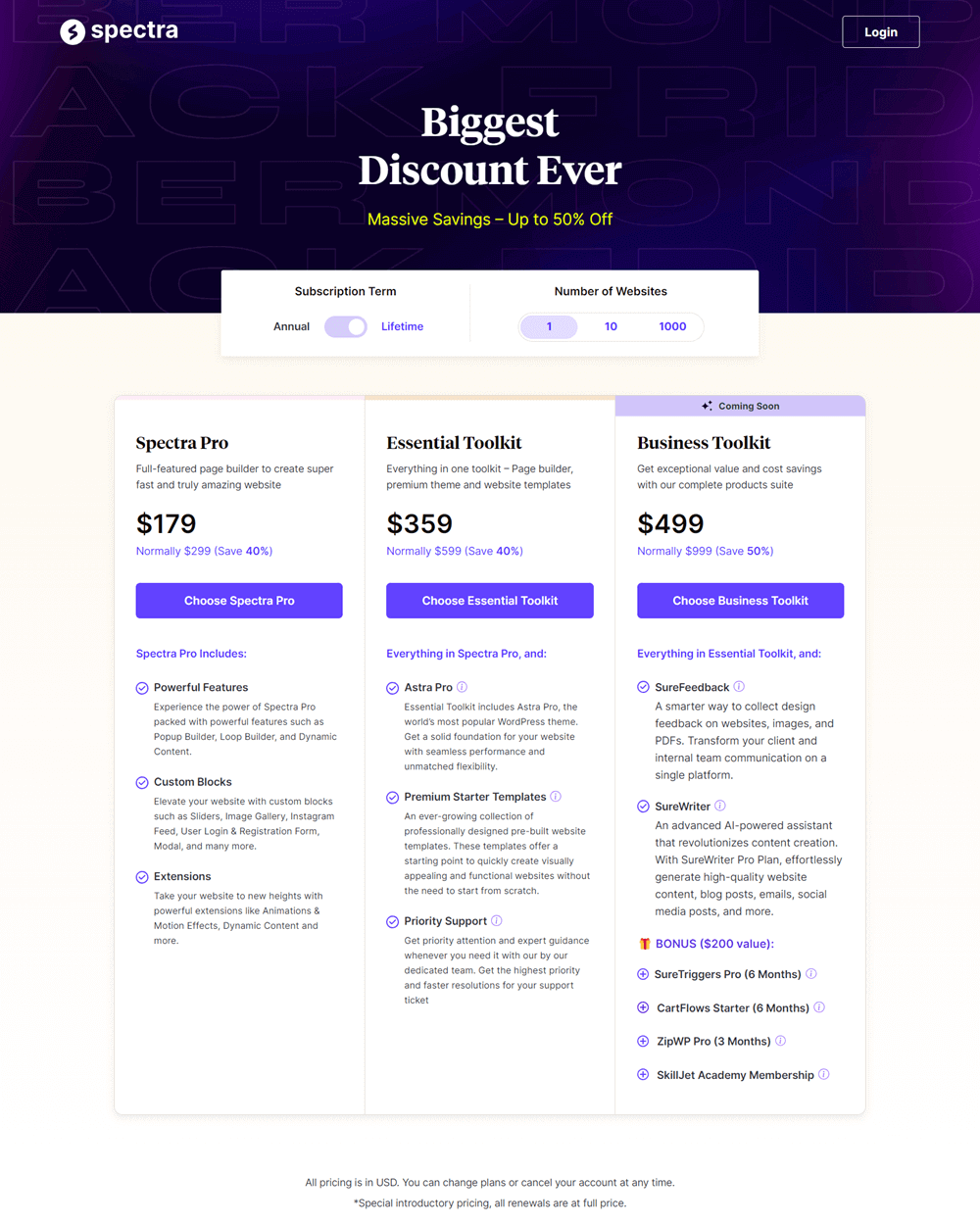 1. Spectra Pro: $39 (Save up to 40%)
Original Price: $59/year or $299/lifetime
Black Friday Price: $39/year or $179/lifetime (up to 40% off)
Revolutionize your website creation experience with Spectra Pro, the full-featured page builder designed to craft super-fast and stunning websites. Take advantage of this limited-time offer and save 34%, bringing the price down to $39 from the regular $59.
Powerful Features
Experience the true potential of Spectra Pro with a suite of powerful features, including:
Popup Builder: Engage your audience with interactive popups to boost user interaction and conversions.
Loop Builder: Craft dynamic and interactive content loops to keep your visitors engaged.
Dynamic Content: Experience the versatility of Spectra Pro with dynamic content options.
Custom Blocks
Elevate your website design with custom blocks such as sliders, image galleries, Instagram feeds, user login & registration forms, modals, and more. Tailor your site to meet your unique needs effortlessly.
Extensions
Take your website to new heights with powerful extensions like animations & motion effects, dynamic content, and more. Unleash your creativity and enhance your website's user experience with these advanced features.
Choose Spectra Pro for $39 and transform your website-building journey today!
2. Essential Toolkit: $69 (Save up to 40%)
Original Price: $99/year or $599/lifetime
Black Friday Price: $69/year or $359/lifetime (up to 40% off)
The package includes everything you need in one comprehensive toolkit – Spectra Pro, an Astra Pro theme, premium website starter templates, and priority support. Seize this opportunity to save 20%, bringing the price down to $69 from the regular $99.
Spectra Essential Toolkit Includes:
Astra Pro
Experience the world's most popular WordPress theme – Astra Pro. This inclusion provides a solid foundation for your website with seamless performance and unmatched flexibility. It's worth spending $79 on Essential Toolkit since the Astra Pro theme alone is $59/year and is included with the bundle for free.
Premium Starter Templates
Access an ever-growing collection of professionally designed pre-built website templates. These templates serve as a starting point to quickly create visually appealing and functional websites without starting from scratch.
Priority Support
Receive priority attention and expert guidance whenever you need it with Spectra's dedicated support team. Enjoy the highest priority and faster resolutions for your support tickets.
Choose Essential Toolkit for $69 and unlock the full potential of your website creation!
3. Business Toolkit: $119 (Save up to 50%)
Original Price: $199/year or $999/lifetime
Black Friday Price: $119/year or $499/lifetime (up to 50% off)
Maximize your value and cost savings with WP Spectra's complete product suite, including everything in the Essential Toolkit. Seize this exclusive offer to save 40%, bringing the price down to $119 from the regular $199.
Moreover, you can get the Spectra Business Toolkit lifetime subscription for only $499 instead of $999, i.e., a massive 50% off.
WP Spectra's Business Toolkit Includes:
ProjectHuddle
Revolutionize client and team collaboration with ProjectHuddle. Collect design feedback seamlessly with direct comments on the website, eliminating email chains and scattered feedback.
SureWriter
An advanced AI-powered writing assistant, SureWriter revolutionizes content creation. Effortlessly generate high-quality website content, blog posts, emails, social media posts, and more with the SureWriter Standard Plan. You can purchase it separately for $99/year. However, it is included as part of the Business Toolkit subscription.
SkillJet Academy Membership
Access expert-led courses tailored to empower entrepreneurs and web professionals at all levels. Unlock valuable insights, learn new techniques, and enhance your skills to build exceptional websites and elevate your online business.
Experience the exceptional value of the Business Toolkit at $119!
Don't miss out on these exclusive pricing plans. Unlock the power of website creation with WP Spectra Pro today!
How to Build Incredible Websites in Record Time with WP Spectra
Website creation with WP Spectra is a breeze. You can build a stunning, functional, and conversion-friendly website within no time. Follow the simple guide below to get started.
1. Activate WP Spectra and Spectra Pro
Your first step should be to install and activate the free Spectra – WordPress Gutenberg Blocks plugin. You can add Spectra Pro to your site if you want access to additional blocks and advanced features.
2. Choose a Template
Explore over 100 pre-built websites and page templates, choosing the perfect one for your project with a single click.
3. Customize and Personalize
Tailor your selected template with complete design freedom so that your website reflects your unique style and brand.
4. Publish and Go Live!
Complete the editing and customization process, and your website is ready to go live in a few minutes.
Spectra Black Friday Deals: FAQs
Are you curious about Spectra Pro and its Black Friday sale? Here are some frequently asked questions that should answer most of your questions.
Q: Can I use Spectra with any themes and plugins?
A: Yes, the Spectra blocks work with all themes and plugins. Although Spectra performs exceptionally well with the Astra theme, the plugin also functions seamlessly with all major themes available in the WordPress ecosystem.
Q: What are the requirements for using Spectra Pro?
A: Your website must have the latest version of Spectra block builder installed before you can use Spectra Pro. It functions as an advanced addon for the free Spectra plugin, providing additional features.
Q: What is the Spectra Pro Black Friday deal?
A: You will receive up to 50% off WP Spectra's premium subscriptions and bonuses with the Spectra Pro Black Friday deal.
Q: How long does the Spectra Pro Black Friday deal last?
A: The sale begins on 20 November 2023 and ends on 30 November 2023. The offer is only valid for a limited time, so take advantage of it before it expires.
Q: Can I use Spectra Pro to build websites for clients?
A: Yes, you can use Spectra Pro to design and build websites for clients. Purchase the multiple-site license if you plan to use the software on more than one client site. You can also buy a single site license for each client site separately and earn commission through Spectra's affiliate program.
Q: Does Spectra offer a free trial?
A: No, the company does not provide a free Spectra Pro trial. Nevertheless, it offers a 100% no-risk 14-day refund policy for your peace of mind. If you are not satisfied or have an issue that Spectra technical team cannot resolve within the next 14 days after purchase, Spectra will refund your money.
Q: Does Spectra slow down my website?
A: Absolutely not. The lightweight and optimized design of Spectra makes it an ideal choice for performance-oriented applications. With its seamless integration with the native WordPress editor and no external code, Spectra ensures its speed and stability. Spectra coding uses the latest WordPress standards, prioritizes security, and ensures smooth compatibility with any WordPress plugin.