Affiliate Disclosure: I publish various content marketing strategies, online business ideas, blogging tutorials, review articles, and discount offers on my blog. My content may contain some affiliate links for products/services I use, love, and recommend. If you take action (i.e., subscribe or make a purchase) after clicking one of my affiliate links, I'll earn an affiliate commission at no additional cost to you. It helps me in creating more helpful content like this.
Increasing demand in the content creation space has made businesses search for innovative methods and tools to accelerate, automate, and streamline content production.
The right writing assistant can transform your life, regardless of whether you are a professional copywriter, marketer, student, or casual writer.
Amidst the hundreds of writing assistants on the market, QuillBot has gained popularity for its writing improvement features.
In this QuillBot review, I'll walk you through the latest features, benefits, and how it works.
What is QuillBot?
QuillBot is a powerful AI-powered writing assistant that simplifies the process of creating content. It employs advanced algorithms for writing enhancement. With its paraphrasing tool, you can refine your writing and receive suggestions for vocabulary, sentence structure, and grammar.
QuillBot's plagiarism detection module scans your document for unintentional plagiarism against billions of sources. Moreover, QuillBot's Citation Generator is a reliable and fast way to cite sources for essays, presentations, and other writing assignments.
QuillBot has introduced its AI co-writer, a next-generation word processor designed to assist you in creating high-quality content quickly.
QuillBot is often marketed as a simple paraphrasing tool. Still, it's versatile enough for diverse writing tasks, from research to academic assignments, creative content generation, and everything in between.
Let's take a look at a few of its key features:
QuillBot Features
QuillBot is an all-in-one writing solution with many versatile features that cater to every writing need, making it an indispensable tool for casual writers, students, and professionals.
From paraphrasing to grammar checks and plagiarism detection to a robust AI-powered co-writer, QuillBot has got you covered.
Say goodbye to the hassle of switching between multiple writing tools, and say hello to the QuillBot AI writing assistant – your one-stop writing companion.
1. The Ultimate AI-powered Paraphrasing Tool
You might have used different spinning bots and ordinary paraphrasing tools before. However, QuillBot is a whole new level altogether. It doesn't just reword the sentence but ensures you use the right words according to the context.
QuillBot's Paraphraser module lets you rephrase text in countless ways thanks to eight predefined modes and unlimited custom modes.
In addition to improving your fluency, the program ensures you use the appropriate vocabulary, style, and tone for any situation. Add your text into the input box, and QuillBot AI will create the best possible paraphrase.
Additionally, you have complete control over the vocabulary change. Synonym Slider allows you to modify your writing more (or less). Slider movements to the left will result in a more accurate rephrase with fewer changes; slider movements to the right will produce a more creative paraphrase.
QuillBot utilizes an AI-powered thesaurus to find the perfect synonyms. Click on any word in the paraphrase to view a list of suggested synonyms. Then, you can decide what word or phrase best conveys your meaning!
As a result, QuillBot's paraphrasing makes writing faster, more efficient, and more enjoyable.
2. Free Online Grammar Checker
With QuillBot's free online grammar checker, you can find and fix errors in your writing.
With our grammar and sentence checker, QuillBot is here to make the process easy for you whenever you need a hand with editing your writing or proofreading.
Perfecting your work is a breeze with QuillBot's free online sentence corrector. As a result, you can avoid mistakes and refine your writing, allowing your thoughts to stand out instead of your mistakes.
Many people often get confused between "effect" or "affect" and don't know how to distinguish "their," "there," and "they're."
Keeping all English grammar rules in mind is a challenging task. So far, I have not found such a robust grammar checker except for Grammarly.
But now, you don't have to worry about grammar errors. Thanks to QuillBot's free online grammar checker!
In addition to complex Grammar checks, QuillBot also corrects spelling and punctuation errors.
Many commonly used tools often fail to catch misspelled words and improperly punctuated sentences. QuillBot takes care of all those complex spelling rules for you; you won't have to worry about them again.
I have attached a screenshot, which demonstrates QuillBot's grammar-checking capabilities.
Besides being efficient, QuillBot has a unique feature that significantly enhances productivity, i.e., fixing all grammatical errors effortlessly with just a single click.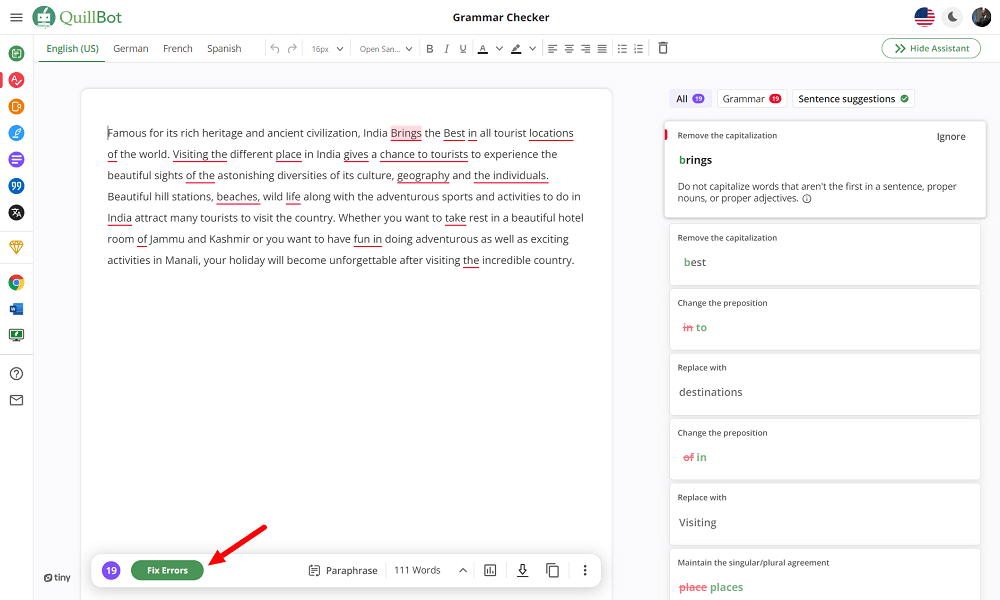 Instead of spending time fixing each error individually, you can review all grammatical mistakes at the right-hand side panel and click the "Fix Errors" button to correct them all instantly.
Try this productivity hack, and you'll be surprised how much time you save on your content creation.
3. QuillBot's Plagiarism Checker
QuillBot scans your document against billions of web pages to determine whether it contains unintentional plagiarism.
This tool checks whether any section of your text needs to correctly attribute authorship to content already published on the web, in books, news sources, or academic papers.
It also provides a comprehensive plagiarism report and score that allows you to quickly and accurately discover any instances of plagiarism in your work.
The real-time analysis and actionable feedback will assist you in understanding which sections of your document require proper citations.
Can you guess what's impressive?
Besides English, QuillBot scans texts in 100+ other languages, such as Spanish, French, Portuguese, Arabic, Russian, German, Greek, Chinese, and Japanese, eliminating the possibility of accidental plagiarism.
QuillBot's Premium subscription limits scanning up to 20 pages a month (up to 250 words a page). Unlike Grammarly, it does not offer unlimited plagiarism checks, which is disappointing for such a professional writing tool.
4. Citation Generator
Plagiarism is not just limited to words; ideas can also be plagiarized, so you must cite someone else's ideas if you rephrase them.
Despite many people using paraphrasing to steal someone else's content, QuillBot is dedicated to protecting academic integrity.
The company emphasizes ethical behavior when paraphrasing content.
It encourages users to be honest about their work, show responsibility, credit authors, and cite sources whenever necessary.
It combines an online plagiarism checker, citation generator, and guides to ensure students stay away from unintentional plagiarism. From a top-rated paraphrasing tool, this is quite commendable behavior.
Copying someone else's idea and giving it a fresh twist is just as unethical as ripping them off.
So you must properly cite everything that isn't your own creation, even paraphrased writing.
Don't worry!
The QuillBot Citation Generator allows you to create accurate citations for web pages, journal articles, books, images, videos, and reports/government documents.
5. QuillBot AI Co-Writer
If someone thinks QuillBot is just a grammar-checking or paraphrasing tool, they are seriously missing out on something big!
QuillBot AI co-writer alone is worth far more than your subscription price.
This option combines all QuillBot's tools into one place so that you can paraphrase, summarize, cite, and write all simultaneously without switching back and forth.
It can help you research any topic, review top articles (web/academic results), create highlights, and find niche-specific topic ideas or popular keywords.
The "Notes" option is a helpful tool for recording notes, rough ideas, and jotting down inspiration. Instead of searching for your diary, start taking notes right away.
QuillBot co-writer also includes a tool called "Citation Generator," a feature we discussed earlier.
Finally, QuillBot's next-gen AI-powered word processor transforms your writing process.
It's a full-featured visual interface supercharged with AI Flares that unlock unlimited content generation possibilities.
Depending on your goals, you may begin in multiple ways, whether generating new content ideas, completing paragraphs, beginning new sections, adding examples or counterexamples, or offering an entirely new perspective.
Do you know a cool thing about QuillBot AI co-writer?
QuillBot writing assistant offers the option of listening to and dictating content, a truly revolutionary feature for writing assistants.
Although this tool may not replace other QuillBot tools or similar third-party tools, it certainly makes creating content more effortless and enjoyable.
6. Text Summarizer
With QuillBot's text summarizer, you can quickly create a summary for any text.
It can instantly summarize the key points of essays, articles, research papers, confusing paragraphs, or documents. QuillBot's AI identifies vital information through natural language processing (NLP) without compromising its context.
You can summarize the text using QuillBot in two ways:
Key Sentences provides a bulleted list of the critical points. By adjusting the summary length slider, you can change the number of bullets you receive.
The Paragraph mode allows you to summarize the content in a single paragraph. The summary length slider can also be used to control the length of your summary.
It is 100% free and allows unlimited summarizations. A free user can only use QuillBot Summerizer for up to 1200 words, while a premium user can use it for up to 6000 words.
7. QuillBot Translator
The QuillBot translator provides a powerful alternative to Google Translate.
Using this innovative tool, you can convert text into over 30 different languages, opening up new avenues for communication.
QuillBot's translator can facilitate effective multilingual communication regardless of whether you're translating a document or website content. This tool also enables students to understand foreign languages to enhance their knowledge of foreign literature and research guides.
QuillBot translator supports the following languages:
Arabic
Bengali
Cebuano
Chinese
Czech
Danish
Dutch
English
Finnish
French
German
Greek
Hebrew
Hindi
Hungarian
Indonesian
Italian
Japanese
Korean
Malay
Norwegian
Persian
Polish
Portuguese
Romanian
Russian
Spanish
Swedish
Tagalog
Thai
Turkish
Ukrainian
Urdu
Vietnamese
You can harness the power of AI to translate any text quickly and accurately without any hidden costs or subscription fees.
The tool is absolutely free with zero ads, providing an uninterrupted translation experience.
The convenience doesn't stop there – QuillBot's online translator is accessible directly from your web browser, requiring no additional downloads. Additionally, it is compatible with mobile platforms, so you can use it anywhere you want without worrying if it will work.
Get started now with QuillBot's top-tier translator and unlock the future of multilingual communication.
Who are QuillBot's Target Customers?
Quillbot is a versatile writing tool suitable for a wide range of users.
Writers can benefit significantly from Quillbot's content generation and refinement features.
In addition to suggesting alternative ways to express ideas, it can rephrase sentences and summarize longer texts.
Quillbot's plagiarism detection and paraphrasing features can assist students in improving their writing skills.
Furthermore, it enables them to expand their vocabulary and find appropriate synonyms in their academic assignments.
This program can help professionals in diverse fields save time and communicate more clearly. It is the perfect writing companion for any professional for drafting emails, writing reports, or creating presentations.
QuillBot provides an intuitive way to research, draft, and create blog content for bloggers and affiliate marketers.
For those interested in using the tool, please take some time to learn how the tool works; you'll love it.
Don't risk your online reputation using the typical spinning bots; try QuillBot instead! The results will amaze you.
QuillBot Pricing Plans
QuillBot offers flexible pricing plans to meet the needs of a wide variety of users.
QuillBot has a plan for everyone, whether you're an individual looking to improve your writing, a student aiming for academic success, or a team collaborating on a project.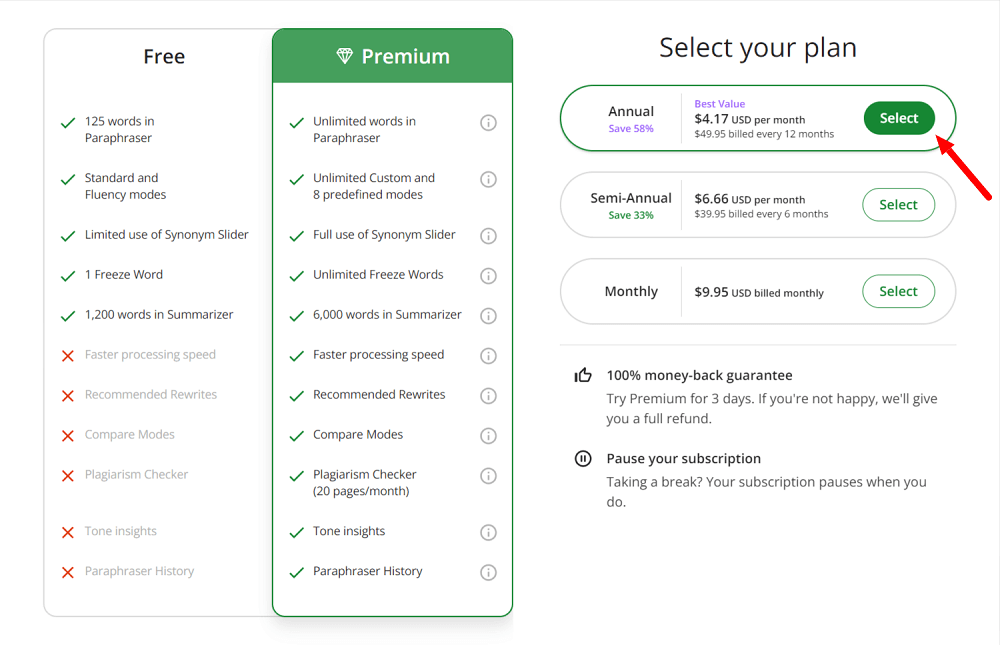 1. Free Plan:
Cost:
QuillBot offers a free plan that doesn't require any payment. You do not even need to enter your credit card information to sign up for a free account.
Features:
The free plan includes grammar and writing assistance tools. You can correct grammar and punctuation errors, enhance your vocabulary, and rephrase sentences to improve clarity. It's an excellent option for basic writing needs and occasional use.
2. Premium Plan:
Cost:
QuillBot's Premium plan is a monthly subscription starting at $9.95. However, semi-annual and annual payments can save you 33% and 58%, respectively.
Features:
With the Premium plan, you can access many advanced writing features. This package includes in-depth grammar checking, enhanced sentence rephrasing, plagiarism detection, increased word limits in Summerizer, writing mode comparison, and tone insights. Additionally, QuillBot Premium users enjoy faster processing times and access to paraphrasing history (up to the last 50 paraphrases), making it ideal for professional writers who want to supercharge their content writing.
3. Team Plans:
Cost:
QuillBot offers unique plans for teams and enterprise clients, with pricing tailored by user count.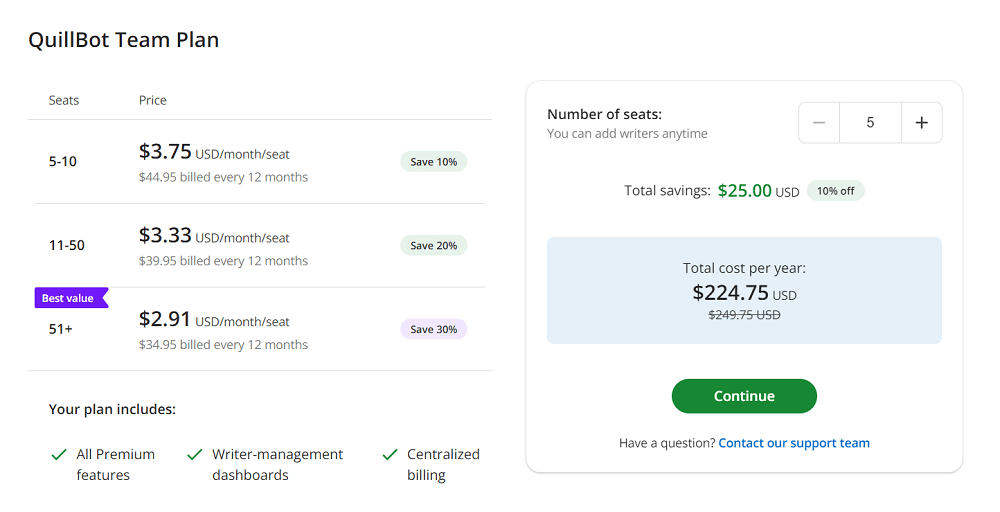 It will cost you $3.75 per month if you have 5 to 10 seats and $3.33 if you have 11 to 50 seats. Large teams with 51+ seats will receive a massive 30% off, costing them only $2.91 per user monthly.
Please note that payments for the QuillBot Team plan are billed annually as a single invoice.
Features:
QuillBot Team plans are designed to facilitate collaboration. Multiple users can simultaneously access QuillBot's features to improve writing and editing processes.
The team owner and admins can invite, add, or remove writers through the writer-management dashboard. Team members can share documents, collaborate on writing projects, and maintain consistent writing quality across the organization.
Businesses, educational institutions, and other groups needing high-quality written content and effective communication should consider the QuillBot Team plan.
With QuillBot's pricing plans, users can select the option that suits their budget and needs. Whether you need basic writing help, advanced editing capabilities, or collaborative toolkits for your team, QuillBot can support you in achieving your writing goals.
Pros of QuillBot AI Writing Assistant:
1. Grammar and Spelling Correction: QuillBot identifies and corrects grammar and spelling errors, ensuring your writing is error-free and professional.
2. Paraphrasing and Rephrasing: A powerful paraphrasing feature helps improve clarity and avoid plagiarism by rephrasing sentences and paragraphs.
3. Vocabulary Enhancement: QuillBot suggests synonyms and alternative words to help you enrich your vocabulary.
4. Summarization: QuillBot can summarize long texts, making it an excellent tool for condensing voluminous content into concise, digestible pieces.
5. User-Friendly Interface: A user-friendly interface makes it accessible to all levels of writers, including beginners.
6. Customization: QuillBot allows users to customize its suggestions and recommendations based on their writing styles and preferences.
7. Multilingual Support: The software supports over 30 languages, facilitating global communication and collaboration.
8: Multi-platform Accessibility: QuillBot is accessible via a web browser, making it available on desktops, tablets, and smartphones. There is no need to download any additional software. Moreover, it offers a Google Chrome extension, a MacOS app, and an add-on for Microsoft Word.
Cons of QuillBot AI Writing Assistant
1. Occasional Inaccuracies: Although QuillBot generally provides accurate suggestions, it may occasionally provide solutions that don't match the intended context. In some cases, manual editing may be necessary.
2. Internet Dependency: QuillBot requires an active internet connection to function, which can be problematic if you are offline.
3. Subscription Costs: Advanced features and capabilities are only available with a paid subscription, limiting access for budget-conscious users.
4. Privacy Concerns: Despite QuillBot's commitment to ensuring the privacy of its users, some may be concerned about the temporary storage of their text for processing.
5. Not a Replacement for Human Editing: QuillBot cannot substitute for human editing and proofreading, which can provide nuanced editing and feedback.
QuillBot Alternatives
Many QuillBot alternatives come to mind when you think of AI-powered writing tools for creating professional-quality content.
Let's look at the top three options: Grammarly, Wordtune, and Jasper AI.
1. Grammarly
Grammarly stands as one of the most popular AI writing assistants. The program goes beyond correcting grammar and spelling.
Grammarly is like having a personal writing assistant that proofreads the content. It provides real-time suggestions as you write, allowing you to write readable and error-free content.
2. Wordtune
Wordtune takes a unique approach to writing assistance. It raises the bar for your content by combining technology and human input. Wordtune analyzes your text and recommends alternative phrasings to improve content clarity and impact.
3. Jasper AI
Jasper.ai takes AI-powered writing assistance to a creative level. It's not just about fixing errors but sparking creativity and improving your content's quality. It integrates with third-party tools like Semrush, Grammarly, and Surfer to unlock new SEO writing capabilities.
It's one of the best writing assistants you can find if you do not have a budget constraint.
QuillBot FAQs
1. What is QuillBot?
QuillBot is an AI-powered content writing and optimization software facilitating content writing, paraphrasing, grammar checking, plagiarism detection, and translation.
2. How does QuillBot work?
QuillBot employs advanced machine learning algorithms and NLP techniques to analyze and rephrase text, correct grammar & spelling errors, and translate text into multiple languages. It provides suggestions for enhancing the overall quality of written content.
3. Is QuillBot free to use?
Yes, QuillBot offers a free version with basic features. However, a premium subscription is also available, which unlocks more advanced features.
4. What are the benefits of using QuillBot?
QuillBot assists users in improving their writing by suggesting better word choices, sentence structure, and grammar. Additionally, you can use it to paraphrase text and translate it into other languages. QuillBot's new AI-supercharged co-writing program elevates the content generation game to a whole new level.
5. Is QuillBot suitable for professional writing?
Yes, QuillBot is beneficial for both academic and professional writing. It helps users refine their documents, reports, essays, and other written materials to improve their clarity and accuracy.
6. Can I use QuillBot on mobile devices?
Yes, QuillBot is accessible via web browsers, making it compatible with desktops, tablets, and smartphones. You don't need to download any additional apps.
7. Does QuillBot store my text or data?
QuillBot retains your text temporarily to suggest improvements to your writing. However, the company respects the privacy of its users. As a result, your data is never stored permanently or shared with anyone.
8. How accurate is QuillBot's translation feature?
QuillBot's translator tool provides accurate translations, but the quality varies based on content complexity and language pair. For critical or professional purposes, you should review and refine your translations.
9. Can QuillBot be integrated into other writing tools or platforms?
QuillBot offers browser extensions and integrates with popular platforms, such as Microsoft Word, allowing users to access its features while using other writing tools.
10. Is there customer support available for QuillBot users?
QuillBot offers customer support to address users' questions and resolve issues they encounter while using the software. You can visit QuillBots help center, send a message, or join their discord server to get in touch with their support team. 
QuillBot Review 2023: Conclusion
In conclusion, QuillBot stands out as a versatile and indispensable AI writing assistant that has the potential to elevate your writing skills significantly.
The software's extensive features, including paraphrasing, grammar checks, vocabulary enrichment, translation, and summarization, serve as a comprehensive resource for writers across various domains.
QuillBot's user-friendly interface and customizable features cater to the needs and preferences of every user, whether they're seasoned professionals or diligent students.
QuillBot distinguishes itself not only by correcting errors but also by enhancing your writing style. It serves as a meticulous proofreader and a creative assistant, ensuring that your words resonate with precision and impact.
Moreover, I strongly recommend investing in QuillBot, considering the benefits it brings to the table regarding productivity enhancement, effectiveness of communication, and overall writing excellence.
Among the top AI writing software, QuillBot stands out as an effective ally in writing persuasive narratives, insightful blog articles/essays, and professional documents.
If you aim to improve your writing craft and communicate confidently, QuillBot is undoubtedly a valuable product worth exploring and incorporating into your writing journey.