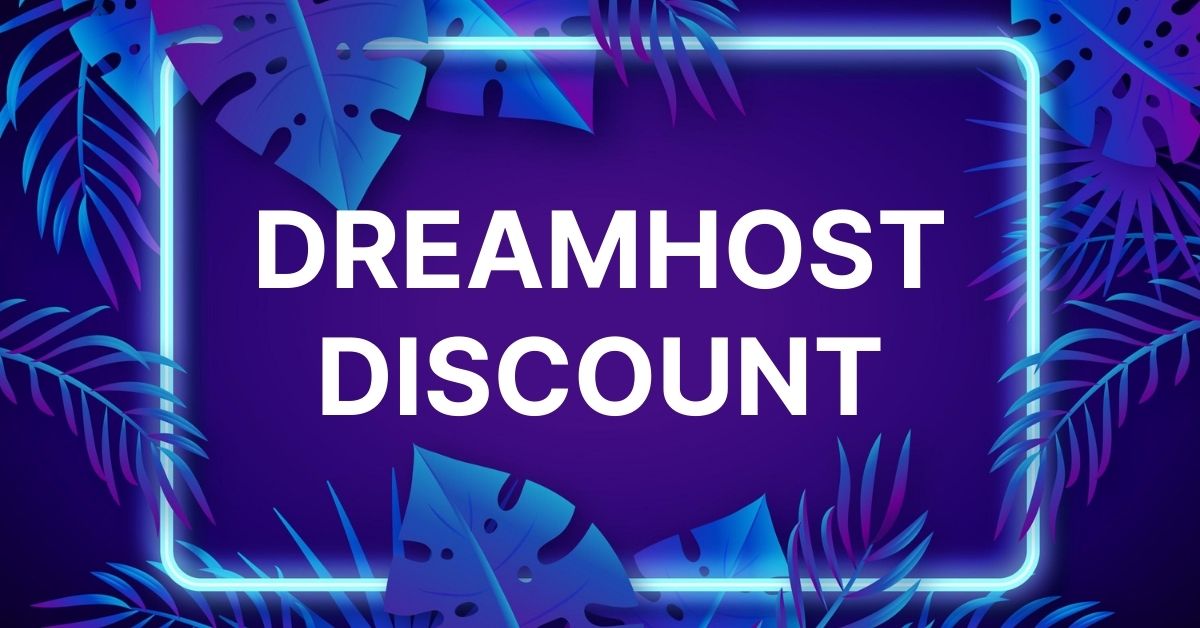 Affiliate Disclosure: I publish various content marketing strategies, online business ideas, blogging tutorials, review articles, and discount offers on my blog. My content may contain some affiliate links for products/services I use, love, and recommend. If you take action (i.e., subscribe or make a purchase) after clicking one of my affiliate links, I'll earn an affiliate commission at no additional cost to you. It helps me in creating more helpful content like this.
100% Working Dreamhost Coupon Code
If you want to save on your web hosting bills, grab an exclusive Dreamhost coupon code shared below.
Dreamhost offers up to a 72% discount on web hosting purchases. Plus, you can get up to 92% off promo codes for domain registrations.
Activate your unique Dreamhost discount by clicking the button below.
Dreamhost Coupon for Web Hosting Purchases
🏷️ Discount: Up to 72% Off
Dreamhost Coupon for Domain Registrations
🏷️ Discount: Up to 92% Off
Dreamhost Promotional Codes and the Latest Discount Offers – Introduction
Started back in 1997, Dreamhost has been providing web hosting services for 20+ years.
Today, it serves over 400K happy customers and hosts more than 1.5 million sites, WordPress blogs, and applications.
Besides this, Dreamhost is an officially recommended WordPress.org web hosting service.
It offers up to 72% off on standard web hosting plans, up to 17% off on DreamPress & WooCommerce hosting plans, and up to 92% off on domain registrations.
Dreamhost also offers special deals on VPS and dedicated server hosting packages.
Dreamhost Coupon Code 2023 for Web Hosting
Dreamhost shared hosting services is an affordable web hosting option for small to medium WordPress sites.
It offers superfast SSD storage, unlimited traffic, pre-installed WordPress, automated backups, free SSL, and much more.
The best part about Dreamhost is that its shared hosting plans come with free domain registration and privacy protection.
During the promotion, the Shared Starter plan gets 68% off on the regular price.
It costs $2.59 per month but allows hosting only a single site.
Plus, you need to pay additional fees to add email accounts.
The Shared Unlimited plan eliminates both issues. It allows you hosting unlimited websites and email accounts.
When paying annually or tri-annually, this plan gets a massive 72% discount compared to regular pricing and costs $3.95 per month.
I recommend you purchase the shared unlimited plan for three years.
It enables you to get a maximum discount without compromising on growth potential.
Dreamhost Coupon Code 2023
A domain name is a valuable asset for an online business.
Dreamhost lets you register a domain name for your business with ease.
You'll also get up to a 92% discount on Dreamhost domain registrations.
If you want to create only a single website, you may not require a domain purchase for the first year.
Dreamhost offers a free domain and WHOIS privacy protection with annual or longer-term shared hosting and DreamPress plans.
Additionally, Dreamhost offers 50-92% off on various TLDs, including .com, .club, .tech, .online, .xyz, .shop, and many more.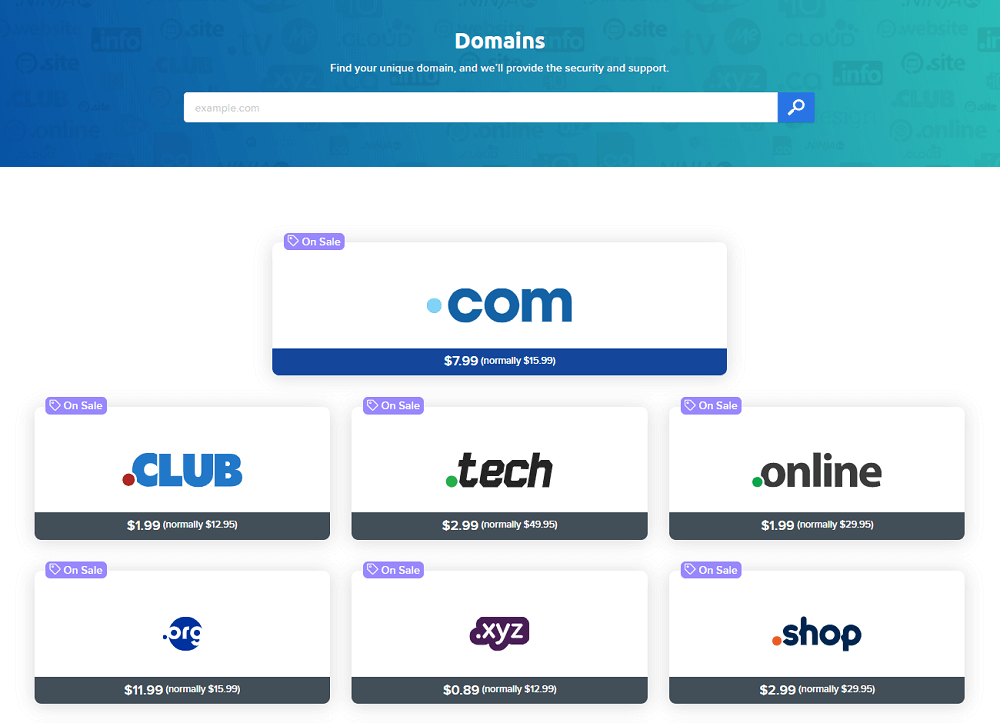 A 92% Dreamhost promotional code on domain registration is auto-applied when registering a domain by clicking this special link.
Please note that the renewal cost of the domains may be higher than the initial sale price.
In case you don't want to pay the regular domain renewal fees, you can transfer your domains to other registrars like NameSilo or Namecheap.
How to use DreamHost Coupon Code?
With the DreamHost promotional code, you'll save up to 72% off on shared hosting services. Dreamhost also offers free domains for a year if you sign up on an annual or triennial plan.
Here is a step-by-step tutorial that explains how to get a maximum discount using the Dreamhost coupon code.
Step 1: Visit the Dreamhost promo page using this special referral link. The DreamHost coupon code with up to 72% discount is applied automatically to your order.
Step 2: Choose the Dreamhost Shared Unlimited plan. This plan gets you the maximum discount, plus it allows you to host multiple sites and create unlimited email accounts.
Step 3: Click on the "Sign Up Now" button. It'll redirect you to the domain registration page. You can either register a fresh domain with Dreamhost, use an existing domain registered under the third-party domain registrar, or choose a domain later (use a temporary subdomain).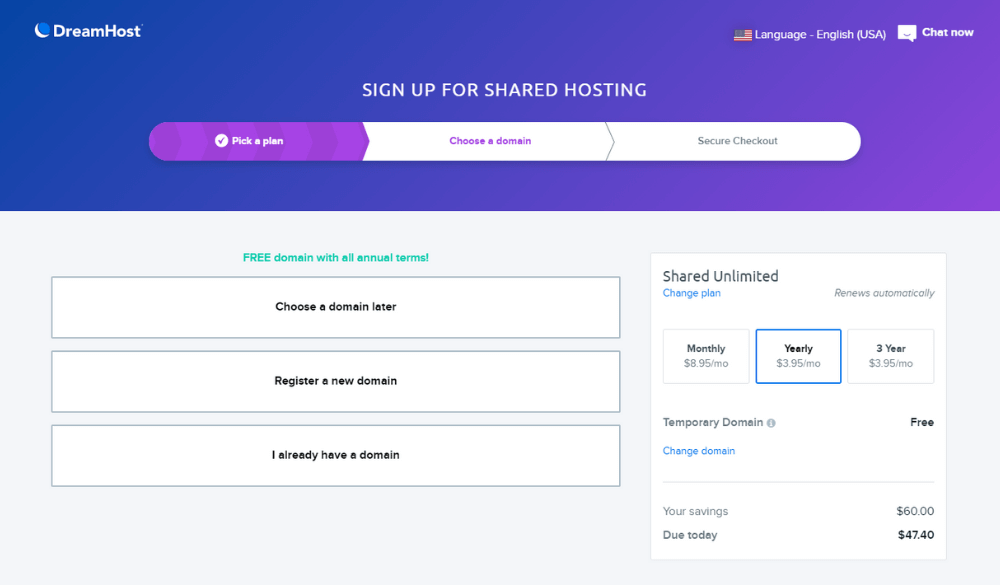 If possible, buy Dreamhhost's annual or triennial plans. Dreamhost includes a free domain registration for the first year and free domain protection with these plans.
Step 4: Choose add-on services if you need any, including Pre-Installed WordPress (free), WP Website Builder (free), DreamShield (premium), and Google Workspace.
Step 5: Optionally, you can sign up to receive promotional emails from Dreamhost that will deliver exclusive offers, updates, and tips to your inbox.
Step 6: Review your order details for web hosting tenure, domain name, and discount.
Step 7: If you're satisfied with your order, pay using your credit card or PayPal account.
Congratulations! You've redeemed the DreamHost coupon successfully.
DreamHost Coupon Code: FAQs
Below are a few frequently asked questions about the DreamHost coupon code and discounts.
1. How Can I Get a Dreamhost Discount?
You will get an exclusive 72% discount on DreamHost shared web hosting using the special link below. Plus, you'll get a free domain for the first year, domain privacy protection, a free SSL, pre-installed WordPress, WP Website Builder, and 24/7 customer support.
2. Does DreamHost support Monthly billing?
DreamHost offers you multiple payment options. You can pay your hosting bills either monthly, annually, or tri-annually. Choosing annual or long-term billing gets additional perks, including a free domain, domain privacy, and up to 72% discount compared to the monthly billing cycle.
3. Does DreamHost Offer a Money-Back Guarantee?
Yes, DreamHost offers an industry-leading 97-day money-back guarantee. You can use the Dreamhost web hosting for more than three months before deciding whether to go with it or not. Dreamhost's 97-day money-back guarantee shows its confidence in the products and dedication to customer delight.
4. How often does Dreamhost offer deals and special coupon codes?
Dreamhost offers exclusive discount offers and coupon codes during the holiday season. However, you'll get a special Dreamhost coupon below with the biggest discount if you've missed those deals.
Name: Dreamhost
Description: Here is an exclusive deal that offers up to 72% off Dreamhost coupon for web hosting purchases and up to 90% off Dreamhost coupon for domain registrations. You'll also receive additional perks, including a free domain, domain privacy, pre-installed WordPress, WP Website Builder, free SSL, and excellent customer support.
Offer price: 3.95
Currency: USD
Operating System: Linux
Application Category: Web Hosting
Author: Ankit Main
Performance

Security

Pricing

Support
Comments Rating
( reviews)