Affiliate Disclosure: I publish various content marketing strategies, online business ideas, blogging tutorials, review articles, and discount offers on my blog. My content may contain some affiliate links for products/services I use, love, and recommend. If you take action (i.e., subscribe or make a purchase) after clicking one of my affiliate links, I'll earn an affiliate commission at no additional cost to you. It helps me in creating more helpful content like this.
Jasper.ai has released its brand new product, Jasper Art which instantly transforms your imagination into stunning art within seconds.
Let Jasper know what you have in mind, and the software will convert it into a reality.
It will save you countless hours searching for the right image for your marketing content, waiting for illustrators to complete your design project, or trying to photoshop a picture yourself.
Here are some use-cases of Jasper Art if you're trying to figure out how to use it.
Captivating visuals for social media posts
YouTube thumbnails
Blog featured images and
Relevant images for your website content and blog articles
Personalized pictures in sales emails to drive attention and generate more conversions
Illustrations for your book and other marketing materials
Video storyboard
NFTs
What is Jasper Art and Its Underlying Technology?
The Jasper Art is a revolutionary AI software to create stunning visuals in a matter of seconds.
Anyone who wants to save time searching for images or editing something will love it.
The Jasper Art uses OpenAI's Dall E 2 ML model to generate realistic images and art from textual descriptions.
It produces exceptional output by integrating different concepts, attributes, and styles.
Dall E 2 understands the correlation between images and a text description of an image.
Later, it uses a proprietary process called diffusion to generate images by playing with a random pattern of dots and then gradually altering that pattern until it resembles the desired image.
One of the benefits of using Dall E 2 over other AI systems is that it can take into account shadows, reflections, and textures when creating an image.
Additionally, Dall E 2 has also been designed to be able to make edits to existing images.
So far, reviewers have found that Dall E 2 generates more realistic and accurate images than its predecessor, Dall E 1.
In fact, when asked to compare 1,000 image generations from each model, 71.7% of reviewers preferred Dall E 2 for caption matching, and 88.8% preferred it for photorealism.
As the Jasper Art developers continue to explore the best ways to integrate this technology into their products, I'd love to hear your ideas about how you'd incorporate it into your marketing and content production.
How to Get Jasper Art Subscription?
If you're interested in Jasper Art, join the waitlist to secure your spot.
Invitations to use Jasper Art are rolling out over the next few weeks, so opt-in on the waitlist page to receive an invitation.
Once you get selected, you'll get an email with a link to get started.
However, the invitations are prioritized based on the Jasper plan you have subscribed to.
For example, Jasper users on yearly plans receive top priority on the waitlist for committing a long-term purchase.
Second priority is given to Jasper users with monthly plans; the rest will receive access subsequently.
If you're not on an annual plan, now would be a great time to upgrade to one inside your billing settings!
Jasper Art Pricing
Jasper.ai offers unlimited image generation for just $20 per user each month for its early adopters, so you can use it all day long if you wish.
Jasper AI Art is currently available at the following price points:
| | |
| --- | --- |
| Number of Users | Jasper Art Pricing |
| 1 | $20/month |
| 2 | $40/month |
| 3 | $60/month |
| 4 | $80/month |
| 5 | $100/month |
Please take advantage of a fantastic price for a limited time since it's temporary and will likely change in the future.
Experiment with it, discover cool ways to utilize its full potential and provide ideas for improving its performance.
Are you interested in experimenting with this tool?
Join the Jasper Art waitlist today by clicking this special link.
Since the company is rolling out invitations prioritized by which Jasper plan you're on, please upgrade to Jasper.Ai annual plans.
Who Can Benefit From Jasper Art?
The Jasper Art image generation tool is available to anyone.
You only need imagination and creativity; no special knowledge or skill is required to unleash the power of Jasper AI Art.
It is the perfect tool for:
Bloggers
Graphic designers and agencies
Social Media Marketers
PPC Executives
E-commerce stores
Students
Teachers
Vloggers
Writers & publishers
Any creative individuals who wish to explore their imaginations
The only pre-requisite is an active Jasper account paired with the Jasper Art add-on.
If you haven't signed up yet, click the button below to grab the early-bird deal before it expires.
Jasper Art Gallery (AI-Generated Images)
I have been following the latest developments related to Jasper Art over the past few days.
I am sharing some of my favorites curated from the official Jasper Facebook group.
1. Celebrity Mashup
Check out these celebrity mashups to see how versatile Jasper AI Art can be (I'm sure you can guess who they are).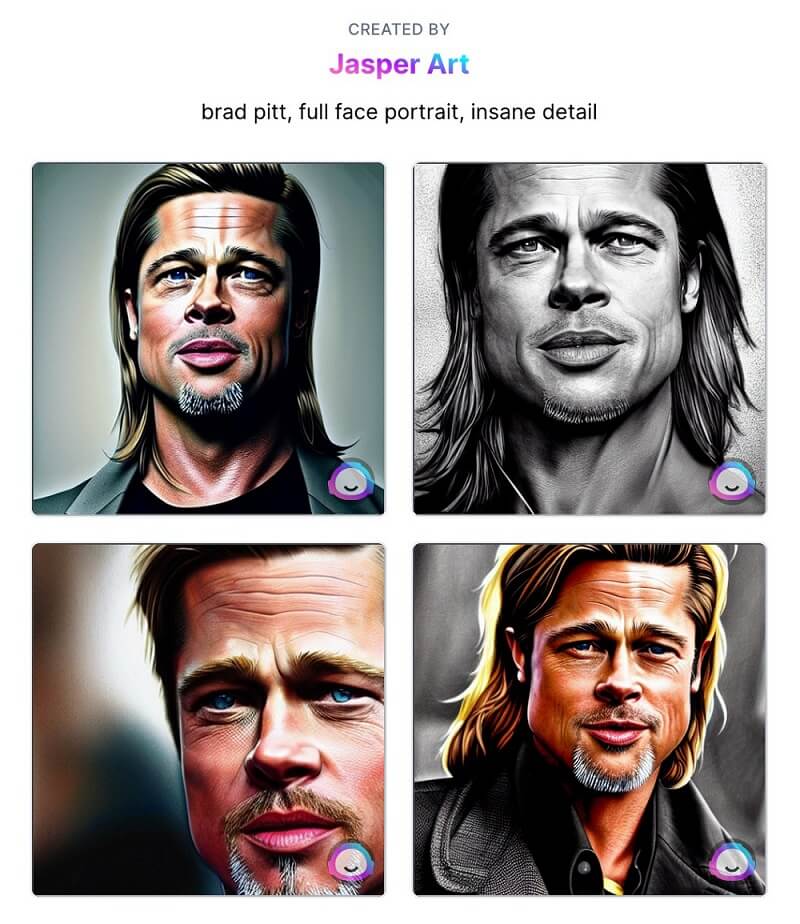 2. Historical Images
This historical picture created with Jasper Art is truly remarkable, and I am blown away by how well it turned out.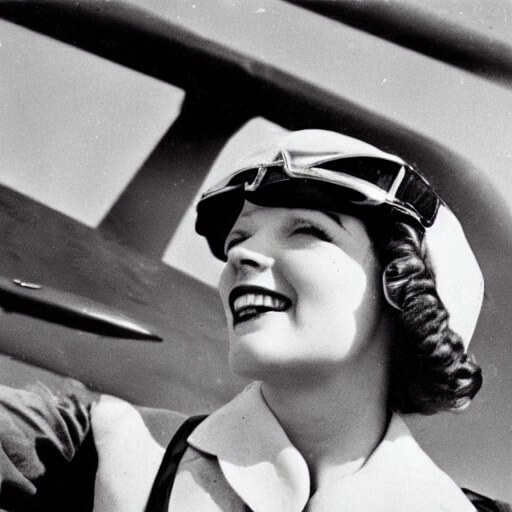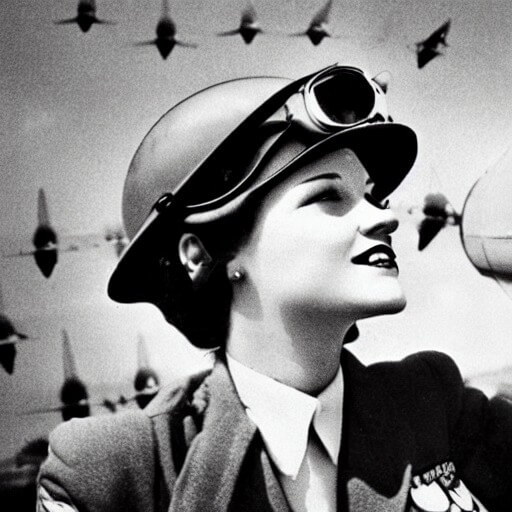 3. Pencil Sketches
You can now create compelling pencil sketches within minutes regardless of whether you went to art school.
Pros and Cons of Jasper Art
Consider the pros and cons of the Jasper AI art generator before committing a purchase.
Jasper AI Art Pros
The software can create custom images for you
Creating graphics takes only a few seconds which is insanely faster than humans.
The images you receive are 100% original
Image ownership belongs to you
You don't need special art skills or training to generate attractive images and arts.
Image and illustration production at scale is possible
You can generate unlimited images (only for early adopters) with a low monthly fee.
Jasper AI Art Cons
Unlike human-created arts, AI-generated images may lack nuances, complexity, and sophistication.
The images may not be visually appealing to everyone since they often rely on text inputs.
Since the images are generated automatically, there is an element of unpredictability.
AI-Created art can't be copyrighted, according to the US Copyright Office. (Source).
Jasper Art FAQs
Here are some FAQs about the Jasper Art.
What is Jasper Art?
It's a DALL E 2 engine-driven innovative AI image generator capable of producing realistic images and arts from natural language descriptions.
How much does Jasper Art cost?
The company is offering a killer deal for early adopters during this first-access period at $20 per month per user for unlimited generations. Pricing is temporary and subject to change.
What is the fastest way to get started with Jasper AI Art?
Since Jasper AI Annual Plans members will receive invitations first, you could upgrade your plan to skip the waitlist line. Please click here to sign up for Jasper AI's annual plan.
Is Jasper Art included in the standard Jasper AI subscription?
No, even with the Boss Mode plan, Jasper Art isn't included in your Jasper AI writing subscription. Instead, it's a premium add-on priced at $20 per month per user seat.
Jasper Art: Conclusion
Jasper Art demonstrates the creative potential of artificial intelligence.
As a result, you won't struggle to translate your ideas into tangible results.
Jasper's AI writing assistant is already a popular choice for content creators, marketers, and SMBs to fulfill their content generation needs.
The Jasper Art is going to be their next must-have tool. The marketing team has already announced that the prices may increase in the future.
So it would be better to secure the early bird deal instead of paying high monthly fees later.
You may also like:
Jasper Art AI Image Generator Review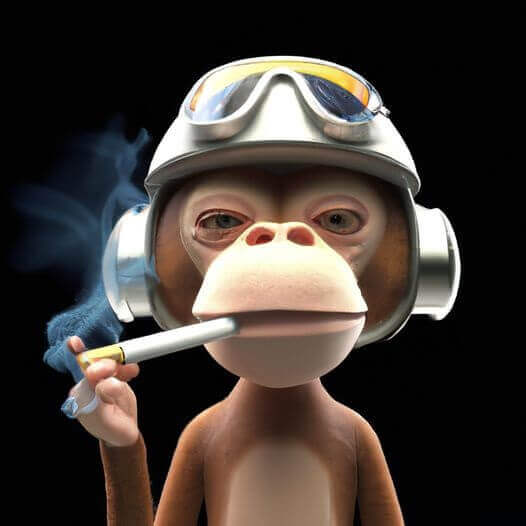 Name: Jasper Art
Description: The Jasper Art allows you to create stunning visuals in seconds with the help of artificial intelligence. It can generate realistic images and art from textual descriptions, making it the perfect tool for anyone searching for quick access to unique images in bulk and at an affordable price.
Offer price: 20
Currency: USD
Operating System: Linux
Application Category: AI-Powered Image Generator
Author: Ankit Main
Performance

Ease of Use

Pricing

Support
Comments Rating
( reviews)