Affiliate Disclosure: I publish various content marketing strategies, online business ideas, blogging tutorials, review articles, and discount offers on my blog. My content may contain some affiliate links for products/services I use, love, and recommend. If you take action (i.e., subscribe or make a purchase) after clicking one of my affiliate links, I'll earn an affiliate commission at no additional cost to you. It helps me in creating more helpful content like this.
Here we will compare Jasper AI vs. Copy AI to see which produces better rankable content and performs better in terms of usability, output quality, pricing, customer support, and more.
It's no secret that creating great content is the key to building a successful online brand. Many copywriters indeed possess the talent to create compelling content, but AI copywriting tools are transforming the way we create content.
In addition to speeding up the content creation workflow manifold, AI writing software can also help you overcome writer's block and effortlessly produce content in several languages at the same time without hiring an expensive copywriter.
With the advancement of AI and machine learning, many bloggers, copywriters, and marketers are now taking advantage of software like Jasper AI and Copy AI to write and optimize their content.
Today's market is filled with countless AI-powered copywriting tools that can write blog content, landing page copy, sales pitches, emails, social media posts, digital ads, and more.
This article may help if you cannot decide which AI copywriting tool is right for you.
Here, I will compare Jasper AI and Copy AI, the two most popular AI Writing products, giving you an opportunity to choose the one that meets your needs.
Jasper AI vs Copy AI: Introduction
Copy AI and Jasper are two early movers in the AI copywriting industry. As a result, both companies have hundreds of thousands of users actively using their products.
It's no more secret that Jasper is an excellent tool for anyone interested in creating long-form content. It gives you everything you need to generate content in volume at an affordable price.
Moreover, Jasper has native integrations for Surfer SEO and Grammarly, allowing you to create unique, SEO-friendly content quickly.
The software is extremely easy to use and even provides AI image creation to generate unique, attractive images that accompany your text content.
If you have already explored the Jasper AI Content platform and want to try your hands on other products, Copy.ai is one of the top Jasper AI alternatives.
In addition to many similar features, excellent customer support, and an active community, the software is the perfect choice for writers of all skill levels.
Copy AI also offers a free plan for budget-conscious users. While this plan has fewer features than the premium, it's still a good option for anyone who doesn't want to invest a lot of money in a paid plan.
The overview of both products reveals that the Jasper vs Copy AI pricing is the key differentiator when deciding which product to choose. However, Jasper packs plenty of extra features and superior output quality, making it an attractive pick.
Please click the links below to try both platforms for free and see how they work before making a purchase.
1. Jasper AI vs Copy AI: Features
Both Jasper and Copy AI offer impressive features. The versatility of these tools allows them to be used for a wide range of writing projects.
While they seem to have the same functionality, each has unique features that may appeal to different customers.
Take a look at both products and determine which suits your needs best.
Jasper AI Features
1. Content Templates
With Jasper AI, you can access an array of templates that will help you get started quickly.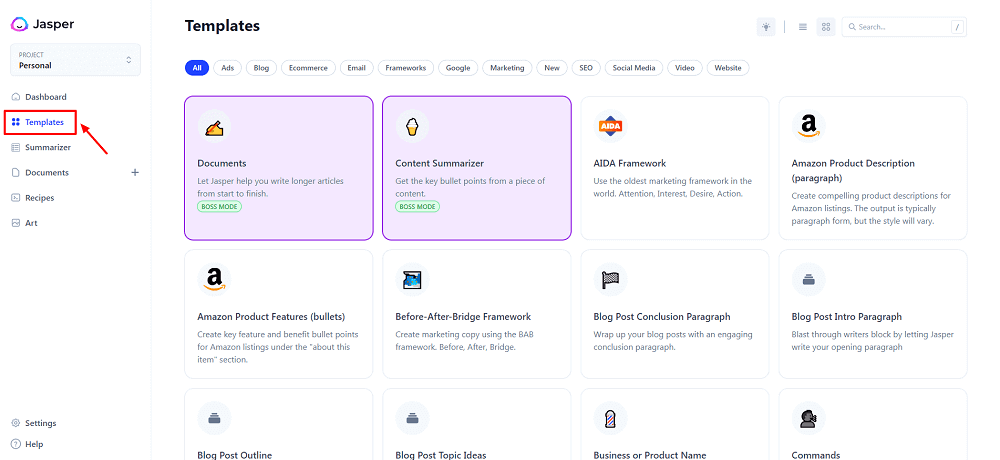 So regardless of whether you're writing a blog post, social media post, email subject line, Quora answers, or product descriptions, Jasper's template library is a great place to begin.
2. Boss Mode
Jasper's Boss Mode allows you easily create long-form content, including blog posts, reports, email messages, stories, and more.
In addition, this feature enables extended lookback (up to 3000 characters) before writing for better context.
3. Content Improving
Jasper provides a range of tools to help you improve your content.
You can refine your existing content using various tools, such as AIDA Framework, Content Improver, Explain it to a Child (Rephraser), and Tone Detector.
4. Integrations with Surfer SEO and Grammarly
Integration with Surfer SEO and Grammarly ensures that your text is clear, easy to read, and search engine optimized.
Additionally, Grammarly's plagiarism checker guarantees your content is 100% original.
5. Multiple Content Templates
Jasper's AI copywriting software lets you create a wide range of content, including blog posts, social media posts, emails, digital ad copies, and product descriptions.
If you are inclined to video content, Jasper has various templates specially designed for vloggers and video marketers, such as Video Scripts, YouTube Video Descriptions, Mini VSL, and TikTik Captions.
6. Jasper Art
Jasper Art is an AI-powered image generator capable of creating beautiful, highly detailed, unique images in seconds.
The Jasper Art costs $20/month on top of your Jasper AI subscription, allowing you to generate unlimited images.
You only need to add detailed input and watch the magic happen.
Jasper Art is a noteworthy feature that distinguishes it from its competitors. You can now create the perfect images to accompany your content.
Only a few companies offer similar bundle deals, e.g., Writesonic, but none come close to Jasper in terms of output quality.
Copy AI's Features
1. Built-in Editor
Copy AI features an extensive editor for editing and tweaking content to meet your standards.
This feature is built into the Copy AI dashboard, with options for formatting content and customizing layouts.
2. Content Templates
Copy AI provides an impressive collection of content templates for you to choose from.
You can seamlessly switch between different content formats based on your needs.
Copy AI boasts 90+ content templates in various categories, including Blog Tools, Brainstorming Tools, Startup Tools, Website Copy, Product Descriptions, Digital Ad Copy, Email/Letters, Social Media Tools, Sales Copy, Writing Tools, and Personal Tools.
3. Multi-Language Support
Copy.ai enables you to generate content in 25+ languages.
Are you looking for a translation? You can type in any language that Copy.ai can read and select the language you wish to receive the output.
4. Great Tutorials
Although Copy AI is pretty easy to use, the software includes some great tutorials to help you maximize its potential.
In addition to helping you set up your account and get started, it also provides advice for improving your content and targeting the right audience.
Verdict
Overall, Jasper offers a more extensive range of features than Copy AI. For example, Jasper's Boss Mode gives it a significant edge over Copy AI, facilitating long-form SEO content creation.
In addition, the Jasper Art add-on is available to all users for just $20/month with unlimited AI image generation credits, enabling them to generate high-quality, unique images in seconds.
So comparing Jasper AI vs Copy AI based on the features they provide, Jasper AI wins hands down.
2. Jasper AI vs Copy AI: UI and Ease Of Use
The product's usability and interface play crucial roles in customer experience.
Luckily, both Jasper and Copy AI are pretty easy to use, as these tools are designed to simplify your copywriting process.
Despite their similarities, both have different features which may require some adaptation.
To find out which is better, let's take a closer look at the UI quality and ease of use of Jaspe and Copy AI.
Jasper AI User Interface and Ease of Use
Many Jasper AI reviews mention how easy it is to get started with the software.
A variety of templates are available to assist you in getting started, including:
Ads
Blog
E-commerce
SEO
Frameworks (E.g., the AIDA and PAS)
Emails
Social Media
Video
The Templates in the above categories allow you to quickly create different types of content. Additionally, they provide helpful information and quick tips to help you produce quality content with the software.
After you've selected a template, a series of prompts will appear to ensure the information you have entered is accurate.
For example, you can choose the tone of voice and input details such as product descriptions or company names if they are relevant to what you are writing.
Recently, Jasper has added a new template: One-Shot Blog Post, allowing you to create a full blog post from start to finish in only a few seconds.
No more recipes or commands or pressing Control + J.
Enter your Blog Topic, Tone of Voice, and Intended Audience, and click the Generate button. You can also specify your input and output language if you've enabled the DeepL integration in your Jasper settings.
Jasper automatically generates a short blog post with an introduction, body text, and conclusion. Considering the limited input I provided, that's not too bad!
Although the output could be better, and currently, you can't use this template to create a detailed affiliate blog post of 5K words, it can help you overcome writer's block and only requires little effort.
Of course, if necessary, you can always include additional prompts and commands to create a more thorough blog post.
Copy AI User Interface and Ease of Use
Copy AI's product interface is undoubtedly user-friendly. In addition, the software is incredibly easy to navigate, with some helpful tutorials and tips to help if you encounter difficulties.
As a result, even first-timers find the Copy AI interface intuitive and easy to use.
Like Jasper, the software comes with various AI content templates and an advanced Blog Post Wizard. Using these options, you can ensure that your writing is heading in the right direction.
A variety of AI content templates in the following categories are available to help you get started:
Blog Tools
Brainstorming Tools
Startup Tools
Website Copy
Product Descriptions
Digital Ad Copy
Email/Letters
Social Media Tools
Sales Copy
Writing Tools
Personal Tools.
Copy AI library contains more than 90 AI content templates. You can even create birthday cards and love letters using the templates!
Blog Post Wizard streamlines the blog post creation process in less than five minutes and works similarly to Jasper's Blog Post Workflow.
Once you enter your Blog Title, Keywords, and Tone, and hit the Generate Outline button, the tool will guide you through choosing your talking points.
Next, you can use Copy AI to automatically generate content by clicking the Create Blog Post button.
The process is a bit more time-consuming, but it provides a very similar result to Jasper's Blog Post Workflow.
Verdict
Compared to Copy AI, Jasper produces blog posts much faster and is much easier to use.
In addition, Jasper's dashboard features larger fonts, images, bold buttons, and well-considered color and contrast combinations.
Jasper's user interface personally appeals to me more than Copy AI's, even though UI is a subjective choice. Once again, Jasper AI wins.
3. Jasper AI vs Copy AI: Pricing
Both companies offer different pricing packages to serve the diverse needs of users.
In this section, you can view all Jasper AI and Copy AI pricing plans and choose the right one based on your business needs.
Jasper AI Pricing
Jasper AI offers a free trial if you want to test the software before you decide to invest in it.
The free trial allows you to generate 10,000 words in five days.
Then, if you wish to continue your subscription, you must select one of the Jasper AI plans below: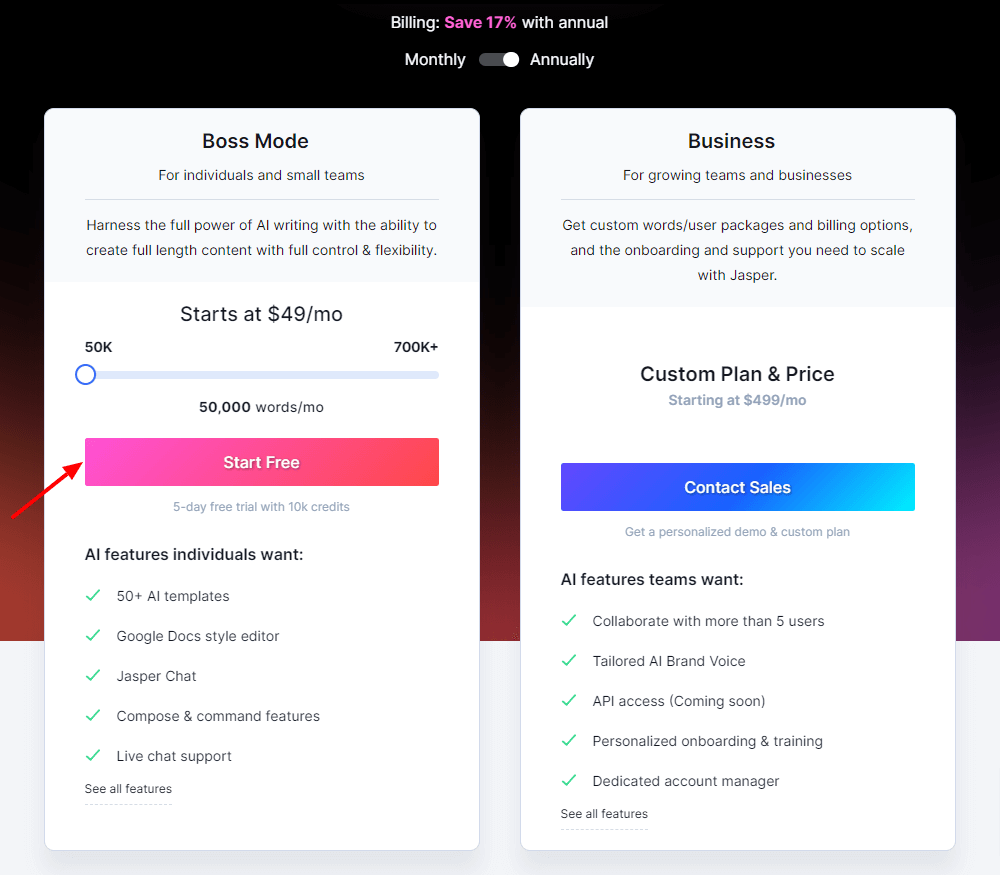 Boss Mode
Jasper's Boss Mode plan starts at $49/month (with a discount if you pay annually). The plan allows you to generate up to 50,000 words a month. It includes all of the Starter plan's features, plus access to premium features such as Google Docs Style Editor, Jasper Recipes, Command, Extended Content Lookback (for up to 3K characters), SEO Mode, Plagiarism Checker Access, and Priority Chat Support. You can use the pricing slider to see the estimated pricing based on the number of words you wish to generate each month.
Business
Jasper's Business plan caters to large teams, content marketing agencies, and businesses with heavy content requirements.
Since the pricing isn't available on the website, you need to contact the sales team for pricing information.
Jasper Business plan will provide you with custom word/user packages, billing options, and the onboarding and support you need to scale your writing business to new heights.
Jasper Art Pricing
A monthly subscription to Jasper Art costs $20 per user. It allows you to generate unlimited images per month.
Also Read: Jasper Art AI Image Generator Review
Copy AI Pricing
Like Jasper AI, Copy AI offers a 7-day free trial to test its Pro plan before making a purchase.
Once your trial period ends, you must purchase a Pro subscription to continue using the premium features. Else, you will be automatically downgraded to the Copy AI free plan.
Below you can learn more about Copy AI pricing and choose the right plan for your business if you decide to go with it.
Free
Copy AI's Free plan provides access to their 90+ tools at no cost. You don't even need to submit your credit card information to begin.
You can write up to 2,000 words per month on one user account.
Pro
The Copy AI Pro plan costs $49/month for unlimited words. You'll receive the same plan for just $36/month by paying annual fees upfront. This plan allows you to add up to five users. Additionally, it provides complete access to all tools, including the Blog Post Wizard.
Verdict
Jasper AI Boss Mode and Copy AI Pro have different pricing structures. E.g., Jasper AI costs $49/month for 50,000 AI words.
However, for just $36/month, Copy AI offers unlimited AI content generation. It also offers a free forever plan with 2000 AI words per month. So price-wise, Copy AI wins the round.
4. Jasper AI vs Copy AI: Support Options
Each time we purchase something, chances are that things might turn out differently than we expected. However, timely customer support in such critical situations can significantly improve the product experience.
Ideally, the support team should always be available to assist you if anything goes wrong. However, in the absence of that, you should at least have access to a rich knowledge base with helpful tutorials and product guides.
Let's see how Jasper AI and Copy AI handle customer support.
Jasper AI Support
Being a prominent AI copywriting software, Jasper focuses heavily on customer service. So if you're having an issue with Jasper, you can quickly connect with Jasper AI's support team via live chat.
Several support channels are available for Jasper, including
Jasper 101 (a quickstart guide)
Ask the community
Join a live Q&A call
AI-powered and human chat support
In addition, several Jasper users have created tutorials showing how to use the software effectively to produce top-notch, unique content at scale.
I agree that Jasper has a little learning curve. However, once you master AI writing with Jasper, you'll surely be an unstoppable content writer.
Copy AI
Copy AI users can quickly access chat support from the user dashboard by clicking the query icon in the bottom-right corner.
Navigate to the Help option on the popup and send a message to Copy AI support team if you are having trouble.
You will be notified when support will return if they are not available right away.
The support is much more active on Facebook and Twitter, and people get responses to their queries much faster.
In addition, Copy AI is a pretty extensive knowledge base, with easy-to-follow product guides, an FAQ section, and a dedicated YouTube channel.
Verdict
Both Jasper and Copy AI are easily accessible via live chat and email.
Additionally, both companies offer product tutorials and support communities where you can get quick answers to your questions.
So based on the support options, the round ends with a tie.
Jasper AI vs Copy AI: Final Verdict
After going through various considerations, Jasper appears to offer the best value for money.
While Copy AI offers slightly lower prices than Jasper, you get more features, intuitive workflows, and continuous innovation to provide the customer with the best product experience.
Moreover, you can subscribe to Jasper Art for $20/month and create unlimited images to be included in your content or as standalone social media posts.
The service can save you hundreds of dollars each month instead of buying stock photos for your marketing campaigns.
In other words, Jasper is the perfect AI content creation solution (text+visuals bundle) if you want to create long-form content like blog posts, email newsletters, ebooks, and stories.
I am praising Jasper throughout the article, but that doesn't mean Copy AI cannot compete. Copy AI does have some good points as well.
The tool is perfect for those who want to generate short-form content like Facebook or Google ads, product descriptions, Cliffhangers, and social media posts.
Additionally, it offers a free plan, allowing you to generate up to 2,000 AI words each month for testing purposes.
Get seven days free access to the Copy AI Pro version by clicking the button below.
You may also like: