Affiliate Disclosure: I publish various content marketing strategies, online business ideas, blogging tutorials, review articles, and discount offers on my blog. My content may contain some affiliate links for products/services I use, love, and recommend. If you take action (i.e., subscribe or make a purchase) after clicking one of my affiliate links, I'll earn an affiliate commission at no additional cost to you. It helps me in creating more helpful content like this.
Are you hunting for the Jasper AI free trial to test the software before making a purchase?
If yes, you've reached the right place.
Jasper (previously known as Conversion.ai and Jarvis.ai) is the industry-leading AI-powered copywriting tool empowering you to craft original and captivating content quickly and efficiently.
Jasper's AI writing assistant has been highly rated by thousands of users on Trustpilot, G2, and Capterra.

The article provides a quick overview of everything you need to know about Jasper.ai's free trial account, so you can begin using it immediately.
Furthermore, I've also outlined Jasper.ai's top features that make it an invaluable asset for writers, bloggers, marketers, and entrepreneurs.
If you are planning to buy Jasper.ai, please go through this article and grab your Jasper free trial. Then, invest some time learning the Jasper AI tool, which will soon become your best writing companion.
How to Activate Jasper AI Free Trial: A Quick Guide
Please follow the steps below to start your Jasper.ai free trial. Once everything is ready, you can begin using Jasper in less than two minutes.
Step 1: Click this unique link to access Jasper.ai's free trial landing page. The free trial offer includes 10,000 words of AI content generation credit.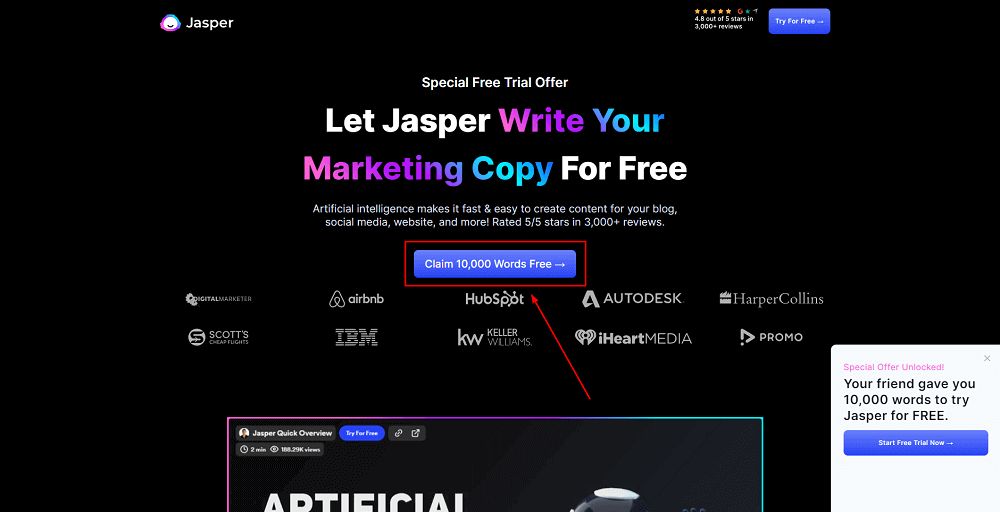 Step 2: Click the "Claim 10,000 Words Free" button.
Step 3: Create a new Jasper AI free account. You can register using your existing Google account. Alternatively, follow the normal sign-up process and enter your name & email address to continue.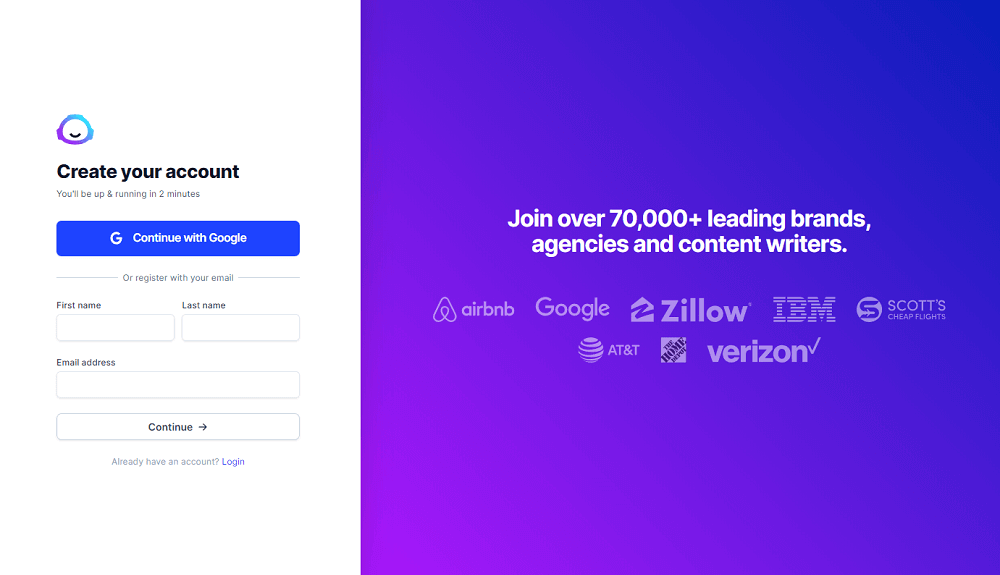 Step 4: Verify your email address. Open your email inbox and click the secure verification link to finish the login process.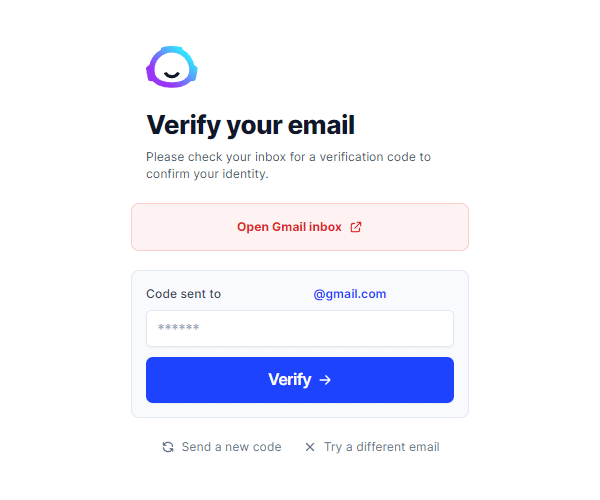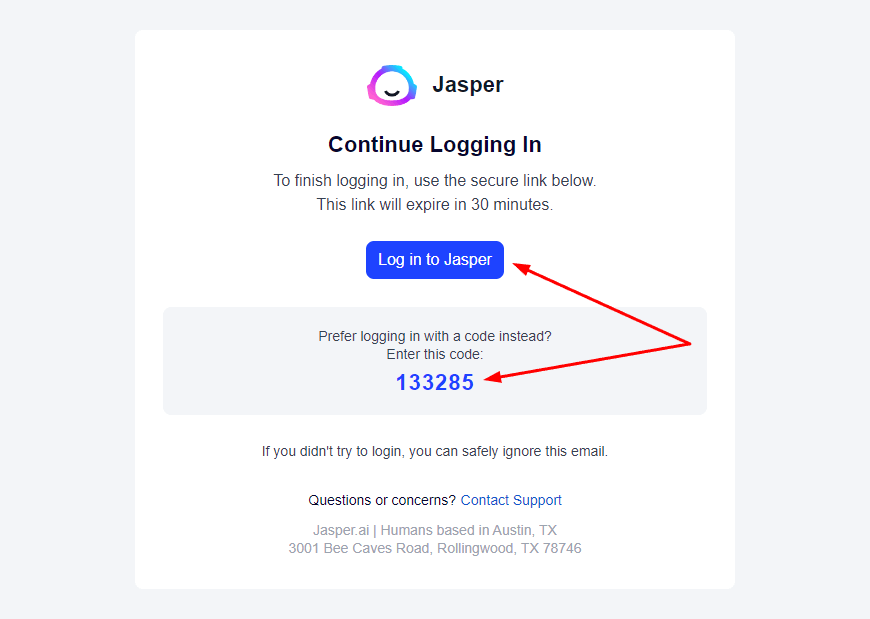 Alternatively, you can manually enter a six-digit code sent to your registered email address.
Step 5: It will take you to the Jasper AI free trial welcome screen. Pick an appropriate Jasper plan (Starter or Boss Mode) and hit the Start Free Trial button. Before proceeding, select your preferred billing cycle between monthly vs. annually and word limit (by moving the slider).
If you're interested in writing full-length content (like blog posts) with additional control & flexibility, I recommend you try the Jasper AI Boss Mode plan.
Step 6: Optionally, you can opt for a Business plan to get custom words/user packages, flexible billing options, onboarding assistance, and premium tech support.
Step 7: Finally, enter the payment information to start your Jasper AI free trial.
Please note that Jasper runs an authorization to verify your card and refunds the amount after 2-3 business days. Except for that, you won't be charged until your free trial ends.
Once everything has been completed, you can access your Jasper AI free account and begin creating high-quality content immediately.
That's how you can get your Jasper.ai free trial, which includes a 10,000-word credit.
Please watch the short Jasper demo video below to understand better how it works.
Don't have time to watch the full Jasper demo video? Then follow this simple step-by-step process to create high-quality content fast.
How to Use Jasper Free Trial: Quick Guide
Step 1: Sign in to your Jasper AI free account.
Step 2: Locate the Templates option on the left sidebar.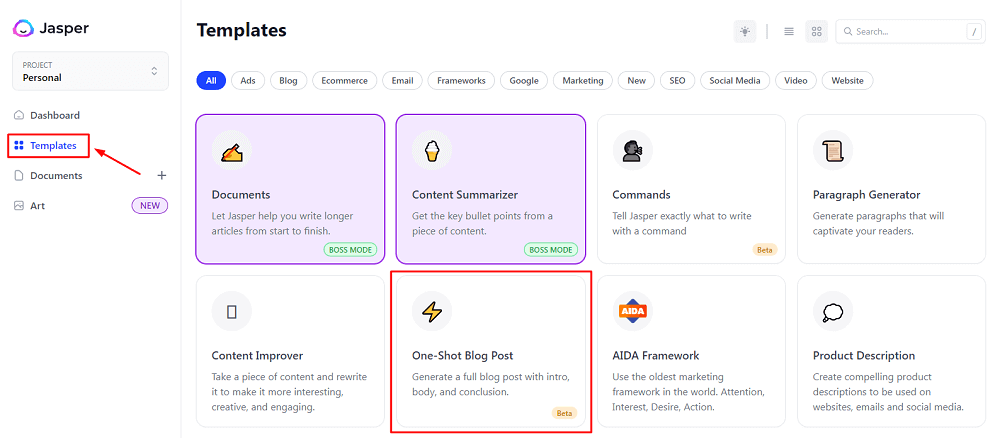 Step 3: Select the relevant template based on your content requirements.
Step 4: Enter necessary inputs, including content briefs, input/output languages, and tone of voice.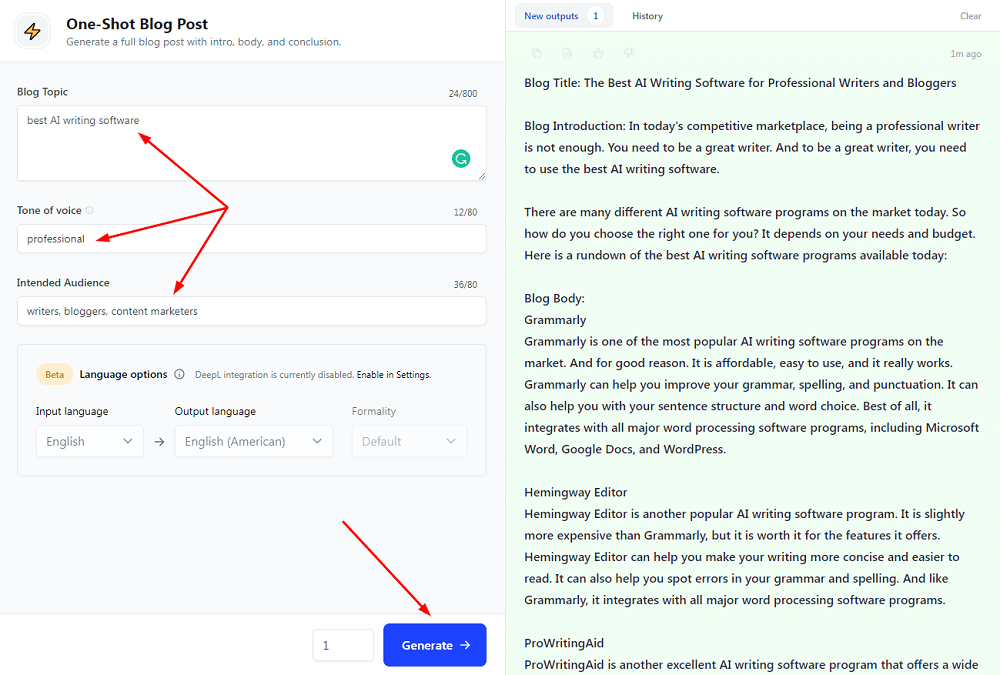 Step 5: Select the number of outputs and click Generate.
Step 6: Just relax and watch Jasper effortlessly create top-notch content in no time.
The Benefits of Using Jasper AI Writing Assistant
What makes Jasper AI so unique? Below are the top 10 reasons why Jasper.ai is an excellent AI writing tool.
1. Overcome Writer's Block
Writer's block occurs when an author experiences a creative slump or cannot produce new meaningful material.
Whenever you lack fresh content ideas, Jasper fosters creativity and crafts marketing copy tailored to your needs.
2. Speed Up the Writing Process
Writing original content and fine-tuning it are time-consuming tasks.
However, Jasper AI allows you to write original and compelling content requiring minimal editing.
Freelance copywriters and agencies needing content at scale can use Jasper to build initial drafts and fine-tune them to produce high-quality results quickly.
3. Write Long-form Content
Unlike most other AI writing services, Jasper Boss Mode enables you to write long-form blog posts.
Recently, the company has introduced a new content template — One-Shot Blog Post that automatically generates a full-length blog post (~500-600 words) with a proper intro, body text, and conclusion.
Furthermore, JasperAI's Surfer SEO integration simplifies the process of optimizing your articles for search engines.
4. Multilingual Support (25+ Languages)
The language support in Jasper extends beyond English. With the software, you can write and translate content in over 25 languages using DeepL integration.
Still, Jasper delivers better results in English than in other languages since the algorithm has been extensively trained in English.
5. Includes the Most Popular Copywriting Framework Templates
Jasper features the most widely used copywriting frameworks, including AIDA (Attention, Interest, Desire, Action), PAS (Problem-Agitate-Solution), Feature to Benefit, and Before-After-Bridge.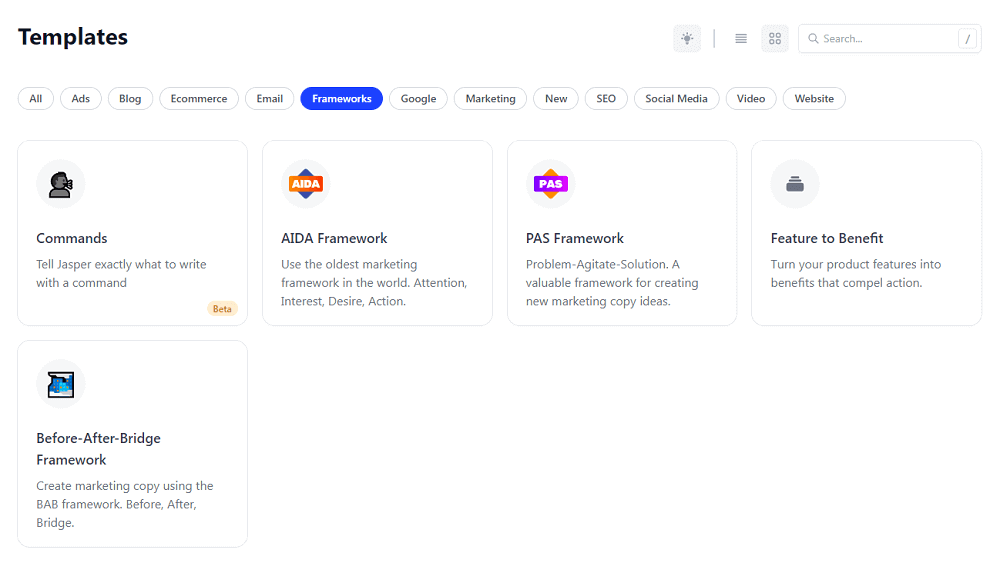 These templates can be handy for beginners with little or no copywriting skills to improve their marketing game.
6. Blogging and SEO Tools
It includes various tools to help you write your blog posts more quickly, including Blog Post Topic Ideas, Outlines, Introductions, and Conclusions.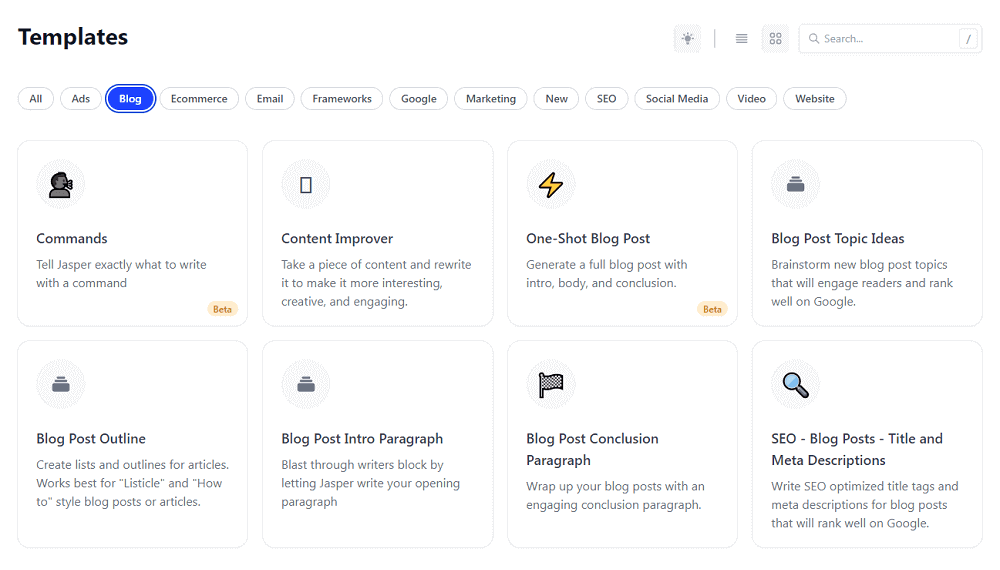 You can use these tools individually or access them from the long-form editor as needed.
Moreover, Jasper AI can write SEO-optimized title tags and meta descriptions to help blog posts rank well on search results.
7. Video Tools
You should consider getting a Jasper AI free trial if you are a video creator since it includes plenty of tools to help you with Video Topic Ideas, Video Script Outlines, Video Titles, Video Script Hook and Introduction, and Video Descriptions.
Anyone can use these templates, not just YouTube creators. Besides that, Jasper has Mini VSL (Video Sales Letter) and TikTok Video Captions for influencers and business owners.
8. Social Media Tools
Jasper offers a variety of social media tools to assist in crafting social media posts, Instagram photo captions, creative stories, and personal bios that grab attention.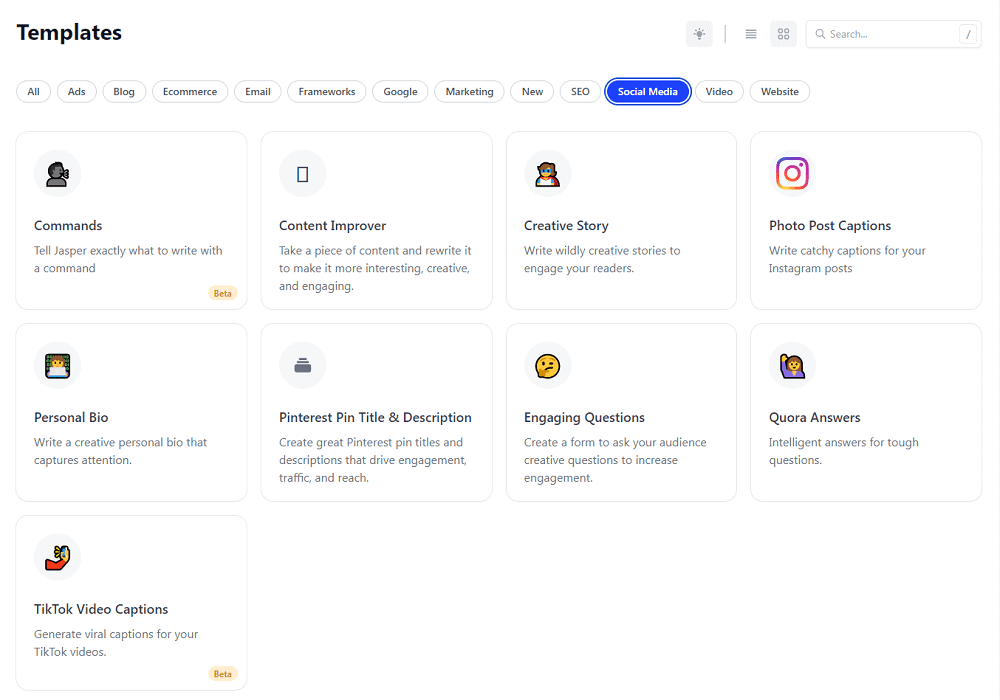 In addition, you can create Pinterest Pin Title & Descriptions, TikTok Video Captions, and intelligent Quora Answers for tough questions.
Quizzes are undoubtedly a proven way to boost engagement on social media platforms.
You can use your Jasper AI free trial to create interesting questions around a viral topic and share those questions in your social media community to quickly increase audience engagement.
9. Ads Tools
Jasper offers useful advertising tools for producing high-converting ad copy, such as Facebook Ad Headline, Facebook Ad Primary Text, Google Ads Headline, and Google Ads Description.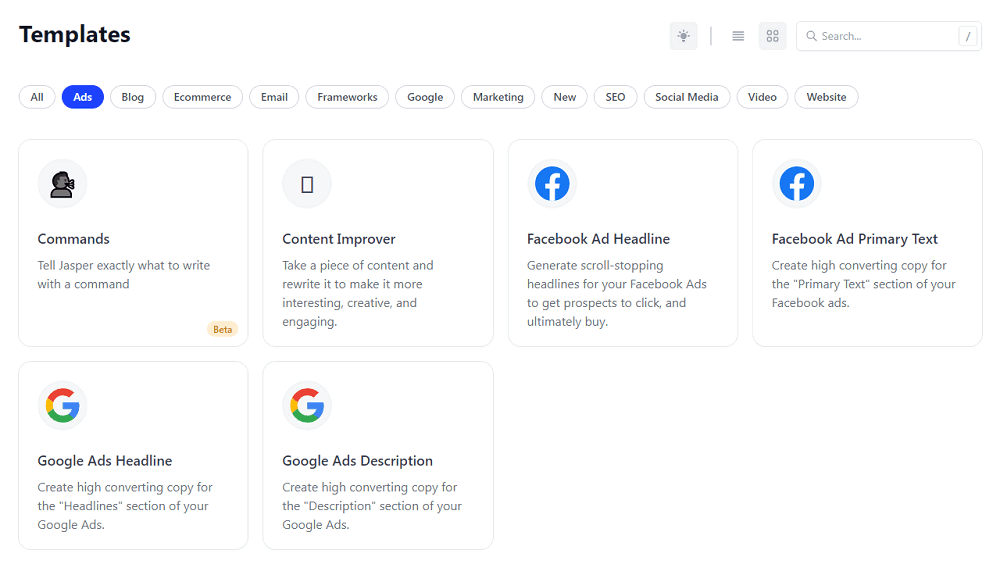 Using these tools, you can create scroll-stopping ads encouraging prospects to click and take action.
10. Email Tools
The company has built some sophisticated email tools to write compelling Email Subject Lines, Personalized Cold Emails, and Persuasive Bullet Points.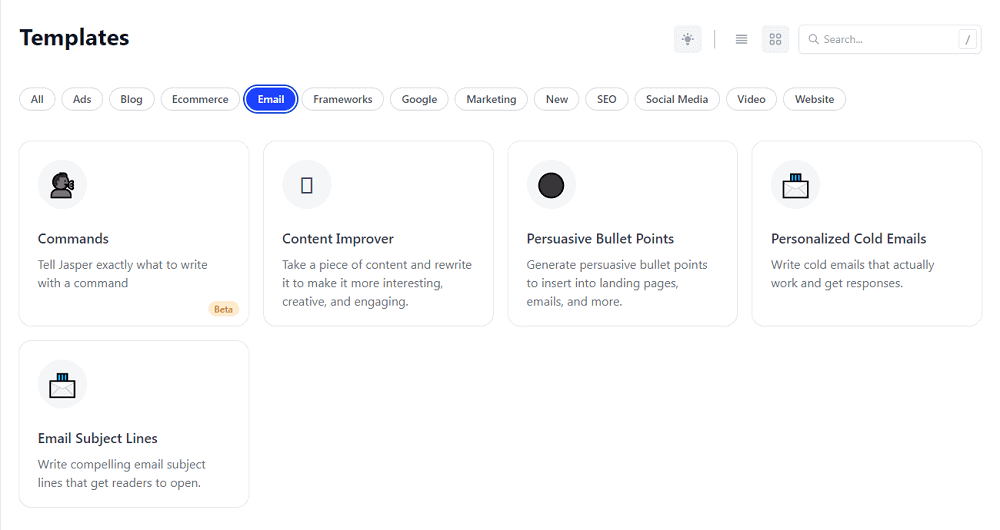 Additionally, you can rewrite existing email content to make it more interesting, creative, and engaging.
Jasper.ai Pricing Plans 2023: Which Jasper AI Plan is Best for You?
Suppose you decide to upgrade your account after your Jasper free trial ends.
Therefore, you should learn about the different Jasper AI pricing plans to choose the most appropriate one.
Jasper offers three different pricing options to cater to the specific needs of individuals and businesses: Starter, Boss Mode, and Business.
1. Starter Plan
The plan is perfect for hobbyists or casual users who need basic AI copywriting features.
Find out more about the jasper.ai Starter Plan below.
Key Features:
50+ short-form AI content templates
Support for 25+ languages
Up to 5 user logins
Chat support (Monday through Friday, 9 AM to 5 PM CST)
Regular Pricing: Starts at $29/month (For up to 20K words per month)
Discounted Pricing: Starts at $24/month if paid annually (For up to 20K words per month)
2. Boss Mode Plan
The plan is ideal for bloggers or content marketers who want to unlock the full potential of AI writing while having complete control and flexibility.
When comparing Jasper.ai Starter vs. Boss Mode plan, you will discover that Boss Mode offers more advanced features and higher-quality output.
Learn more about the Jasper.ai Boss Mode plan below.
Key Features:
Everything in the Starter plan plus:
Google Docs style editor to write long-form content like blog posts
Compose and command features
Jasper Recipes for quicker turnarounds
SEO mode and native Surfer SEO integration
Plagiarism checker powered by Copyscape
Grammarly Integration
Maximum content lookback
Increased limits on templates for extended outputs
Document revision history
Users can request custom pricing on adding ten members
Up to 3X priority support via chat and email
Jasper AI certification and a badge for LinkedIn showcase
Regular Pricing: Starts at $59/month (For up to 50K words per month)
Discounted Pricing: Starts at $49/month if paid annually (For up to 50K words per month)
3. Business Plan
Jasper.ai's Business Plan is designed for established publications and large content marketing agencies.
It features custom words/user packages & billing options, guided onboarding, and the premium support you need to grow your business with Jasper AI.
Below you can read more about Jasper.ai's Business plan.
Key Features:
Custom words/user packages
Manage limits per user
Flexible billing options
Onboarding & training sessions
Dedicated Account Manager
Premium technical support when needed
Jasper hasn't announced the Business plan pricing since it differs widely based on the particular user's requirements. Please connect with the sales team and negotiate for the best deal.
When you are ready to purchase one of the premium plans, you will probably search for Jasper AI coupon codes or discounts online.
Unfortunately, Jasper offers no special discounts except for the Jasper AI free trial and 17% off an annual subscription.
I've already published a blog about the Jasper AI coupon code. Please bookmark it so you'll get the latest information about the Jasper AI discounts and deals.
Jasper AI Free Trial: Conclusion
The Jasper free trial is an easy way for businesses of all sizes to test the software and see if it's right for them.
With five days of full access to all Jasper AI's features, businesses can explore how the software works and how it can impact their productivity.
So if you're undecided about whether or not Jasper AI is right for your business, I recommend you take advantage of the Jasper free trial to make an informed decision.
It takes a few minutes to set up an account and start using the software.
Once you've signed up, you'll have full access to all Jasper AI's features for five days, absolutely free.
So what are you waiting for?
Try out Jasper AI today!
You may also like the following: