Affiliate Disclosure: I publish various content marketing strategies, online business ideas, blogging tutorials, review articles, and discount offers on my blog. My content may contain some affiliate links for products/services I use, love, and recommend. If you take action (i.e., subscribe or make a purchase) after clicking one of my affiliate links, I'll earn an affiliate commission at no additional cost to you. It helps me in creating more helpful content like this.
Jasper.ai Coupon Codes and Deals
If you are looking for a 100% working Jasper.ai coupon code or promo code, I have listed a few exciting Jasper.ai discount offers for 2023.
This post includes the latest Jasper.ai coupons and deals.
1. Jasper.ai Free Trial
Jasper offers an exclusive 5-day free trial so that you can test its features before you buy.
With this free trial, Jasper allows you to generate 10,000 words of content for free.
It's a great deal for those just getting started with Jasper.
2. Two Months Free on Jasper Annual Plan
Jasper.ai plans start at $29/month for the Starter plan and $59/month for the Boss Mode plan.
However, you will receive two months free with the Jasper annual plan. I.e.,17% off on regular monthly plans.
As part of Jasper.ai's annual subscription, the effective price for the Starter plan drops to $24/month and $49/month for the Boss Mode plan.
Please note that the Jasper Boss Mode plan includes several features not available with the Starter plan, such as Jasper commands, SEO mode, recipes, and a built-in plagiarism checker.
Therefore, I recommend you sign up for the Jasper Boss Mode plan to access the above unique features, extended content generation limits, and priority customer support.
3. Free SEO Course (worth $499)
Jaspers's free SEO course may prove helpful if you want to rank your business and content on google.
The course will help you build powerful content that generates organic traffic to your site every month.
Danny Veiga will guide you through the course. He is an elite expert and specializes in creating content at scale using Jasper.
The best thing, your Jasper.ai subscription includes free access to this SEO course (valued at $499).
4. Free Copywriting Course (worth $199)
Jasper.ai's free copywriting course teaches you how to use Jasper to write your website copy to convert your site visitors into leads and sales.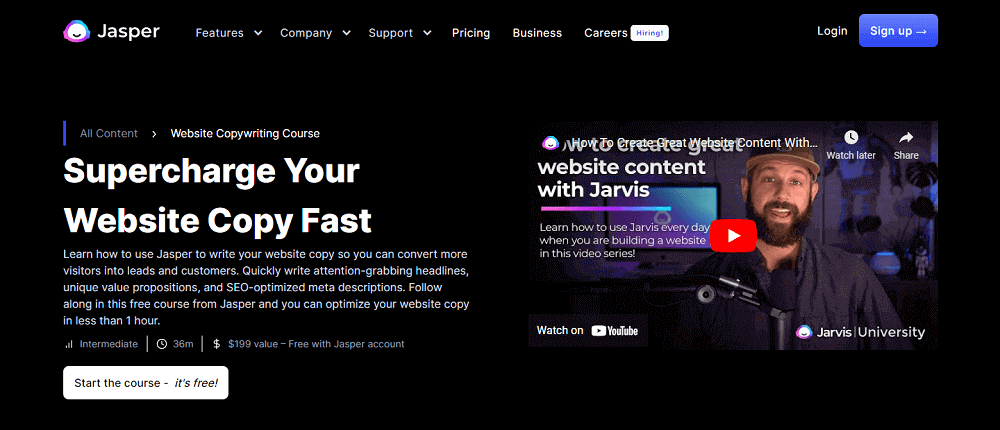 Learn how to write catchy headlines, SEO-optimized meta descriptions, and unique value propositions quickly.
You can optimize your website copy in just a few minutes by following this copywriting course from Jasper instead of watching hours of video tutorials or reading ebooks.
You'll receive the copywriting course (worth $199) for free with a Jasper account, just like the Jasper SEO course.
Please refer to my previous article to learn more about the Jasper.ai lifetime deal.
How to Activate Jasper.ai Coupon Code?
Step 1: Check out the latest Jasper.ai deals by clicking this special link.
Step 2: Pick either the Starter plan or the Boss Mode plan. In addition, you can customize your plan by defining the estimated monthly word count you wish to generate.
Step 3: Go to the Jasper pricing table and switch to the yearly billing cycle to get two months free, i.e., 17% off.
Step 4: Please click the Start Now button.
Step 5: Enter your name, email address, and password to complete the registration process. Alternatively, you can choose to "Continue with Google."
Step 6: Complete the checkout process and enjoy the tool.
What is Jasper.ai?
Jasper.ai is an artificial intelligence-based content generation and copywriting platform that generates high-quality content based on GPT-3.
Jasper has become a one-stop solution for bloggers, copywriters, content marketers, affiliate businesses, and everyone who wants more engaging blog posts, social media ads, emails, sales copies, and landing pages.
The company started as Conversion.ai, rebranded to Jarvis.ai later on, and has now rebranded to Jasper.ai in 2023.
Read more about this rebranding on Jasper.ai's official website.
In addition to changing names, they are improving copywriting tools and algorithms to produce high-quality SEO content.
Jasper.ai Copywriting Templates
Jasper offers 50+ copywriting templates.
Here are some exciting content types you can create with Jasper.ai.
Write long-form content for your business website or blog. It allows you to leverage popular copywriting frameworks like AIDA and PAS to generate engaging content.
Write high-converting sales copy.
Create attractive subject lines to increase the open rate of your email marketing campaign.
Provides blog topic ideas, post outlines, intro paragraphs, meta descriptions, post summaries, and even rewrites existing content using the content improver module.
Write the entire book in record time.
Generate video scripts, titles, introductions, and compelling YouTube video descriptions.
Write engaging Facebook ads without hiring a copywriter.
Write intelligent answers to the tough Quora.
Create compelling product descriptions for Amazon listings.
Convert your product's features into benefits that motivate your customers to take action.
Sign up for a free Jasper.ai account and try any of these templates to write stellar marketing copy in minutes.
Jasper.ai Coupon Code: FAQs
1. How can Jasper AI help you?
A team of experienced content writers and conversions experts trains Jasper AI. The platform allows you to write long-form blog articles, website content, sales copies, social media content, emails, creative story plots, and high-converting ad copies. Jasper is by far the best AI copywriting assistant currently available.
2. Will Jasper replace human copywriters?
No, while AI copywriting tools like Jasper are great for automating the content generation process, they won't replace human copywriters soon. However, maybe we can see better technologies in the future that minimal human intervention.
3. Is Jasper.ai free?
No, Jasper.ai does not offer any free plan. However, you can grab a 5-day free trial with 10,000 words credit.
4. What is the pricing of Jasper.ai?
Jasper offers two affordable pricing plans and a 5-day free trial. The Jasper Starter plan costs $29/month, while the Boss Mode plan costs $59/month. With an annual Jasper.ai subscription, you get two months free.
5. Is Jasper.ai worth it?
Yes, comparing the quality of Jasper's content output with its alternatives, Jasper.ai is worth it. Some users may find Jasper.ai's pricing a little expensive, but it depends on how you utilize the tool for your business.
6. Does Jasper.ai offer a Lifetime Deal? 
Jasper AI Coupon Code: Summary
Make sure to check out Jasper.ai if you are looking for the best AI-powered copywriting assistant software that is easy to use and has a wide selection of content templates.
With Jasper, you can create high-quality content without hiring a team of content experts or overpriced copywriters.
I have shared all the latest Jasper coupon codes, deals, and free trial offers in this post.
Don't forget to leverage those discount offers to get big savings on your Jasper.ai bills.
You may also like:

Name: Jasper.ai
Description: You have come to the right place if you are searching for a Jasper coupon code, Jasper promo code, or 100% working Jasper free trial. Explore a wide range of Jasper.ai deals and discount offers in this article and pick the one that suits your business needs.
Offer price: 24
Currency: USD
Operating System: Linux
Application Category: AI-powered Copywriting Tools
Author: Ankit Main
Performance

Security

Pricing

Support
Comments Rating
( reviews)