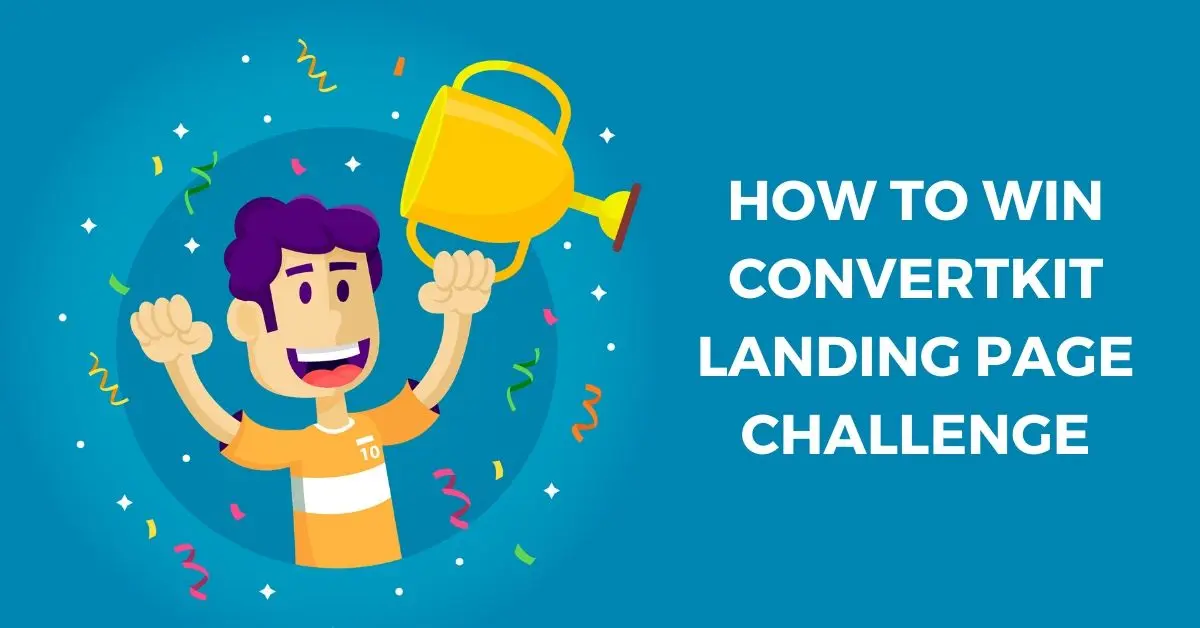 Affiliate Disclosure: I publish various content marketing strategies, online business ideas, blogging tutorials, review articles, and discount offers on my blog. My content may contain some affiliate links for products/services I use, love, and recommend. If you take action (i.e., subscribe or make a purchase) after clicking one of my affiliate links, I'll earn an affiliate commission at no additional cost to you. It helps me in creating more helpful content like this.
ConvertKit is running a landing page challenge between 3rd January 2020 and 31st January 2020.
By participating in the ConvertKit landing page challenge 2020, you can win a grand prize of $10K cash, one year of coaching, and a free year of ConvertKit email marketing subscription of 1K subscribers limit.
In case you don't achieve the first prize, you can still win 21 other prizes by entering this challenge and completing the assignments in a particular tier.
Don't you know what is the ConvertKit landing page challenge 2020?
Read my previous post here to understand more about the contest.
Once you read this post, come here to know how to win ConvertKit landing page challenge 2020.
1. Enter the ConvertKit Contest
The first thing first.
To be eligible to win a $10K grand prize or any other prizes mentioned on the contest page, you must enter the ConvertKit landing page challenge.
It's not that difficult.
Click this link to visit the ConvertKit contest page.
Enter your first name and email address to get started.
I recommend you to use a custom email address (domain-specific) for quick approval of your account and avoid further issues.
2. Set Up Your ConvertKit Account
Once you complete the email verification process, you can sign in to your ConvertKit account.
Fill all essential information, including your company name, subscriber consent options, physical address, and email settings.
You can invite other creators to take the ConvertKit challenge to unlock email sending for 100 subscribers for each referral or upgrade to a full account to get unrestricted access to all ConvertKit features.
3. Brainstorm Your Lead Magnet Idea
A lead magnet is an incentive or freebie that marketers offer to potential leads in exchange for their contact information.
The quality and marketing appeal of your lead magnet will determine whether you win the ConvertKit contest or not.
Identify the common problems or pain points in your target audience to create your lead magnet.
Please note that people don't care about whether you are offering a 100-page ebook, a video course, or a piece of software.
They care mostly about what benefits they will get after subscribing to your email list.
Depending on your expertise and market demands, find a few ideas to create a lead magnet for your email marketing campaign.
Instead of targeting a general audience, narrow down your targeting to more specific while designing a lead magnet to achieve a better response.
E.g., if you are a nutritionist, then you should focus on people who are interested in maintaining their health via food and exercise.
Once you study these people, you can create an attractive lead magnet that matches the requirements of the interested people.
4. Brainstorm a Captivating Title
You might have heard that 80% of people read headlines while only 20% read an entire copy.
If your page title or ebook headlines are not engaging, then you will lose a large number of visitors that could be converted into leads.
So brainstorm titles that can attract more people to your landing page and convert them into leads.
Keep yourself in the shoes of the potential lead and ask yourself which of the following title that you would click.
Title 1: Subscribe to My Newsletter.
Title 2: Get Instant Access to My 21-Day Weight Loss Program Absolutely FREE.
Find 15-20 title ideas before finalizing one that suits the most for your landing page and overall email marketing campaign.
5. Understand the Color Scheme and Visual Styling Elements
A landing page isn't all about the marketing copy.
The landing page aesthetics also play a major role in convincing people to sign up to your list.
Depending on your niche, pick a proper color scheme, fonts, and styling to give an elegant yet professional look to your landing page.
You can use resources such as color.adobe.com, coolors.co, and Google Fonts to get some ideas.
For images, I'd recommend you to use your own photos to give it an original touch, feel of personalized communication with a real influencer, and avoid copyright issues.
6. Validate Your Idea Before Publishing a Landing Page
Creating random landing pages and trying to get new leads to your email list is a difficult task.
There is a better way to test your ideas even before creating a landing page and lead magnet.
Share your concept within a closed community to know whether people are interested in it.
Sometimes, you may receive feedback that will help you to improve the campaign.
Alternately, you can validate your ideas by sharing them with social media followers and existing email subscribers.
If a significant number of people are interested in your product or curious to know more about it, then it's a green signal to you.
You know that social media algorithms reward creators who drive more engagement.
It means that your post may get a quick boost if people start reacting it, commenting on it, or sharing it.
Considering the performance criteria for the 2020 ConvertKit landing page challenge, you need a super high conversion rate, open rate, and CTR.
Testing your ideas beforehand ensures that your campaign performs better than most of your competitors.
7. Create Your Lead Magnet
After analyzing which lead magnet idea gets the maximum response, create a valuable lead magnet.
Make sure you have included everything that you promised in your marketing copy.
Don't expect good results if your lead magnet is mediocre. 
Understand the problems that your target audience is facing and how can you solve these problems.
Here are some points that you should keep in mind while designing a lead magnet.
Create a comprehensive resource.
Keep it short, simple, and consumable. Avoid technical jargon unless it's necessary.
Include lots of visual elements such as images, screenshots, infographics, and videos in your lead magnet to make it easy-to-understand.
Don't show all your cards once. Keep your lead magnet connected to the upcoming email sequence so that people eagerly wait for your next emails. It will help you to improve open rates and CTR for future emails.
Do you need some ideas for creating a lead magnet?
Here is a list:
eBook (DOCX, PDF, or EPUB)
Checklists
Case Study
Planners
Webinar
Video Course
Email Sequence (Autoresponder Series)
Infographics
Slideshow
Podcast
Valuable Digital Products
Private Blog Post
Consultation
Community Access
And Much More.
Since you have a validated lead magnet structure in your mind, you can create the final version in less than 48 hours.
8. Build Your Landing Page in ConvertKit
Now, it's time to shift gears to move to the contest mode.
In this step, you need to create a beautiful landing page for the ConvertKit landing page challenge 2020.
Follow the simple tutorial below to create a landing page in your ConvertKit account.
Step 1: Sign in to your ConvertKit account.
Step 2: Navigate to the "Landing Pages & Forms" menu on the top bar.

Step 3: Click on the "Create New" button in the top right corner and select the "Landing Page" option on the next page.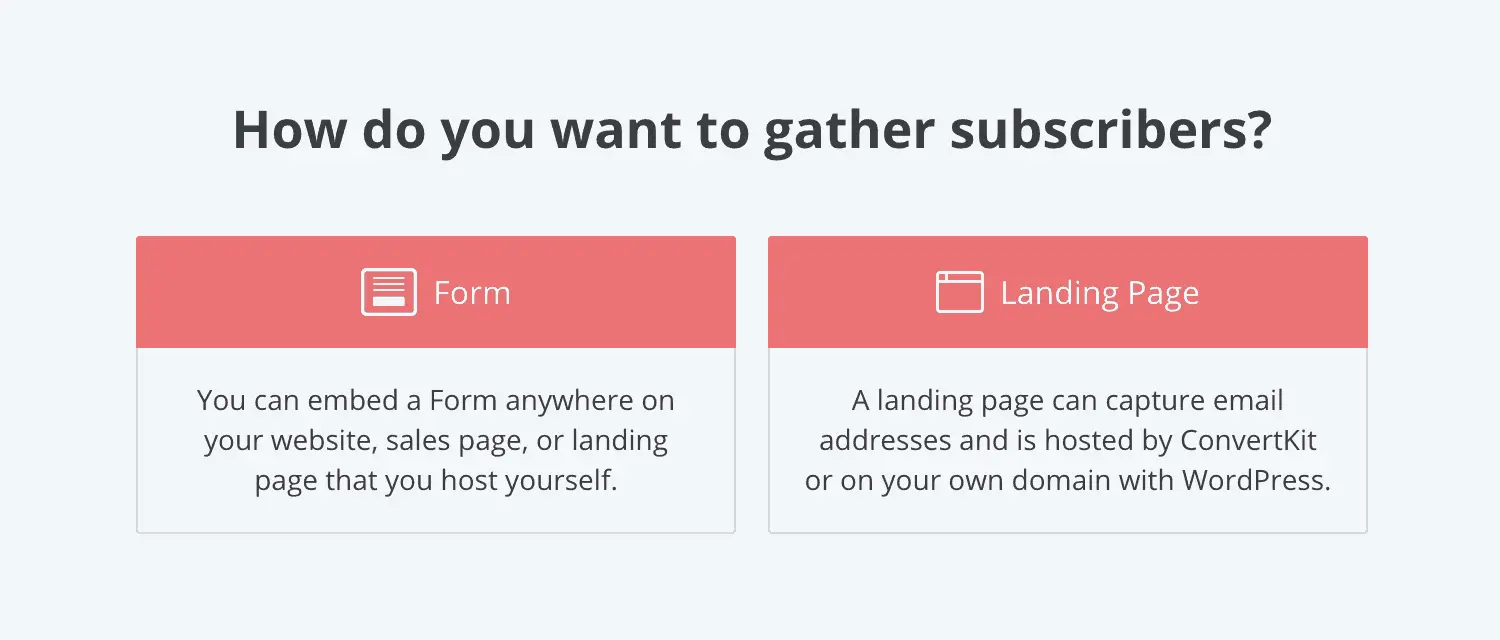 Step 4: Pick one of the pre-built templates from the ConvertKit library to get started.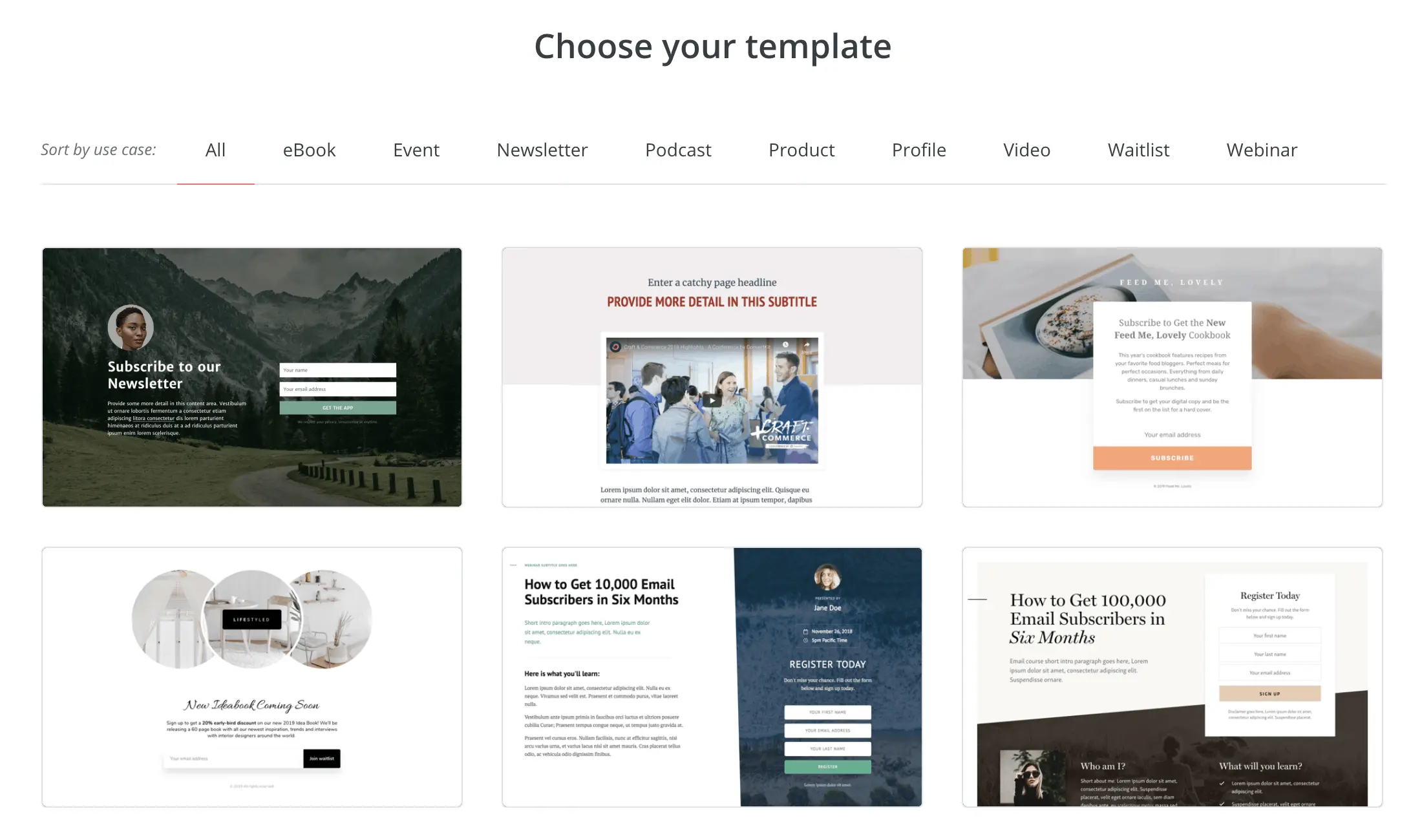 Step 5: Edit page elements to match your marketing campaign.
Make sure the marketing copy is appealing to users, and the entire page is your original creation, including the images.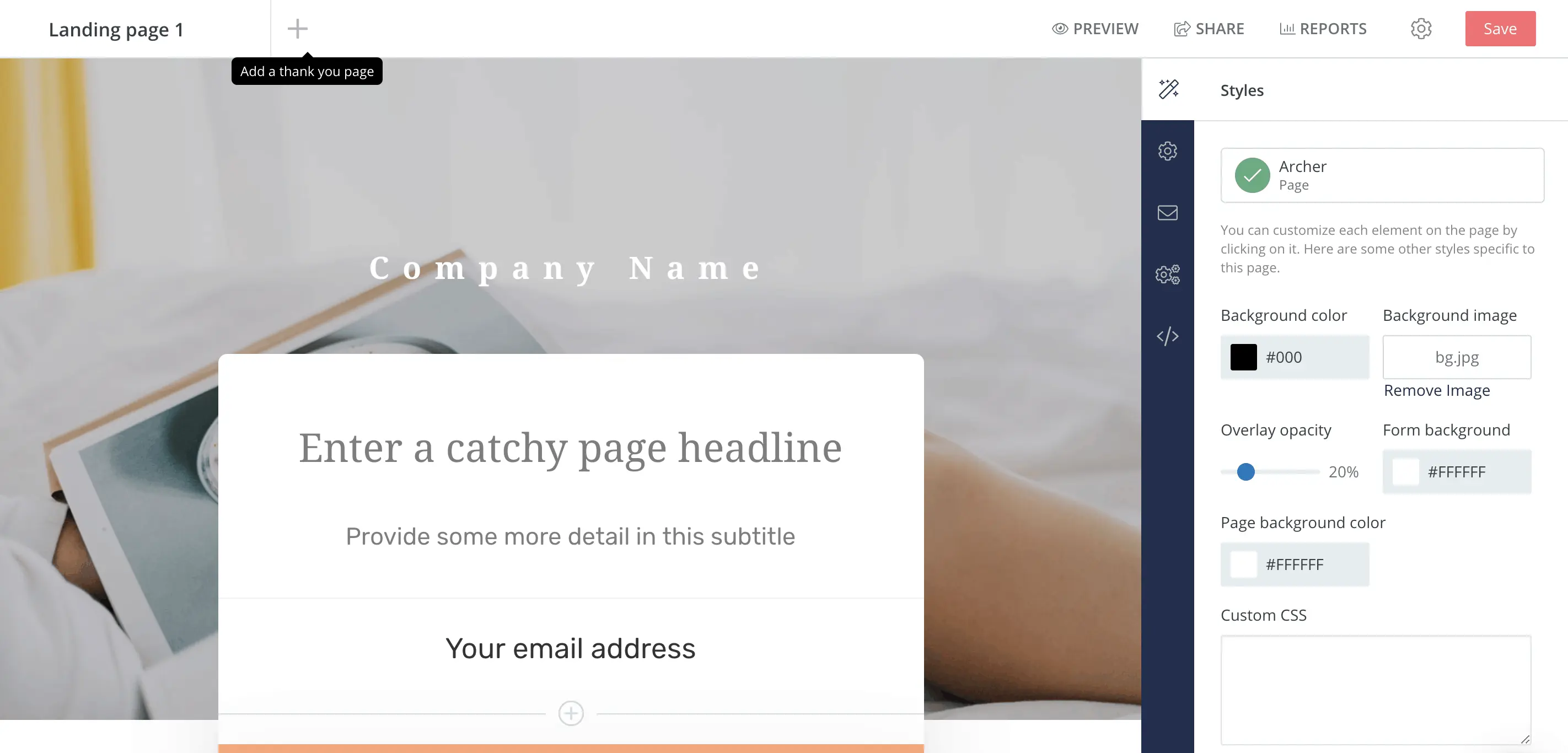 Step 6: Create a Thank you page by clicking the (+) sign next to the landing page title. It helps you thank leads and give further instructions.
Step 7: Share your landing page link to different places or host the page on your website using the ConvertKit WordPress plugin.
If you're not sure about your design concept, then ask in your community whether they like it or not, or get design ideas from the leading brands in your niche.
9. Promote Your Landing Page
Now, you have everything ready to start promoting your landing page.
Get the URL of the landing page that you are competing for and send it to all people who have shown interest in it.
Create some stories, custom messages, and short posts to share on different social media platforms.
You can ask your existing members to share your landing page or collaborate with other bloggers for mutual benefits.
The last but not the least, add the URL of your landing page in prominent places of your website or the top-performing blog post.
You can quickly identify the top-performing pages using Google Analytics or Google Search console for a Google verified site.
While repetitive promotion of the same landing page may look spammy after a few days, you can take another route of educating people through webinars or Facebook live videos to generate additional leads.
Warning: You are not allowed to use display advertising, sponsored links, SMS/text messages, or offer any incentives to participate in the contest or engage with your landing page submission.
10. Win the 2020 ConvertKit Landing Page Challenge
ConvertKit is offering 22 chances to win the contest, and you should not miss it.
If you have previous experience of designing the landing pages or setting up email campaigns, then it'd be easier for you to compete for the grand prize.
Otherwise, you may consider competing in the lower tiers where chances of winning are much higher.
If you committed and eager to learn, then attend all live training sessions offered by the ConvertKit and help others in the ConvertKit community to win the bonus prizes.
Remember, even if you fail to win the prize, you will learn how to build landing pages, set up email sequences and automation, and grow your email list organically.
It's more valuable in the long term.
Believe in yourself.
You have a great potential to grow your email list and win the ConvertKit landing page challenge 2020.
If you have any questions, leave a comment below.
2020 ConvertKit Landing Page Challenge

Name: ConvertKit
Description: Do you want to know how to win ConvertKit landing page challenge 2020? Read this step-by-step tutorial to get some amazing insights to win the contest.
Offer price: 29
Currency: USD
Operating System: Linux
Application Category: Email Marketing Software
Performance

Features

Pricing

Support